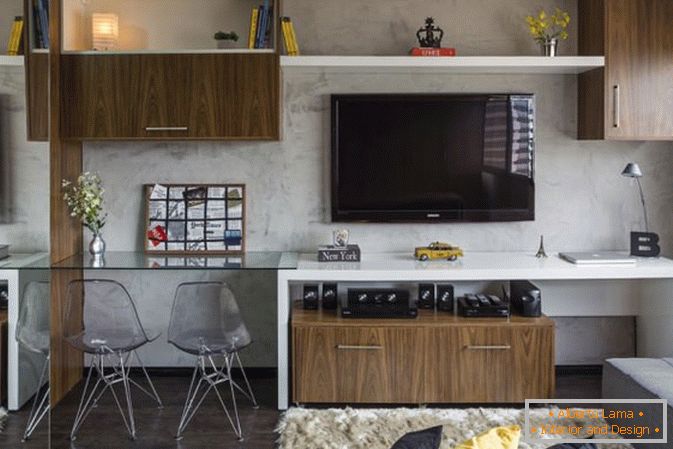 On the example of the design of the interior in the studio apartment area of ​​30 square meters. meters you can see how the space of such a small apartment make the most comfortable, modern and comfortable. To do this, you just need to transform it.
Most of the housing stock of large cities is represented by apartments of a small area. Studio BepArchitects attempted to turn such a dwelling into a spacious day and comfortable enough at night.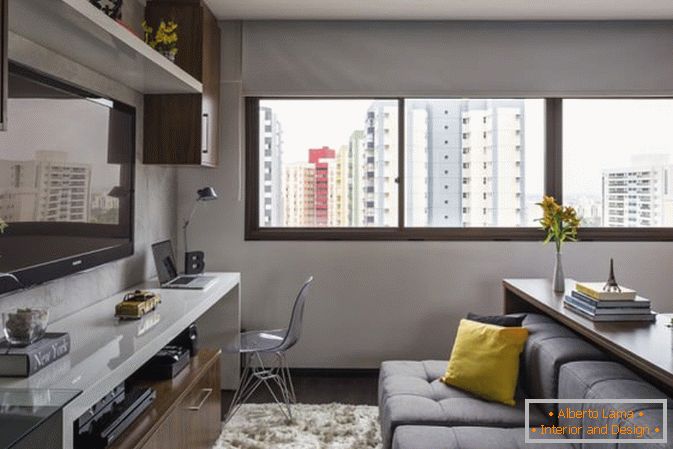 Everyone knows the problem with the constant lack of space for storing things in such small apartments. Because of this, designers were forced to use all the free space.
The kitchen was located almost at the very entrance to the apartment, the washing machine had to be placed at the entrance door, and the refrigerator opposite the working area in the kitchen.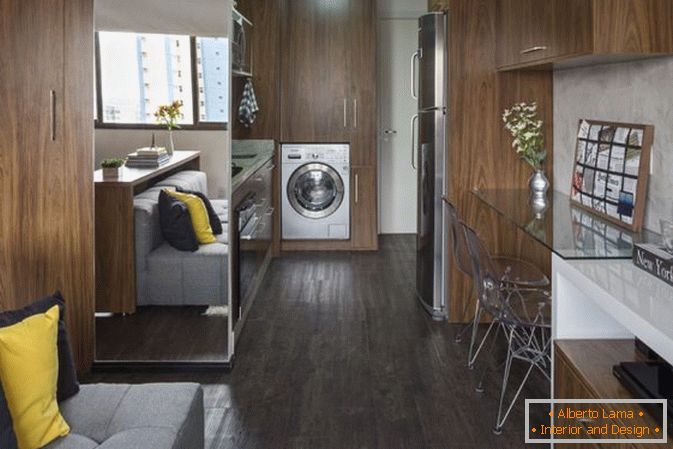 The solution, of course, differs somewhat from the traditional one, but its use made it possible to make the most of the main part of the room. The presence of sliding elements allowed to change the appointment of the room from the living room to the bedroom.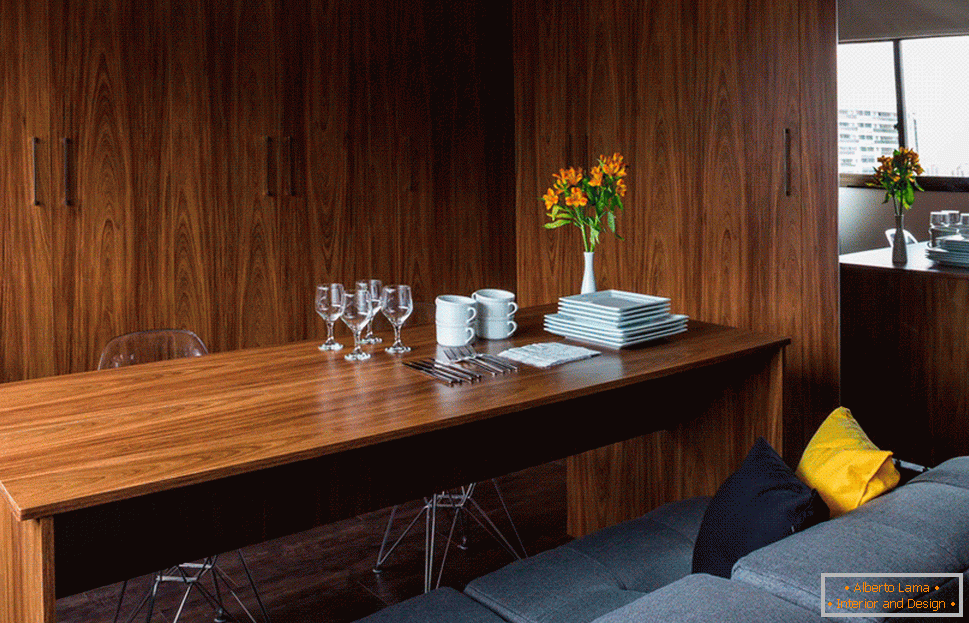 In the gray-brown tones of the studio interior, 30 sq. M. There are no unnecessary details. When considering the version of the living room, you can see only two chairs, shifted to the sofa, in front of which there is a TV. The TV hangs over the white console, under which a fairly large brown pedestal is hidden.
The console has a transparent continuation towards the entrance door, which is a desk, near which there are the same transparent chairs. They are almost invisible and they do not clutter up space. The place on the wall above the TV is occupied by a bookshelf and cabinets.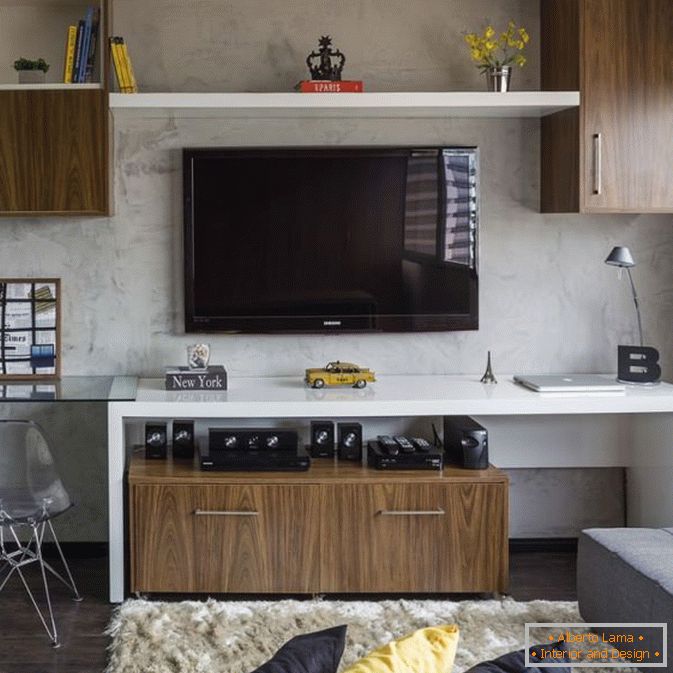 Change the interior of this apartment can be in minutes, for example, the living room for a very short time can easily be turned into a dining room. For this, the chairs turn around 180 degrees, then move to the wall, so as not to interfere with the spreading of the table. On the reverse side, transparent chairs are attached to the table.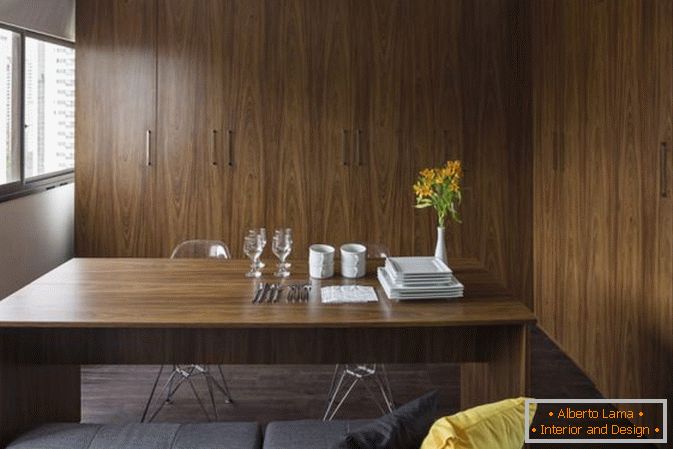 On all walls there are cabinets, behind the wooden facade of some of them there are places in which different things are stored.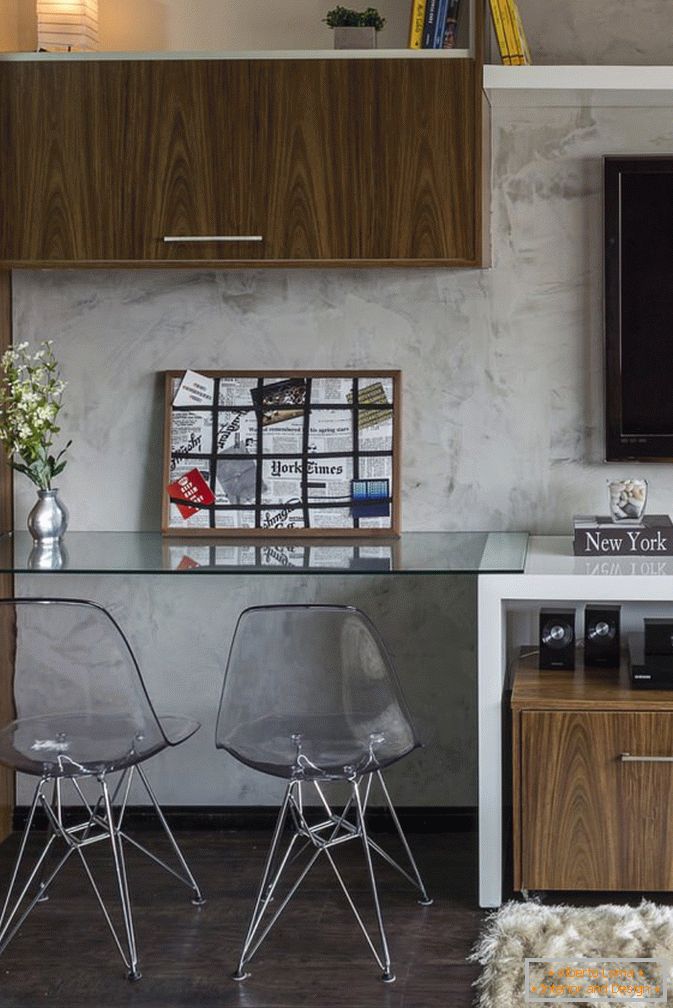 There is also a cabinet with a secret, it is very convenient to use. When you open it, you get a double bed, and the opened cabinet door acts as an additional wall, which fences off the sleeping place. On the right side of the bed through the "secret" door you can get into the bathroom.