Being a place where a lot of various household appliances, kitchen utensils and special appliances are stored, the kitchen is always a difficult task for those who want to organize its space with maximum efficiency. Countless little things, jars, boxes and bags fill all the niches and corners, especially in a small kitchen.
Designer storage room
Corner table with drawers
Drawer for kitchen utensils
Drawer under the sink
Retractable waste basket
Drawer for storage of baking molds
Niche for storage of household appliances
Organizer for a spacious kitchen cupboard
Mobile kitchen cabinet on rollers
Drawer for spices
Kitchen work cabinet
A spacious drawer drawer
Bowls for pets
Open shelves
Pull-out shelves
Designers find and create innovative ways of organizing space that help many to solve the problems associated with the ergonomic placement of kitchen accessories. The design ideas with which we want to introduce you in this article are some of the most popular among modern homeowners. Perhaps, some of them will inspire you and change your kitchen for the better.
Designer storage room
One of the best solutions in the organization of useful space is a functional closet-pantry. The pantry in this photo is a great place to store thousands of necessary trifles, thanks to the numerous shelves, drawers, drawers, and a sliding door, the doors of which easily go into the grooves in the wall without taking up unnecessary space.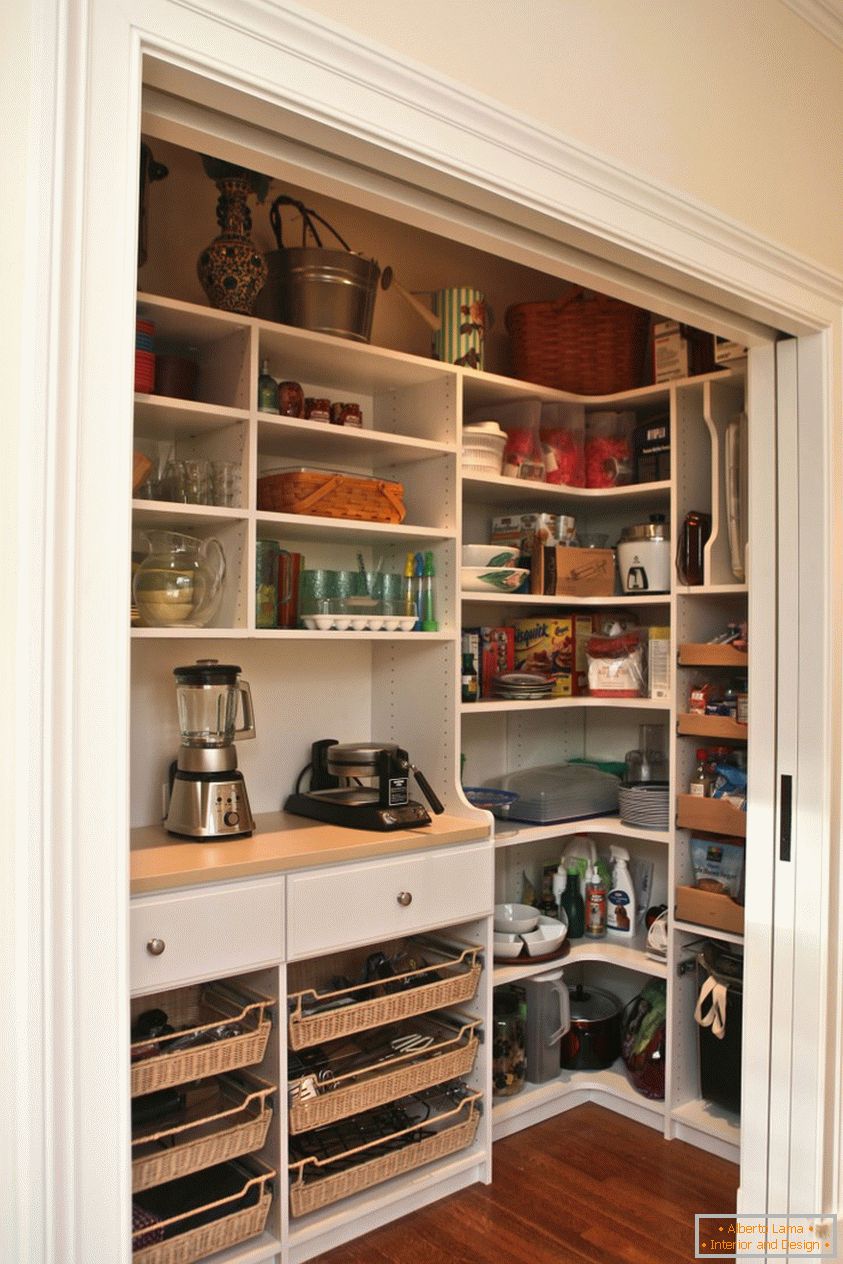 Corner table with drawers
Angle boxes - a creative solution that allows you to profitably use even the corners of your kitchen. Look at the photo - these boxes are diagonally moved into the corner cabinet and, besides, they are larger than the usual ones - that is, you will be able to place in them many more necessary things.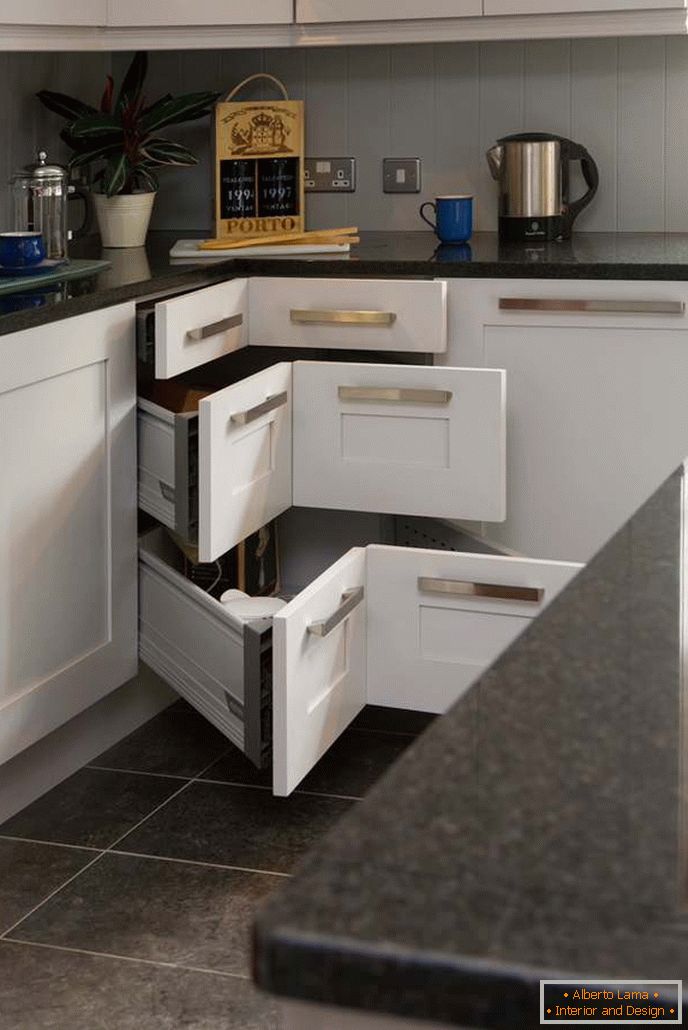 Drawer for kitchen utensils
This ingenious design solution will allow you to store serving and cutlery in one place and always at hand. If you want the same as in the photo, but your budget does not allow you to hire a designer, you can make such a storage of kitchen utensils with your own hands by placing in a deep drawer containers of stainless steel.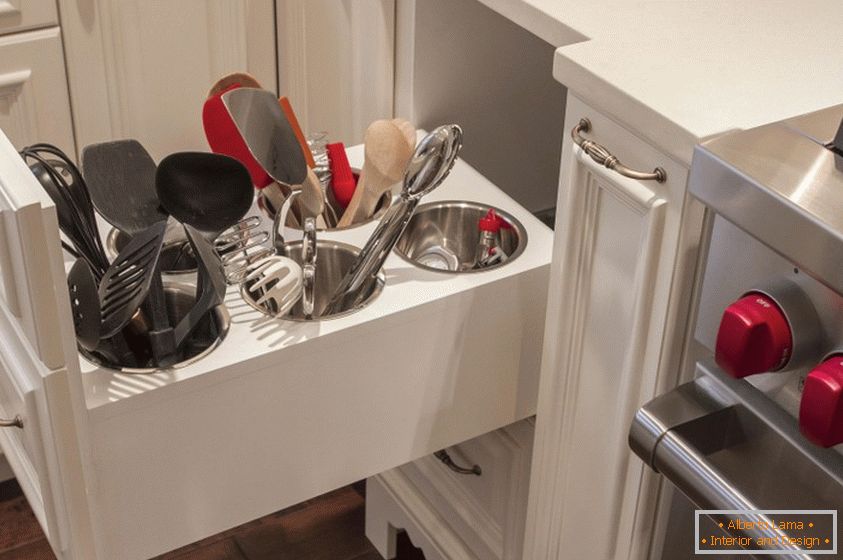 Drawer under the sink
A spacious locker under the sink in the photo seems bottomless - it's no surprise that many people like this simple solution. With the help of a drawer you can easily get detergents and other necessary items from the locker, without wasting time searching. You can easily equip your kitchen with this detail, simply by purchasing a pull-out organizer in a specialized store.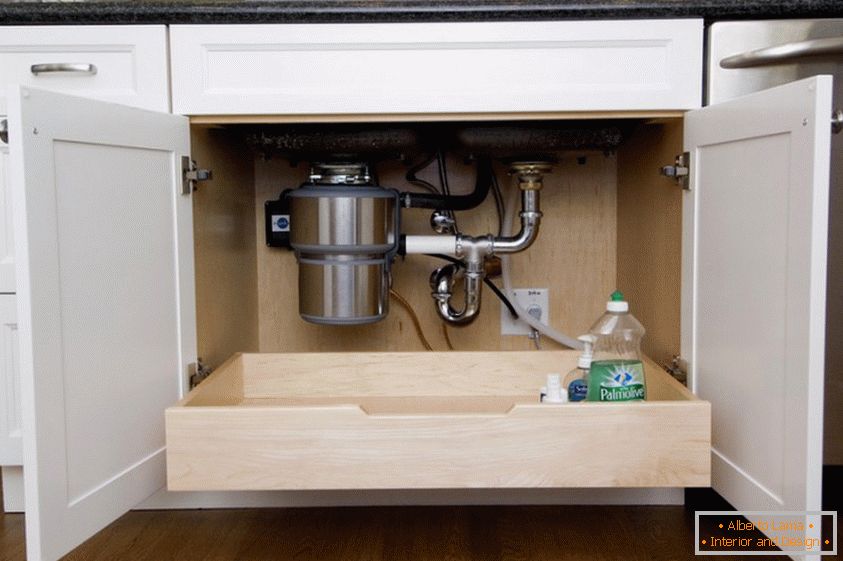 Retractable waste basket
The simplicity of this solution can not be unpleasant to you: a deep drawer in the photo hides unattractive trash bins from the eyes and frees the kitchen space of excess items. In a small narrow space on the side, you can store garbage bags and a freshener for air.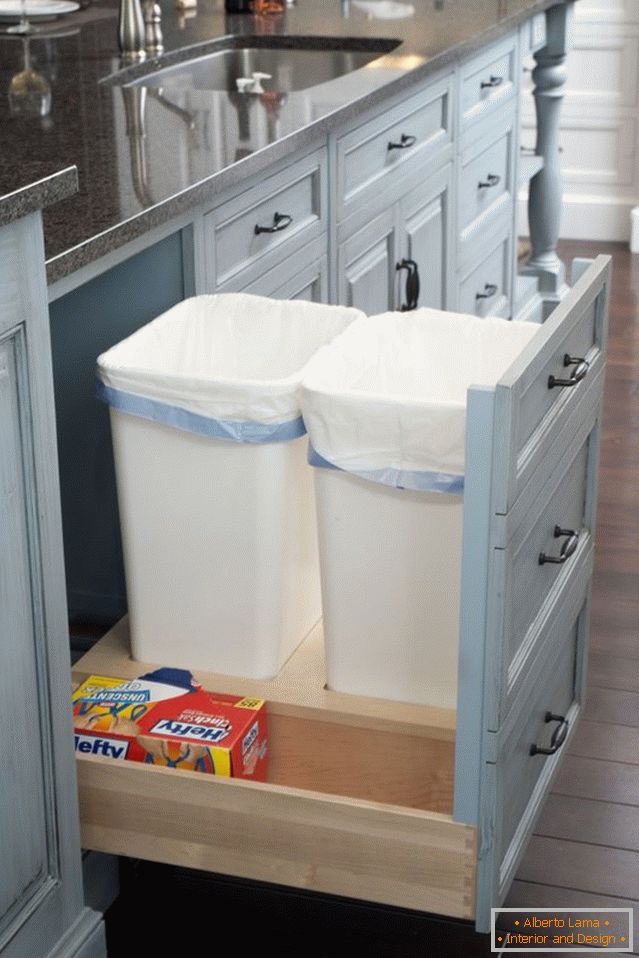 Drawer for storage of baking molds
Many will agree that this is a sectioned drawer - a great place to store a variety of baking trays, baking dishes and grills. If you do not have an extra box that could be transformed into a photo box, use a narrow drawer at the stove or equip the cabinet above the refrigerator with wooden or metal panels that separate it into separate sections.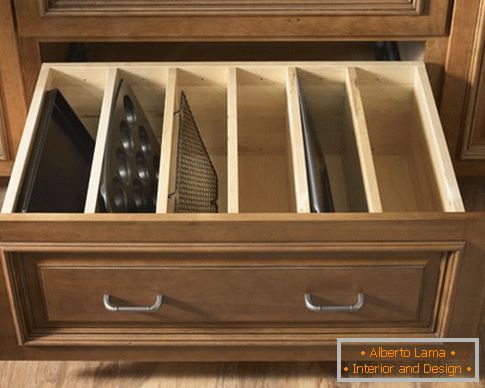 Niche for storage of household appliances
Perhaps, every mistress dreams of a free kitchen countertop, not crowded with household appliances. Therefore, such niches, as in the photo, equipped with a folding door, are very popular. Here, as you can see, you can place a blender, a toaster and a mixer - they are hidden from the eyes, but always at hand.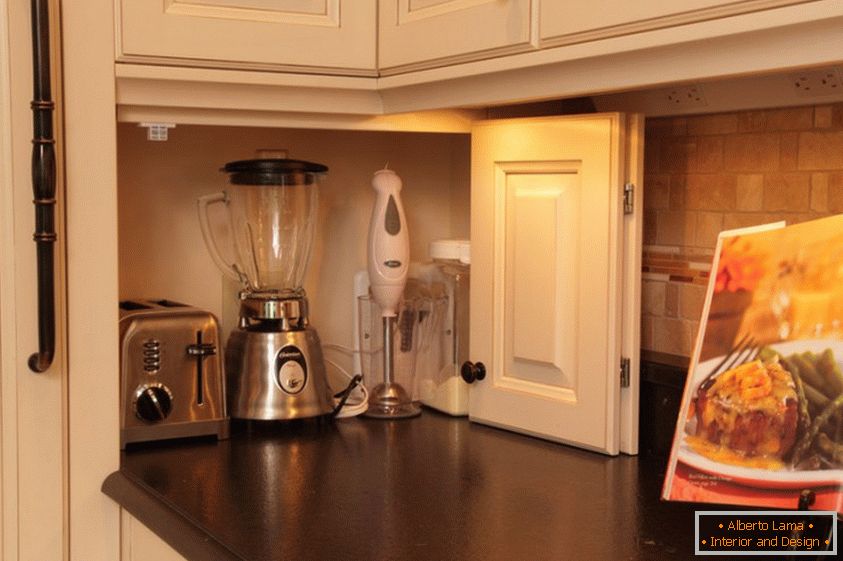 Organizer for a spacious kitchen cupboard
This kitchen cabinet, equipped with a pull-out organizer and comfortable shelves on the doors is the undisputed favorite of a host of housewives. This is the more admirable solution if your kitchen simply does not have room for a full-fledged pantry. Numerous shelves and a rotating pull-out organizer allow you to store the necessary things in order and easily get them.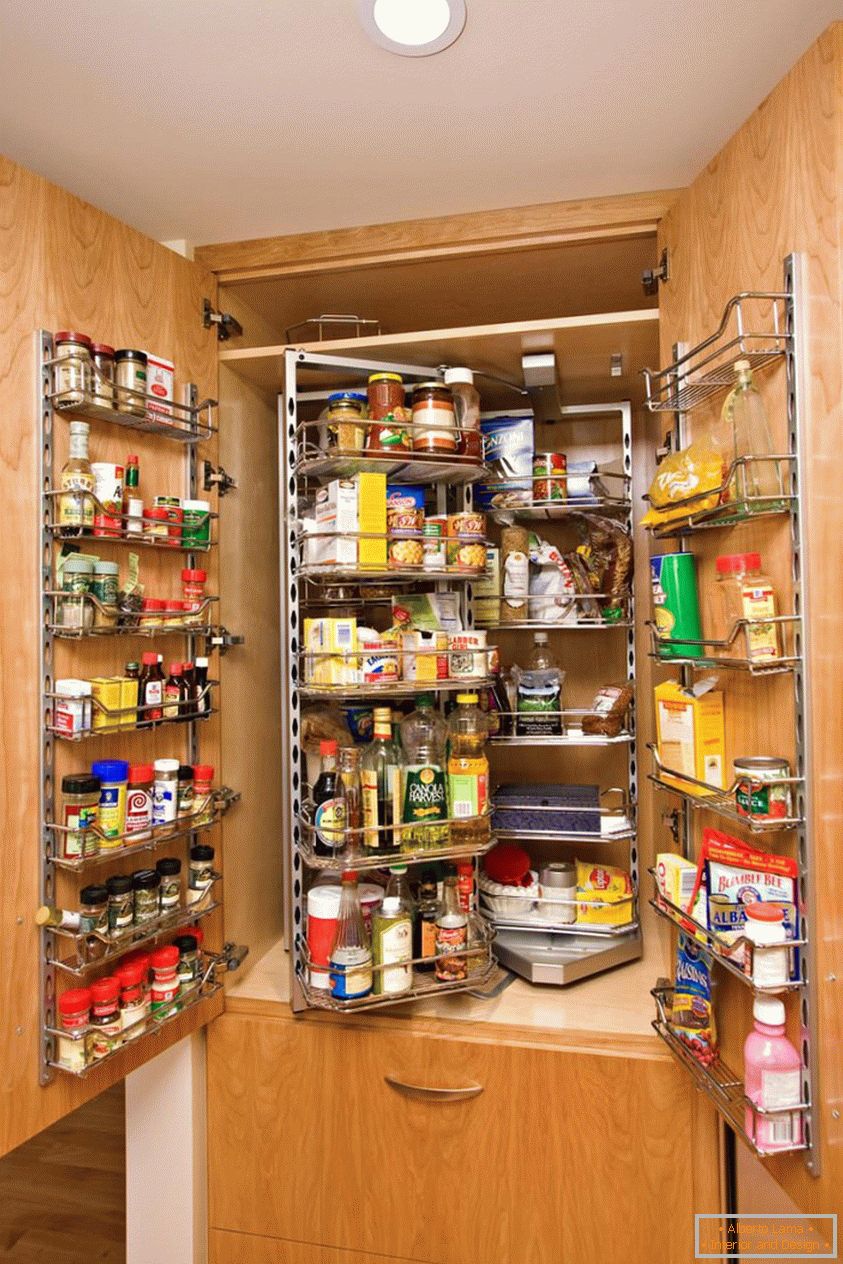 Mobile kitchen cabinet on rollers
Look at the kitchen cabinet on this photo - it also offers an additional work surface, and a place for storing kitchen utensils. It can even be used as a kitchen island, especially in a small kitchen, or a serving table - it can easily be moved to another room.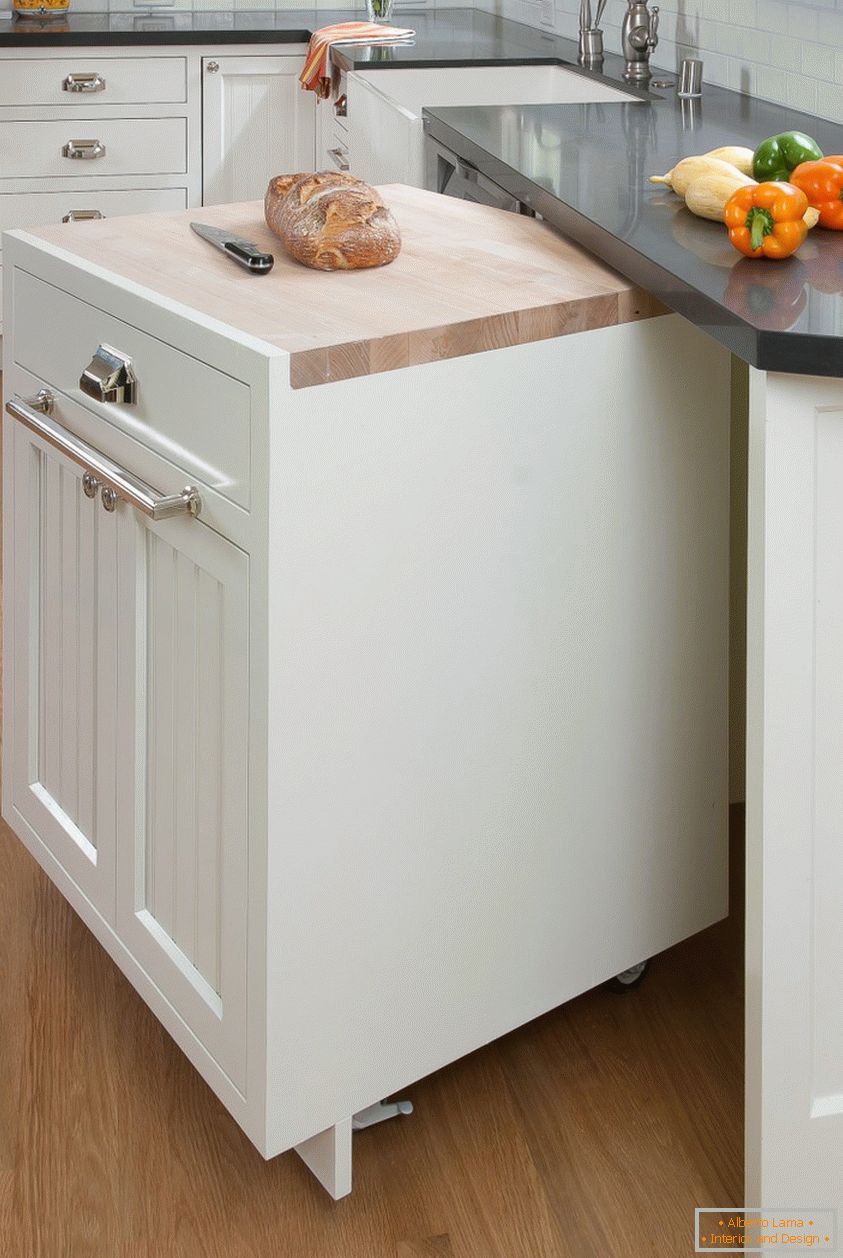 Drawer for spices
And in this photo - a practical and convenient drawer with shelves, which can be used as a storage for a variety of jars of spices. Those who like to cook will understand how much this solution is needed in the kitchen.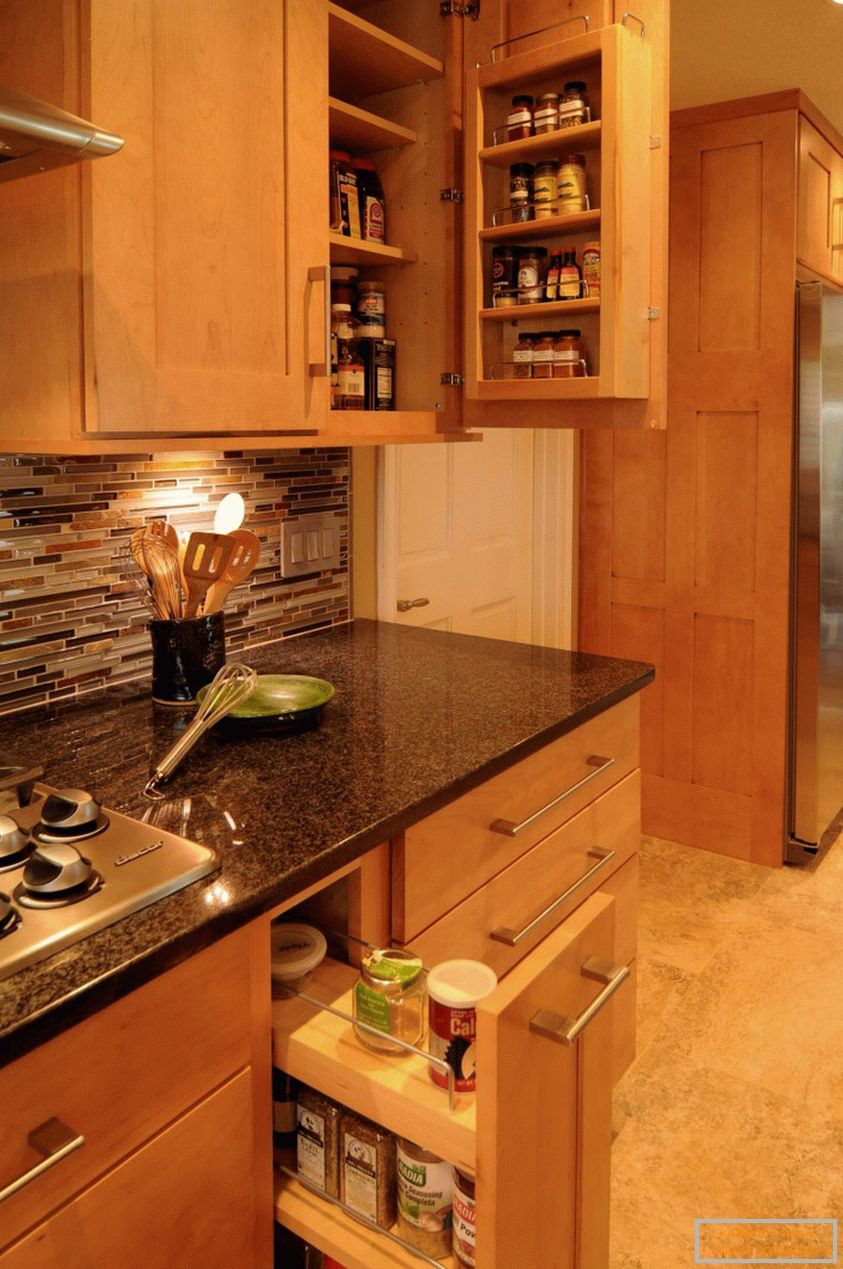 Kitchen work cabinet
And in this photo you see the result of the equipment of a small niche in the kitchen with shelves and a desk. The designer has turned the usual niche into a cozy corner where you can do paper work, write letters - or watch how your child does homework - without going too far from the cooked dinner on the stove.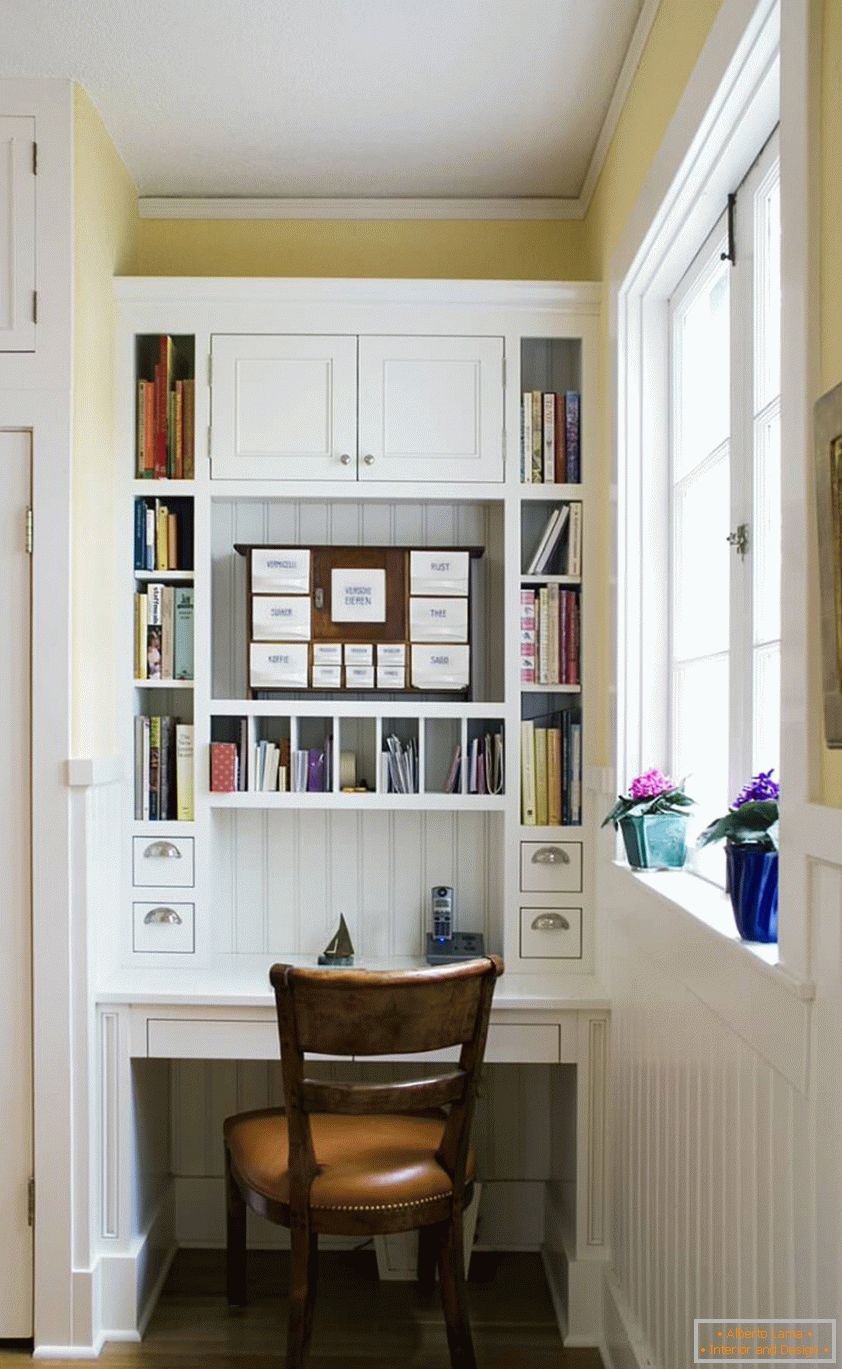 A spacious drawer drawer
The deep, spacious and sturdy drawer in this photo keeps all sorts of utensils at hand - even the smallest members of your family can easily extract the necessary plate from it. Such a box can easily accommodate up to 45 kilograms of dishes, and removable wooden pegs will not allow fragile utensils to crash.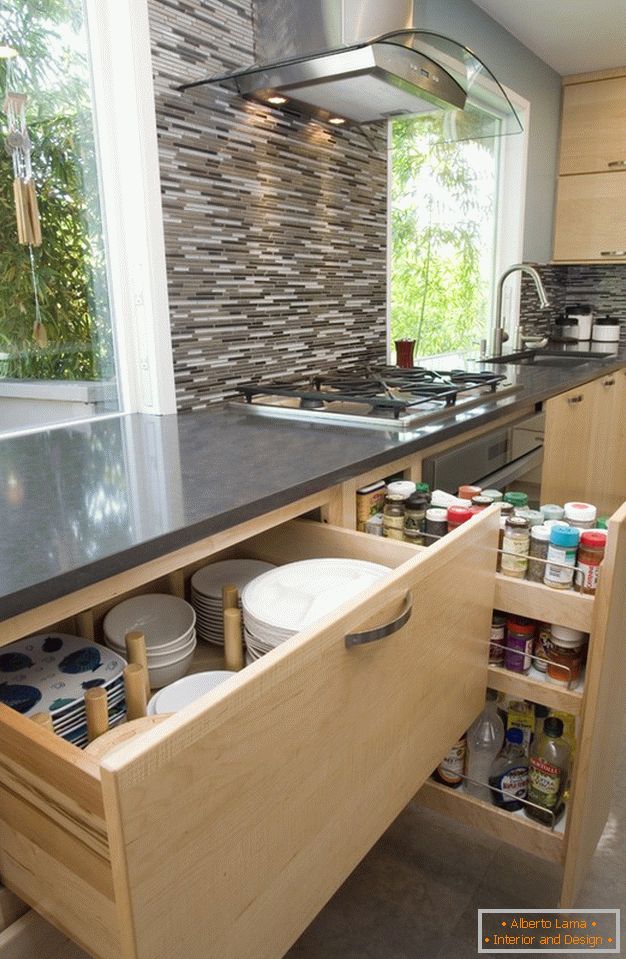 Bowls for pets
For many, pets are full members of the family, so built-in bowls for feed, as shown in this photo, are very popular in many families.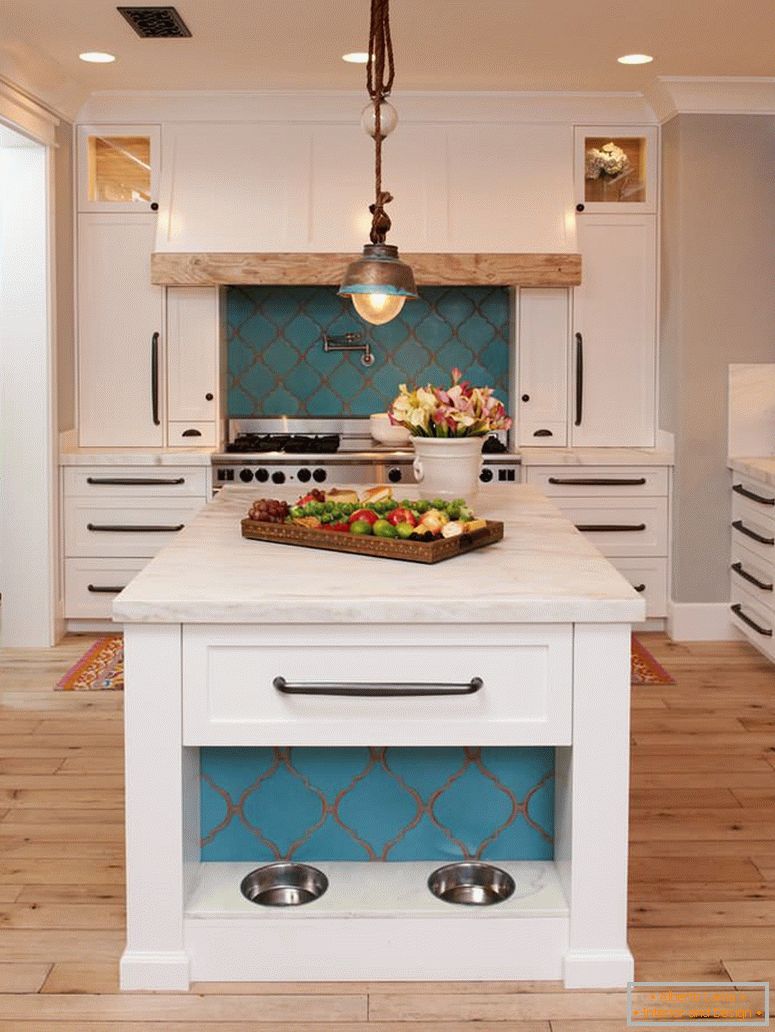 Open shelves
And this is one of the most popular trends, especially when it comes to kitchens. On the shelves of stainless steel, shown in the photo, you can store decorative small items and accessories, or you can place on them often used dishes.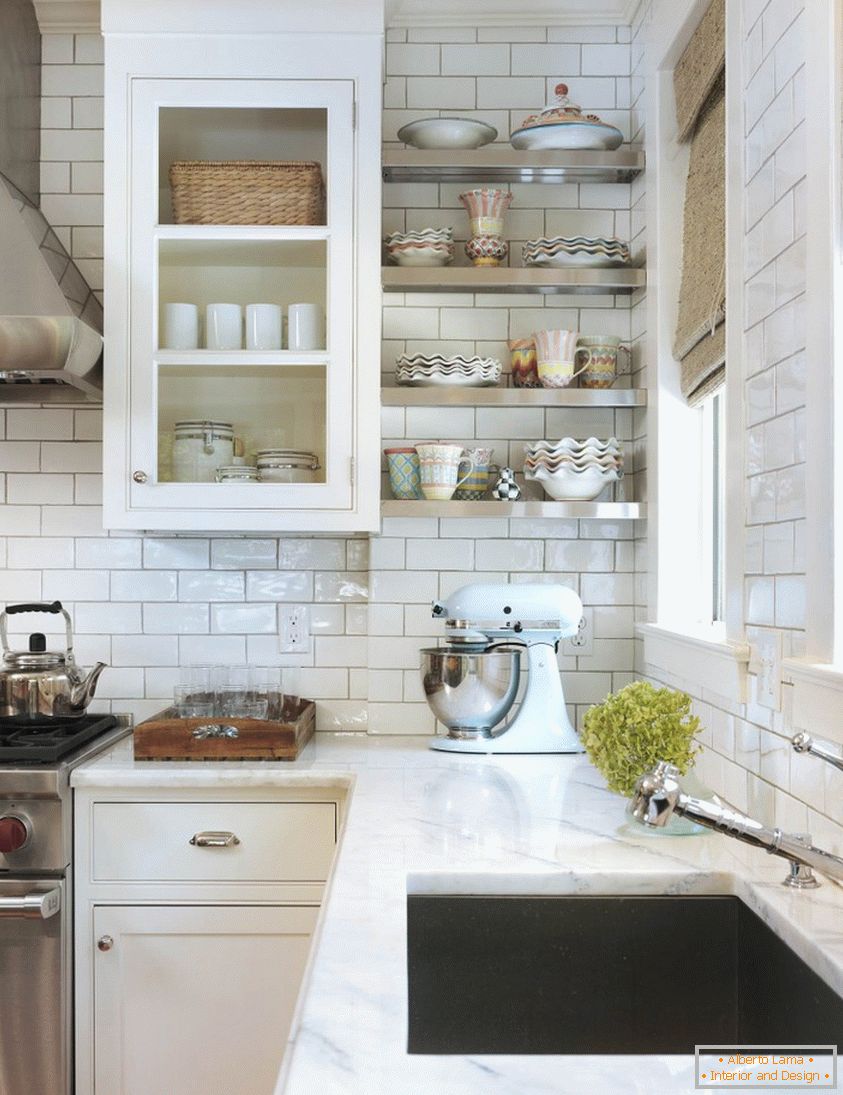 Pull-out shelves
Take a look at the incredibly practical drawers in this picture - they will allow you to easily place and, if necessary, get any pots and pans you need. This detail is especially necessary when you are dealing with deep, spacious kitchen cabinets. The rails of the shelves in the photo are arranged so that the front shelf extends in a vertical direction and allows the one that is behind to move to the right.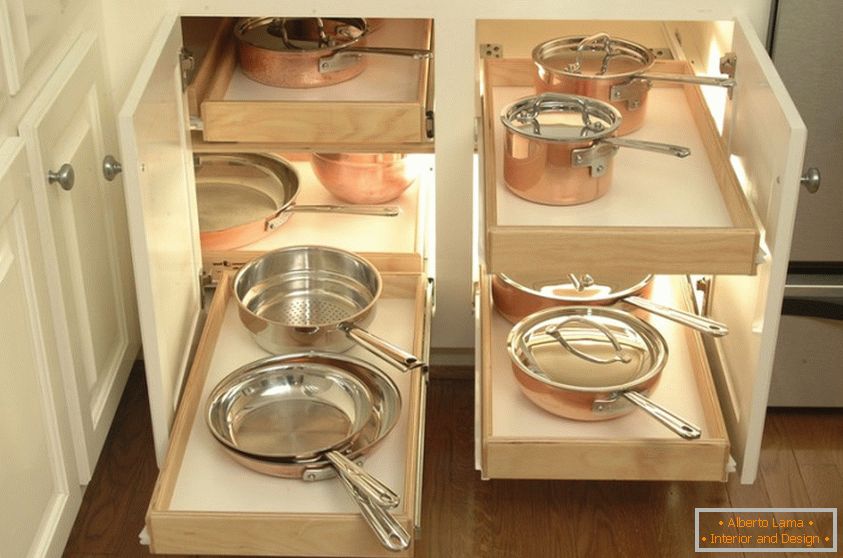 tell us: And what ideas helped you to organize space in your kitchen?
Photogallery Total | 15 pictures