Loft in the interior is such a modernized attic style: a combination of old and innovative, chaos and order, rough and art. It was invented by creative people who did not have the opportunity to furnish their homes beautifully, but became one of the most fashionable in Europe.
Content:
The first signs of loft
Wall decoration or imitation of its absence
Loft colors
Loft layout features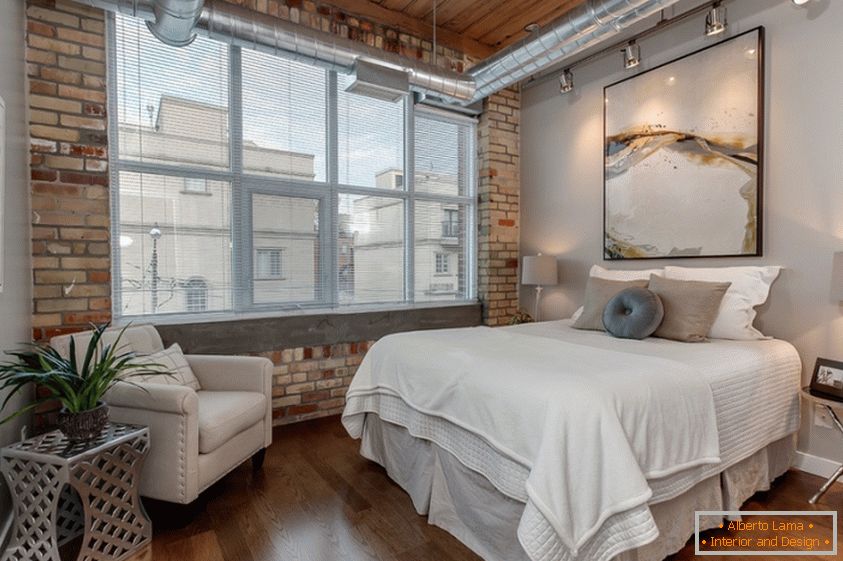 The first signs of loft
The bedroom in loft style resembles a room converted from a warehouse, a factory, a production hall or a workshop. This - accentuated negligence, industriality, "non-living" rooms, high ceilings and bare walls without finishing.
To create a loft in the interior of the bedroom, it is not necessary to live in an attic or in an abandoned building - a literate enough stylization. Moreover, many do not even suspect that Some features of the loft are already present in their interior. So, some similar elements can be traced in the Art Nouveau style, the Scandinavian style and even in the unfinished neighbor's apartment ... The main thing is to skillfully select them and taste them with taste.
There are several basic rules that need to be followed, creating a loft-interior bedroom:
choose simple and functional furniture;
use in the interior of cold, natural shades;
minimally, but accurately use decor elements;
use of non-standard, designer or homemade things;
the use of various textures and materials, the play of contrasts;
leave a maximum of free space;
large, high windows;
minimalism and naturalism: laconic set of interior items, brickwork or rough plaster on the walls.
At first glance, it may seem that such a bedroom will be uncomfortable and cold. But this is a matter of taste and habit. And since the founders of the style were originally Bohemians, the taste should be special and subtle.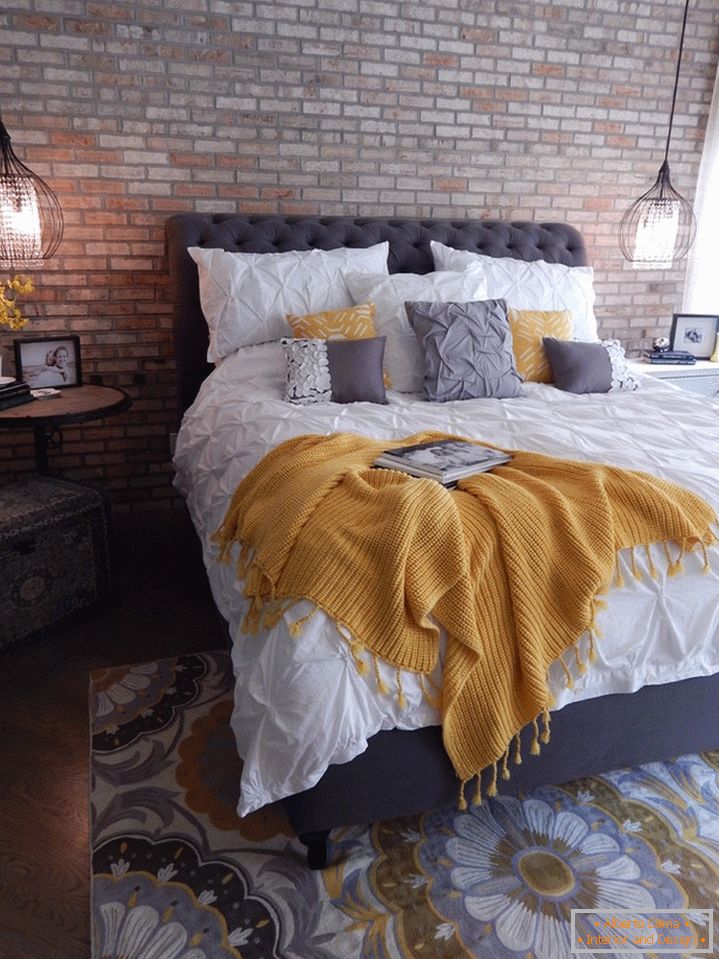 Wall decoration or imitation of its absence
Style loft in the interior of the living room involves leaving a part of the walls in the room in their original form. This means that at least one wall should be natural, not covered with wallpaper or other decorative finishing - metal, brick, stone, wood, etc.
Actually, the wallpaper itself, in the interior of the loft style is almost not found, and if there is - then stylized, imitating natural materials.
In the untreated bedroom, leave, as a rule, the central wall at the head of the bed. The rest - trim, but minimal. As a rule, it is a monophonic color coating or plaster.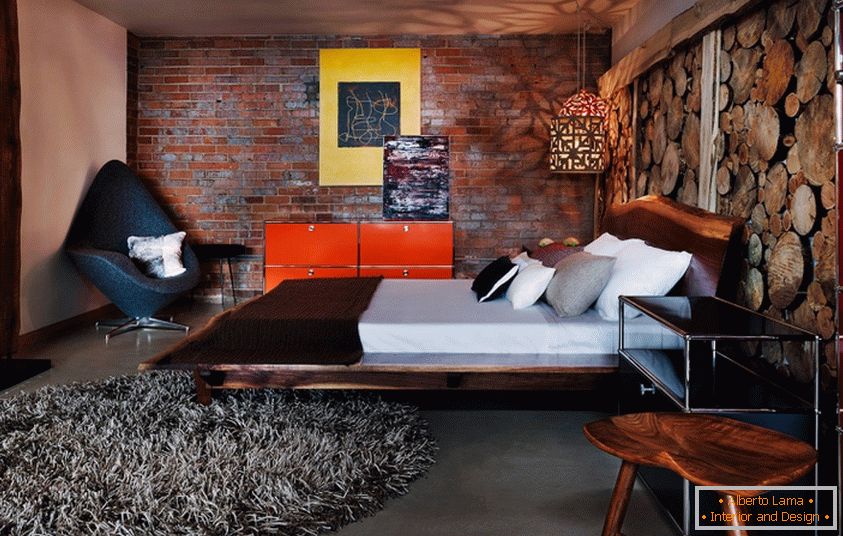 Most of one or more walls should be occupied by windows, as the loft welcomes the idea of ​​a comprehensive space and light. If there is no possibility to install large panoramic windows in the room, you should try to emphasize all that is. First, do not hang them with curtains. And secondly, paint the frame in an unusual, for example, black.
A great option would be to combine a loggia or a balcony with a bedroom to illuminate the room sufficiently and use the maximum number of windows in the interior.
Ceilings are usually sewn with a board or painted with white or gray paint.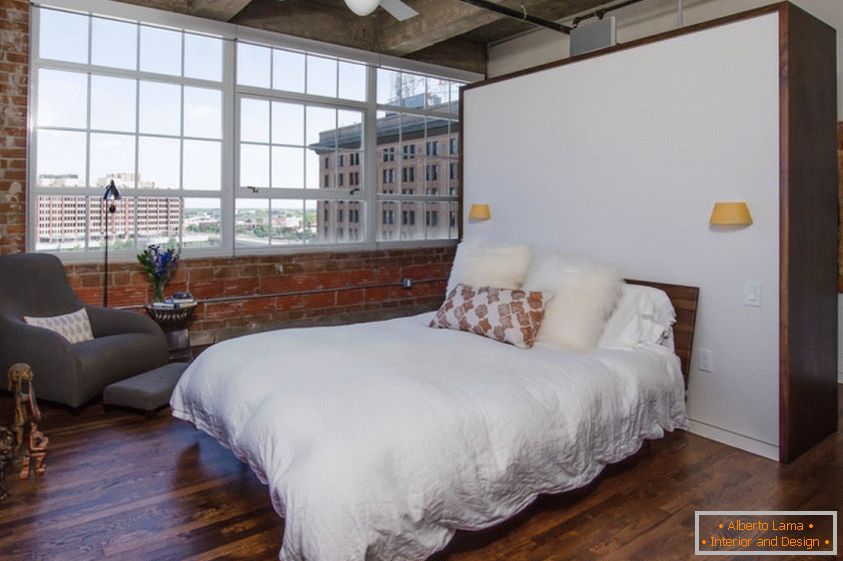 Elements of the building structure must be preserved, in order to reproduce the authentic loft as much as possible. It can be beams, crossbeams, rafters, which will emphasize the industriality of the interior.
In modern homes, these elements are usually kept to a minimum or completely absent. Therefore, those who are not lucky enough to live in an old building, create them artificially.
Loft colors
To maintain the idea of ​​an abundance of light, loft style design uses light, neutral shades. It is a traditional white and gray color, woody, metallic, brick color.
All shades are cold. Especially they are relevant for small bedrooms. If the room's area is large enough, you can allow the introduction of brown and blue interior elements. The remaining colors of the spectrum are used very carefully and sparingly, very rarely.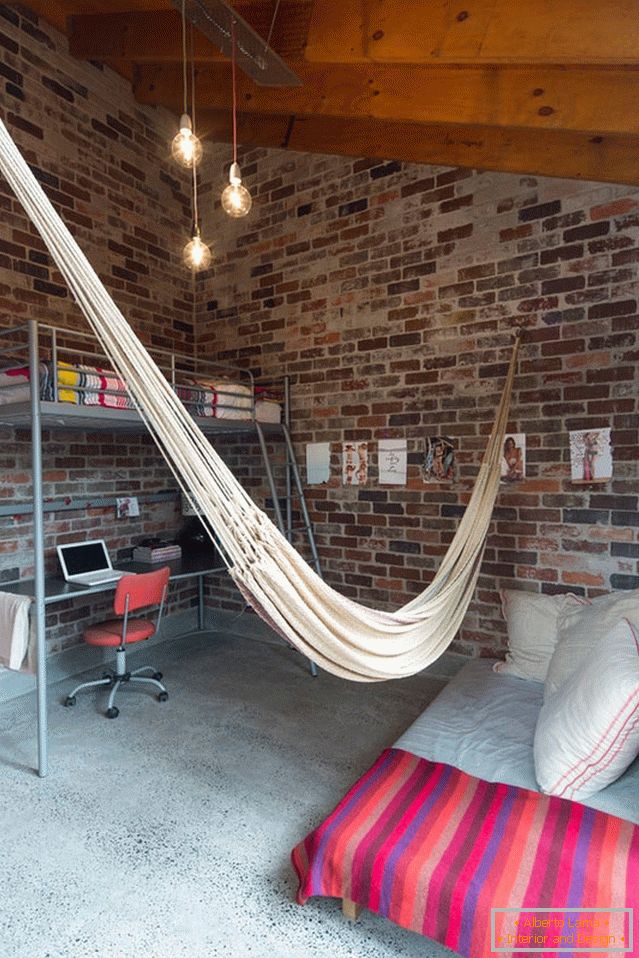 Loft layout features
As already mentioned, the first room-lofts were created on the basis of warehouses, workshops and attics - i.e. large, spacious rooms. Therefore, until today a characteristic feature of the style were large studio rooms, which combine several functions.
In the case of a bedroom, a room for sleeping and resting is often combined with a bathroom, library or study. But since the style is characterized by deliberate asceticism, all these rooms must be ultra-minimalistic. So, the bed can be separated from the bathroom with just a glass partition. And sometimes a font is placed just in the middle of the room, by the window. There is nothing strange about this, because creating a style belongs to creative people, for whom the comfort and state are the first place.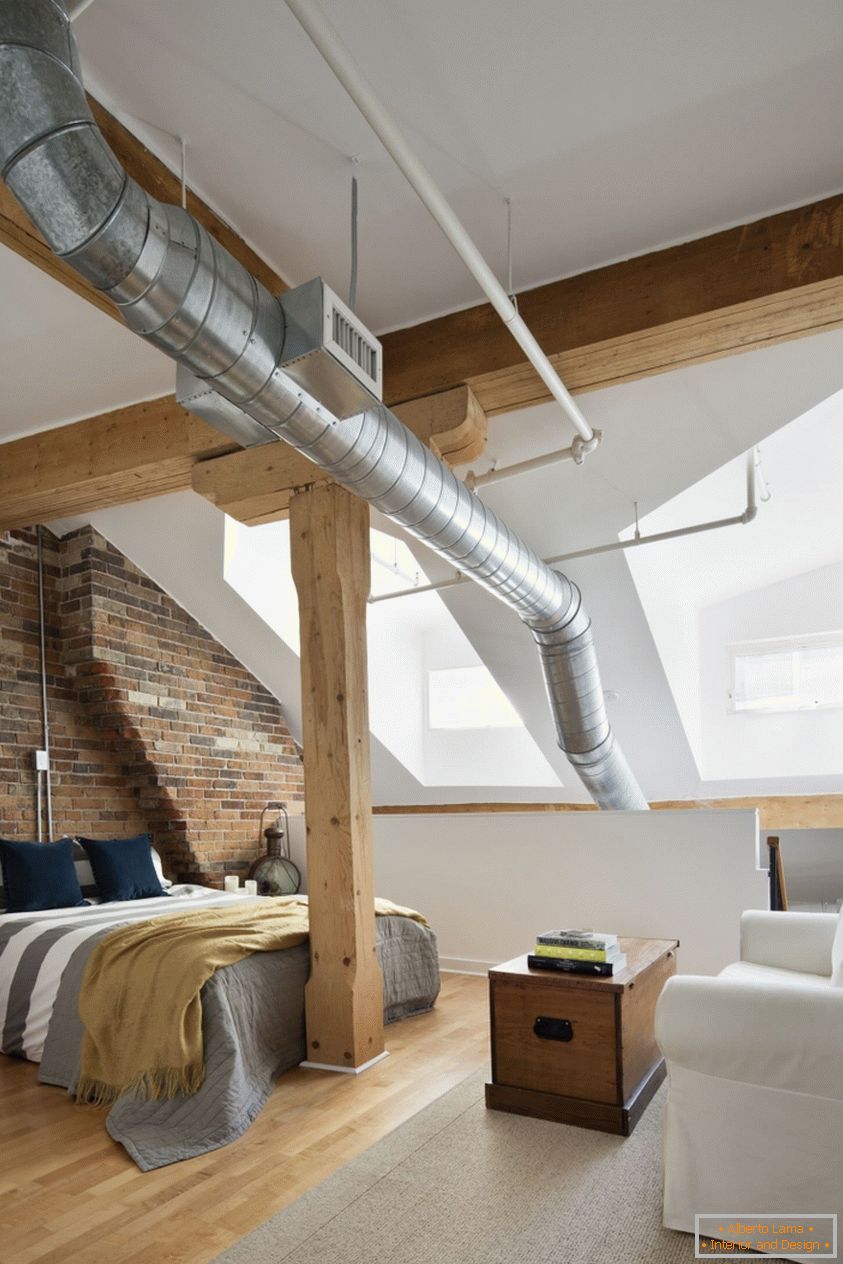 Furniture
Furniture в интерьере стиля лофт – простая и нейтральная. Чтобы вписываться в общую стилистику спальни, кровать должна быть очень индустриальной – с металлическими элементами, заклепками и т.д. Также можно выбрать деревянное ложе, но без шлифовки и лака – как будто только из-под станка мастера.
Very often in such interiors use low bed-platforms with fabric upholstery.
Also, the presence of a large, even bulky, cabinet is also welcome.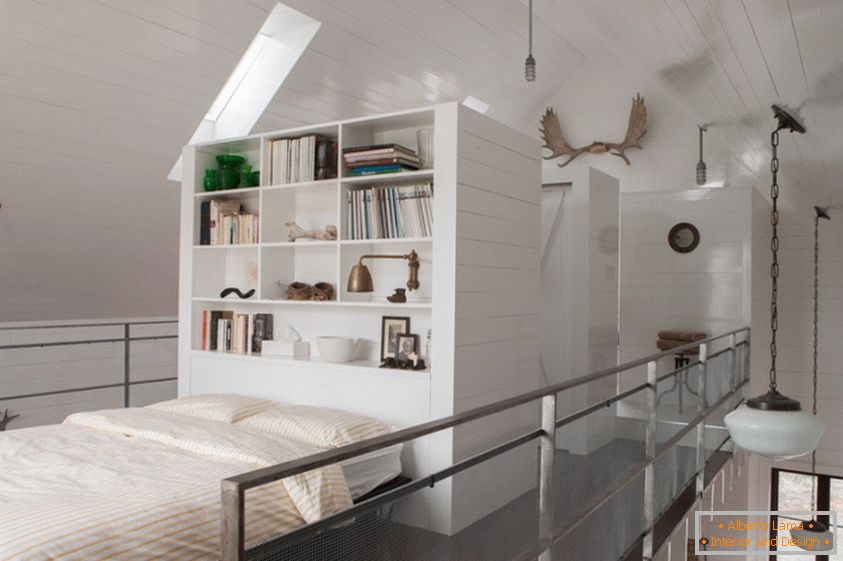 It is necessary to have mirrors and, preferably, without frames.
As for textiles in the interior of the bedroom, it should also be simple and in minimal quantity. Most often his presence in the interior is limited to bed linen and a small bedside mat.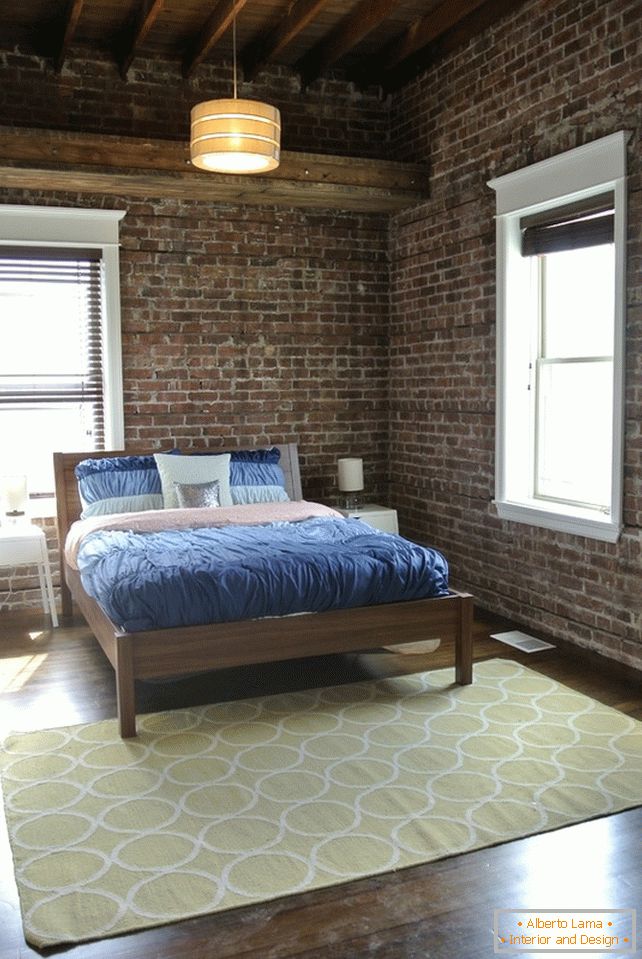 Decor
Where it is possible to depart a little from industrialism and minimalism, so it is in the decor. As a decor, you can use simple, urban items, for example, a wooden box instead of a curbstone or some composition of wire, and glamorous things - crystal chandeliers, stylish hanging lamps, LED backlight, velvet cushions on the bed. The game of contrasts is a hallmark of the loft, so the experiments in the bedroom decor are quite acceptable. Glamorous accessories make it more feminine and soft.
The bedroom in loft style is a combination of simplicity and grace. It perfectly suits creative, extraordinary natures, as well as those who do not seek to invest in repairing excessively large funds, because the loft implies a minimum of costs and maximum - the use of improvised materials.