In the era of minimalism, this kind of fine art, like wall painting, has calmed down somewhat, but in recent years it has been revived and improved. There are many styles of painting, which you can learn from this article.
Painting in the style of classicism
Classics never lose relevance and always finds its admirers. The classical design of the walls is not only harmony, but also restraint, simplicity and, importantly, symmetry. Often, with classics in the interior of the room, sculptures adjoin. Classics in the painting implies a smooth surface of walls, clear volumes and calm tones.
Baroque painting
Baroque emerged as a logical continuation of classicism. He combined the style and way of life of people. Baroque is a real greatness. In the wall decoration under the Baroque means the presence of interesting ornaments, patterns and patterns, volume and elevation. The main element here is murals. Also beautiful in this interior are beautiful oil paintings on the wall. So-called vegetable motifs are popular here - for example, large leaves and flowers. No less popular are moving semi-naked bodies and other motifs. The interior of the room, painted under the Baroque, is characterized by the brightness of the colors.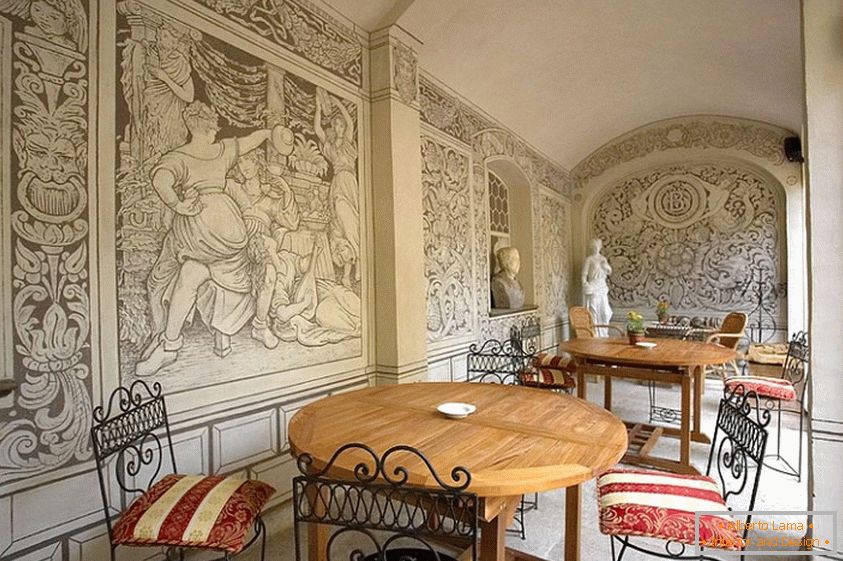 Painting in Empire style
Empire - this is some kind of unearthly luxury, where the severity of the classics in harmony coexists with an impressive decor. The colors are blue, purple and golden. In the ornaments, both naturalistic and conditional elements are harmoniously combined. Garlands are also used.
Painting in Art Nouveau style
The Art Nouveau style is recognized through its abstractness. For him, a complex composition is typical, containing ornaments with so-called floral motifs: large flowers and stems. Of the colors used in decoration, the most popular flower is the iris. Often here there are images of mythical and fantastic creatures. The color scheme is very simple: it is dominated by simple natural shades. In modernity everything tends to rationality and simplification.
Painting in Arabic style
The decoration in this style is characterized by originality, as well as unusual for us, Europeans, details, color saturation and mystery. In addition to plant motifs, there are also geometric figures, and an intricate Arabic ligature. It is also bright patterns and luxury.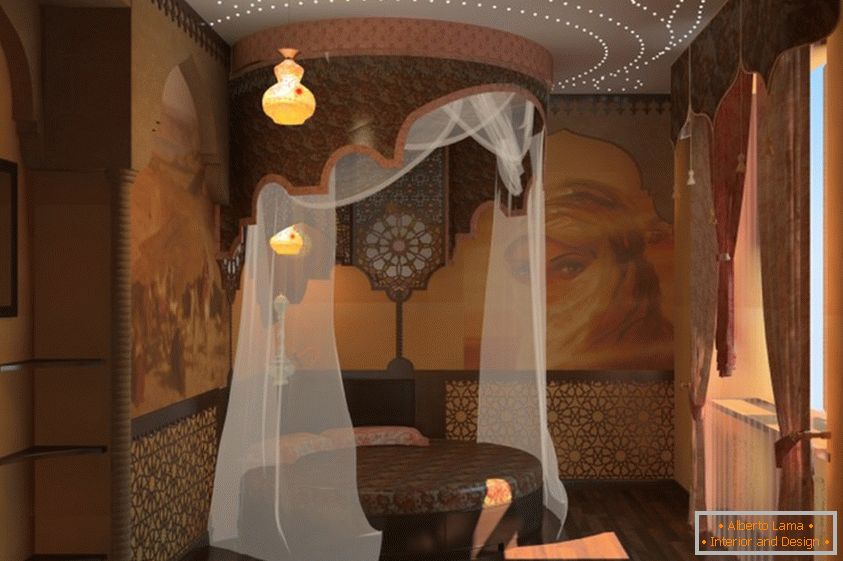 Anime painting
Particularly harmonious looks decoration in a new for our country anime style in the interior, decorated in Japanese traditions. The combination of functionality and laconicism of Japanese design with artistic wall paintings in the style of anime - this is in its own way a real masterpiece. Also, the wall painting in the anime style can include the motives of this Japanese painting. Ideally, this interior is suitable for decorating a children's room.
Painting is our work and life itself!
On the site of artists http://artofrussia.ru/ you can see the options for artistic wall decoration. It is appropriate for any room - apartment, house, office, cafe, restaurant, hotel and so on. Wall painting is stylish, beautiful and bright!