Most of us in our childhood dreamed of having our own little house on the tree, as a refuge from annoying parents, as a special secret place where we could hold top-secret club meetings or perhaps even put some experiments. Some, by the way, still dream about such a house.
Interesting is the fact that in some countries a tree house is not considered something exotic, but quite natural and everyday. In New Guinea, for example, people of Korowai live in houses on trees, thereby protecting their homes from predators and floods.
Fortunately, the house on the tree has long ceased to be a fairy tale, but more turned into the embodiment of a childhood dream by professional designers and architects. Many companies have long developed projects of hotels made in the style of houses on the tree, with a high level of comfort and convenience inside. Some of them even consist of more than one floor.
We are pleased to present you the 17 most amazing designs of houses on the tree, which in our opinion deserve special attention.
1. Three Story Treehouse (British Columbia, Canada)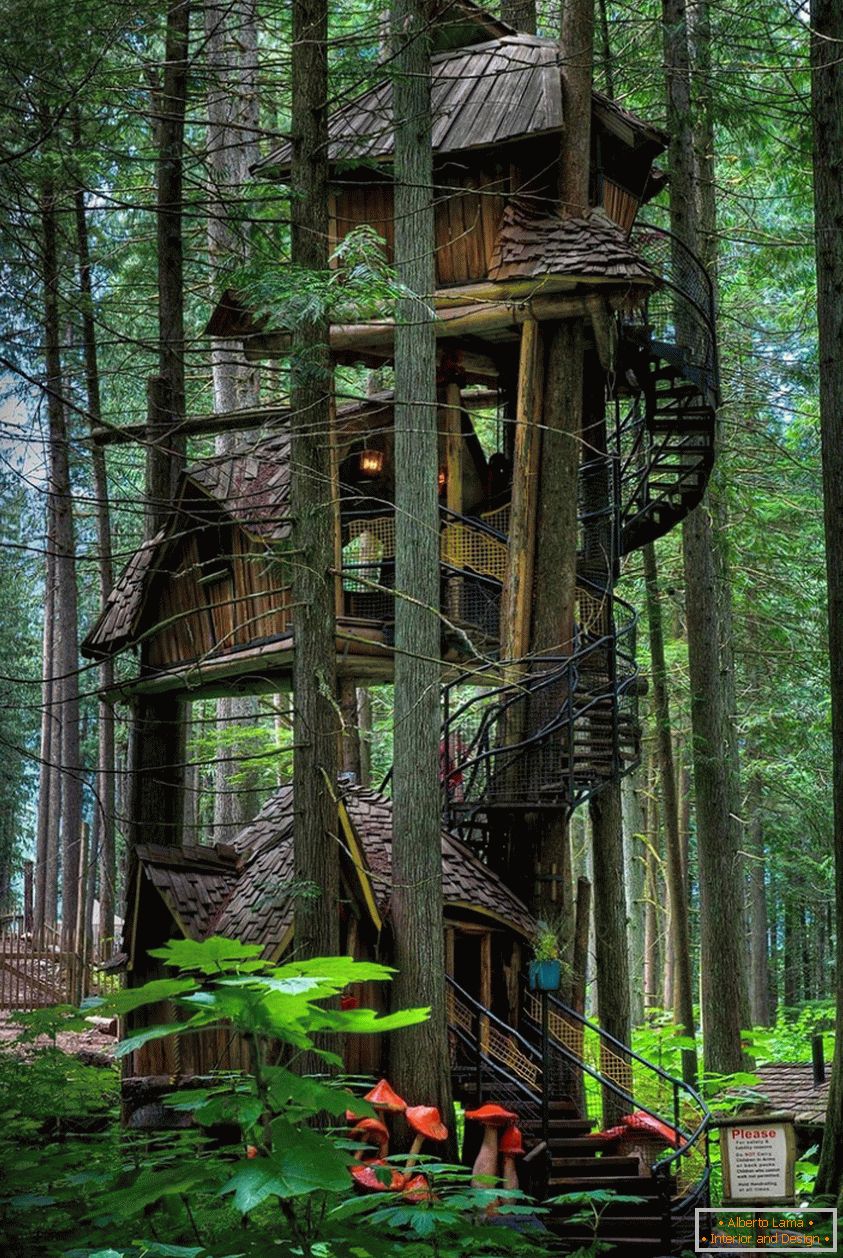 This is the tallest tree house in British Columbia, you can find it near Revelstock.
2. Mirror Tree House (Швеция)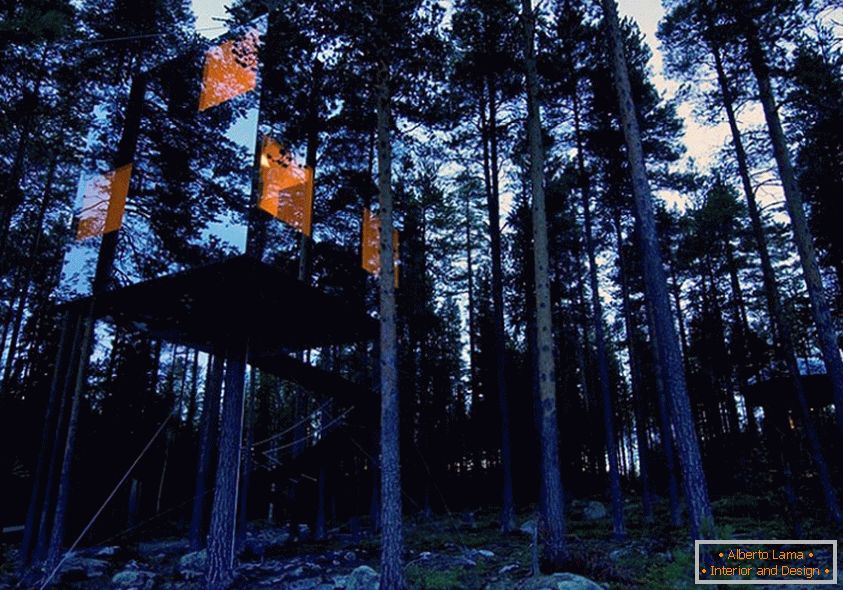 Almost invisible and ideal for hiding, the Mirror Tree House is part of the Tree Hotel in northern Sweden. The only thing worth worrying about is that it is also almost invisible to birds.
3. The Bird's Nest Tree House (Швеция)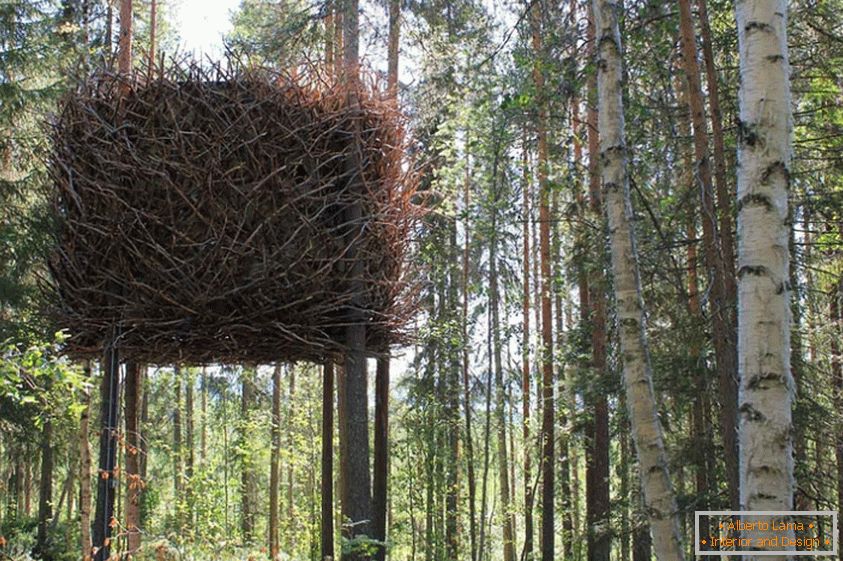 This house also applies to the hotel Tree House and even more can confuse the birds. Although outwardly the house resembles a bird's nest, inside you are made to high standards and modern technologies.
4. The HemLoft Treehouse (Whistler, Canada)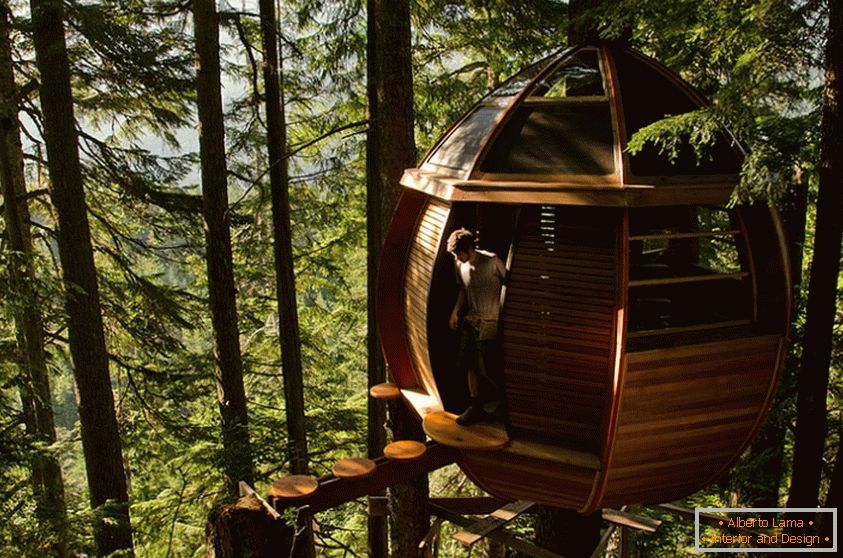 At 26, the software developer Joel Allen decided to become a carpenter and do something "cool." His work has already got into many international magazines and more than once will be awarded attention.
5. Treehouse in Muskoka (Ontario, Canada)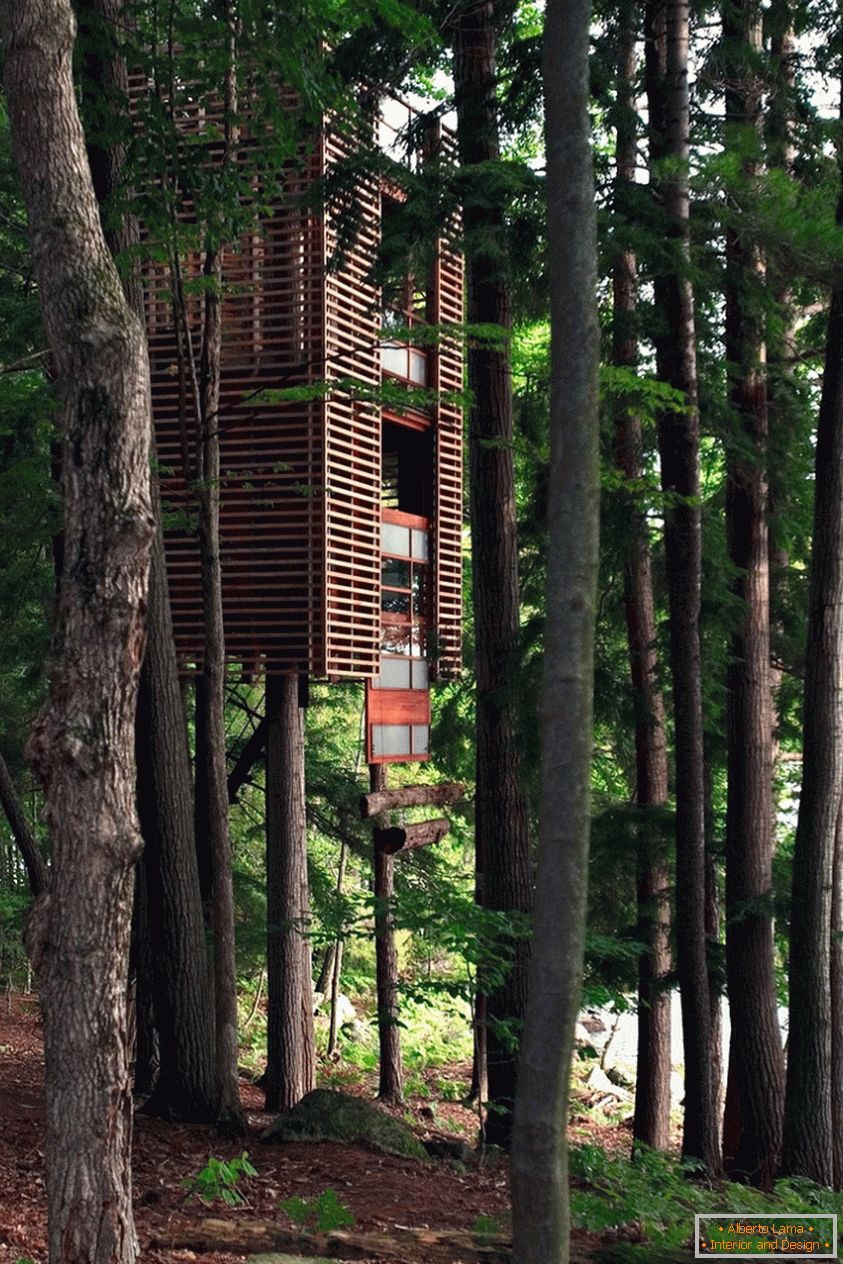 The house was designed by the designer Lukasz Kos and was built near Lake Muskoka in Ontario, Canada. Externally, the house resembles a huge Japanese lantern.
6. Minister's Treehouse (Crossville, Tennessee, USA)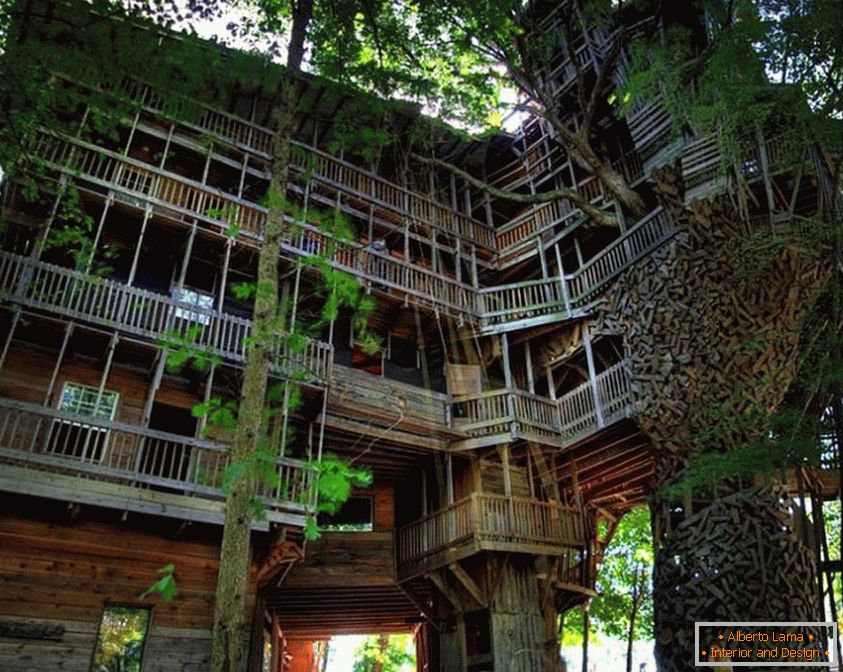 Tree house? Yes it is something very grandiose, more than just a "house". By right this building is considered the largest house on the tree, it was built Horace Burgess in Crossville, Tennessee.
7. Yellow Treehouse Restaurant (New Zealand)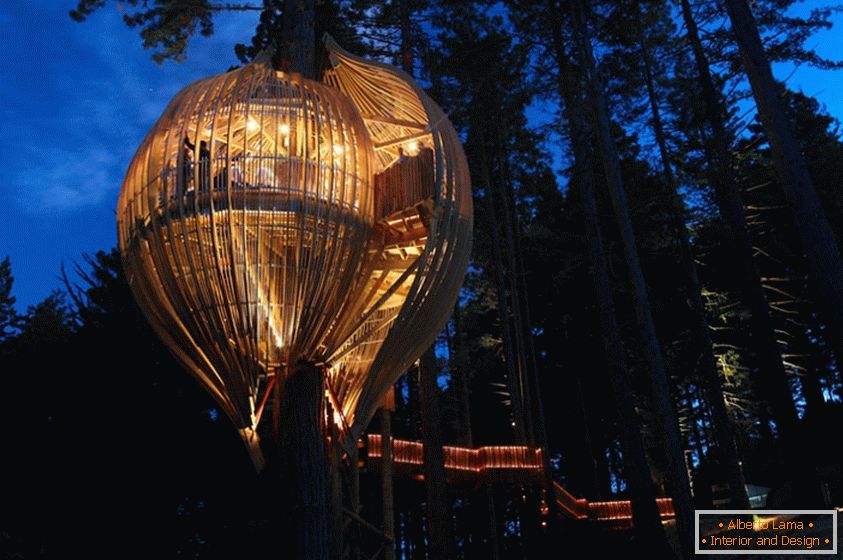 This amazing tree restaurant is located in Oakland, New Zealand and accommodates around 18 guests, amazing with its amazing views and unusual sensations, having dinner on the tree.
8. Treehouse in Seattle (Seattle, USA)
This house resembles a mysterious house of old fairy tales, it even has a wooden hinged bridge to the door itself, quite eerie.
9. Free Spirit Sphere Treehouses (Канада)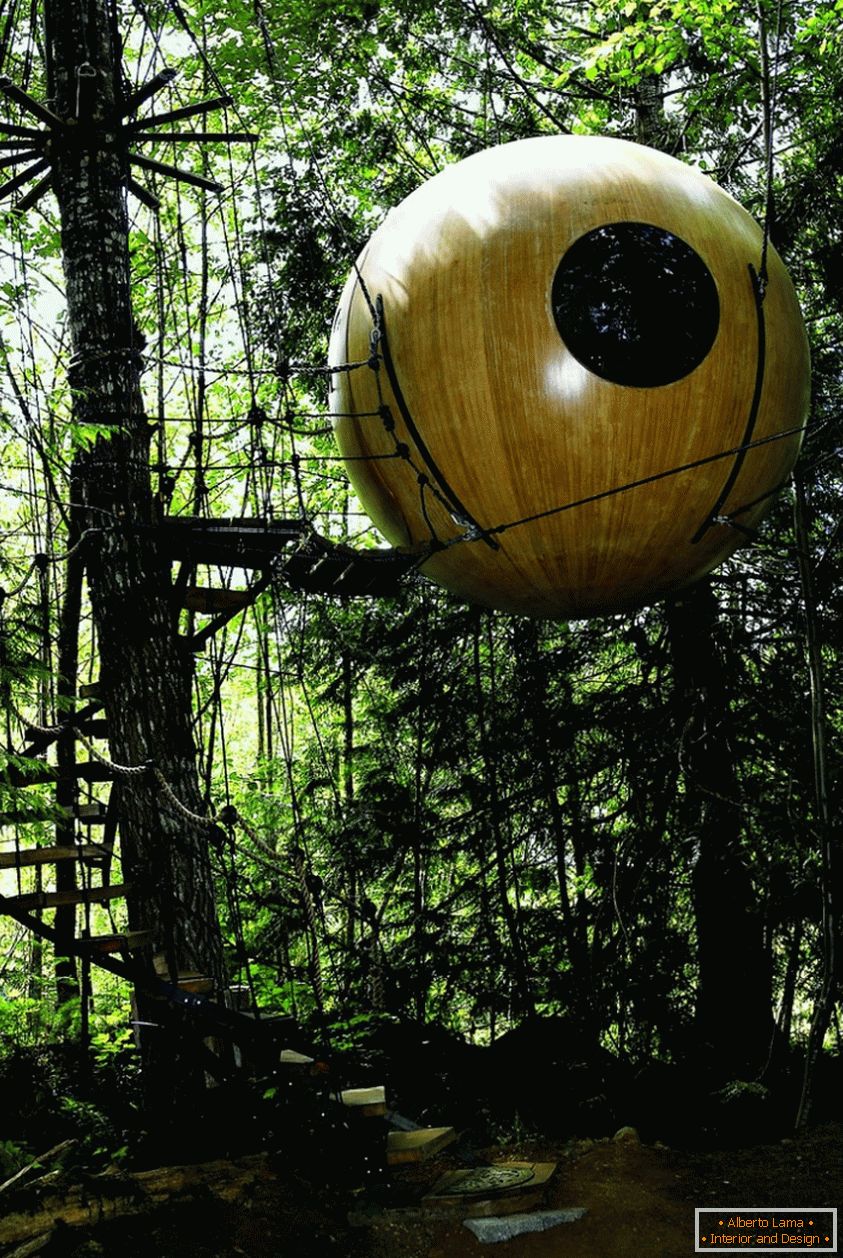 Again, an unusual tree house in Canada, but its shape is very memorable and unusual, it is very interesting to know how it is arranged from the inside.
10. Treehouse by Takashi Kobayashi (Япония)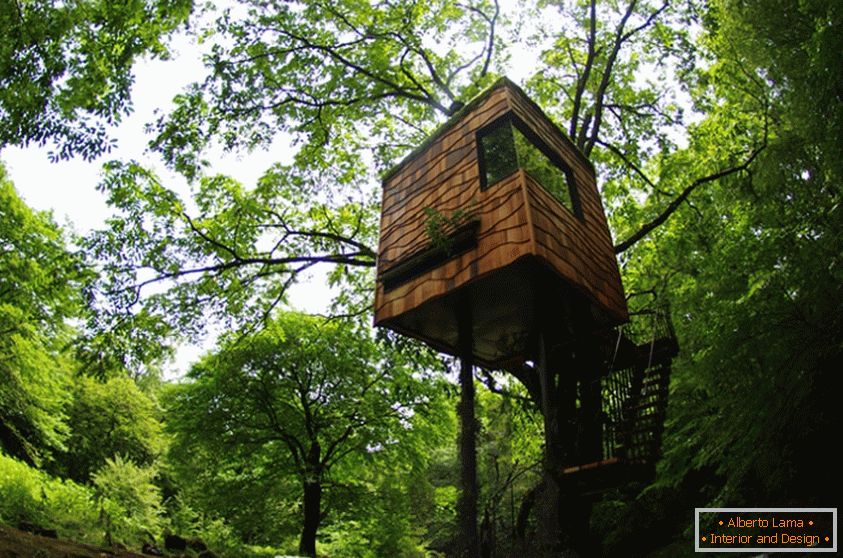 One of the rare houses on the tree in Japan was designed by designer Takashi Kobayashi and personifies the fusion of nature and man.
11. Senior Center Turned Treehouse (Ghent, Belgium)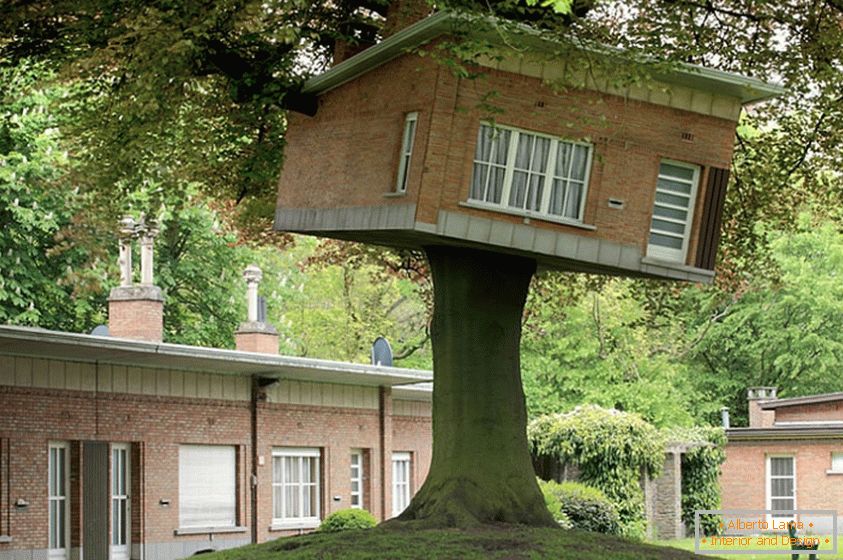 This unusual brick tree house is in Belgium and was built for the TRACK: A Contemporary City Conversion festival, it is a small copy of the house from the rear. The project was designed by designer Benjamin Verdonck.
12. O2 Treehouse (USA)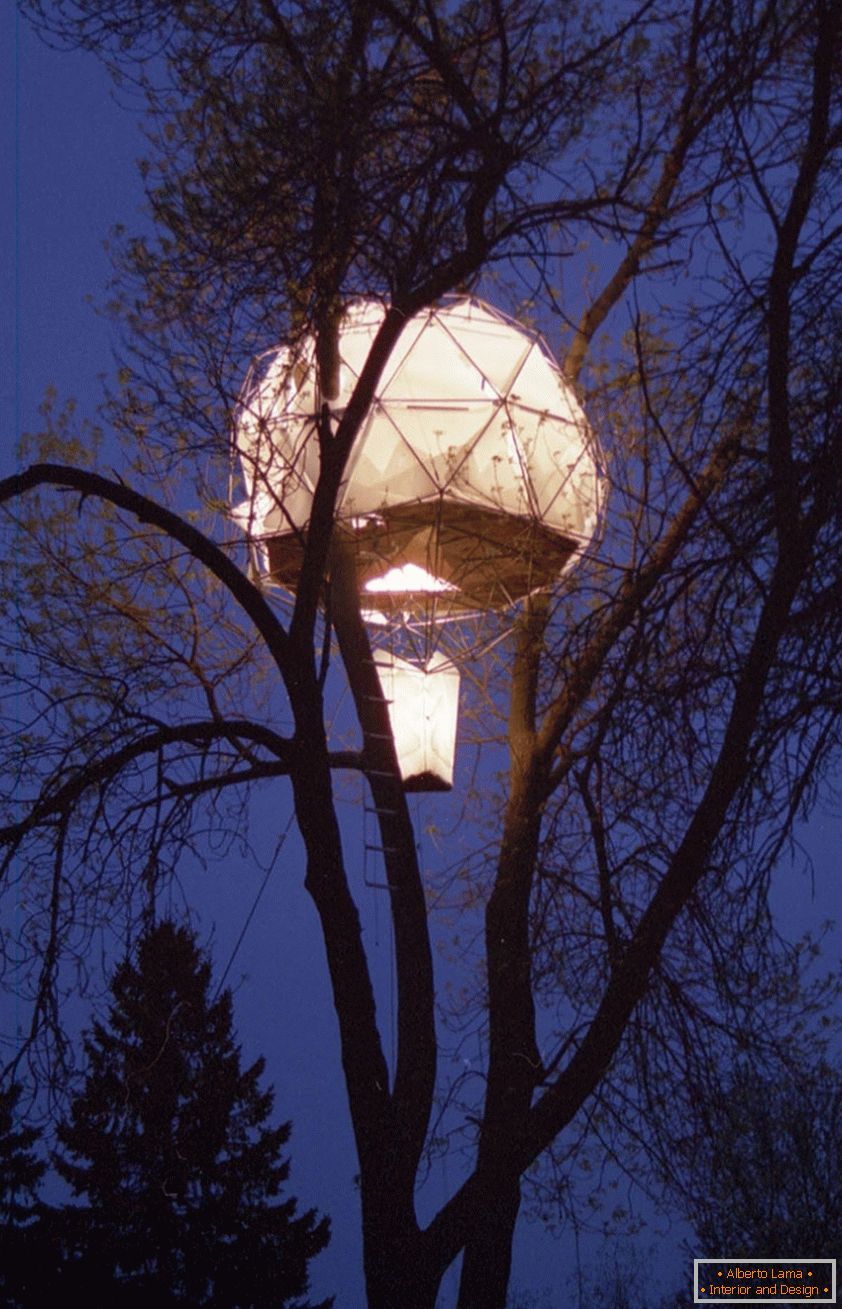 The house was designed by design studio O2 with the idea to demonstrate to people how we can live in harmony with nature.
13. Treehouse for Birds and People (Япония)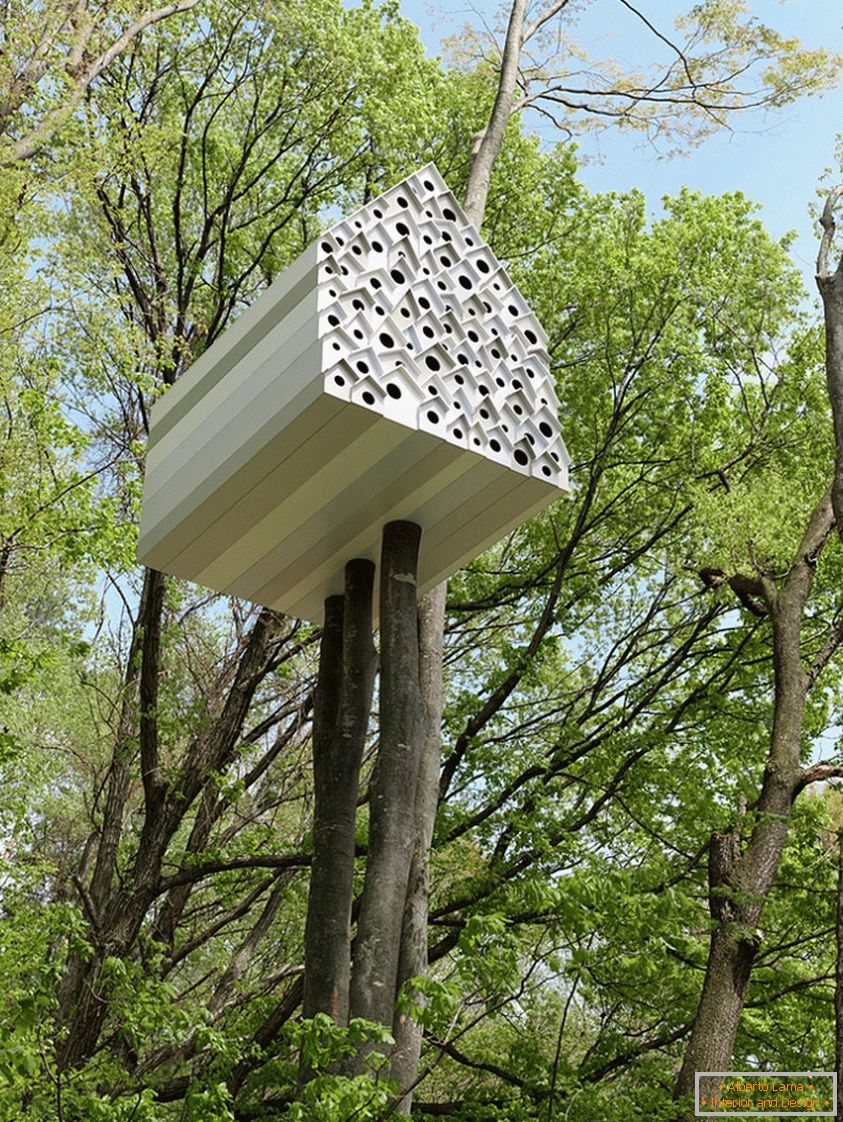 A very unusual house that allows people to live with the birds, the house is divided into two parts by a wall with holes through which you can watch the birds. The house was designed by Nendo.
14. Eco-friendly Finca Bellavista Treehouse (Коста Рика)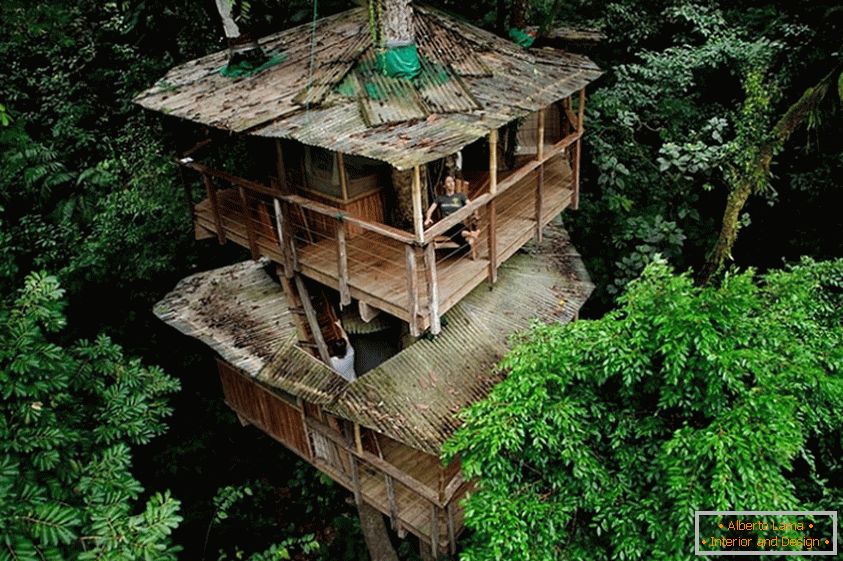 This is part of the amazing forest community in Costa Rica called Finca Bellavista, which currently occupies about 600 acres of land and all the buildings are connected by bridges! Amazing construction.
15. Plane Treehouse (Costa Rica)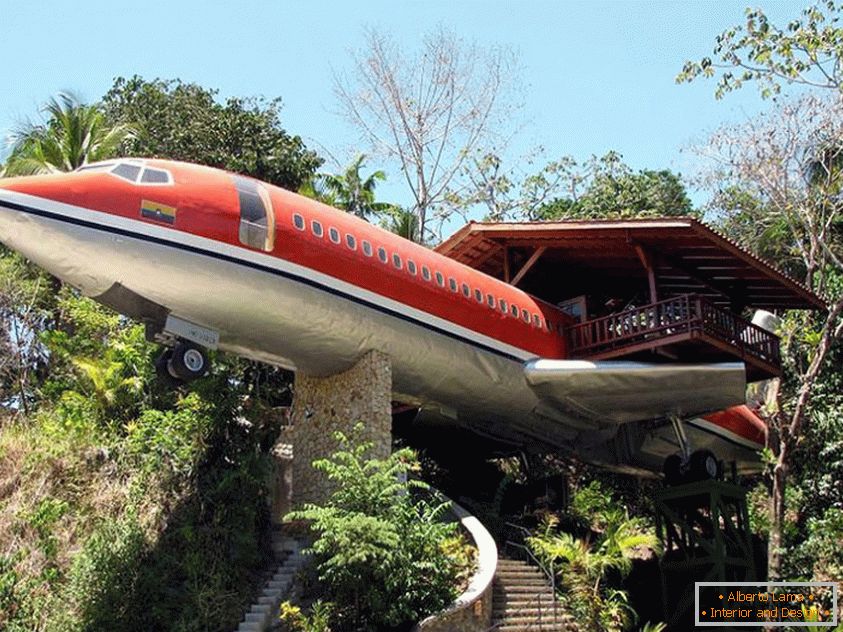 This truly unusual and outstanding construction is the work of hands, or rather the matter of thought and money, Joanne Ussary, who decided to make a house from Boeing 727, which can also be called a house on a tree. The cost of the Boeing 727 was $ 2,000 to hang it over the ground, it also had to pay $ 4,000, and the construction of the whole house cost $ 24,000, which is generally not so expensive, but very original.
16. Teahouse Tetsu (Yamanashi, Japan)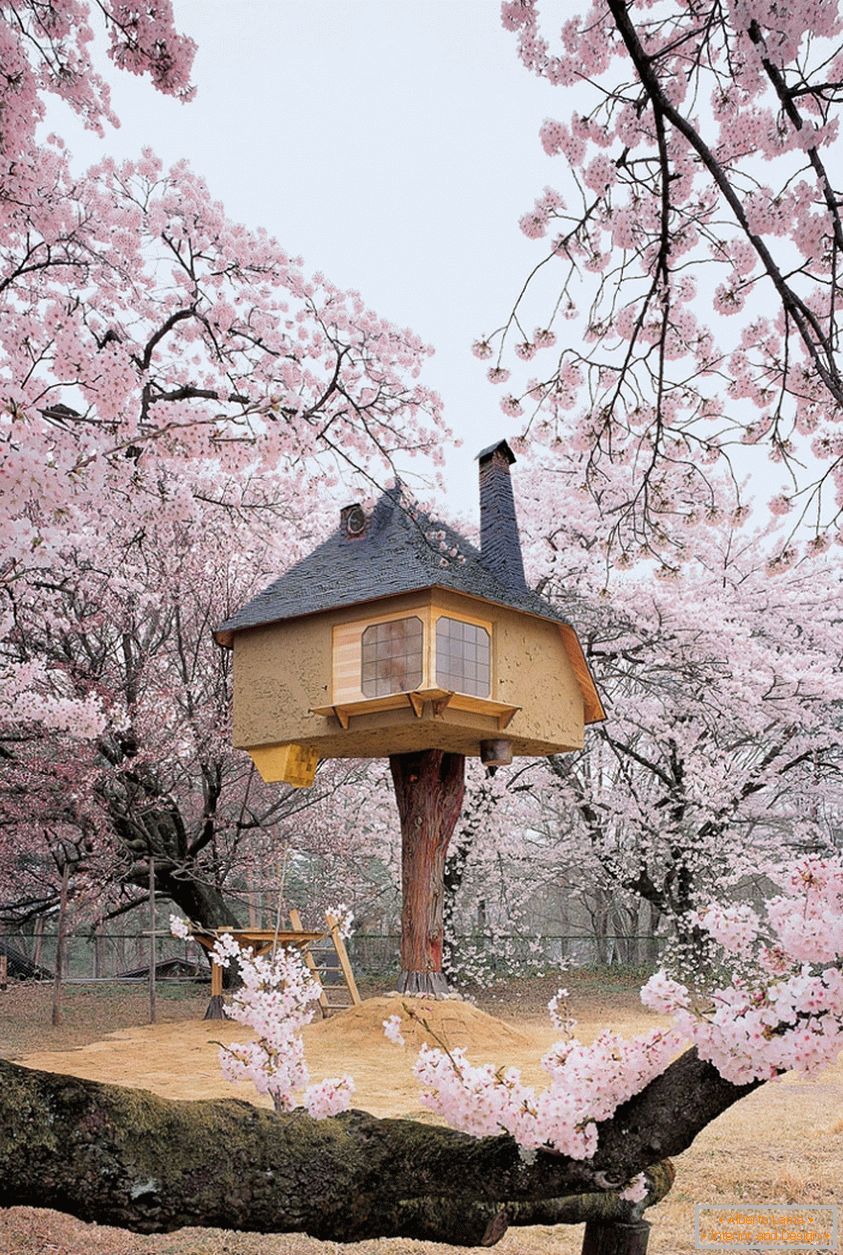 Architect Terunobu Fujimori put together a minimalism and a fairy tale, as a result this fairy-tale house on a tea tree has turned out. As for the interior of the house, it is made in the style of Art Nouveau and is quite simple.
17. UFO Treehouse (Sweden)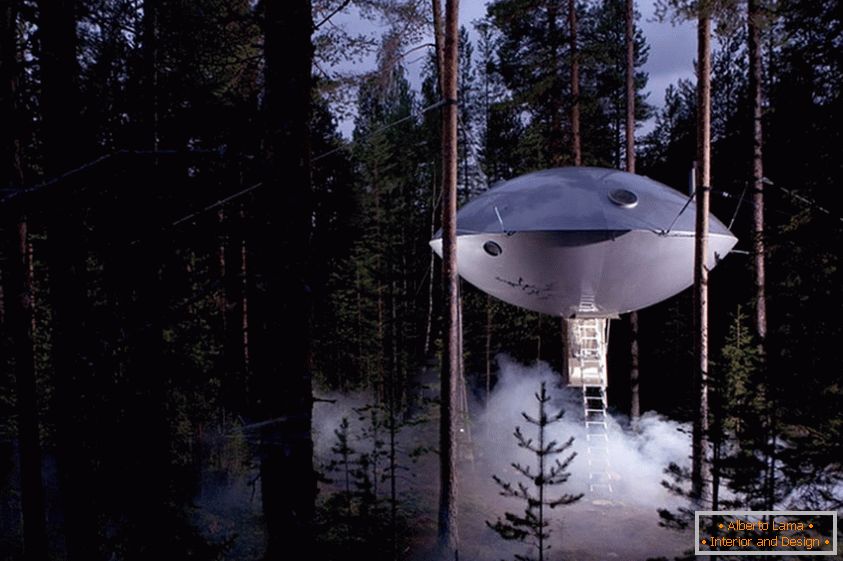 And again, Sweden, and again the Tree Hotel, a little higher already mentioned two projects in this unusual hotel houses on trees, but in our opinion this is the coolest! Who will refuse to live in a flying saucer?
Photogallery Total | 18 pictures