According to statistics, an average person spends more than 6 hours a day sitting at the desk. It does not matter whether you are reading a book or working at a computer, the light should cover all the closest space.
In this article, you will learn how to choose the right lamp to have a stylish workplace and avoid eye strain.
9 Tips for Choosing the Perfect Table Lamp
1. The main purpose of the desk lamp is to illuminate your workspace. But at the same time, such a device can help you focus, focusing light on a specific place. If you are easily distracted and want to create a more rigorous working environment, then give preference to a desk lamp that does not disperse light but directs. To do this, it must have a dense, opaque lampshade, for example made of metal.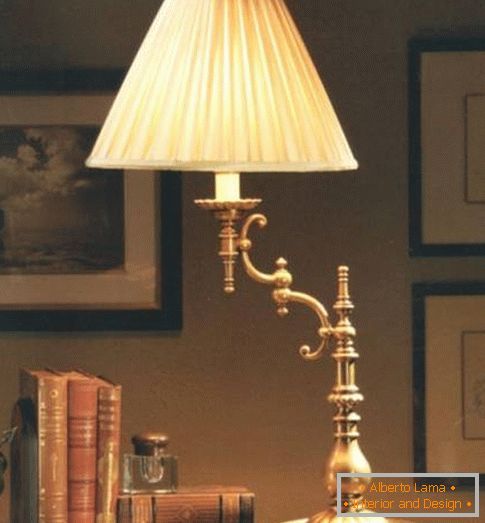 Table lamp with diffuser shade
Table lamp with guide lampshade
2. Think about how much natural light enters the room where you work? From this directly depends on how wide the lampshade of your desk lamp should be. If there is little natural light in the room, then you need to choose a lamp with a large diameter of the glow. Conversely, if you work in a well-lit place, you do not have to worry about the width of the lampshade and allow yourself to choose a decorative table lamp, more stylish and not necessarily giving a huge amount of light.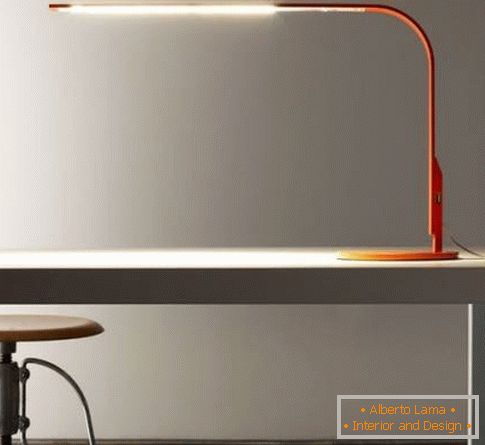 Table lamp for work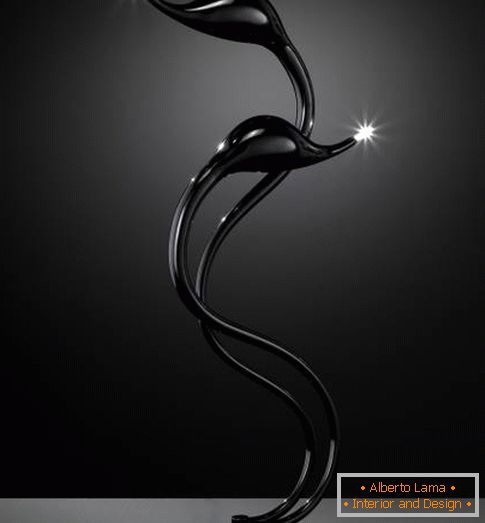 Decorative Table Lamp
3. If the lamp should illuminate a large table area, then choose models with a high stand. Table lamps on a low stand are suitable for more intimate lighting, for example, near a chair or a bed.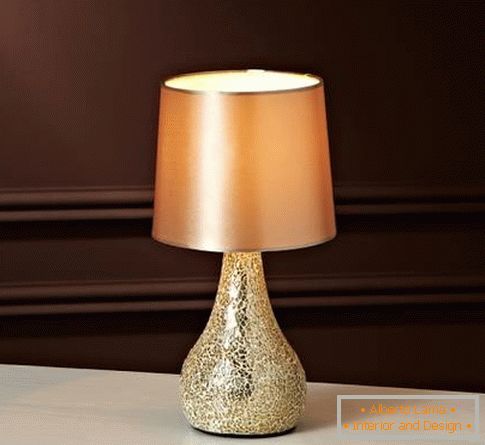 Low table lamp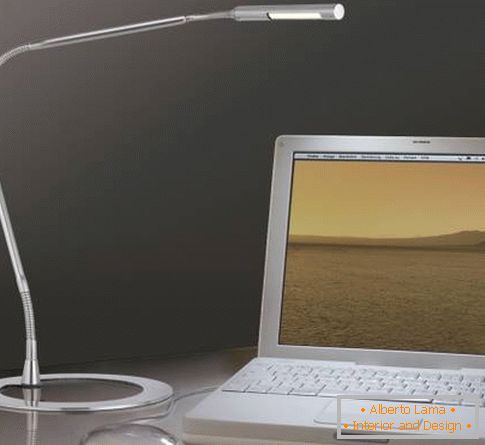 Table lamp on high leg
4. Since the quality of light is also very important, pay attention to what kind of bulb you are going to put in the table lamp. So, LED lamps are the best modern solution for any lighting. Although their light is similar to halogen lighting, they work much longer and consume less energy.
LED Light Bulbs
5. This may seem obvious, but when choosing a table lamp, you also need to consider the size of your workspace. Today, there is a fairly wide choice of lamps with two light sources. Such models perfectly allow to save space on a table if two people work for it, or one, but its working surface occupies a very large area.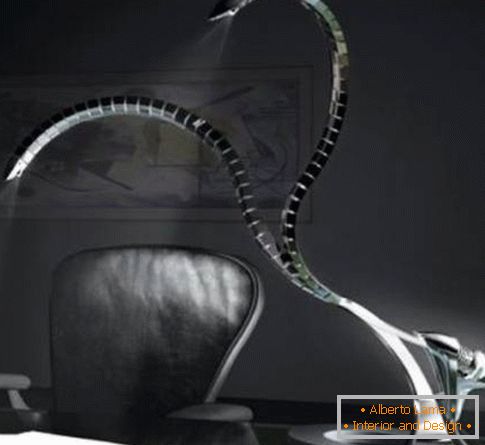 Table lamp with two light sources
6. A particularly popular type of table lamp is a model that can be put on the work surface, like a clip. This is not only another way to save space on the table, but also a very useful function for architects and artists whose work surfaces are often slanted.
Table lamp that attaches to the table
7. The table lamp must necessarily be strong and functional, but the most important thing in it is stability. Unfortunately, today the market often meets table lamps, which subsequently turn over from the lightest touch. Check how reliable the base and moving parts of the luminaire are, if any. Faint fasteners sooner or later cease to hold the lamp from falling. Therefore, lamps with a folding "neck" are preferable for those who want to rid themselves of unnecessary worries.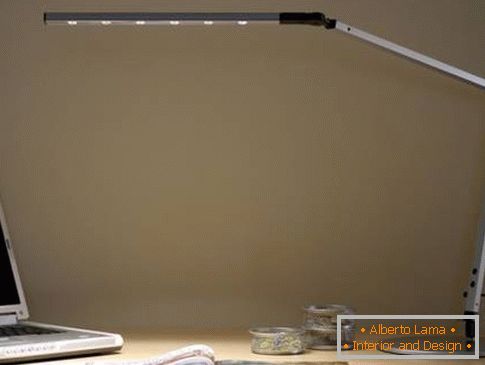 Adjustable table lamp
Flexible table lamp
A practical option for an adjustable table lamp
8. Choose the appropriate style of the table lamp that will create an attractive workspace, but at the same time will be restrained and motivating to work. As a rule, the most motivating table lamps are those that are made in accordance with the style of the company or reminiscent of any working images.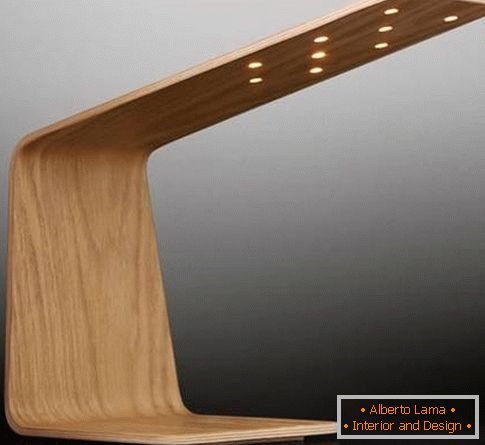 Unusual table lamp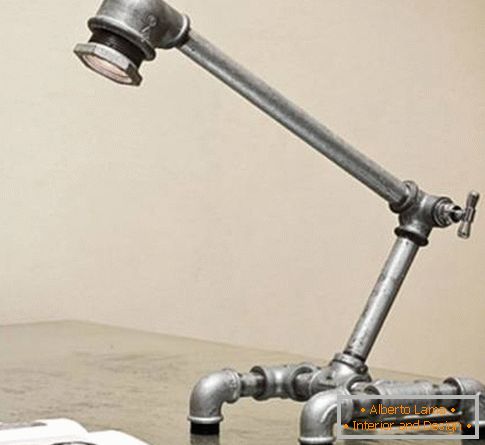 Unusual table lamp
9. The last thing to consider before making your final choice is the color of the table lamp. Most preferred are neutral colors such as gold, silver, white or black. In addition, you can choose a bright desk lamp if you think that it will add charisma to your workspace. But do not get too involved: if it contrasts with the overall color scheme in the room, then in time it will definitely start to annoy you.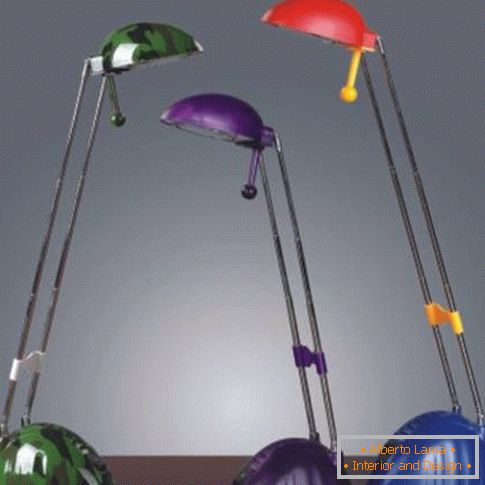 Multicolored table lamps
The most interesting news and useful tips from the world of interior decoration - on the site http://dekorin.me/. Stay with us!