Fashion for the design of houses in the Japanese style came to us in the middle of the 19th century, when the trade between Europe and the Far East began to develop actively.
Since then, the traditional Japanese philosophy of Zen has not ceased to inspire us with its simplicity and naturalness, which are embodied in minimalist design and architecture. The line, shape, space, light and material play the main role here. With their help, a unique balance is achieved between the room and all its contents (furniture and accessories), and it is this balance that creates that special, free and quiet atmosphere in the house, for which we so appreciate the Japanese style.
Do you want to bring Japanese inspiration to your home? Further in this article you will find out what details help to embody this widely popular style in the interior.
Basic principles
Zen philosophy, open planning, natural materials and neutral color palettes are the main features of Japanese interiors. Let's take a closer look at them.
1. Open lay-out
Unlike Western civilization, people in the Far East have always tried to avoid the abundance of furniture in the interior. Moreover, they also care about reducing the number of internal walls, giving preference to thin and light modular partitions. This makes the space more open and creates an organic flow between the interior and exterior - in the best traditions of Zen. The absence of piles of furniture also allows our eyes to capture a larger view, and this helps to improve well-being and avoid fatigue.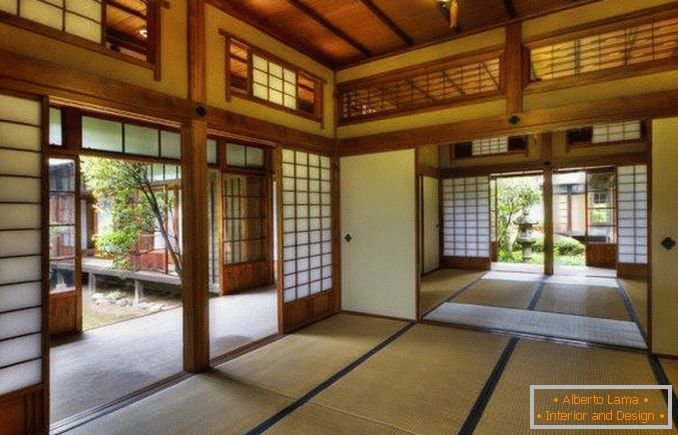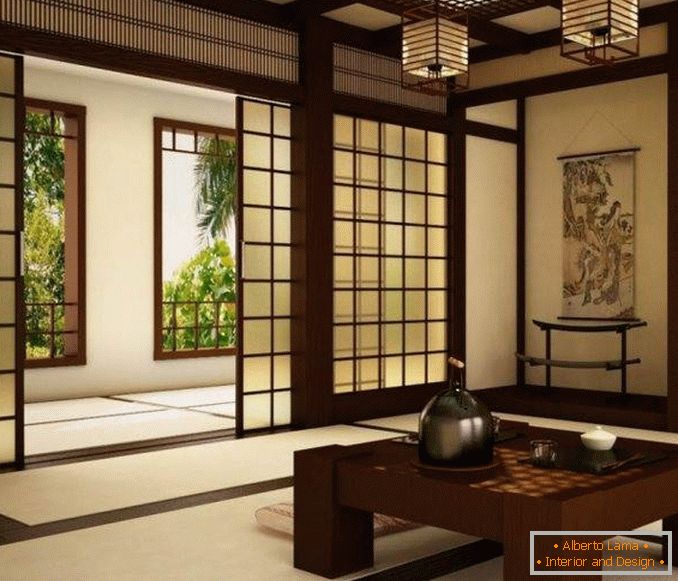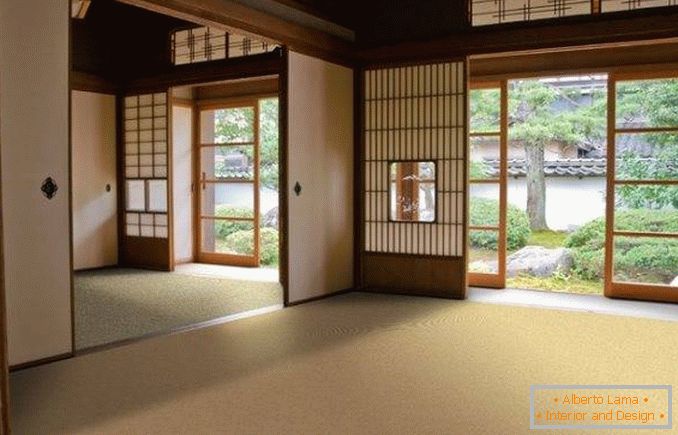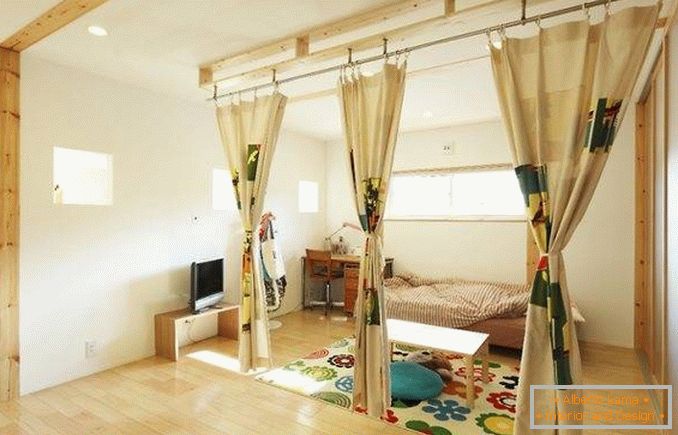 2. Natural materials
Japanese interiors can include such natural materials as bamboo, wood, dark metals (such as iron) and stone. They should prefer not only when buying furniture and accessories, but also when choosing floor and wall coverings.
Bamboo or wooden floors, walls trimmed with flagstone or river stone, and simple lines of architecture perfectly simulate Japanese aesthetics in your home.
As for furniture, it should be not only natural, but also minimalistic, simple. It is recommended to give preference to multifunctional products, because the effective use of resources is a fundamental part of Japanese culture. The density of the population of Japan is very high, and therefore the free space they have at a great price. So, for example, instead of beds, the Japanese often use "feet", Which, after sleeping, are folded and retracted into the cabinet.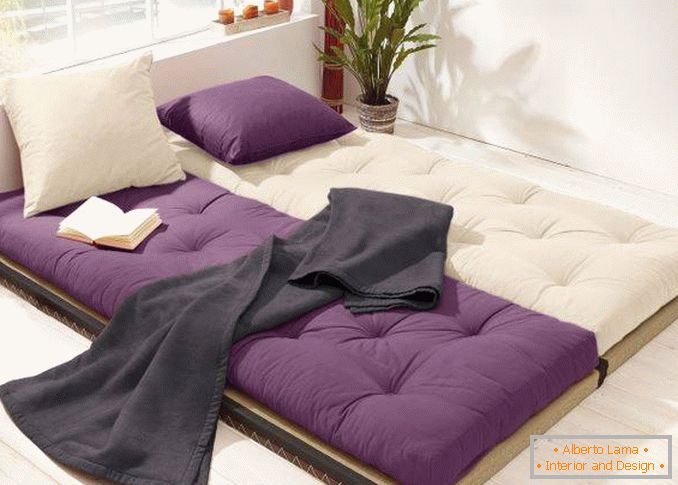 Futon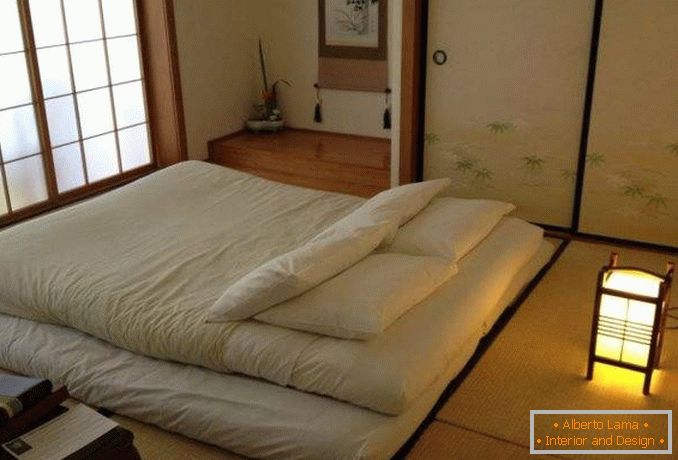 Futon
Also in furniture, and for the internal organization of space in Japanese interiors, it is advisable to use not sliding doors, but sliding partitions. Traditional Japanese "
scream
"And"
Fusumi
"Are made of translucent paper"
village
", Which is attached to a wooden frame and can be covered with hand-painted.
Besides that "village"Beautifully diffuses light, these sliding partitions also allow you to save space that would occupy the swing doors, and are often used to divide rooms instead of walls.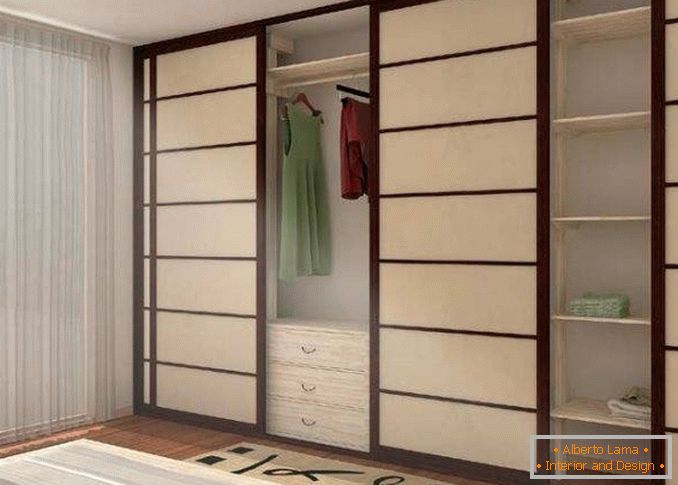 Сёдзи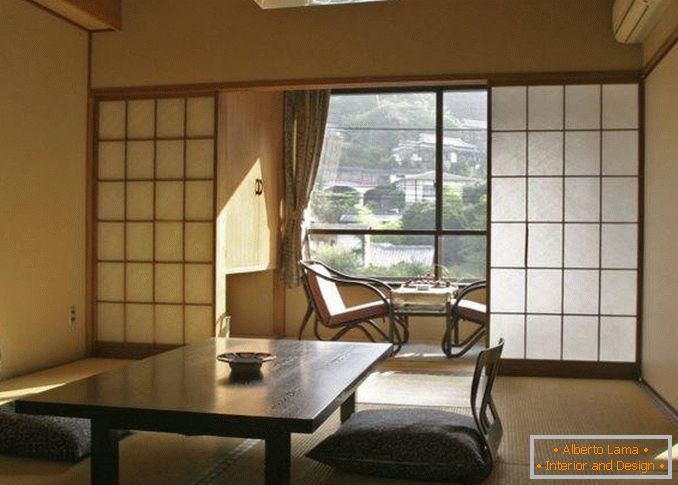 Сёдзи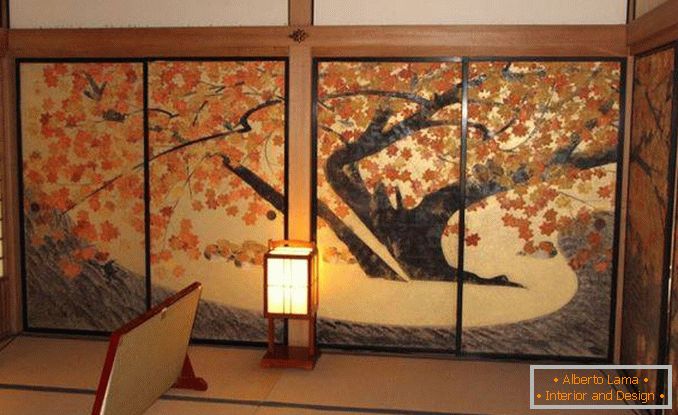 Fusuma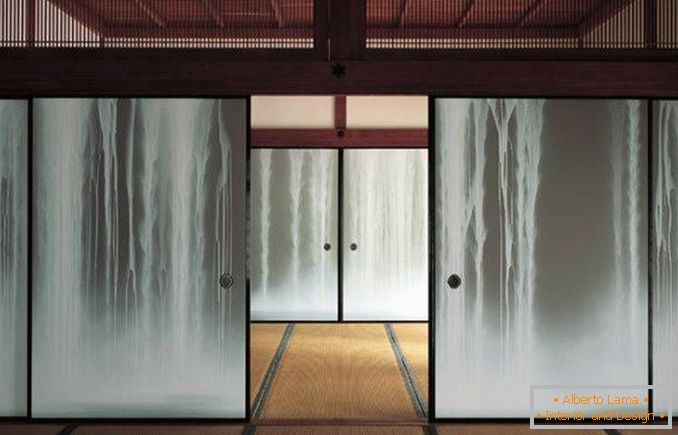 Fusuma
3. Unity with nature
Starting from the Japanese garden near your house and ending with wide windows, the interior in the Japanese style must necessarily have a connection with nature. Whether the union is physical or only visual, with the help of sliding glass doors, Fusum or glass walls, consider the use of such parts in your home.
Also be sure to use in the interior greens, stones, "stone gardens", fountains and other natural elements. In a real Japanese house, a person should feel very well his connection with nature.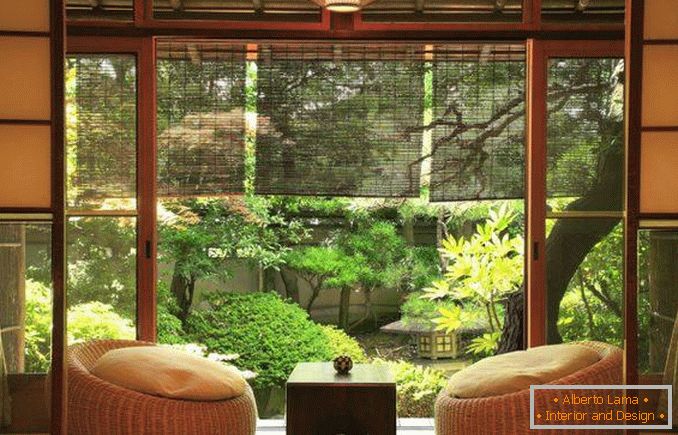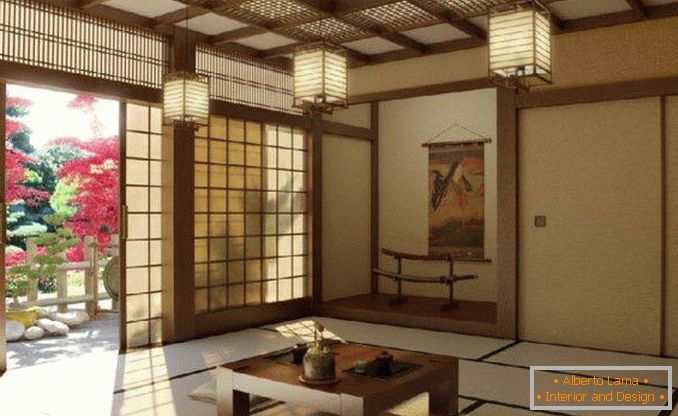 4. The Neutral Palette
In the Japanese interior design, natural colors of materials such as wood, bamboo, paper and rice straw are often used. The rest, as a rule, are taken from a neutral palette, which includes black, cream, gray and brown colors.
Note that all tones must be soft and muted. For example, do not use a bright white color, although it is neutral. Better choose a warmer shade of it, with an admixture of beige or gray.
If there is a desire to focus on one of the walls or on a soft corner, then you can choose for this a deep and intense chocolate brown, black or natural green color. In smaller volumes, accents of turquoise, pink, mauve and red shades are created.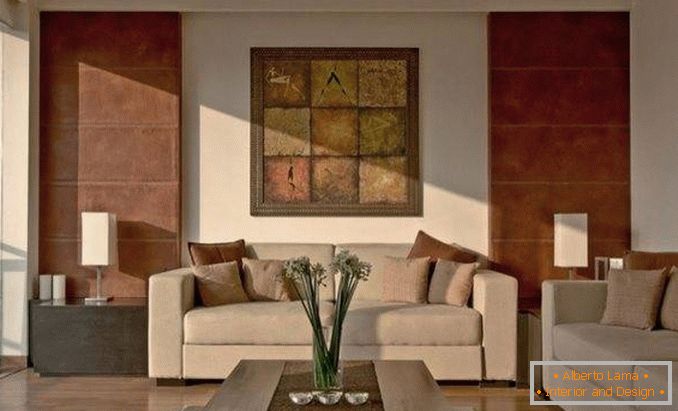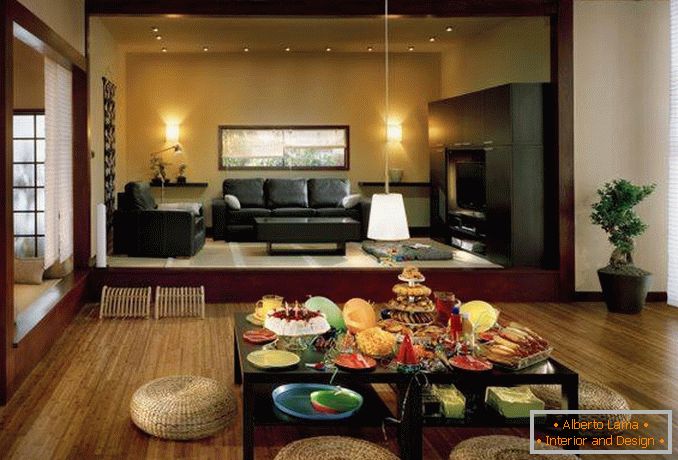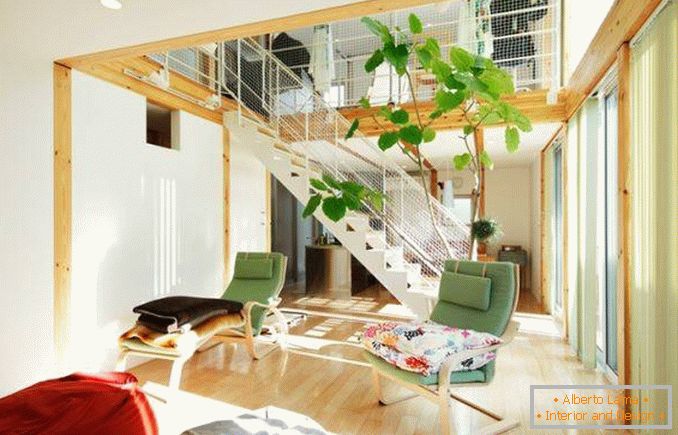 Also, when decorating an interior in the Japanese style, the use of any patterns is not allowed. Only traditional Japanese painting. This applies to both textiles and wallpaper. The walls should be decorated simply and concisely. Instead of the usual paintings, it is better to hang Japanese frames of dark wood, as well as paper or straw scrolls with paintings.
Japanese style wall decor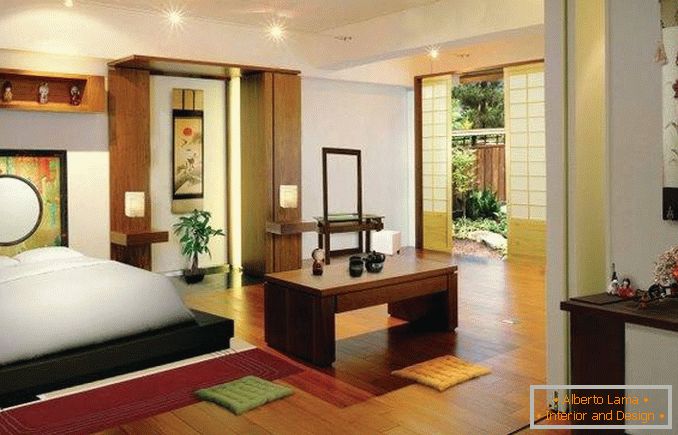 Japanese style wall decor
5. The lower the better
If you are interested in interiors in the Japanese style, then, perhaps, you are also fond of Japanese films. Then for certain they could notice that the Japanese cover the table almost on the floor itself, and instead of chairs they prefer to sit on cushions or even on rugs.
Of course, we do not need to go to such extremes when decorating your home. And yet it is recommended to choose furniture as low as possible - just enough so that it is convenient for you.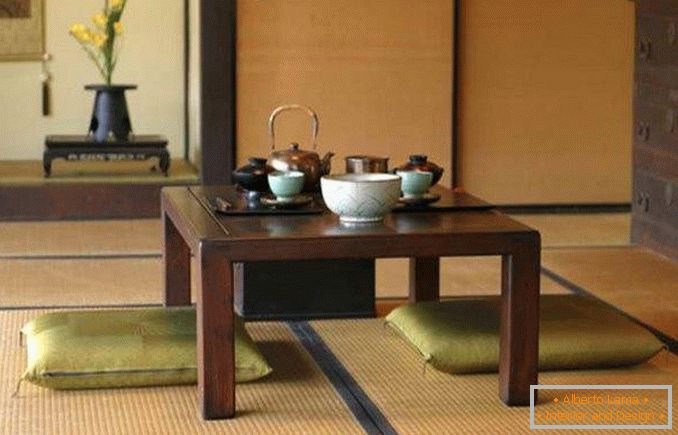 Furniture in Japanese style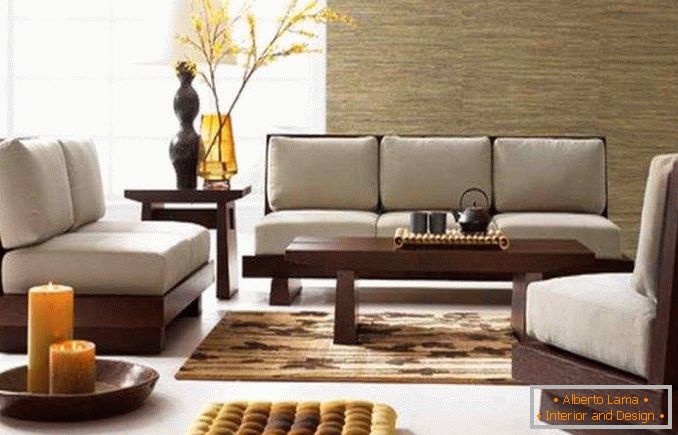 Furniture in Japanese style
Japanese decor
Применение традиционного декора поможет принести подлинность японского стиля в ваш дом. Выше мы уже познакомили вас с перегородками «scream», дверью «фусума» и кроватью «футон». Теперь давайте же рассмотрим несколько дополнительных деталей, которые позволят вам быстро преобразить свое пространство в оазис Восточной цивилизации.
As it was said, the Japanese interior design has a very simple appearance. However, despite the minimalist concept of the Japanese style, today it allows the use of beautiful and richly decorated elements. The main thing here is that they are added in a moderate amount and correctly placed.
How to do it?
Japanese decor, как правило, становятся центральным элементом комнаты, так же, как у нас им часто является камин, плазма или другой координирующий элемент. Объекты собираются в группы по 3 (или другое нечетное число) предмета для создания естественной и органичной картины. Реже — по 4 (или другое четное число), — если вам хочется более упорядоченного или дисциплинированного вида.
We also note that such decorative "corners" are usually created for one season, after which end new ornaments are put on their place, and "old" ones are removed to the closet and wait for their hour.
Tatami
Tatami — это традиционные японские коврики, которые делаются из рисовой соломы. В прошлые времена большинство японцев устилали ими весь пол своего жилища. Сегодня же обычная квартира или дом в Японии может иметь только одну или две комнаты с татами. Они являются не только красивым фоном, но и обладают очень приятной для ног текстурой.
The standard size of tatami in Tokyo is 88 cm x 176 cm, but may vary depending on the region.

Tokonoma
Tokonoma is a niche that the Japanese place in a waiting room or a drawing room for a tea ceremony. The Tokonoma, which is in the center of attention, is usually decorated with several pieces of Japanese art, for example, scrolls with calligraphy, engravings, floral compositions or an incense burner.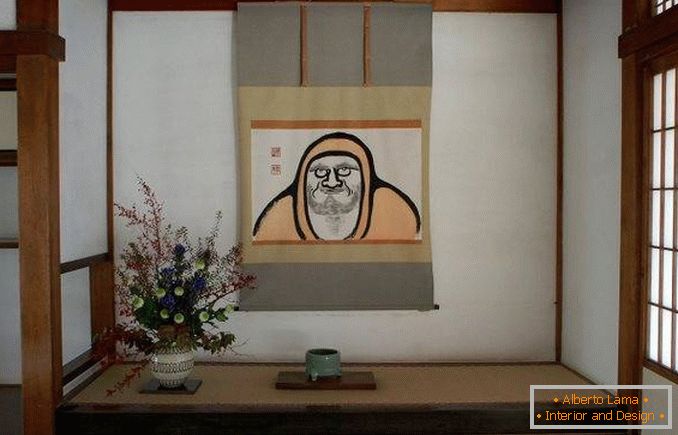 Tokonoma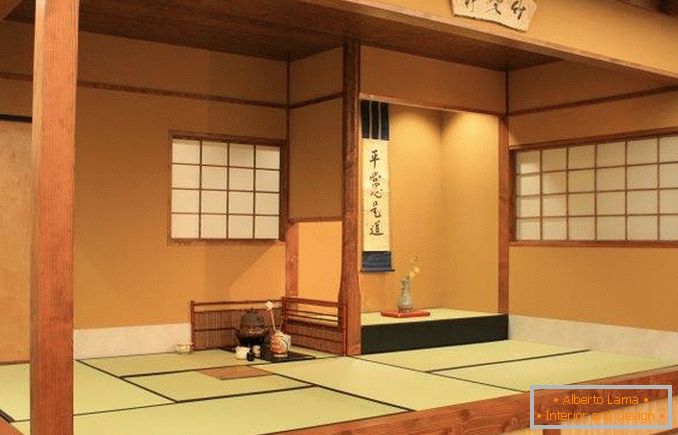 Tokonoma
Bonsai
In the previous article "Interior decoration with natural elements" we already told you about bonsai - amazing miniature trees that are grown in pots according to old Japanese technology. In addition to these very expensive works of art, mini-gardens in glassware, bamboo stems and live orchids are wonderful for decorating in Japanese style.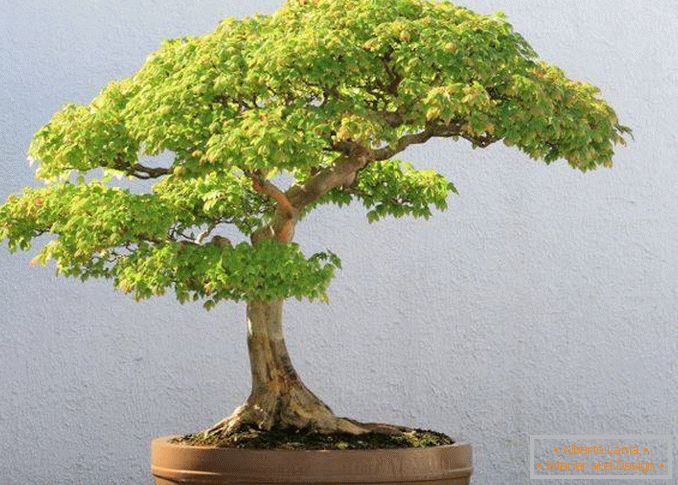 Bonsai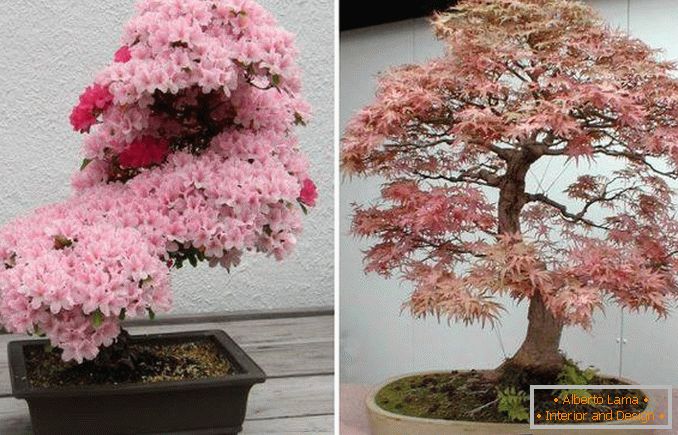 Bonsai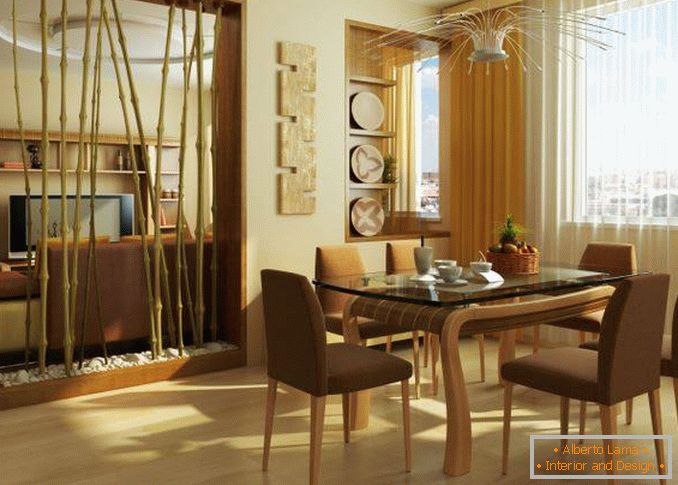 Bamboo as a decoration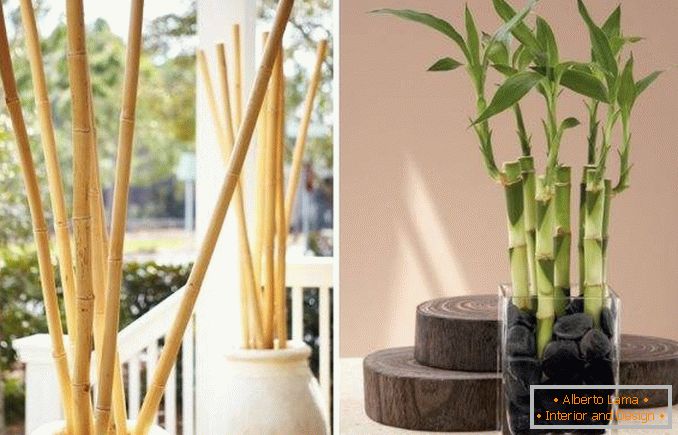 Bamboo as a decoration
Ikebana
Ikebana — это традиционное японское искусство аранжировки, заключающееся в создании красивых композиций из срезанных цветов и других растений. В отличие от бонсай, создание икебаны не занимает много времени и сил, поскольку все, что для нее нужно — это подходящая посуда и вдохновение. К слову: данное занятие входит в программу обучения гейш.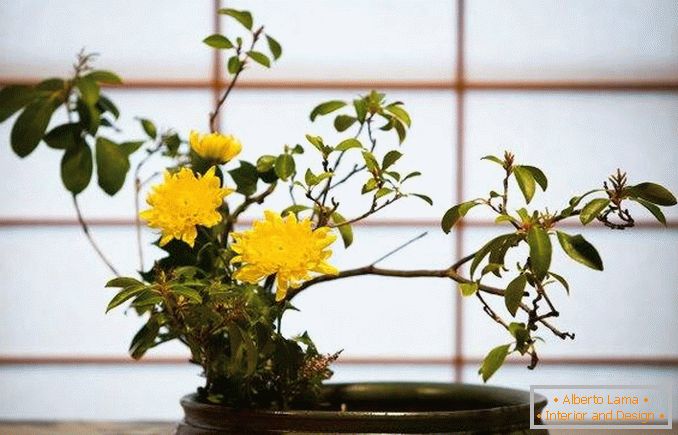 Ikebana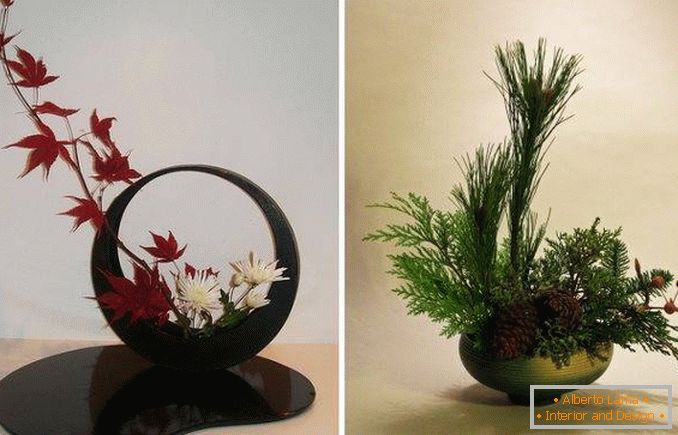 Ikebana
Japanese lamps
In Japanese interior design, it is customary to use as much natural light as possible. As for artificial lighting in the dark, there is one basic rule - light should not be too bright. Creating an atmosphere of true Japanese interior is possible only with a low or medium level of illumination. For this you can use candles, paper lanterns, bamboo lampshades and simple lamps in a modern style.
Japanese style lighting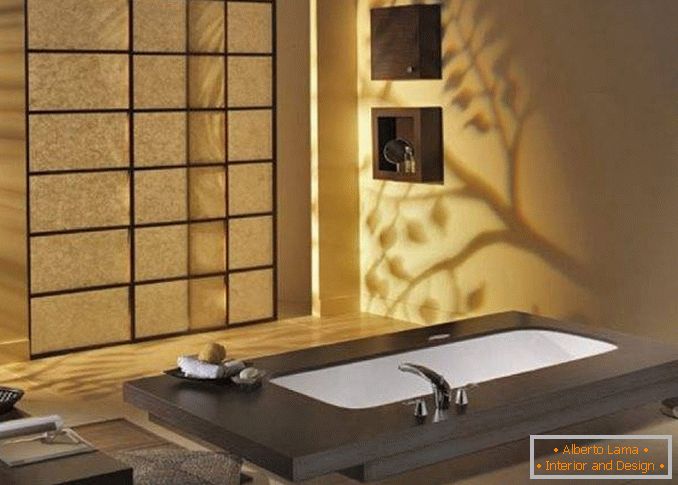 Japanese style lighting
Japanese style lighting
Other decor
Before, we mentioned that decorative corners occupy a central place in the Japanese interior. What objects can they consist of? In addition to ikebana, bonsai, incense incense burner and miniature garden, they can also include beautiful antiques, Japanese tea sets, kimonos, umbrellas, olimoni figurines and much more. However, it is better not to use more than 3-5 such objects at the same time. For example, it will be enough to hang a scroll with calligraphy on the wall, and under it to place a plant and a statuette.
"Less is more" - this is the motto of Japanese interiors, implying that the less items in the room, the easier it is to assess and experience the beauty of each of them. You use this as the most important advice, and you will be able to fill your home with the subtle aesthetics of Japan.