Considering the pace with which the natural resources of our planet are depleted, and some even disappear altogether, every day it becomes more important to preserve what we have and make the best choice when purchasing goods for everyday life.
Avoiding cliches, being interested in novelties and studying different alternatives, we can decorate our homes with impeccable style and without inflicting damage on valuable environmental resources. The choice of eco-friendly wallpapers is an important area in which a subtle taste and eco-consciousness can come together.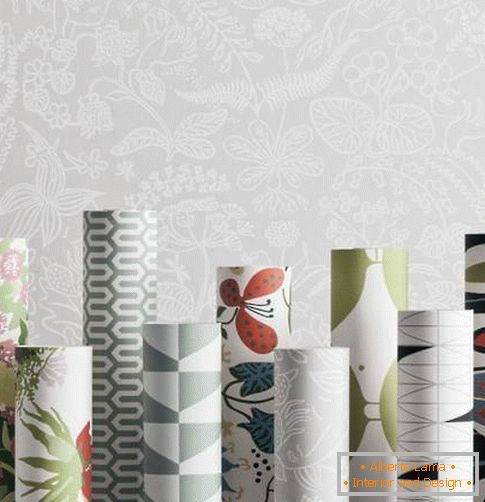 Wallpaper from the Swedish manufacturer Eco Borastapeter
Why is this becoming more important?
Since the middle of the twentieth century, wallpaper manufacturers have begun to add so-called "improvements" to their products: vinyl or PVC, formaldehyde, chemical dyes, fungicides and powerful adhesives. Thanks to these additives, the wallpaper has acquired stunning properties: high strength, light and water resistance, durability etc.
Unfortunately, with all this there are by-products - volatile organic compounds (VOCs). These are toxic gases that are released by various solvents, plastics, paints and adhesives contained in the wallpaper. They can cause intermittent headache, dizziness, visual impairment, memory impairment, respiratory problems and even liver or kidney problems. Carelessly referring to the choice of different materials for the home, you can cause serious damage not only to the environment, but also to your health.
How to choose an environmentally friendly wallpaper
If the main criterion for choosing wallpaper for you is environmental friendliness, then first of all, consider wallpaper without a vinyl layer. Vinyl wall coverings can not only radiate harmful gases, but also contribute to the appearance of mold on the walls. The harmful effects of PVC materials on the environment does not end even when they fall into the landfill.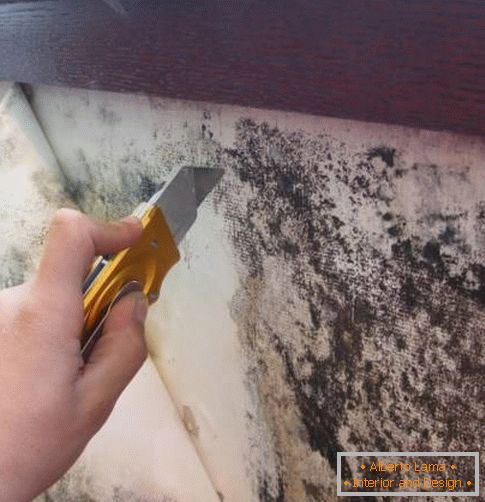 Mold, formed under the wallpaper, which "do not breathe"
But even wallpaper made from natural resources can be unsafe and allocate VOCs. Before making their purchase, make sure that the manufacturer uses only natural water-based paints for finishing. You can be pleasantly surprised at how beautiful the vegetable dyes can be. In addition, heavy metals, which are contained in some artificial paints, become a real problem for groundwater due to an increase in their presence in landfills. Choosing wallpaper that does not contain heavy metals, you make a personal contribution to the best drinking water for yourself and future generations.
Kinds of eco-friendly wallpapers
Bamboo and Grasscloth
Bamboo, sisal, reed and some other plants are the most popular material for making environmentally friendly wallpapers. The woven texture and heterogeneity of the coloring of plant fibers give the walls a soft warmth, which can not be transmitted with any other wall covering.
Wallpaper of natural materials.
Wallpaper of natural materials. Производитель — Omexco
Especially high speed is gaining popularity of bamboo wallpapers. Bamboo is an extremely stable material, and since it is an herb that grows and ripens very quickly, it can be actively used to make any home products: from flooring and furniture to fabrics and wallpapers. Undoubtedly, this material is the most promising in the field of the production of environmentally friendly decorative materials.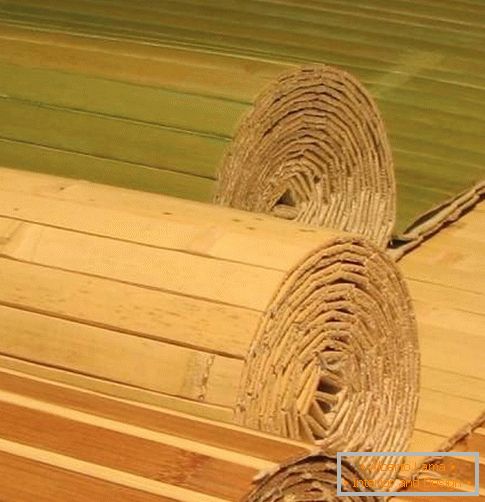 Bamboo Wallpaper
Of wood
Typically, such wallpaper is a very thin layer of natural wood, for example paulownia, which is so flexible that it can easily roll into rolls and bend at an angle.
Whichever type of wood is used for the production of such wall coverings, it is supplied from specially grown for these purposes and quickly renewable sources. The finished wallpaper fabric is finished with fine carving or manual inlay, and sometimes even painted with natural dyes.
Wallpaper of wood
Wallpaper of wood. Производитель — Maya Romanoff
Wallpaper of wood являются прекрасным выбором для людей, страдающих аллергией. Кроме того, они очень богато смотрятся на стенах, придавая им вид роскошной отделки вычурными деревянными панелями.
Paper
Handmade paper, parchment and rice paper are now available in any pattern or color you can imagine. But when choosing modern paper wallpaper, you should always check their composition. It should contain only water-based paints, without formaldehyde, heavy metals, PVC or vinyl support.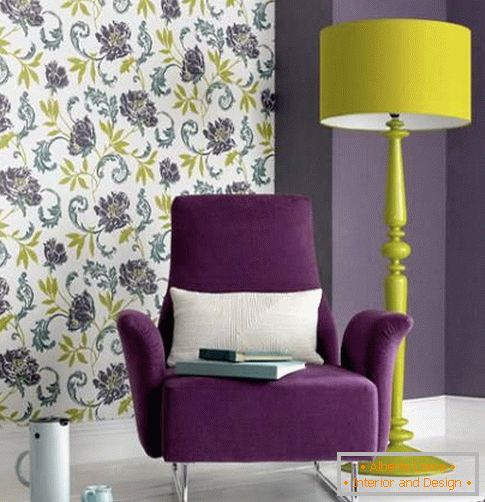 Обои с рисунком красками на водяной основе. Производитель — Graham & Brown
Taking care of the environment, it is best to give preference to paper certified by the Forest Stewardship Council. If you order imported wallpaper, then they should have a FSC logo ("a tree with a tick"), which ensures that the wood that went to make paper for these wallpapers is harvested in responsibly managed forests.
Wallpaper from FSC certified paper. Manufacturer - Little Greene
Avoid using wallpaper from paper in damp areas. Mold, which can form, is a fungus, which releases harmful spores into the atmosphere. They are not only transported through the air in order to settle and germinate in a new place, but they can also cause allergies and other health problems.
From recycled materials
Recycled paper is an excellent option for safe wall covering, which is becoming more common in the modern market. Discarded clothing and books are the main post-consumer materials, which are often used to produce these innovative wallpapers.
Although it is impossible to say with certainty that such wallpaper is 100% natural, nevertheless, they do not carry a threat to your health and, in addition, reduce the amount of waste. To be absolutely sure that they do not allocate VOC, contact the manufacturer.
Textile
Usually the composition of woven wallpaper is mixed, in which natural threads are intertwined with polyester, polyamide, viscose and other artificial materials, increasing the strength and other qualitative characteristics of the fabric. But sometimes manufacturers also produce wall coverings made from 100% pure linen, cotton or silk, which, though of high cost, are ecologically clean, provided that their dyes are also of natural origin.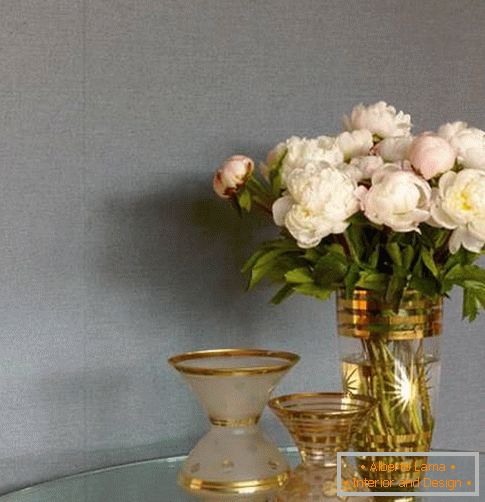 Textile обои от Omexco
Nonwoven (non-woven)
Non-woven wallpaper is made of a special mixture of natural and synthetic fibers, which makes them particularly resistant to washing and breathing. You can find nonwoven in many household products, for example in tea bags or in coffee machine filters. This material, which perfectly passes air, is the best solution for bathrooms and other rooms with high humidity.
Fluffy wallpaper
It is a common misconception that only 100% natural wallpaper (linen, sisal) can be ecological.
etc.
). In fact, the main criteria for choosing a wallpaper that is safe for health and the environment are as follows:
lack of vinyl or PVC;
absence of heavy metals;
absence of formaldehydes;
use of adhesives and dyes exclusively on a water basis.
As you can see, it is not difficult to find environmentally friendly wall coverings for your house: they are generally available, and their choice is extremely wide and diverse.