A table-top LED lamp with a brightness control that can be charged by USB and Power Bank? A great solution for both home and street! The project of such a lamp was launched at Kickstarter and collected one third of all the necessary amount for its launch. If we support this project today, very soon - in November-December 2017 - the universal lamp Madera 007 will be available for residents of Ukraine, Russia, CIS and far abroad.
What is the difference between the LED table lamp Madera 007?
This is a true Hi-Tech product that meets all the requirements of an advanced modern customer:
Ecological compatibility;
Versatility and multifunctionality;
Simplicity and convenience in use;
Stylish design.
The ability of LED lamps to save electricity has been known for a long time. In the Madera 007 desk lamp, lighting is provided by 6-watt LEDs that allow you to read or write, even in the absence of other lighting sources. In addition, the lamp body is made of wood. Taking into account these moments, this lamp can be confidently called environmentally friendly.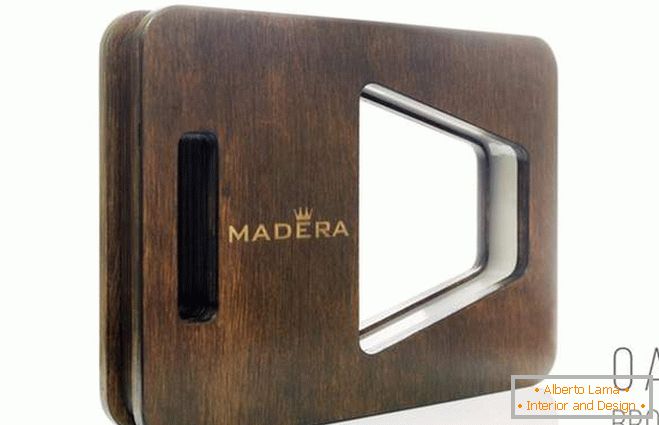 Also read: Lamp of Edison - features and photos in the interior
This is a desktop LED lamp with dimmer and other functions
Perhaps, a more convenient LED lamp is difficult to find in the modern market. Convenient design and light weight (0.9 kg) make it easy to carry it from place to place.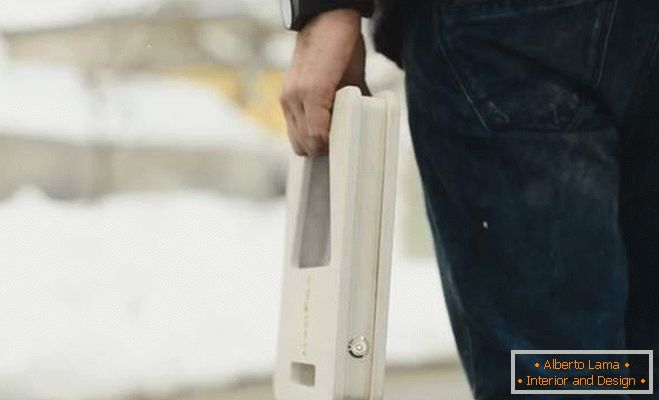 Universal connection to Micro USB allows charging this desk lamp from charging for a phone, laptop or device. It is important to note that in the lamp itself there is a special niche, where it is possible to insert imperceptibly the trust bank. This allows you to use the lamp anywhere in the space, in the interior or on the street, where there are no outlets nearby.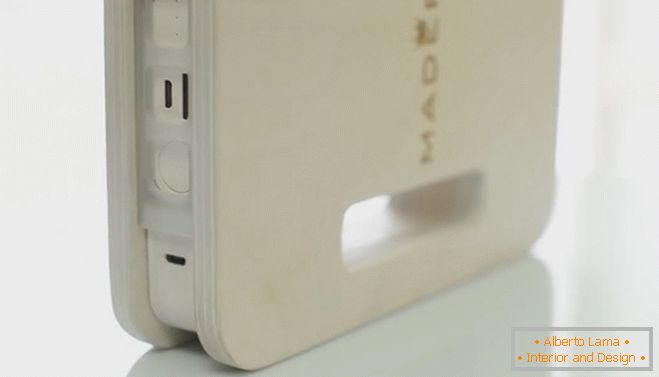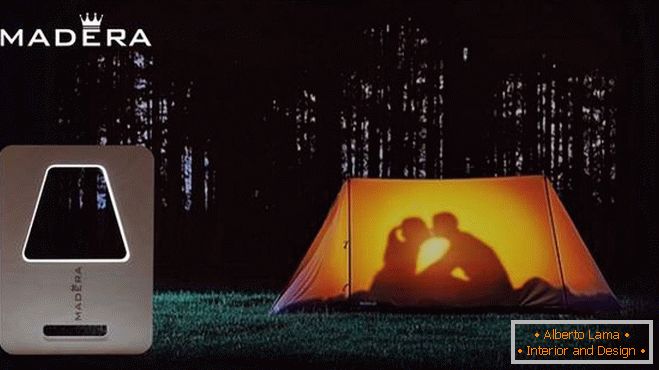 Wherever you are going to use this LED desk lamp, you will undoubtedly enjoy the opportunity to remotely control the RGB tinctures. For adjustment, there are 5 brightness modes, 20 beautiful shades and 19 dynamic modes.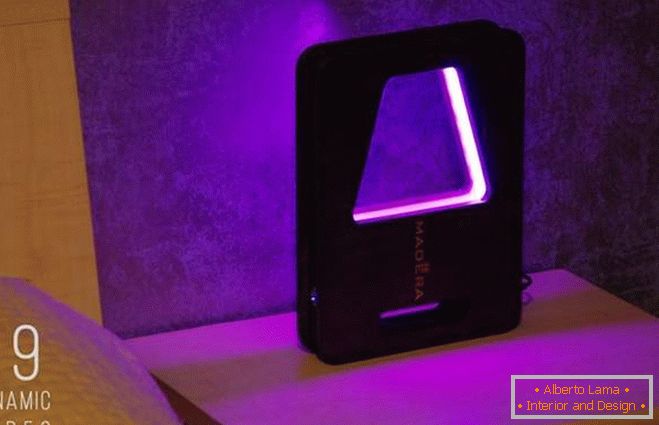 Also read: LED strip - 35 applications from Pinterest
Characteristics of LED table lamp Madera 007:
Housing: high quality plywood with acrylic lacquer coating;
Weight: 900 grams;
Light source: 6-watt LEDs, protected by frosted plexiglass;
Power supply: 5.2 V, 1 A;
A metal switch with a backlight that makes it easy to find and turn on the lamp even in total darkness.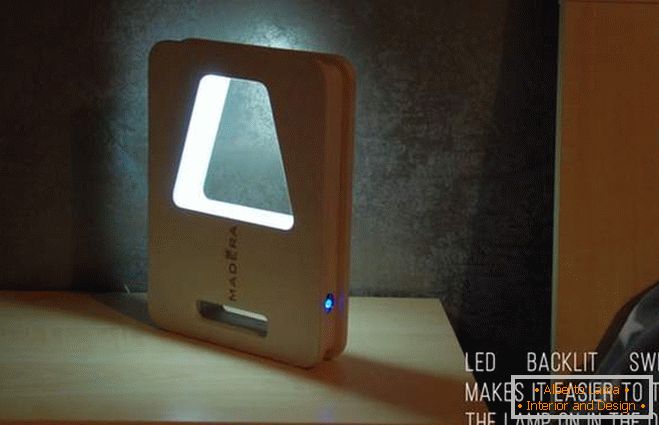 Other useful information:
Availability of input for connection to Micro USB;
The niche for poverbank: 9.1 × 6.1 × 2.4 cm (compatible with popular Generic Power Bank and Xiaomi Mi Power Bank 10,000 mAh);
Dimensions of the lamp: 27,9 × 20,3 × 4,3 cm.
The cost of the lamp: $ 49 (without RGB with remote control) and $ 59 (with RGB and remote control). It is also planned to issue a special Madera for $ 9.
LED table lamp Madera 007 in the interior on the photo
At the moment, LED table lamp Madera 007 is available in two colors: brown oak and white ash. Compact dimensions and lack of wires (when using a crane) make it ideally suited for both the desktop and the bedside table. In the last photo you can see that this lamp is a very stylish decoration of the modern interior!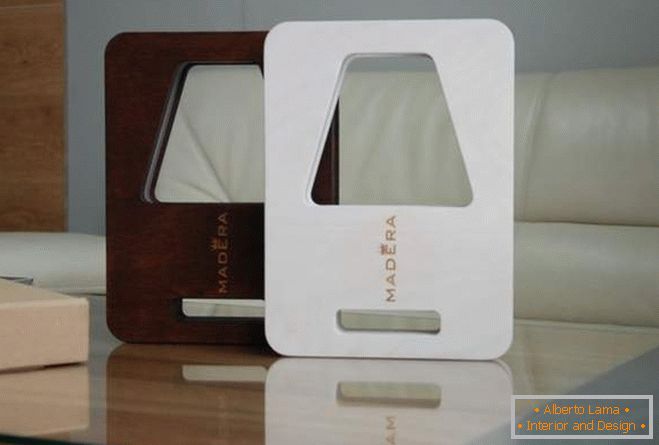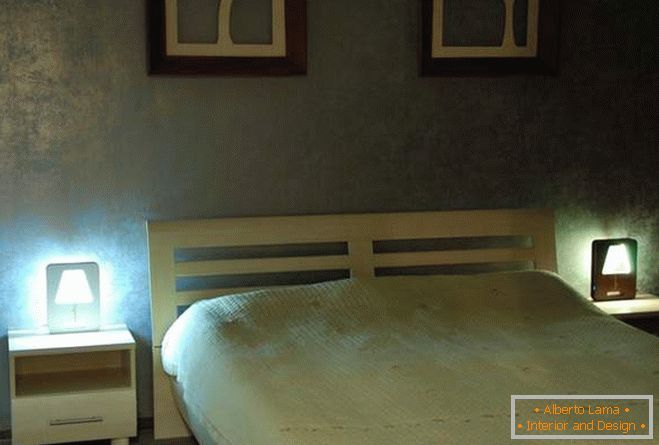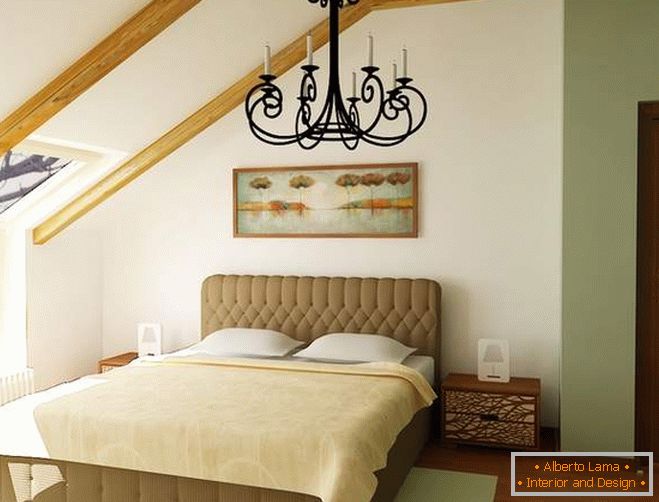 Do you want this yourself? Support the project on Kickstarter!