We all know that the dining room needs a table and chairs. But how to choose them? What else can you need to create a harmonious dining room design?
To get an answer to these questions and simplify your choice of furniture for the dining room, you will need to clearly define the following:
how much space do you have;
it will be a separate dining room or dining area in the kitchen;
how will you use the dining room - will you just eat here or rest?
was there something that you did not have at hand in your old dining room;
whether there are small children in the house;
what style of interior do you prefer.
All these questions are quite simple, but each answer to them allows you to exclude one or another option for purchasing furniture for the dining room. After you answer all of them (for convenience, you can do this in writing) and use the recommendations below, you will know exactly what you need to buy.
What is the size of your dining room?
How spacious is your dining room? A large room with a small table will look cold and empty, while a modest room with a large table and chairs will seem unpleasantly crowded.
In addition, when choosing furniture for any room, you need to take into account the space that must be left for comfortable movement. Especially it concerns the choice of a dining table, which, as a rule, occupies a central place in the dining room. Therefore, before buying this piece of furniture, read our recommendations in the article "Choosing a Dining Table".
If there is a rather large room for the future dining room, consider the possibility of including other pieces of furniture in it, except for the table and chairs, for example, such buffets, sideboards and consoles. Make a spacious room more comfortable, you can also use heavy curtains, carpets, paintings and bright upholstery of chairs. Quite often this option is preferable, since the cabinets with utensils require special care and not all are ready to wipe their contents from dust every few days.
How exactly do you use the dining room?
Before you furnish your dining room, decide how often you will use it: every day or only on holidays and weekends?
The room, which is used from time to time, can be fully furnished with expensive and delicate items. Artistic wood carving, luxurious textiles, brittle glass - all this creates a wonderful setting for family celebrations and receptions of guests, but the dining room, which is used daily, must first of all be functional and not cause unnecessary trouble. Having got strong, unpretentious in leaving furniture, you still will say thank you, especially if you have small children.
If the place allows, and you are also going to read, work or just spend a lot of time sitting around at the dining table, then take care to purchase comfortable chairs - with a soft seat, armrests and comfortable back.
In addition, your dining room can also perform additional functions, such as a living room or a children's room. Children do not like to sit at the table with adults for a long time, so for them in the dining room you can provide a small children's playground, where they can play, while being all in sight.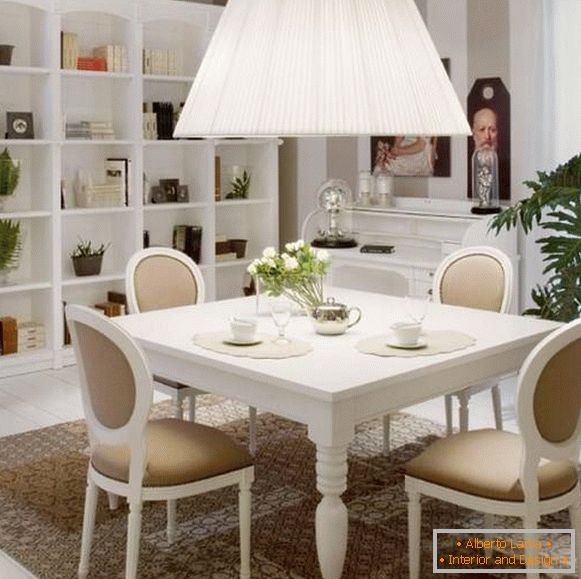 Design of dining room - furniture English Mood by Minacciolo
How to decorate a dining room
Now that you know that the best way to create the perfect dining room design is to lean on your own needs and the size of your room, then decorating it will be easy for you. Choose as a decor for the dining room only functional things and only those that bring you joy.
How to arrange a small dining room, we will tell you below. And for a large dining room, we advise you to choose furniture more massively or to divide the room into separate zones with the help of carpets and partitions. Heavy drapes and bright wallpaper will also help you make this room more cozy and attractive.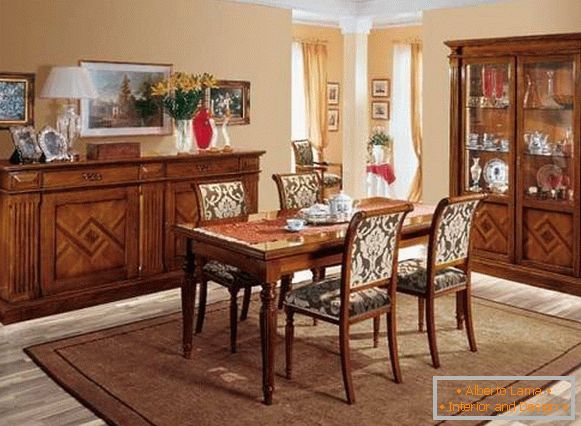 Design of a dining room - furniture Vasari from Betamobili
Dining room lighting
There are many options for dining room lighting: using chandeliers, hanging lamps, sconces and floor lamps in a variety of styles from daring modern to noble traditional. The first rule here is that the central light source should be located above the dining table. The second important point is that when the chandelier is suspended above the dining table, at least 85 cm of free space should remain between them. In addition, the chandelier should not be wider than the table or close to this - make sure that it can not be hurt by the head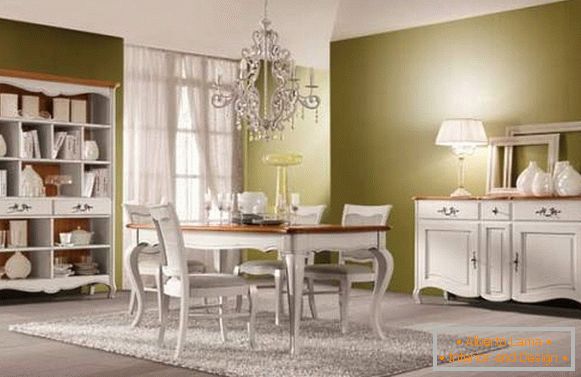 Design of dining room - furniture Cellini from Betamobili
Do not forget to also buy candles for special occasions.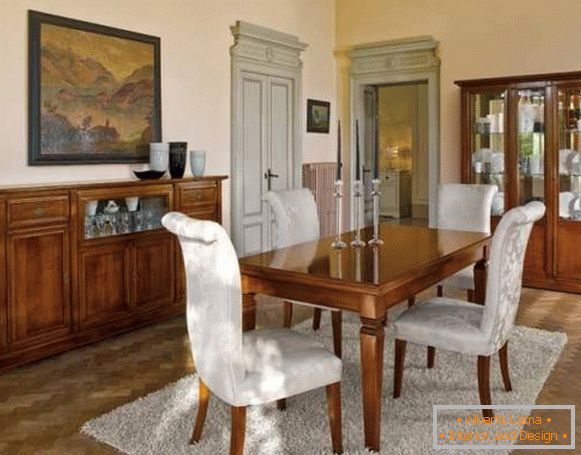 Design of a dining room - furniture Notre Dame from Betamobili
Design of a small dining room
Design of a small dining room может оказаться довольно непростой задачей. Тем не менее, воспользовавшись следующими советами, вы сможете получить очень хороший результат — эффективное и привлекательное пространство со всем необходимым.
1. Consider furniture with narrow facades
If you want to have other furniture in the dining room, except for a dining table and chairs, and space is limited, consider buying furniture with narrow facades. By and large, the sideboard with dishes performs a decorative role here and should not contain much in itself.
2. Select the appropriate color palette
Choosing the right ceiling and wall colors is a good start to decorating a small dining room. With a light or neutral color palette, it's the easiest to work with, since it nicely affects the psyche and allows the room to look airy. Contrast or additional colors should be used only as accents.
This is the most secure approach. But if you want to make the room more colorful and confident in choosing your favorite shades, then such a bold color scheme can also work quite well. The trick here is not to make the room too fussy, but to sustain it in the most simple style.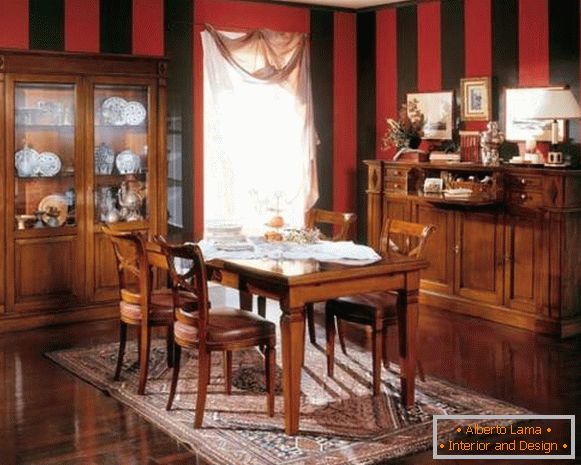 Design of a dining room - furniture Bramante from Betamobili
3. Use mirrors
Mirror and glass surfaces are the best friends of small rooms. With the help of glare of light and reflections, they deepen the space, visually making it more spacious. Use for this purpose a strategically located mirror on the wall (for example, above the cupboard). It is possible even a little - for greater effect.
4. Correctly decorate the windows
The window in a small room should be designed very simply - without a flower-sill, lush curtains on curtains, lurid colors etc. All sorts of exquisite jewelry can be too distracting and overwhelming in a small space. If you do not want to leave the windows completely open to prying eyes, then use the blinds. In this case, they are preferable to curtains.
5. Choose the best table size
A small round or narrow oval table is the best choice for a small dining room. Instead of legs, it is preferable to choose a base in the form of a pedestal - more guests will be at the table with it. More details you can find in the article "Choosing a dining table".
6. Prefer chairs without armrests
They take up less space and allow more people to fit at the table. You can also choose chairs that have a thinner profile.
7. Look at the transparent furniture
Transparent materials, such as glass, plexiglass or acrylic, can make your dining furniture invisible, giving you much more visual space. However, do not forget to worry about the size of such furniture, so you can maneuver around the room, avoiding bruises.
8. Use a small chandelier
A large chandelier can take up too much of the visual appearance of the room. It is better to choose one that has simple lines and a small profile. This will make your space seem bigger.