Another 10-15 years ago, wicker furniture could be found only in the homes of our grandmothers, in the form of an old rocking chair or a set of balcony furniture. But suddenly, with the advent of artificial rattan, wicker furniture again became an extremely popular choice. And it's easy to understand why: it fits perfectly into modern and traditional design, does not require special care, remains durable and beautiful for many years.
In this article, we will compare the basic materials from which wicker furniture is made in 2016, and also take a look at the different variants of its design in the design of rooms. Modern wicker chairs, sofas, tables and chairs made of artificial rattan and natural materials - on 34 photos of stunningly stylish interiors!
Trend 2016: wicker furniture made of artificial rattan
Artificial rattan is characterized by high wear resistance and is practically not afraid of atmospheric influences. Therefore, originally wicker furniture from artificial rattan was used mainly in open spaces - in gardens, cottages, as well as on terraces and verandas. However, over time, many interesting varieties of rattan design appeared, including the width and thickness of the ribbon, its color and texture. The design of wicker furniture was enriched with many new, more modern and refined models that were readily applied on balconies, in living rooms, bedrooms and other rooms in the house.
Types of weaving for furniture made of artificial rattan
As a result, modern wicker furniture made of artificial rattan is of high quality, durability, ease of maintenance and at the same time - a relatively low price (compared to wicker furniture made of natural materials). Therefore it is natural that today it is the most popular in the market. Moreover, it is much easier to make or repair wicker furniture with your own hands from artificial rattan, rather than using natural materials. Here are some examples on the photo of such furniture in the interior: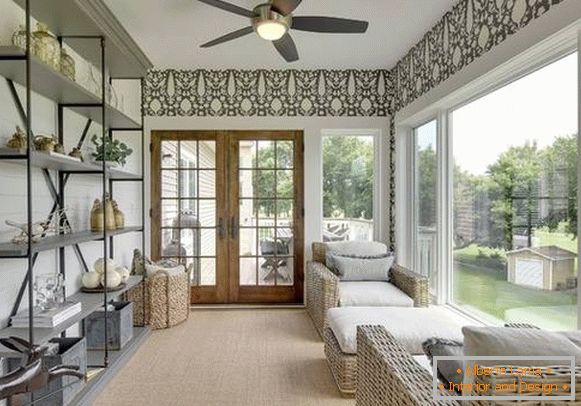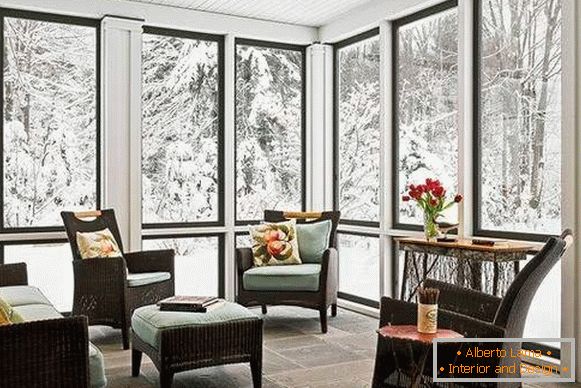 Also read: Furniture transformer for a small apartment
Wicker furniture from vines and natural rattan
Wicker furniture made from natural materials is also durable and durable, provided that it is not subjected to prolonged exposure to moisture and UV rays. When furniture from a vine or a natural rattan is used in a court yard or on an open terrace, it is recommended to bring it into the house after each use. While remaining outside, it can mold from moisture or crack from sunlight.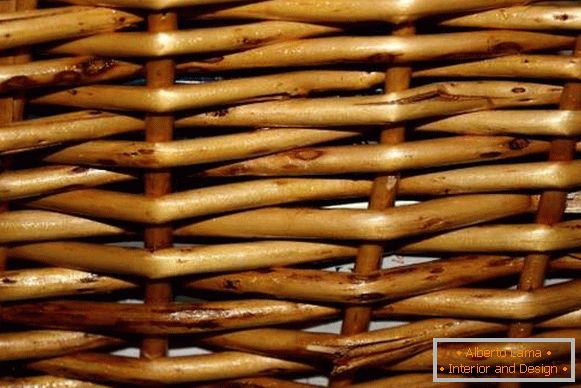 Wicker furniture from the vine
Wicker furniture made of natural rattan
The main advantage of natural wicker furniture is its attractiveness due to a more textured interlacing of the vines. Furniture made of artificial rattan has a more smooth and woven appearance, which fits perfectly into modern minimalist interiors. While the texture of natural materials allows it to look great in classical, Scandinavian, tropical and eclectic rooms, as well as in interiors in the styles of Provence, country and even loft.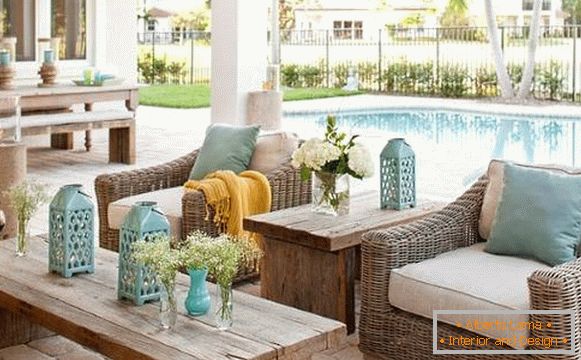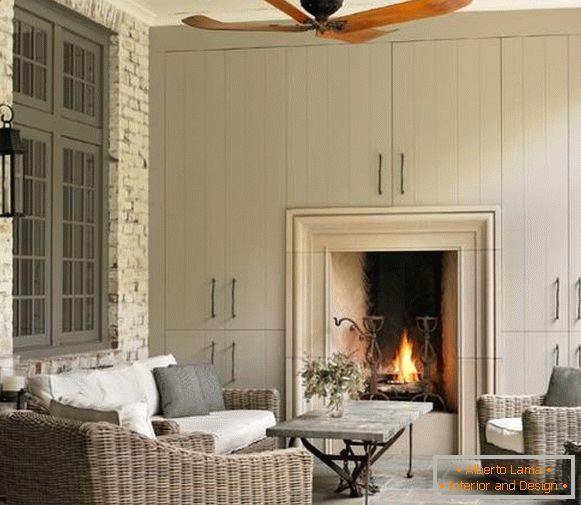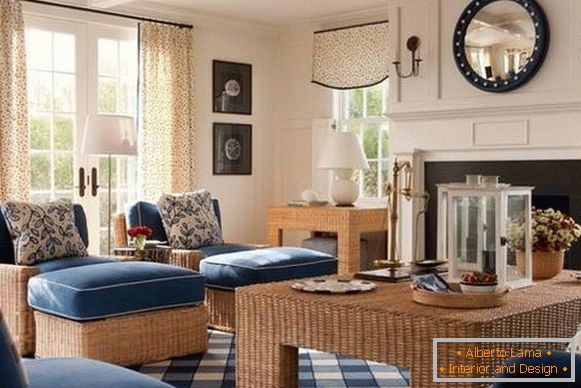 Also read: 20 unique pieces of furniture that will make you happy
Modern wicker furniture - 25 photos in the interior
So, what do you prefer: high quality and unpretentiousness of artificial rattan or natural beauty of natural materials? Let's see how different wicker furniture looks in the interiors of living rooms, balconies, verandas and other rooms of the house. Introducing 25 more beautiful photos for your inspiration!
Wicker chairs - an excellent choice for the kitchen and dining area. A strong weaving strengthens the wooden frame, so that the furniture does not loosen up and lasts much longer.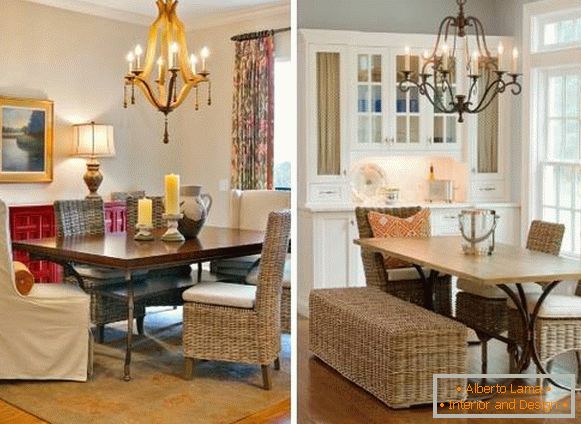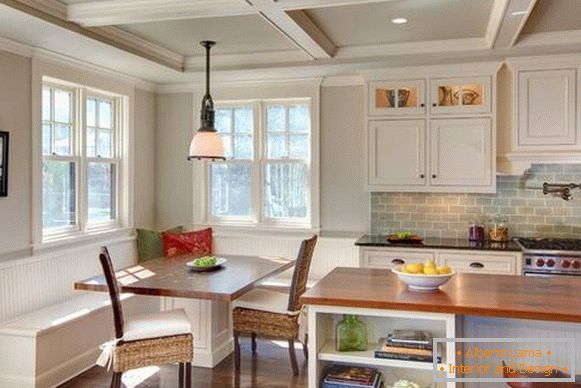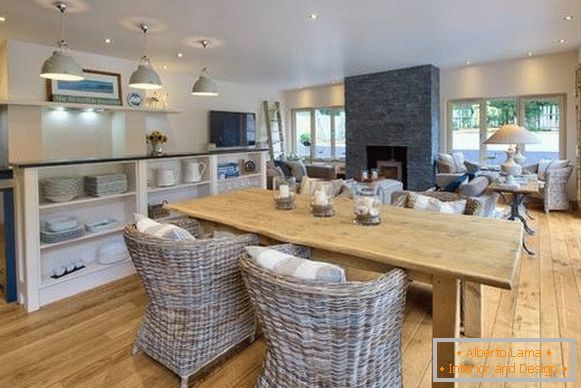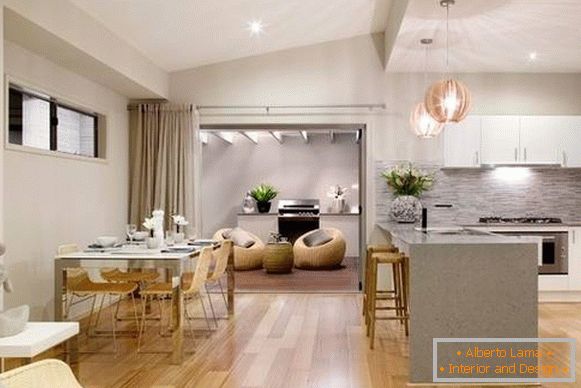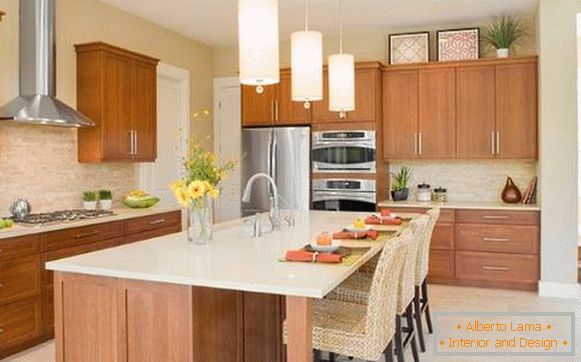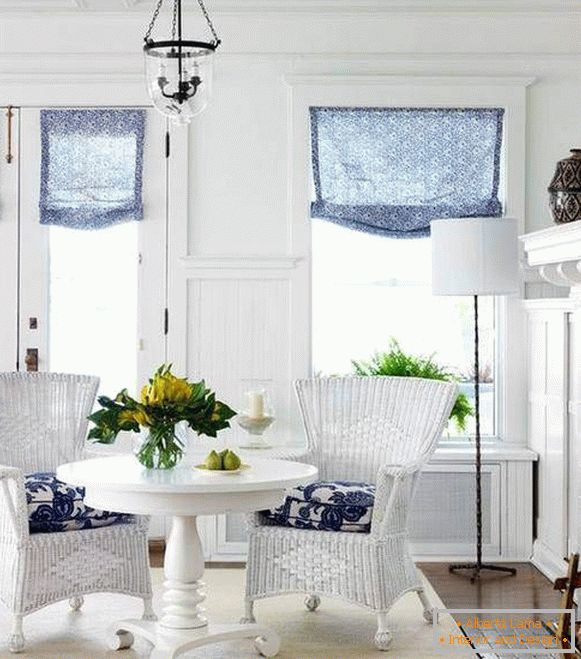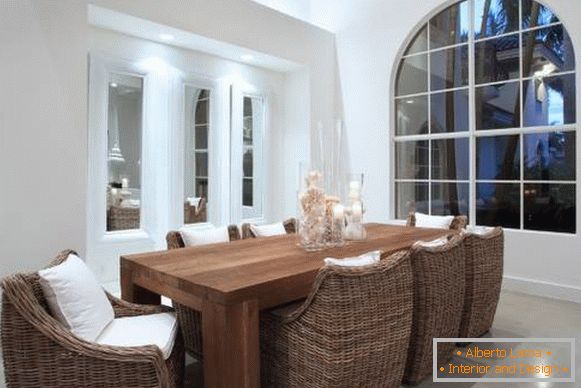 Wicker chairs and sofas with soft seating, usually found in the design of living rooms of country houses. They fit perfectly into country, provence and chalet styles, as well as in minimalist interiors with large windows.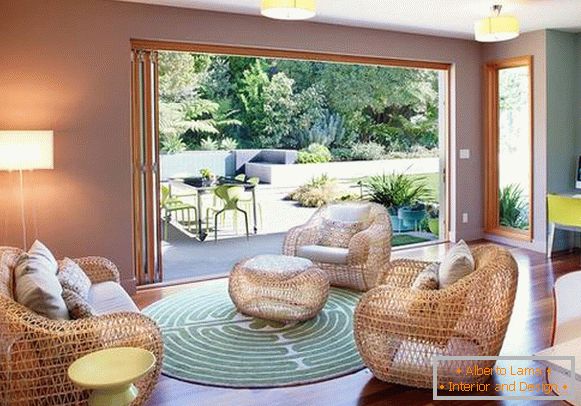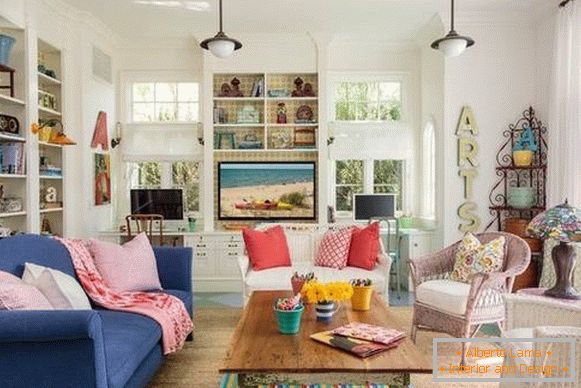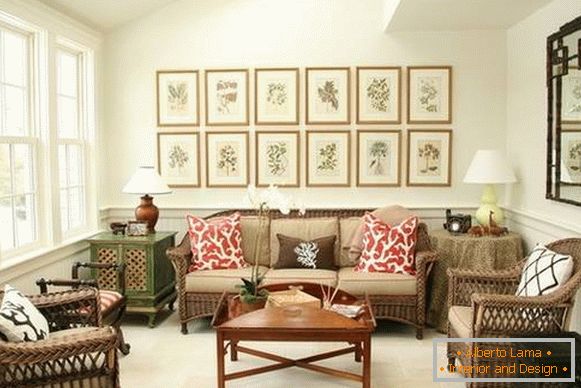 Living room with soft wicker furniture and fireplace - the perfect place to talk, drink your favorite drinks and relax from all worries.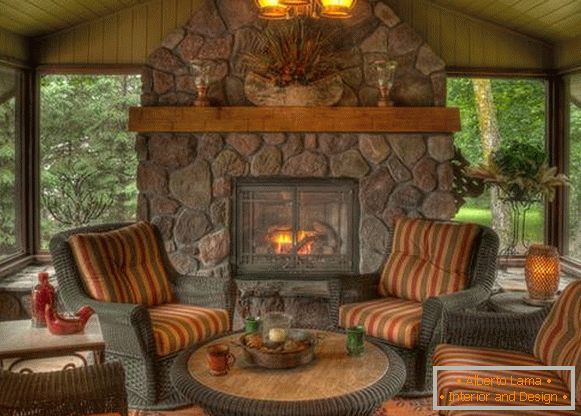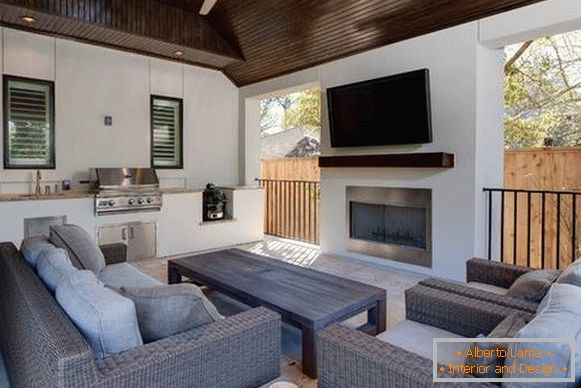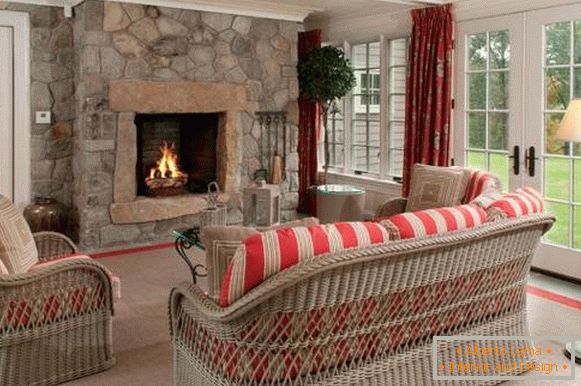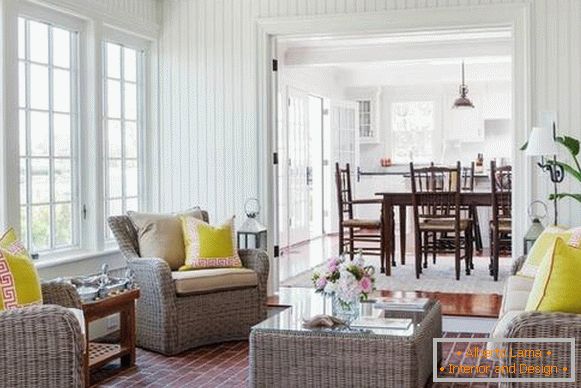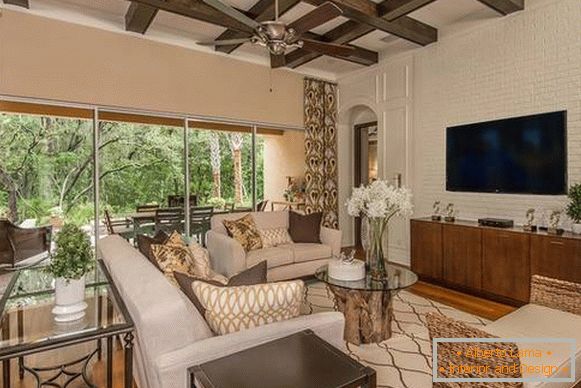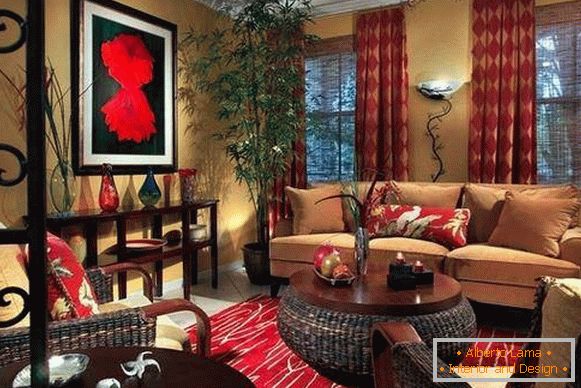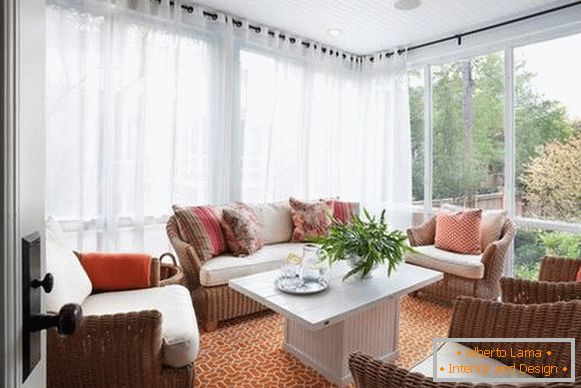 Beautiful wicker chaise lounges and armchairs can also come in handy for arranging a relaxation area or a reading corner in the bedroom.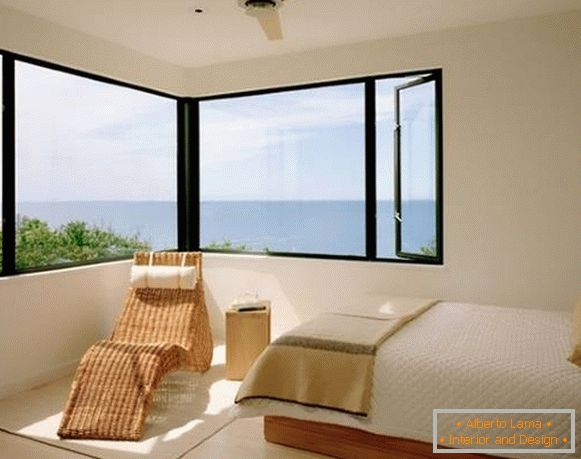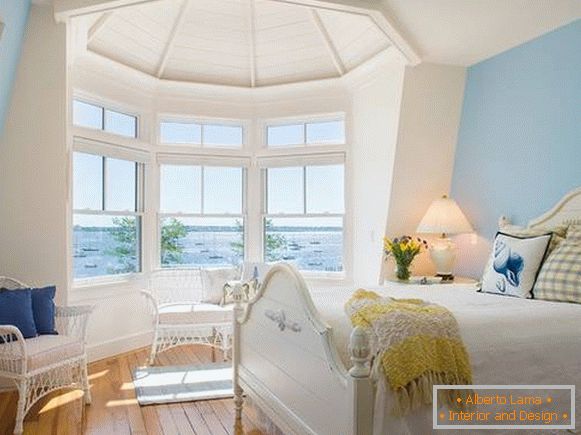 Но абсолютно незаменимой плетеная мебель является, конечно же, в дизайне веранд и террас. Посвятим им последние 6 фото в нашей статье. Also read: 40 лучших идей мебели для балкона на Pinterest