Are you at a dead end? Your small apartment does not fit your ideas or vice versa, you have become the owner of a huge dwelling, in which only the bathroom has a separate entrance? It does not matter that everything is done correctly, without blocking the room with furniture and other accessories, creating a comfortable and cozy atmosphere, designers were created key principles zoning of premises, which will become faithful assistants in the development of the necessary interior.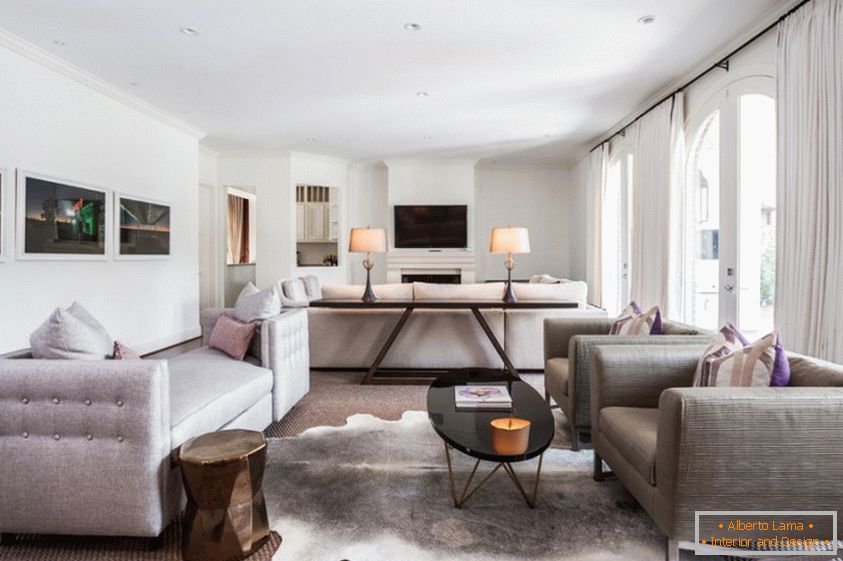 Zoning in different in functionality rooms
To clarify, we propose to study for which cases zoning in a particular room can be used:
Living room. Most often in the room for guests are divided into two zones: a dining room and a place for rest in front of a fireplace or TV.
Bedroom. In the bedroom there can be several variants of zones: a workplace, for example, with a computer, a dressing room or a place for a women's dressing table.
Children's room. Children, perhaps, the most common for the use of zoning room. There is always a division into the working area and recreation area. In addition to them, you can equip a sports or live corner, a place for games.
Kitchen. In this case, every person met with zoning, who at least once in his life was engaged in creating an interior. In the kitchen, it is simply necessary to separate the cooking area and the area where this food is directly consumed.
Bathroom the least susceptible to zoning, but in large mansions it makes sense to slightly separate the toilet, jacuzzi or shower. This is especially important if several people can use this bathroom at the same time.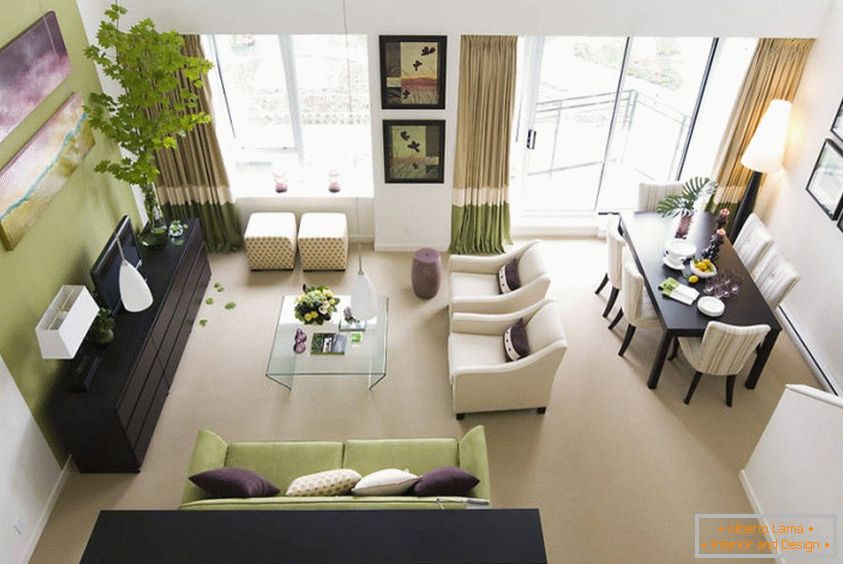 Popular ways of zoning different rooms
In modern interior design, specialists often use different types of zoning, which not only help to "break" the room into functional areas, but also bring originality and exclusivity to the design. There are many ways, so we will focus only on a few, those that are used in practice most often. In fact, anything can become materials for zoning, it depends only on your imagination and taste. So, the room can be divided by: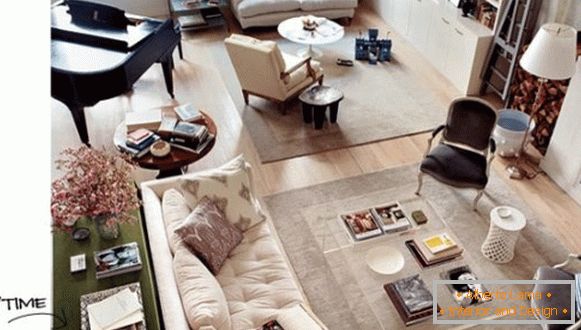 Architectural structures or plasterboard structures. The most common are the arches and columns, for example, very successfully they will look between the rest zones and lunch. Peculiar ledges in the form of shelves will be an excellent solution in the children's room. They will not only separate the necessary zones, but they can also be used as an additional place for storing books or toys.
a complex decoration of the ceiling and floor will also help to split the room. For example, a podium on the floor can perform several important functions: to separate the sleeping place, to be a large wardrobe for storing bed linen, it can be hidden bed and many others. A multi-level ceiling serves as an excellent base for different point lighting.
The game of light is also a great way to cope with the task of zoning. Above the working kitchen surface it will be appropriate to organize a bright light with the help of built-in point lights, and the muffled light from the sconce or hanging lamps is perfect for the dining area. In the bedroom, bright lighting is needed in the dressing room, but for the bedside area only a couple of lamps will be sufficient.
The color range of finishing materials is also actively used by designers for zoning. It is especially good to use this method in the nursery: the place for the game is made in bright colors with different patterns, but the workplace is better left with monochrome quiet colors so that the child does not get distracted from important things.
objects of furniture are actively used for functional separation in large rooms, for example in the living room. The most common is zoning with bookcases or sofas, they will be the perfect border separating the recreation area.
decorative accessories are considered to be the major newfangled trends. Zoning curtains and screens are actively used in bedrooms. This method is also good in that it makes it possible to easily change the level of openness of space, during the day the room can be modified several times, separating or attaching certain zones to the common space.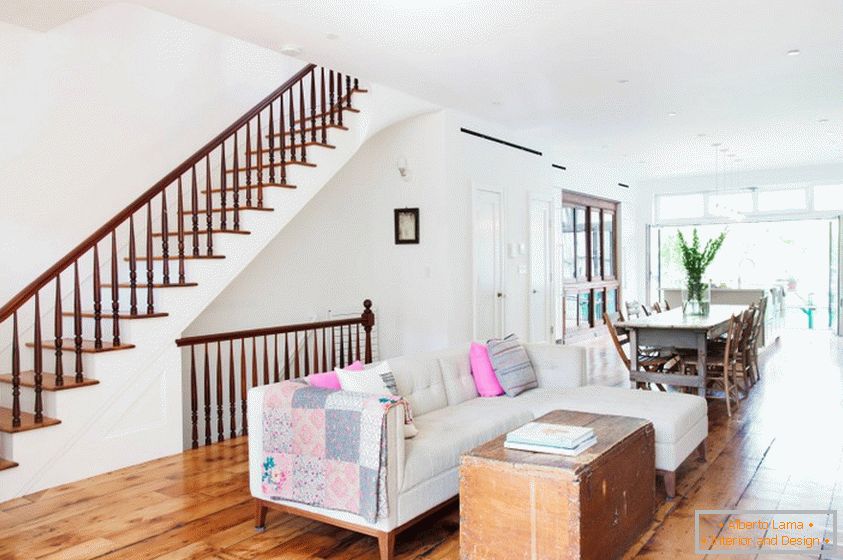 All of the above methods of zoning do not have to be used separately. Often the simultaneous use of several techniques leads to a compelling effect. Of course, only if they are correctly combined.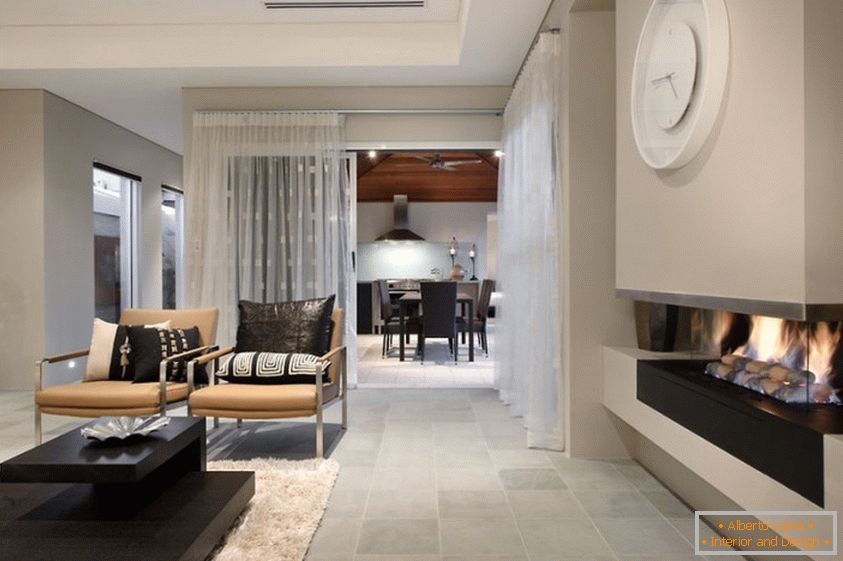 So, the zoning of the premises allows not only to bring a zest to the interior design of your home, but also to make it more practical and functional. We hope that our article will help you decide on the design of your apartment, be sure to share your success with us!
Photogallery Total | 6 photos