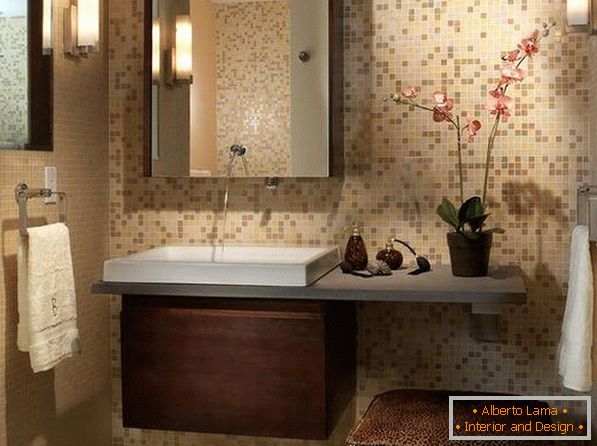 Design a small bathroom with an original dressing table
A small bathroom is a challenge to the designer's professional abilities: it's really difficult to think out the design of such a close space. Each centimeter of the area should be used as efficiently as possible. With regard to the toilet, shower or bath, the scope for fantasy is somewhat limited, but with the placement of the dressing table, you can experiment.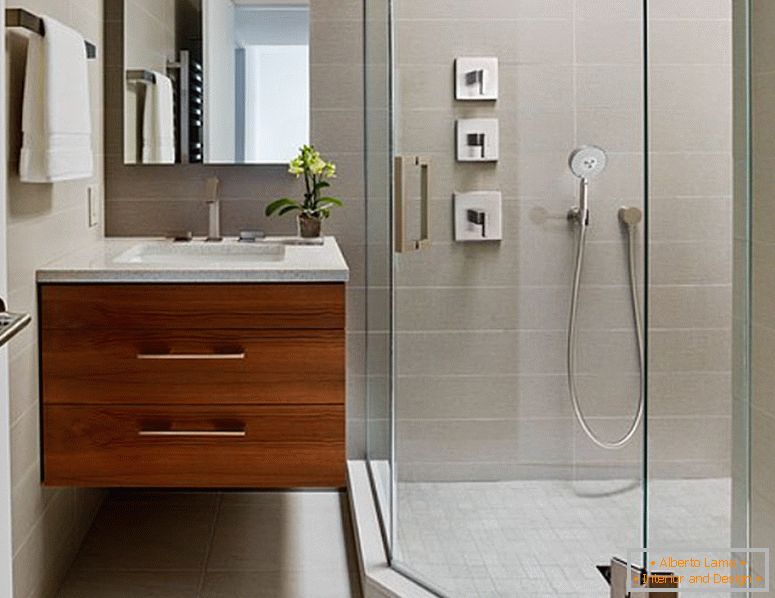 Design of a small bathroom: a dressing table
The Kohler's Persuade collection is designed for urban small-area bathrooms. It is quite roomy, but an open shelf does not allow it to look cumbersome. The lower shelf of frosted glass is an ideal place for towels or baskets with all kinds of accessories.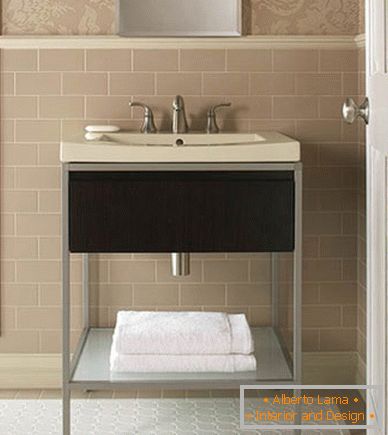 Dressing table Kohler's Persuade
Following the latest trends in bathroom design, try replacing the usual sink with an interesting model built into the wall. Aeri - so it's called - is equipped with a crossbar for towels. This incredibly stylish two-in-one table helps save space in a small bathroom.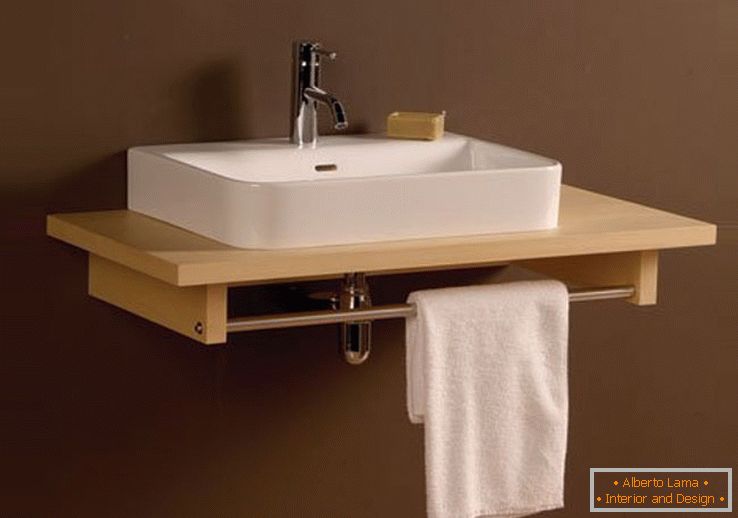 Aeri model from ceramics and wood
IKEA offers a large selection of furniture for compact rooms. The Lillangen model is no exception. Although this is not the most compact version of the compact version. If a similar model fits in your bathroom, you will get several convenient shelves to store everything you need.
Lillangen - one of the most practical models: among other things, it is equipped with hooks, a convenient soap box and a ceramic sink.
Cabinet with Lillangen sink from IKEA
The Infusion package from DecoLav includes three components. It is designed to provide an impeccable view of your bathroom. Wooden table - very narrow, so it fits perfectly into a compact interior, the built-in chrome hanger easily accommodates a towel or even two.
The kit also includes a mirror and a wooden shelf that perfectly complements the refined image of a modern bathroom.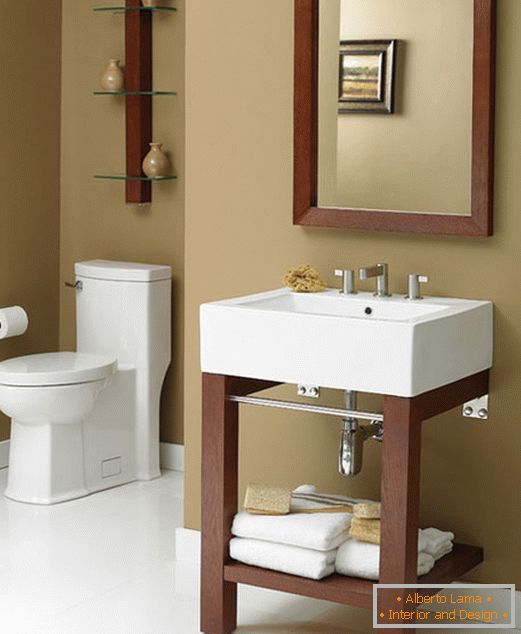 Embedded Infusion components from DecoLav
The Glenwood sink from Fine Fixtures is the narrowest of all the options offered by us. It is ideal when you need to save space: the depth of the shelves is minimal, but it is enough to accommodate all that is necessary. The built-in sink with the displaced faucet is also aimed at increasing the comfort of tight spaces.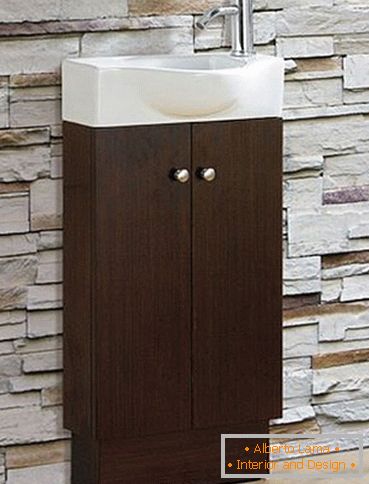 The narrow dressing table Glenwood by Fine Fixtures
Minimalist modern model of Bailey from Virtu USA. Very pleasant to look at: glossy white with a white sink and four self-closing drawers.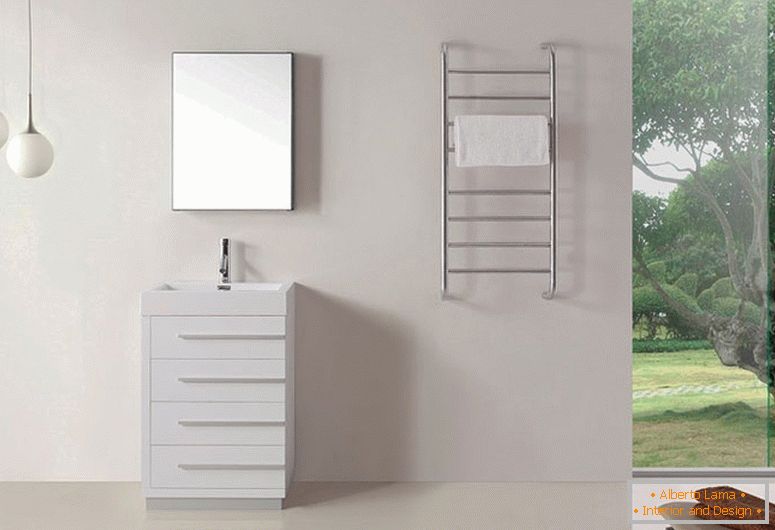 Dressing table-sink Bailey from Virtu USA
If you want to reduce the presence of a dressing table to a minimum, your model is Kokols. As you know, objects from glass are poorly visualized, so that space can look free. Suspended shelf with chrome handles for towels perfectly complements the laconic design of the sink.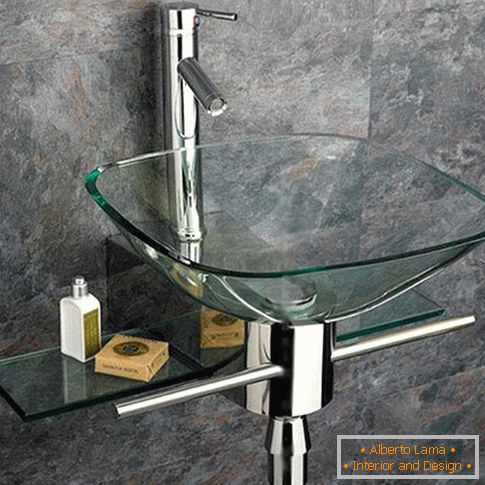 Model Kokols with sink and shelf
Angles very often turn into "dead zones" of the room. And in compact interiors it is especially important that every centimeter of the area is used rationally. This miniature dressing table made of solid wood will make room in the bathroom for other things.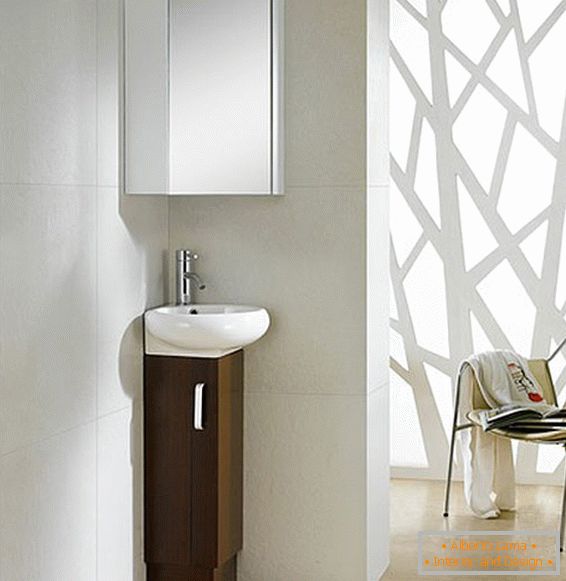 Miniature dressing table
This concise interior design embodies the latest trend of modern design: built into the wall, it seems to float in the air. The model is available in black, white or red colors, with comfortable drawers equipped with door closers.
Designer dressing table from Shon Esley
After you choose the perfect dressing table, you can refresh the mirror and lighting fixtures.
Do you have your own ideas? Share them with us!