Small apartments become a problem for many interior designers. Almost all attempts to cut this "Gordian knot" with ease break down on the still Soviet realities, which are distinguished by inconvenience and small squares. But, whether we like it or not, so whole families still live.
If you are not burdened with a family yet, such conditions will be suitable. For example, in Sydney, a young man feels comfortable in an apartment called Mighty Mouse. The area of ​​such housing is only 27 meters.
Bulky furniture is rarely in demand among young people, often they give preference to minimalism, which makes it possible to implement interesting solutions for the arrangement of spaces with small areas.
Nicholas Gurney made several custom designs and with their help arranged a cozy studio apartment. The lack of familiar furniture does not make this housing less convenient, rather, on the contrary.
The sleeping area was painted red, a small built-in wardrobe - in yellow. The darkest part of this studio is the kitchen.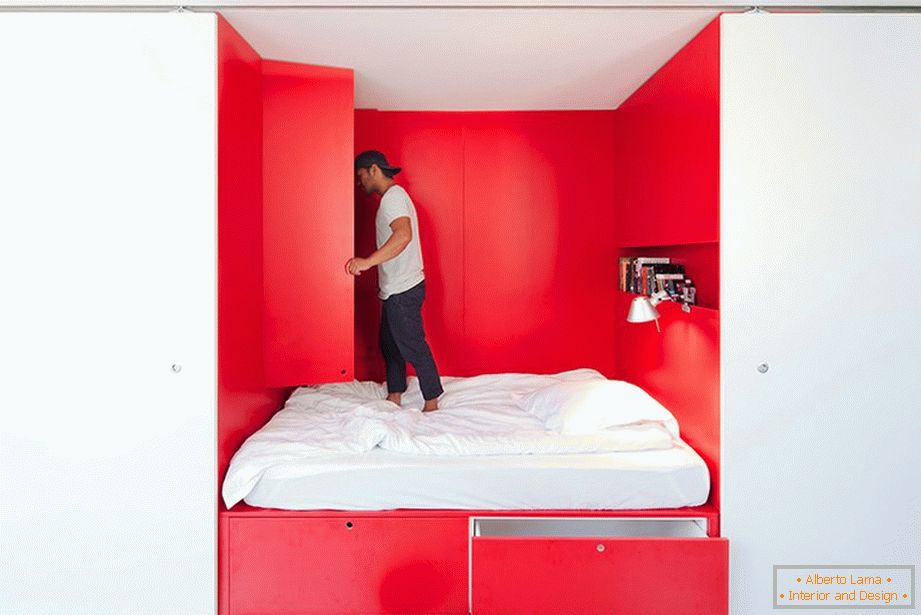 Without bearing the cost of furnishings, you can even equip a modest budget apartment in this style. Let us note, dear Forum-Grad visitors, that, in addition to functionality, this interior looks quite modern and stylish.