Repair of the bathroom takes a lot of time and money, so it's important to think carefully before you start it. Own list of ideas and wishes can give you a clear idea of ​​what kind of bathroom design will give you joy in the coming years. In this article you will find 35 fresh photos of 2016, featuring popular colors, styles, finishes and decor - the best modern ideas for bathroom design. We hope they will serve as a source of inspiration for you!
10 trends in bathroom design and 35 fresh photos 2016
Before moving on to a review of popular trends, I want to mention one important feature of modern bathroom design, which you should take note of. Today the main thing in the bathroom is not beauty, luxury or multifunctionality, but special atmosphere. Therefore, on fresh photos of bathrooms, you can increasingly see beautiful furniture, for example, dressing tables, as well as smart curtains, romantic lighting and cute handmade décor.
Indeed, this situation will allow you to get much more pleasure from showering, bathing and taking care of yourself. How exactly do modern designers achieve this effect? Learn more!
1. Calm bathroom design in the spirit of relaxation spa
Cool tones, creating a calm environment for relaxation, are especially popular in bathroom design in 2016. They are combined with soft beige and brown shades, as well as with various wooden elements to create a fresh, but cozy atmosphere; or with metal details and rustic decor - for a more refined style and cheerful mood.
White color is a real hit of the season. When it comes to bathroom design, he - like black in clothes - is elegant and easy to mix with everything.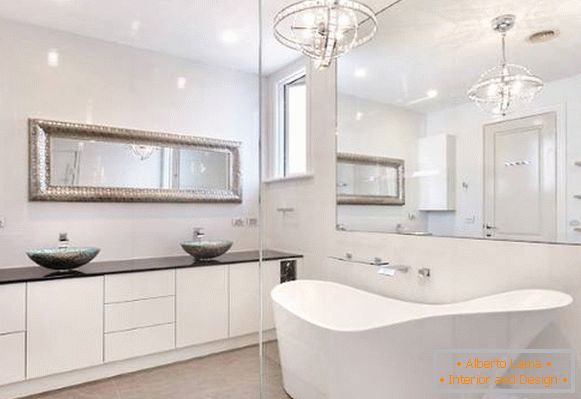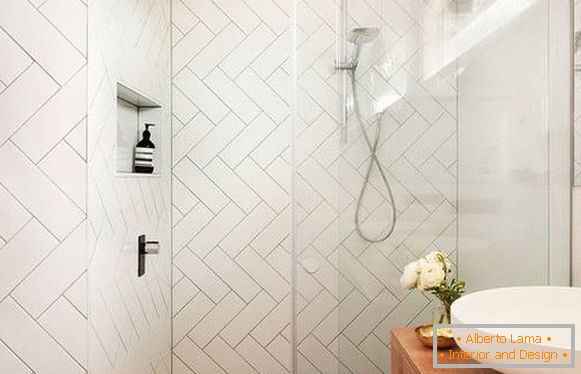 Also read: The best ideas for a bathroom in 2015
In the second place are different shades of gray. It's amazing, but any interior with them looks very stylish and fresh!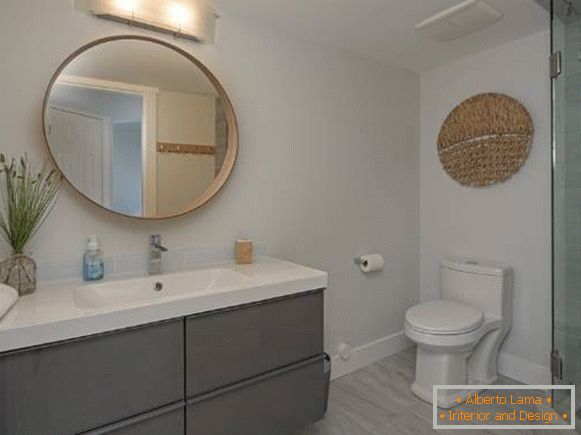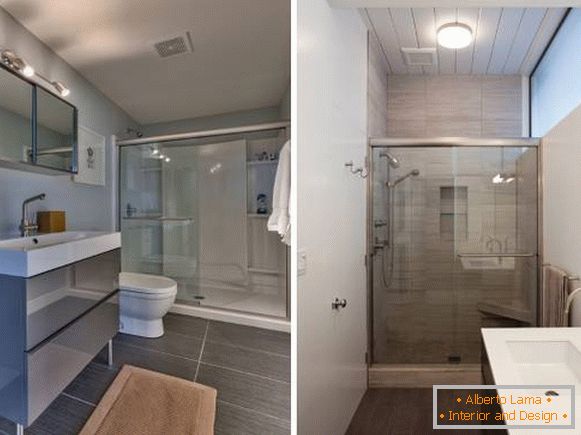 Speaking of fashionable colors for a bathroom in 2016, we can not fail to mention matte black. Combine it with wooden textures and white plumbing for an up-to-date luxury bathroom design.
2. Bathrooms inspired by nature
The latest exhibitions in Paris and Milan have shown that natural stone and wood will soon be one of the main trends in the design of bathrooms. Wooden pedestals under the washbasin, high chairs, accessories, floors and even sinks are becoming more common, because they bring the warmth and spirit of the spa to the bathroom. Moreover, this trend is perfectly combined with the fashion for cold shades.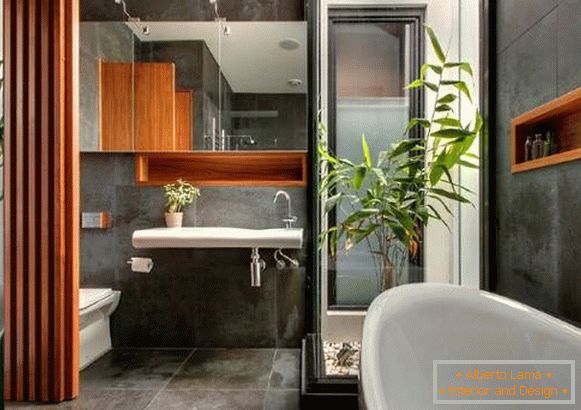 But wood is not the only natural material that is recommended for use in bathroom design in 2016. Natural stone is used today for finishing floors and walls, as well as for the manufacture of countertops, sinks and bathtubs.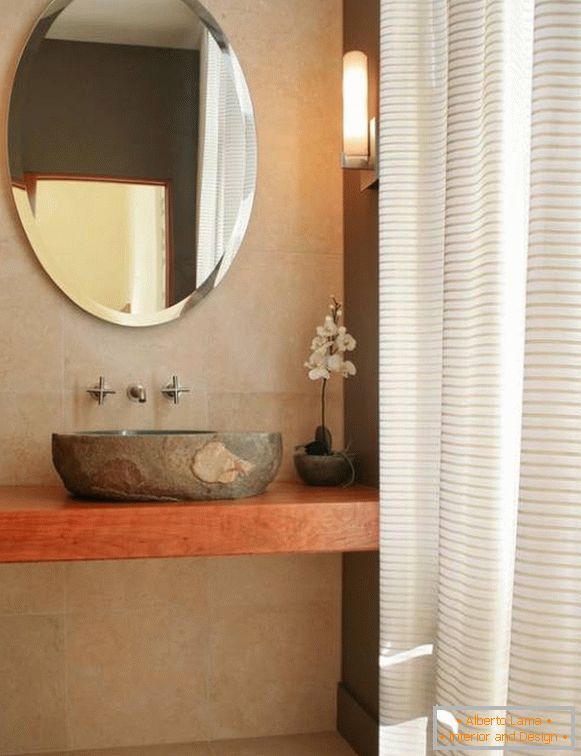 Of course, this is a luxury. However, there are also more economical ways to bring the magic of nature to your interior: to put houseplants, a vase of flowers, to light candles or to use a tile with a texture for natural materials and a natural green-brown color scheme.
Tiles in the bathroom - this is perhaps the most affordable way to inexpensively embody the boldest ideas in the interior of this type of room. Plus to the availability of tiles, you can also add its practicality, it is easy to take care of, it is not afraid of temperature effects, the fungus and mold are not planted on it.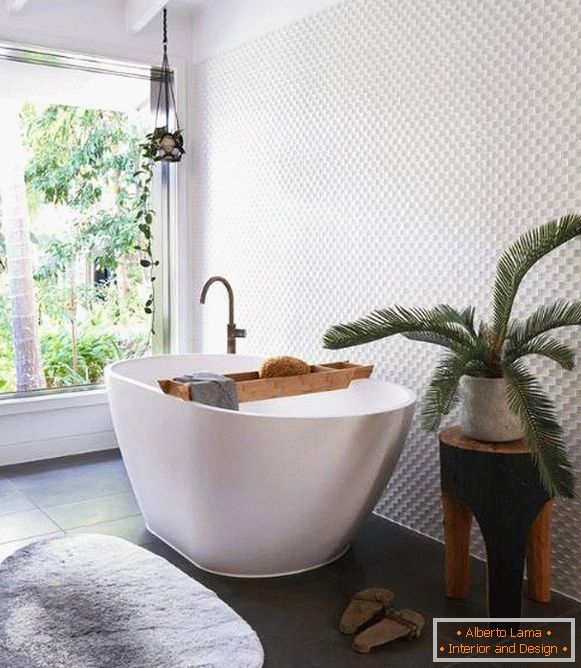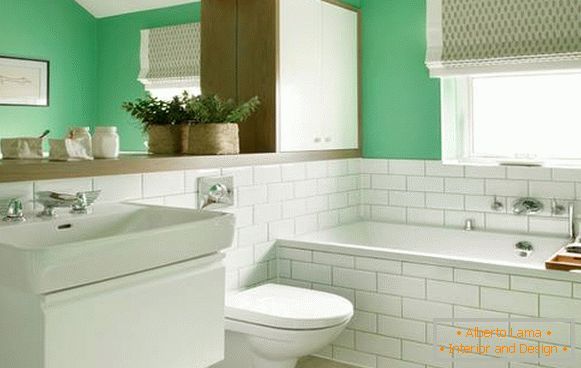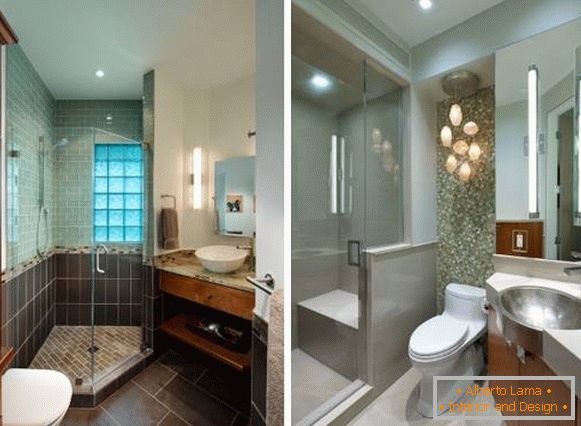 Also read: 10 simple ways to make a bathroom look expensive
3. Round mirrors in bathroom design
The bathrooms are often quite small, so the whole environment for them is chosen very reserved and strict. Round bathroom mirrors are an excellent way to soften hard straight lines, sharp corners and cold luster of gloss in the bathroom, especially if you pick up an expressive frame.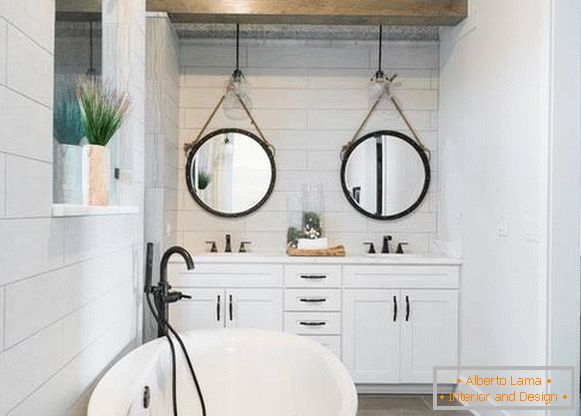 Add to these mirrors a pair of pendant lamps or sconces, if you want to achieve an even more creative and dynamic effect.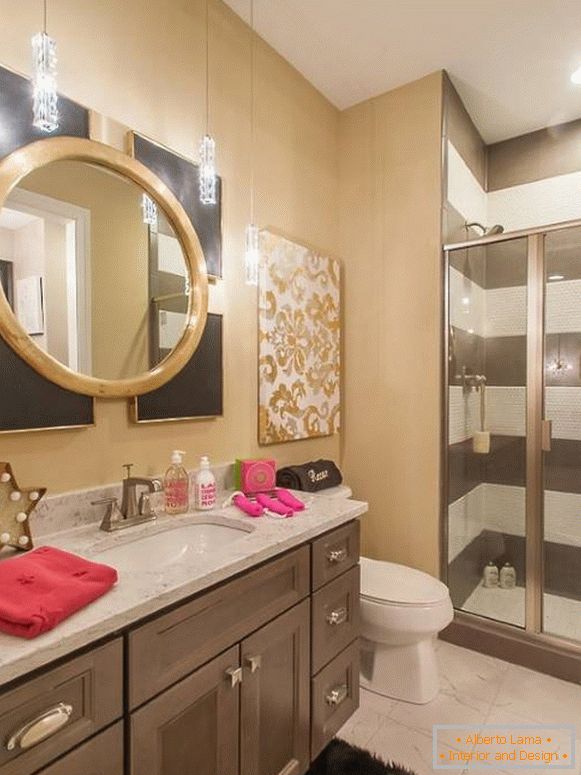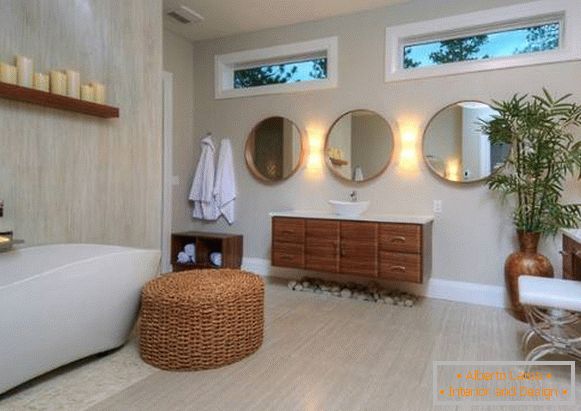 Also read: Choose a beautiful bathroom mirror
4. Sanitary ware and bathroom accessories in warm shades of metal
Some modern ideas for a bathroom come and go, others have been in demand for many years. Warm shades of metals, particularly gold, bronze and brass, can be attributed to one of the most stable trends in the design of the bathroom in recent years. Lamps, towel warmers, mixers and even tiles in these tones help to bring to the bathroom a sense of glamor and luxury. Especially it is worth paying attention to such metal parts with chic matte finish.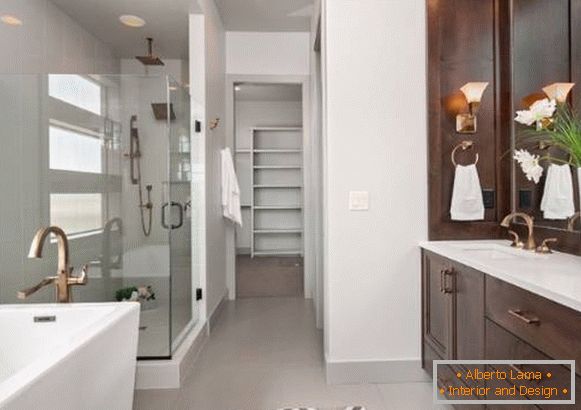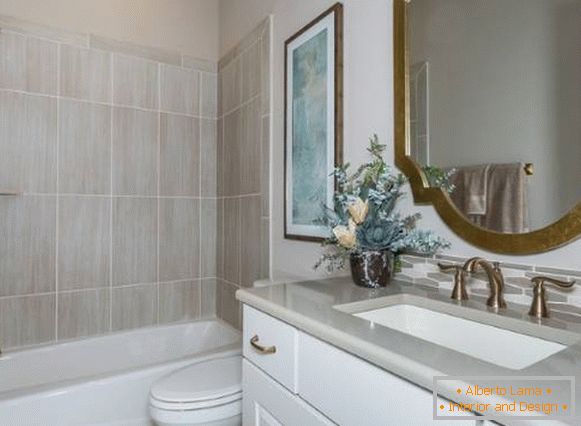 5. Moroccan-style bathrooms
Moroccan tiles with stunning patterns are the best way to create a relaxing, but at the same time, a luxurious atmosphere in the bathroom. And in general, bright, inviting, picturesque Moorish motives are on horseback today in the design of any rooms.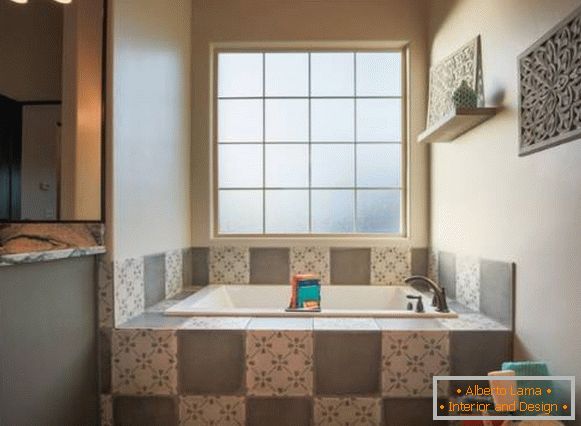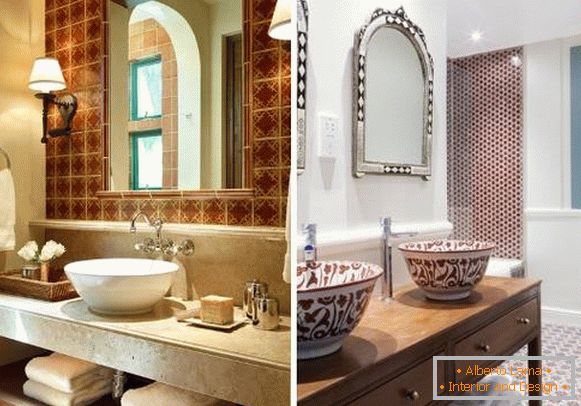 Continuation of the article, please read here.