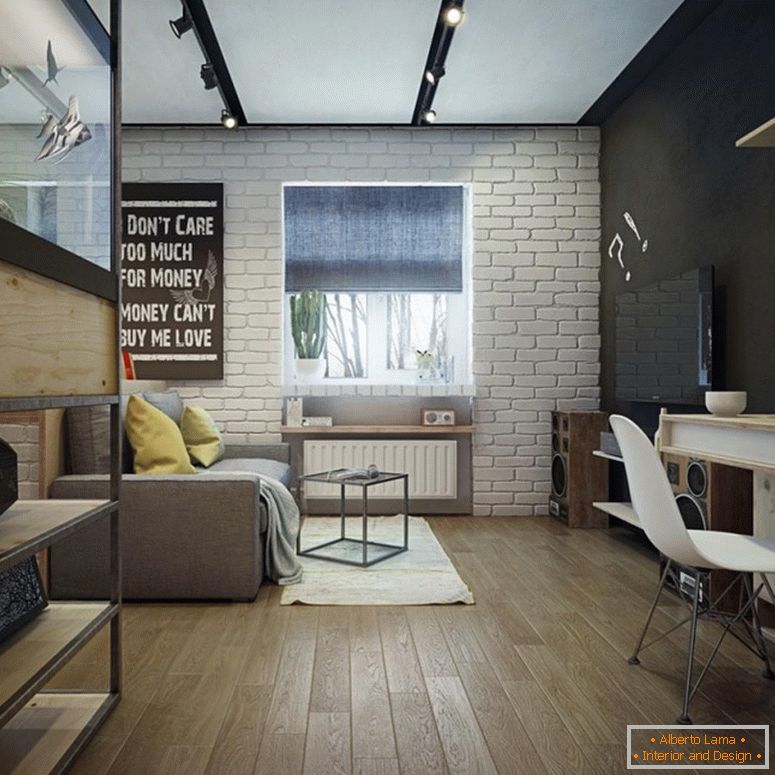 Beautiful interior of a small apartment, in which the slate is combined with cozy sofas and white bricks
This one-room apartment loses many others in size, but certainly not in attractiveness. The interior, created by Russian designers Alexandra Nuzhnoy and Alexei Stepanov, will surprise you with its compact layout, an impressive number of shelves and cabinets and the presence of a working area for two people.
The small kitchen is furnished with stylish built-in wardrobes in black. They contain enough things, take up little space and give the visual depth to the room. A brick bar and shiny metal chairs add a touch of freshness to the interior.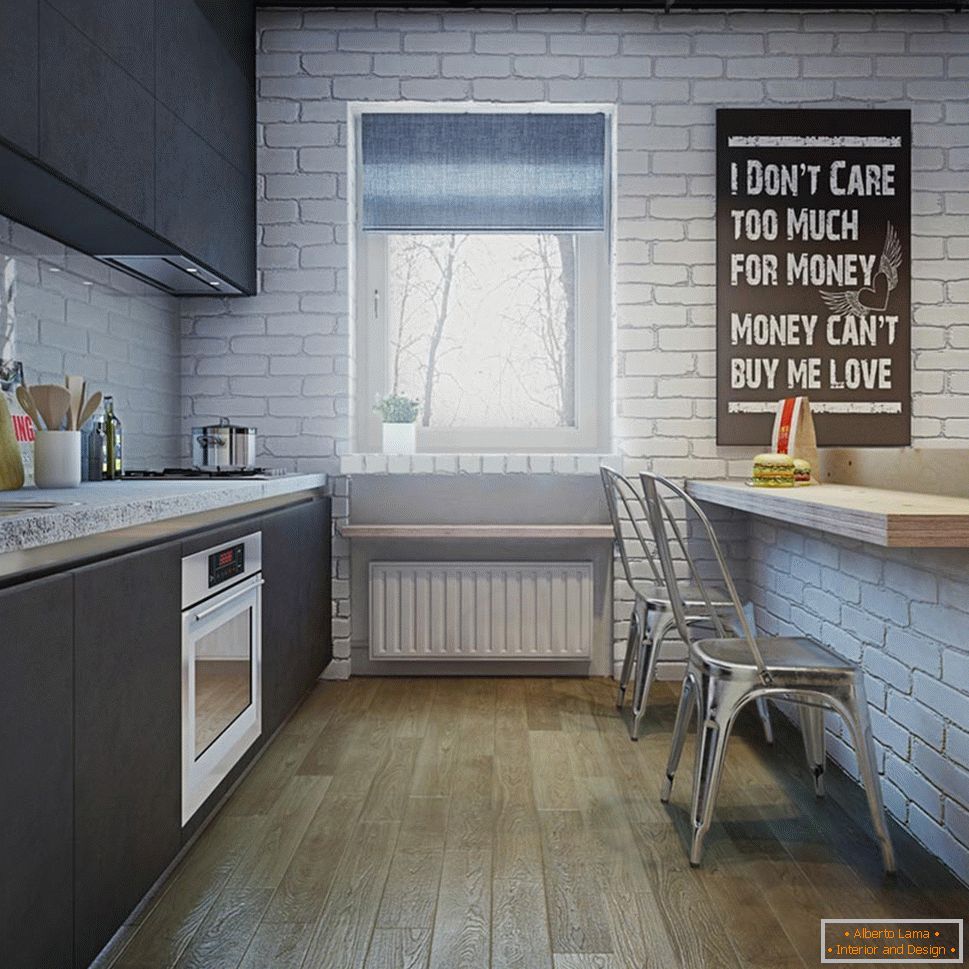 Instead of a dinner table - a wide bar
Kitchen with living room connects a solid brick wall, painted in cream color. On windows with wide windowsills you can arrange any number of colors. The dark green of indoor plants fits perfectly into the design of the apartment and gives the room a cozy feel.
A number of track luminaries serve as a source of illumination. The slate on the wall of the "working area" will be an excellent place for recording ideas in moments of inspiration. Together with the desk, she turns the room into a real office for two people without any partitions and doors.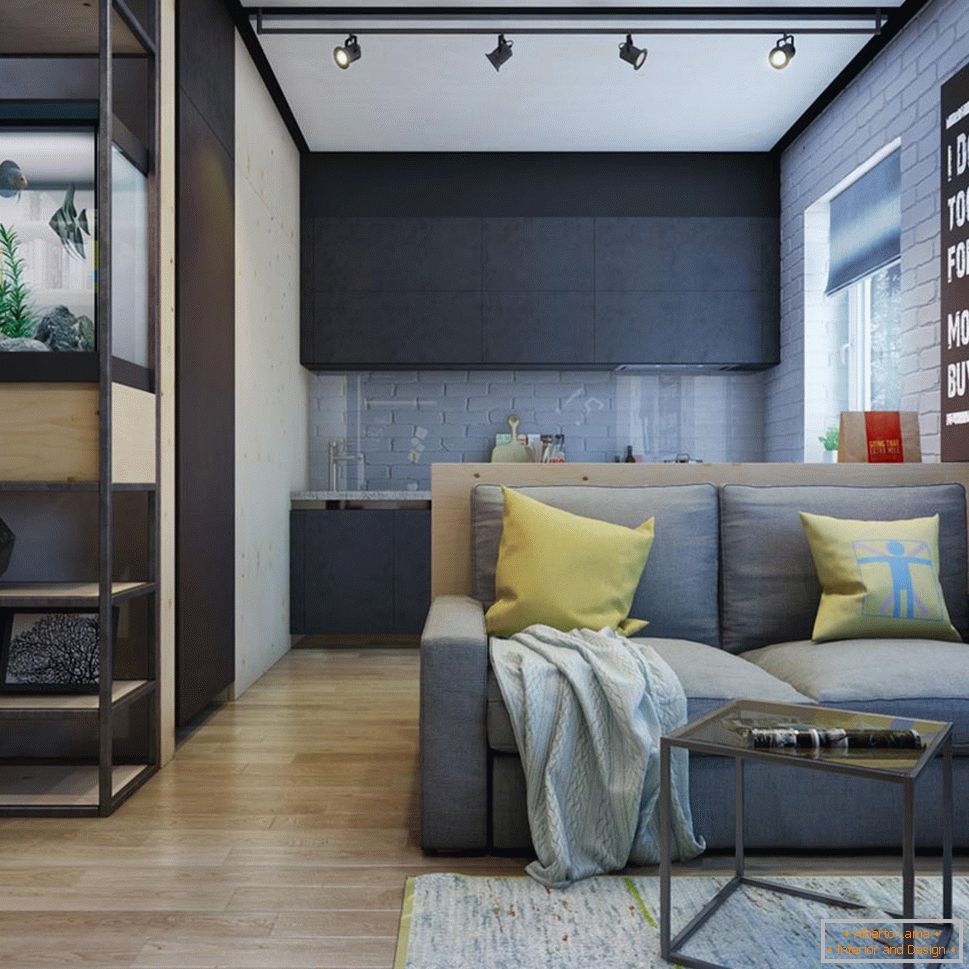 The whole apartment is decorated in pastel colors. Dark walls and shelves stand out against the background of light walls
A small office table with two chairs and a bookshelf forms an excellent working area
The spruce floor resembles the built-in lockers of the same material, located along the corridor. Here also settled lovely spotted giraffes in the form of prints, invariably causing smiles at all passing by.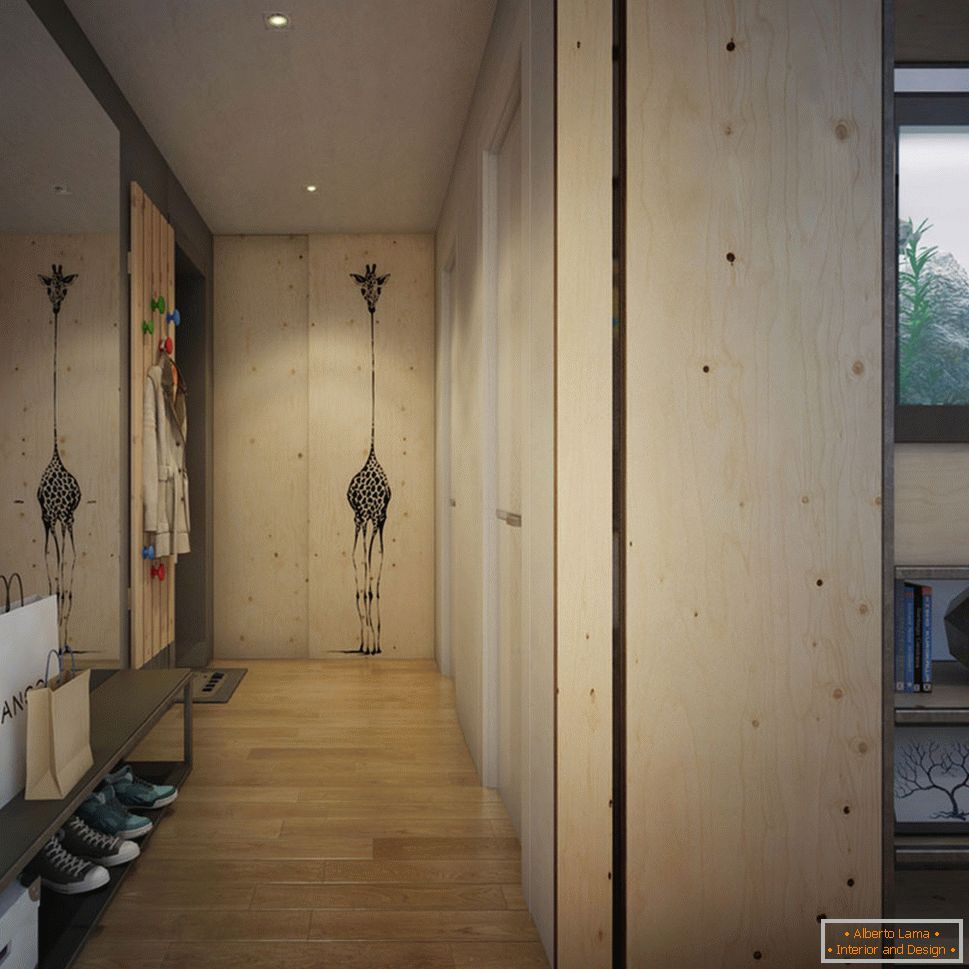 The delicate texture of spruce wood is emphasized by the soft yellowish light of built-in light bulbs
The bedroom is also furnished, simply and tastefully: a spacious double bed, an ebony wall, a small shelf and a table top - that's all we can see here.
Mirrors visually expand the space, and a modern LCD TV allows residents of the apartment to watch their favorite programs and movies in the best quality. A bathroom with a sink built into a niche with a black frame proves to us that even the most compact and utilitarian spaces can be stylish.
This is a really impressive design, if you take into account the modest characteristics of the apartment!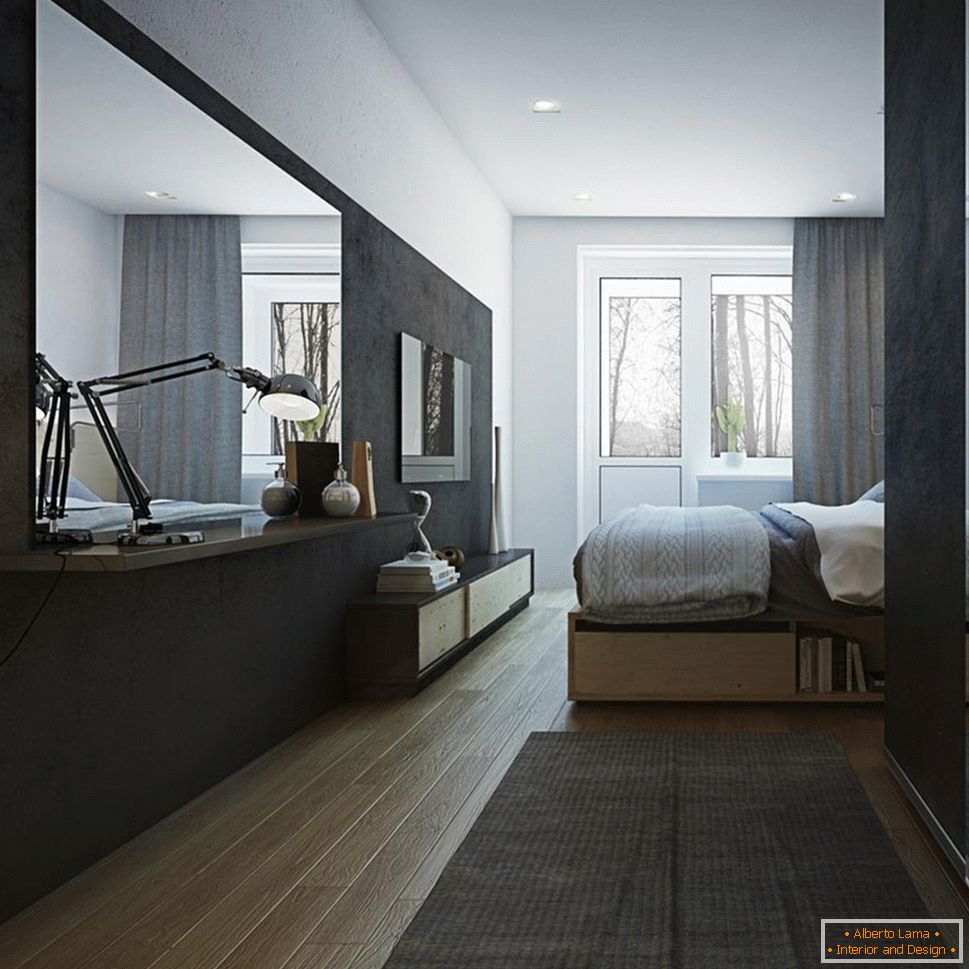 On the sides of the bed-platform are shelves, which store the owners' favorite books
Beds are illuminated by two sconces, the position of which is easily adjustable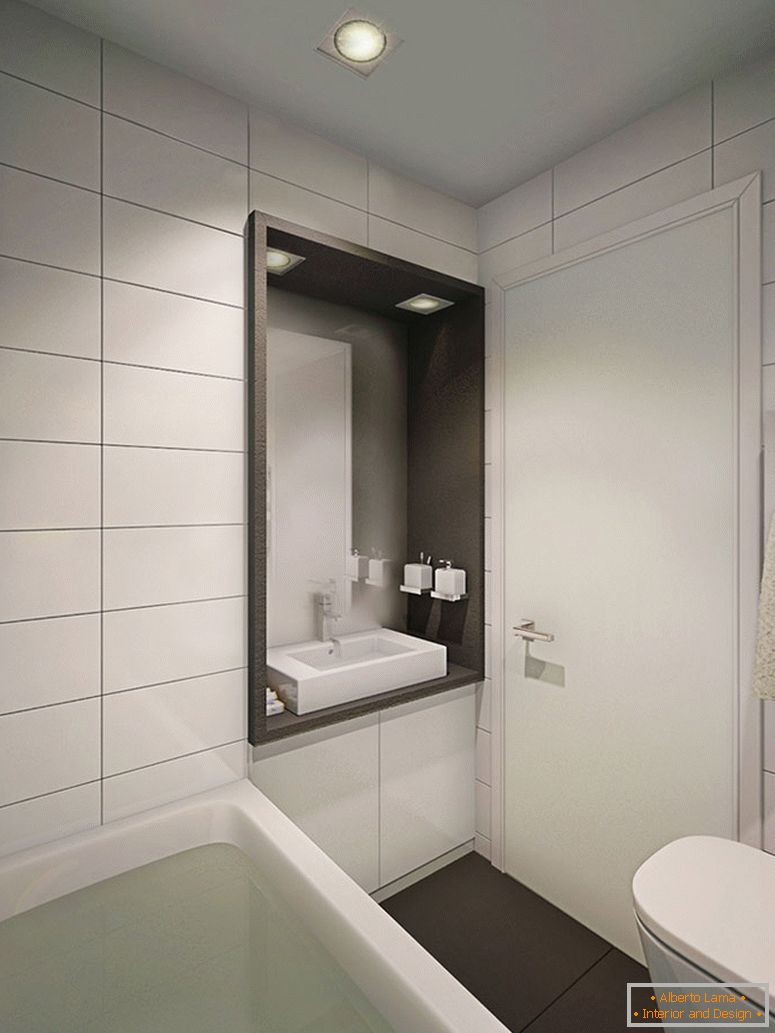 Under the sink - a small cabinet for household chemicals and towels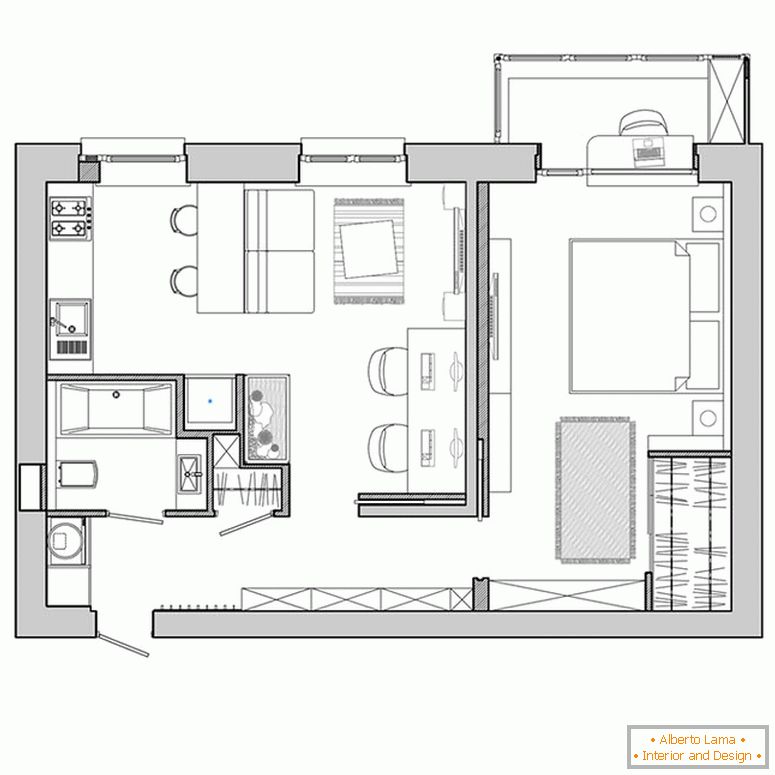 Plan