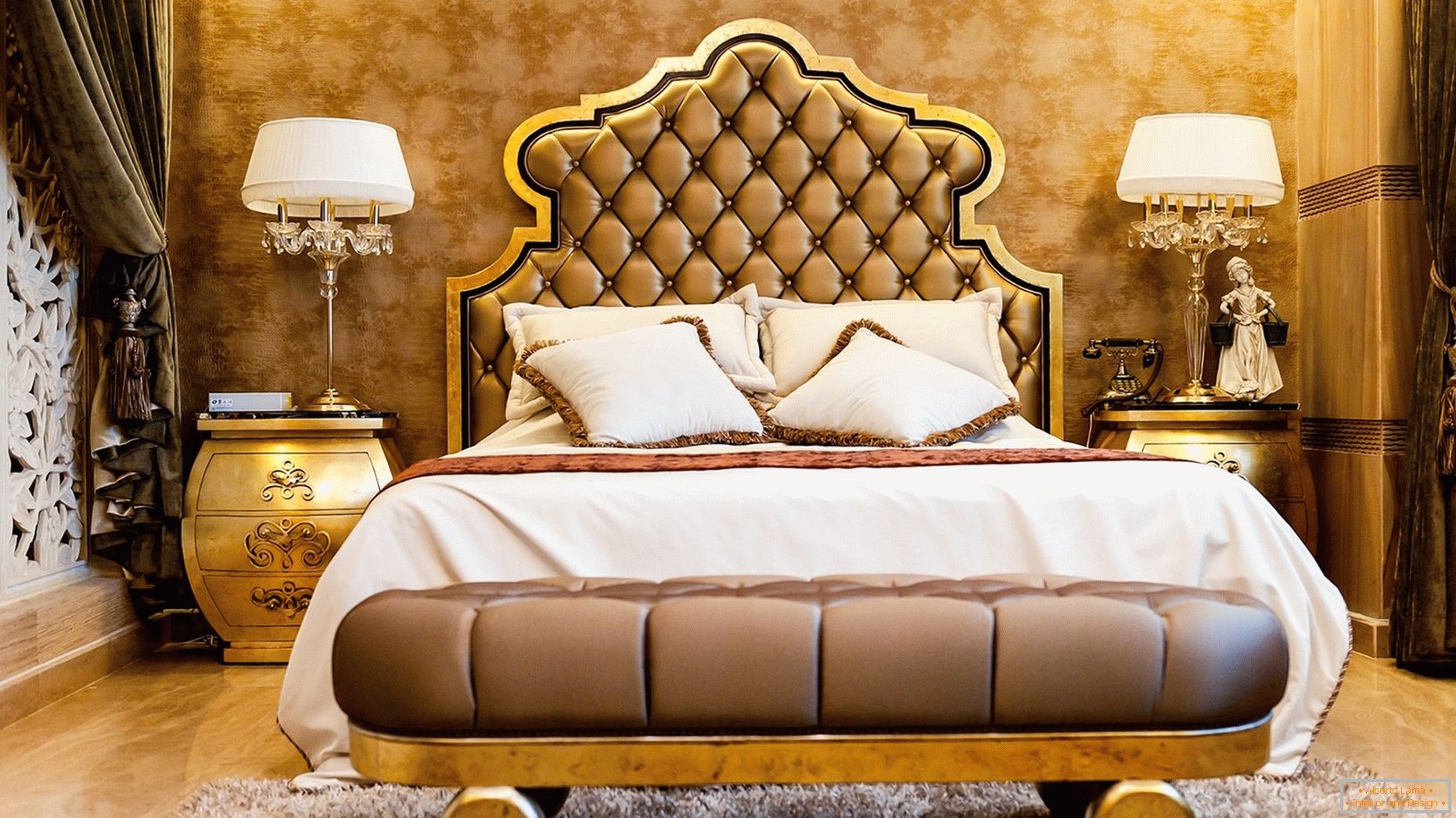 Gold wallpapers in the interior of any room look expensive, chic. They are quite versatile, because they have a very wide palette. With their help, the luxurious design of any room is easily created. A fascinating splendor attracts attention, reflecting warm light. About what good wallpaper golden shades, how they are combined with other decoration of different rooms of the apartment, how to choose them under a certain style, more details in the text of this article.
In the interior of the Middle Ages, the Renaissance, it was very popular - only very rich people could afford gold, because then this color was considered a symbol of abundance, luxury, prosperity in the house. In modern design, it should be used neatly, an excessive amount of gold - a sign of lack of taste. Therefore, only separate details of the room are made out.
This color is a mixture of orange and yellow. Thanks to the metal shine, the wallpaper with gilding can easily fit into almost any interior, which will immediately sparkle with new colors, become bright, unique. There are a lot of shades - from muffled-yellow to amber-bronze. This is the warmest color, and therefore it has the property of "expanding" the space, when using it, you must strictly adhere to the chosen style, in order to avoid chaos and bad taste.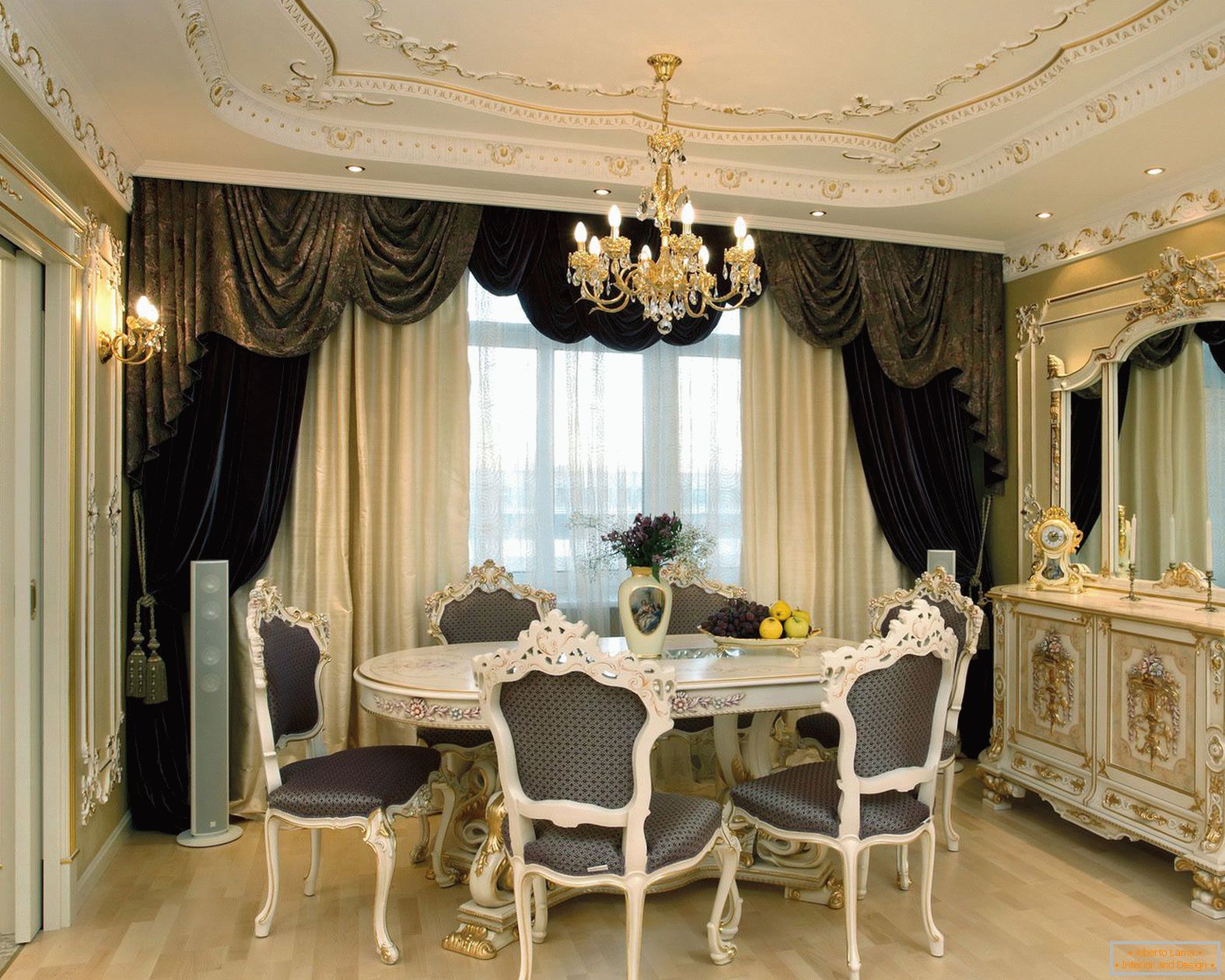 Design and texture
There are different types of golden wallpaper:
of paper - are environmentally friendly, diverse, breathable. But they fade in just two or three years, are glued only to very even walls, strongly absorb any smell. Single-layer, two-layered, embossed, embossed. Well suited for bedrooms, nurseries;
with fabric fibers - on non-woven, paper-based with an upper layer of fabric. Look good, but very dirty, difficult to cleanse of contaminants;
flizeline - dense, but the air is flowing normally, smoothing out small defects on the walls. In stores there is a huge choice, suitable for any rooms, except for those where there is a high humidity;
from vinyl - have a durable layer of PVC based on non-woven, paper, often imitate wood, stone, moisture-proof, do not fade for a long time. For air completely impermeable, some varieties contain harmful additives, chemicals. Excellent for gluing the bathroom, hallway, kitchen;
under painting - paper, vinyl, nonwoven are produced. In essence, this white canvas with a pattern, bas-relief or prints. You can repaint them at least three times;
liquid - air permeable, applied just like plaster, hide any irregularities on the walls. In their composition - dry glue, sparkles, threads, cellulose, pigments. Are produced relief and smooth.
Read also: Decor fireplace: ideas and ways of decoration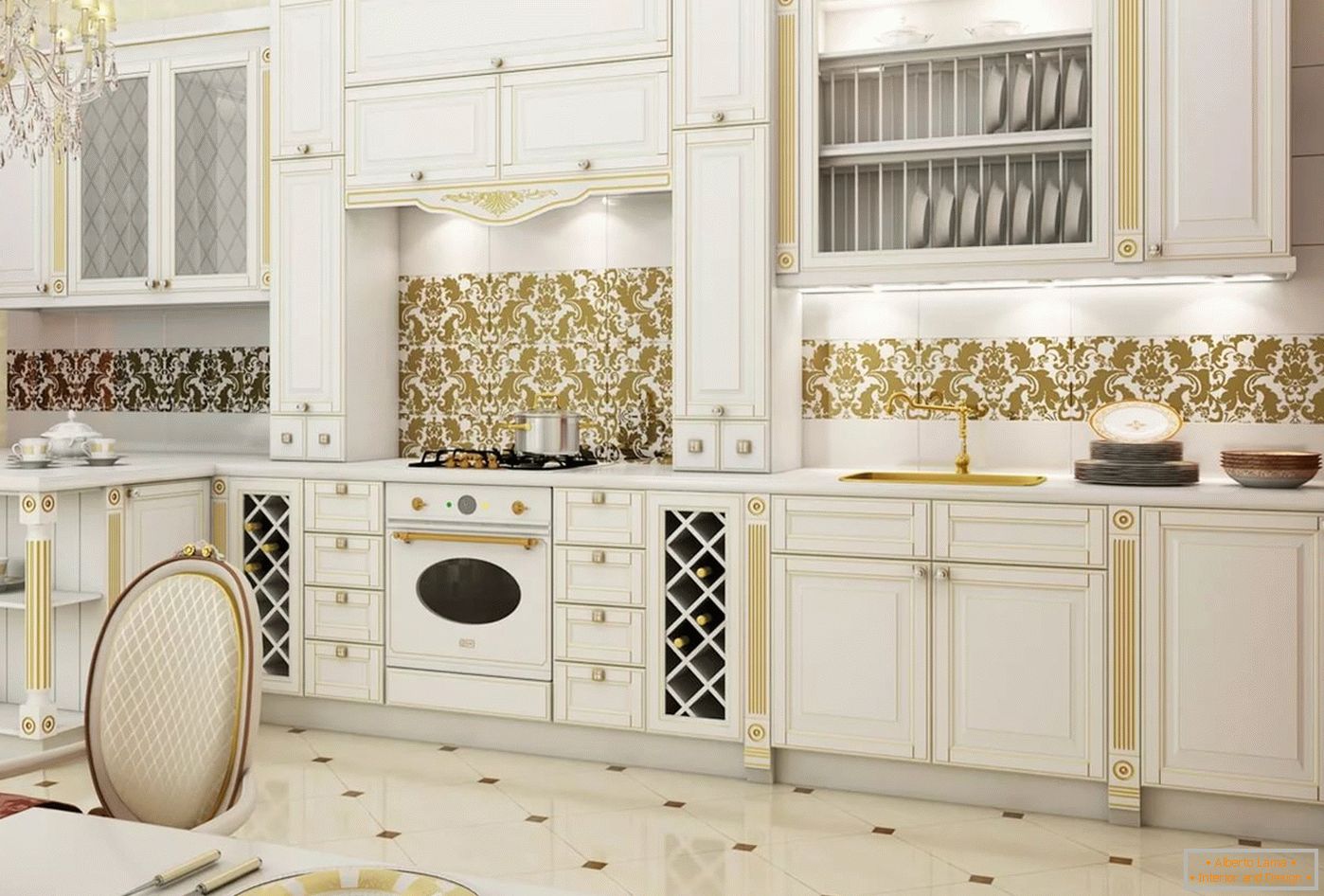 The wallpaper with a complex convex texture diversifies the interior, monochrome looks good with textured curtains, being an excellent background for expensive furnishings. With the help of a correctly selected pattern, the shape of the room changes easily - vertical bars visually make the room higher, horizontal - wider, longer.
The most common patterns:
floral;
geometric;
meanders;
venezuela;
the sun;
damascus;
paisley;
karkelyur;
space.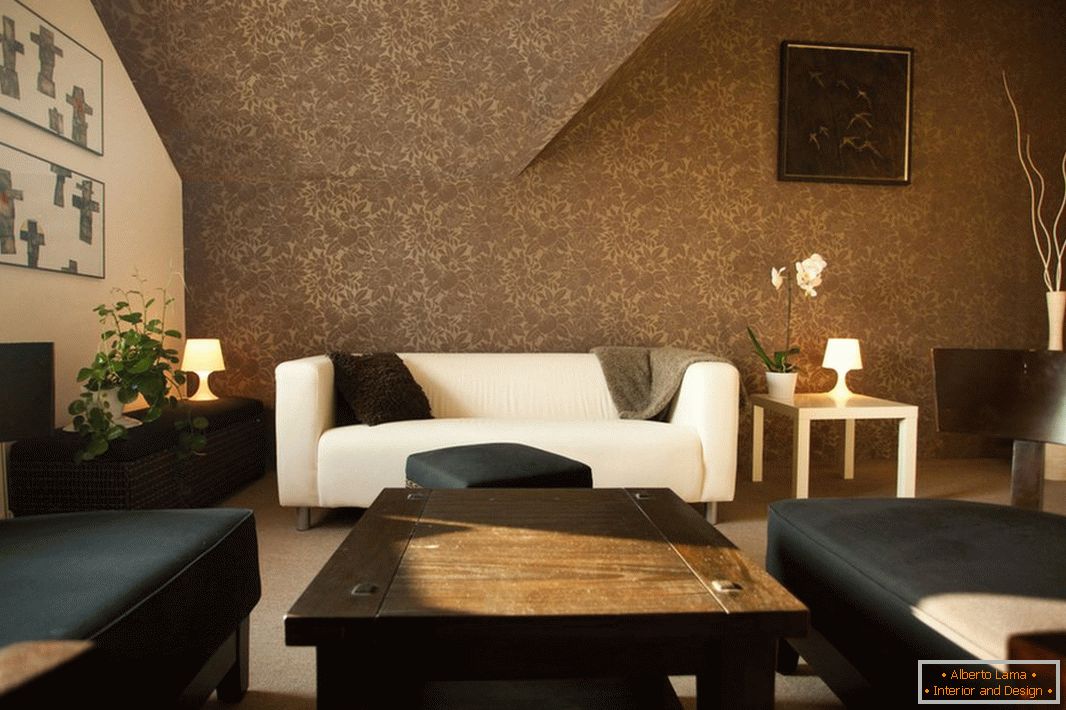 For small rooms with low ceilings, white wallpaper with gold pattern or golden with beige is chosen, for more spacious intricate black weaves are possible on a gilded background or gilded on a coffee table.
Which style is right for you?
Golden wallpapers will perfectly decorate the interior of the following styles:
art-deco, art nouveau;
classical, neoclassic;
rococo, baroque;
modern;
retro;
shibbi-chic;
minimalism;
high tech;
ecological;
futurism;
Oriental.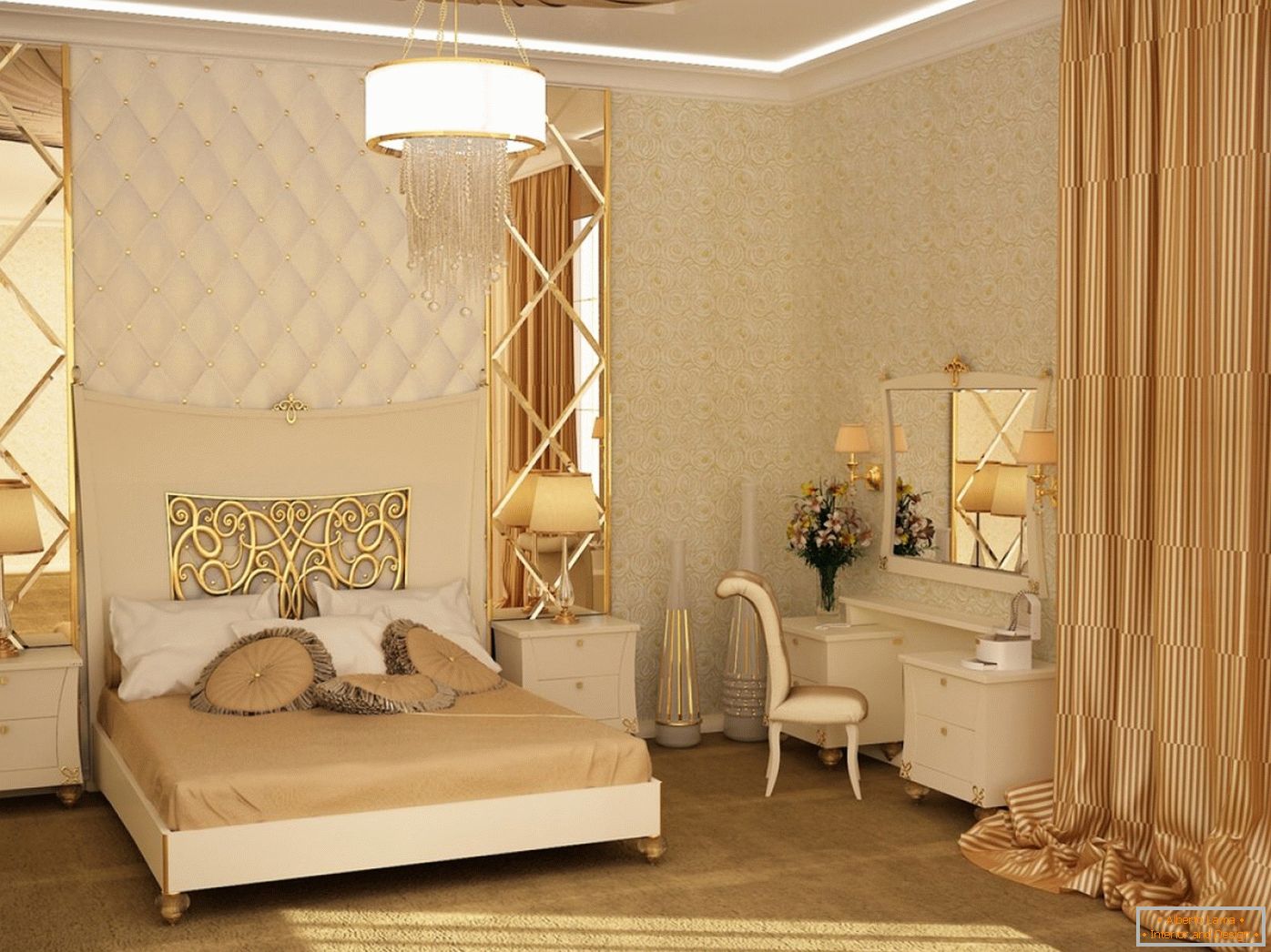 Strict geometric drawings are best suited to the style of art deco, high-tech, industrial, but it is important that the curtains, the design of the floor had a uniform texture. For a romantic, ecological style, vegetable, floral ornaments are suitable. For the classical - a variety of monograms, damask patterns, meanders, framed by curbs, moldings with gilding, elegant ceiling rosettes. Retro style decorate the wallpaper under the carlicel. For the children's room, a futuristic living room is suitable for "space" 3D images, which glued just one wall, on which there is nothing else.
Combination options with other colors
The traditional, almost "canonical" combination is golden yellow with blue - they are located on opposite sides of the color circle. Beige, brown, dark gray, orange tones are also often used.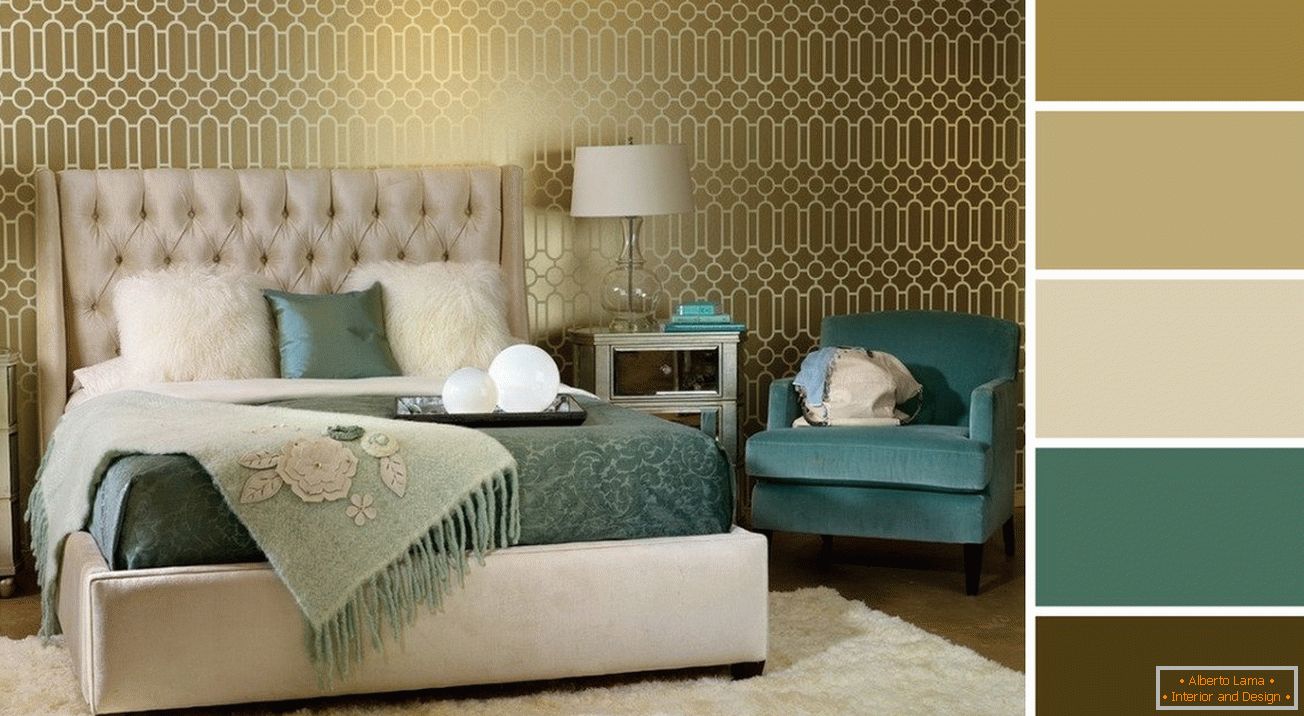 Other successful combinations:
sunny-gold with white;
golden-straw with olive;
wheat-gold with emerald;
golden green with burgundy;
antique gold with terracotta;
golden-honey with graphite-gray;
palm-gold with turquoise;
golden-smoky with pink;
acid-gold with black;
golden-peach with milk.
The combination with turquoise, silvery will create a strict classical interior, burgundy, black will give solemnity, pale pink and pistachio tune in a romantic way.
Gradient transitions from golden-orange, bronze to any other, in modern interiors look very advantageous.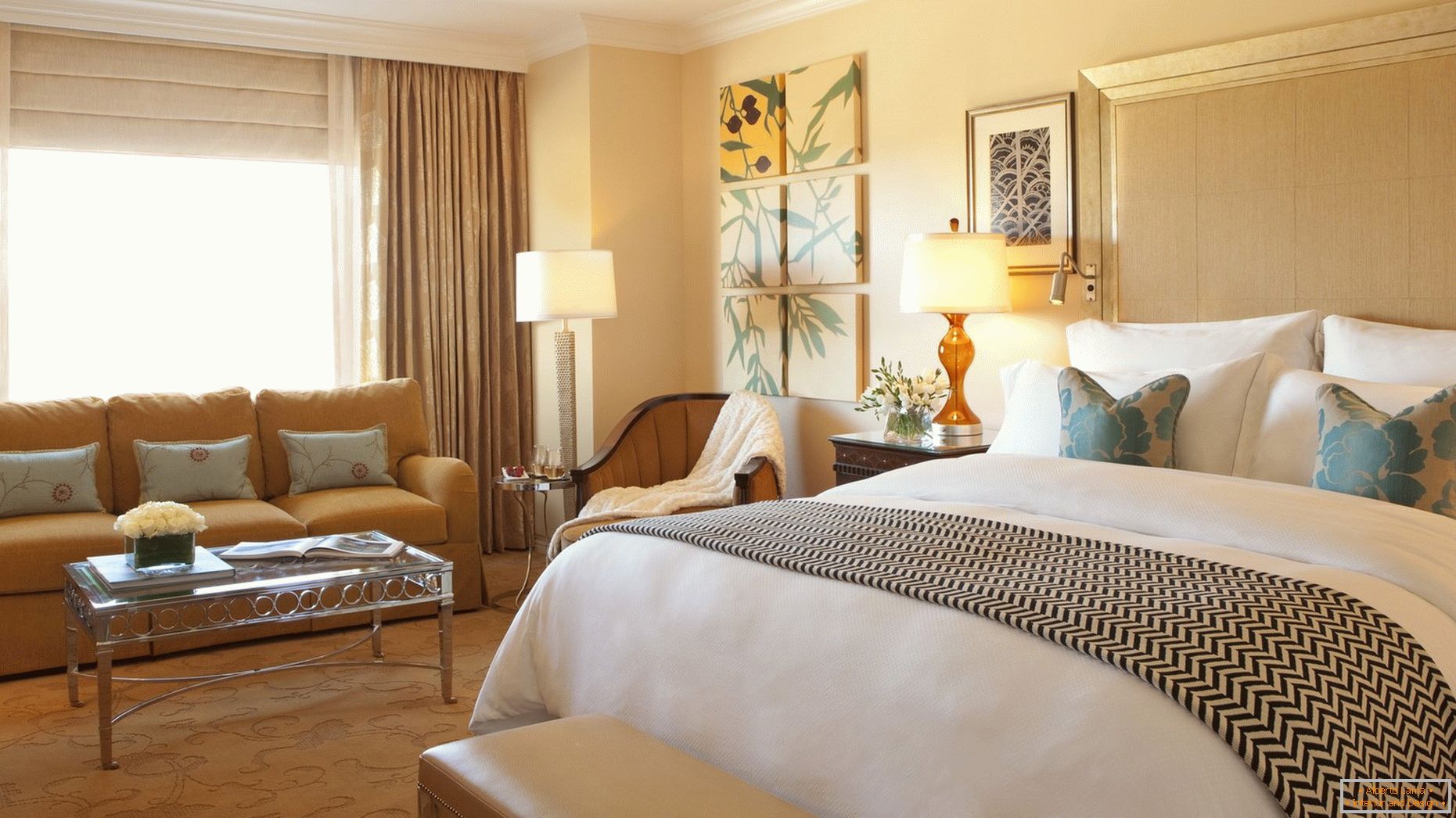 How to choose the right curtains
When choosing curtains, you must follow several rules:
to wallpaper with complex variegated patterns should be selected single-color curtains and vice versa;
excellent looking bright curtains, preferably warm colors;
it is desirable that the walls contrast with the design of the windows, and not merge with it, but the option of unification is also possible;
if the curtains are selected to match the wallpaper, they should be at least two or three times lighter or darker;
curtains should be in harmony with other textiles in the room - furniture upholstery, carpets, pillows, coats, drapes on the bed, armchairs, etc.
Curtains with vertical or horizontal stripes, against the background of monochrome wallpaper slightly change the geometry of space. Light thin curtains are almost always inappropriate. The most harmonious look red-brown curtains, curtains, coffee colors with milk, sky-blue, bright green, violet. But the blinds or roller blinds are selected with alternating canvases - gold with brown, blue, silver, pink and others.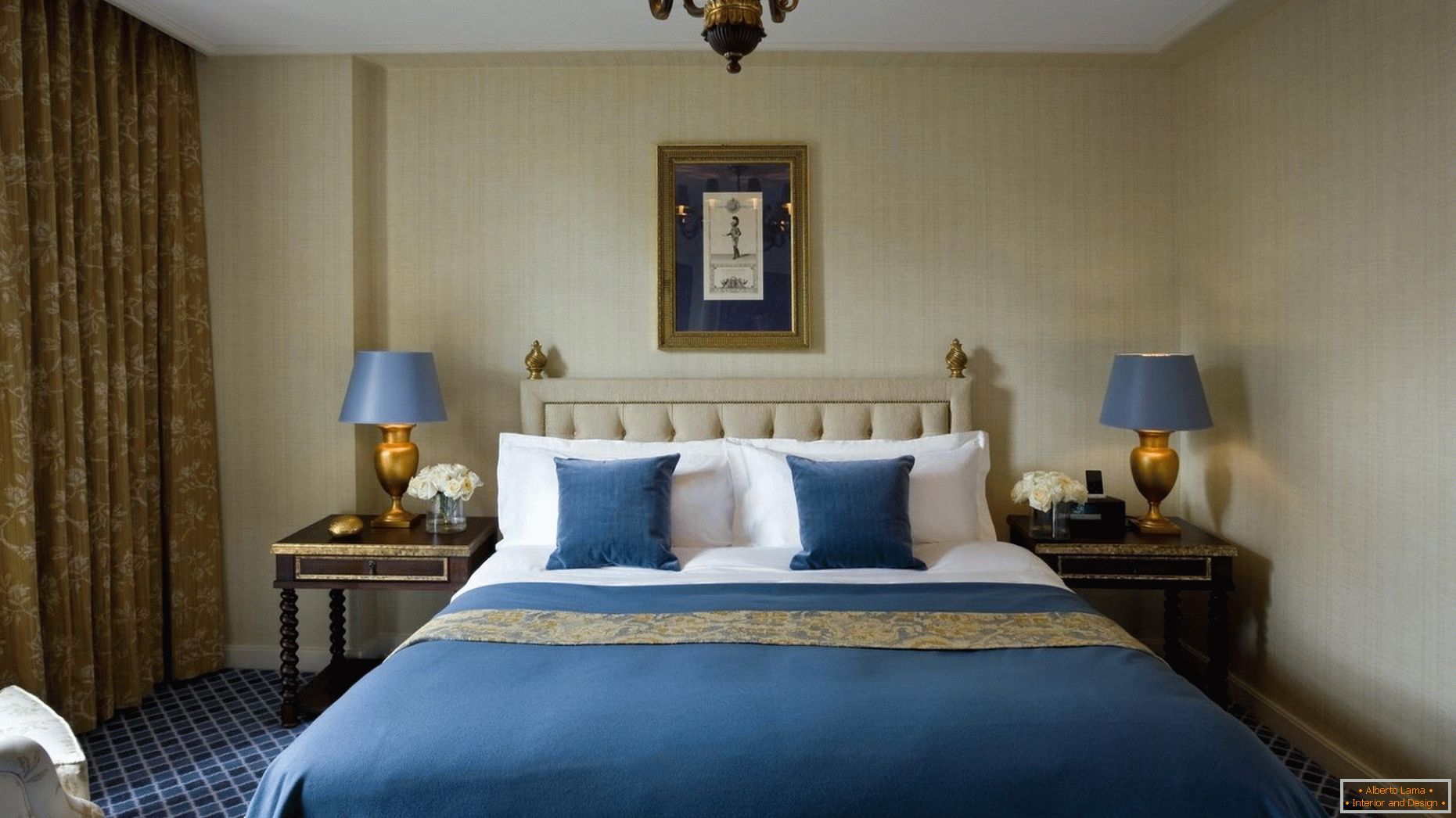 Japanese curtains can repeat the pattern of the walls, if so conceived, and Italian curtains have only a gold cord to pull them together in the right place. Austrian or London are decorated with gold ribbons, can have a wide golden cornice, in harmony with the wallpaper. Curtains in the form of hourglasses, tied in the middle, are inserted into the skeletons of the partitions, with which the space of the studio apartment or the kitchen-living room is zoned. They duplicate the texture, drawing curtains on the windows, in color, combining with the wallpaper or contrasting with them. Interior curtains for a golden interior sometimes have the appearance of a crumbling "rain" made of gilded beads.
Light curtains with or without a drawing, will be "in the theme" for almost any interior, dark shades are used only for the most spacious halls, wide corridors.
Combination with furniture, ceiling, floor
In most cases, the floor covering is selected for a couple of tones darker than the walls of the room - this will visually create a reliable support for the feet, furniture, providing a compositional balance. With golden wallpaper perfectly match lacquer flooring, parquet, wood-based laminate, floor tiles, linoleum. The ceiling is desirable light, but can have separate gold-plated elements of stucco. Option for the child will be a light blue ceiling with a chandelier in the form of the sun, which seems to illuminate the walls.
See also: Design of arches and ways of decor +75 photo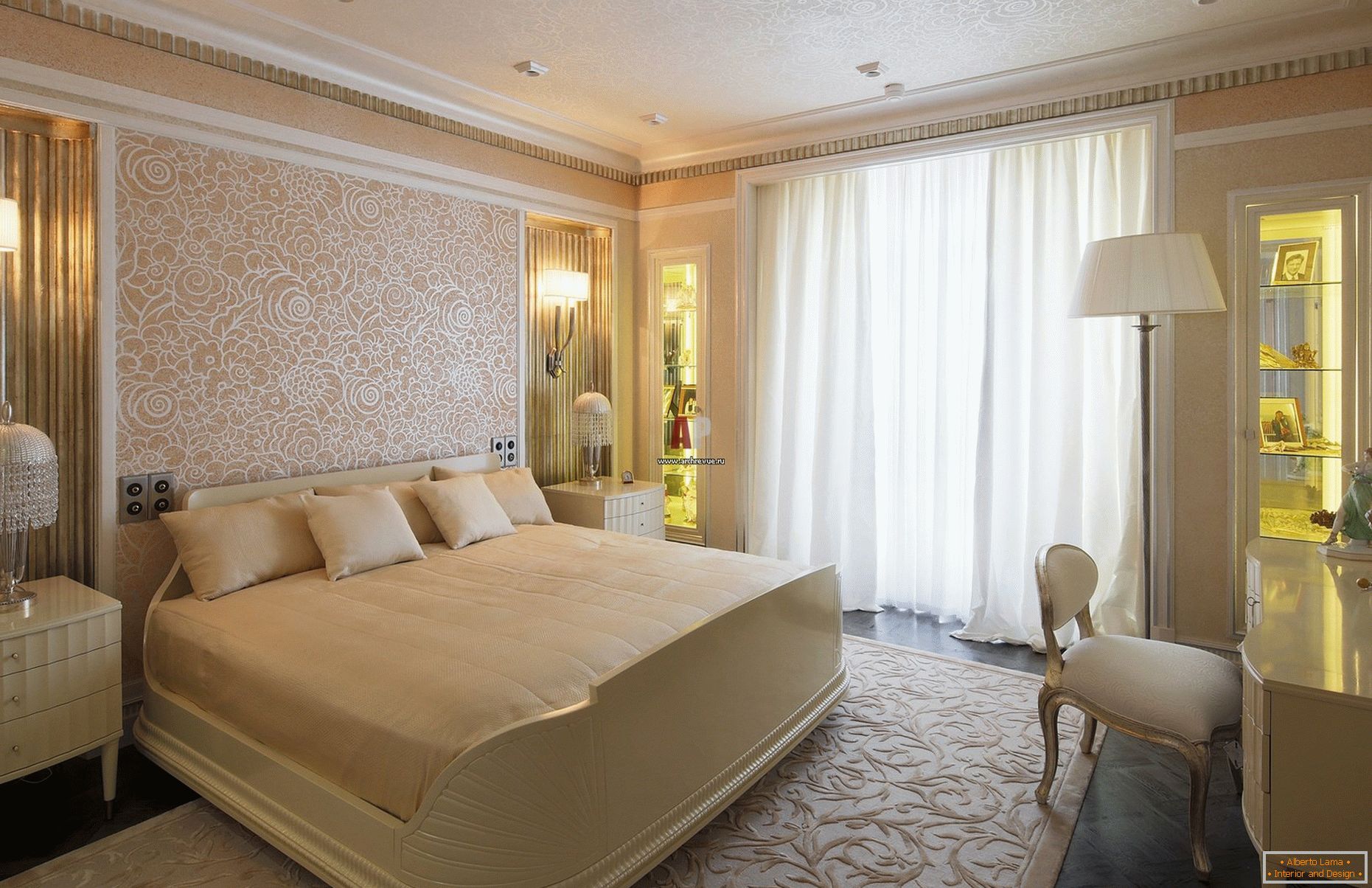 It is best to look furniture contrasting with gold wallpaper, it is selected for several tones darker or lighter. If the wallpaper is solid, the upholstery of the upholstered furniture is selected patterned, and when they have a complicated ornament, the sofas, armchairs, pouffes, kitchen corners and so on are decorated with fabrics with a simple large pattern or without it at all. Gold accessories are used in moderation, do not litter the room with a lot of figurines or vases. It will be enough to have a central gilded chandelier, a golden rim of the carpet.
If golden wallpaper with gradient transitions from dark to light is used, then the most saturated color is preferred below.
Wall design in rooms
Especially bright golden wallpaper is glued in rooms with windows facing north - they will give a feeling of "sunshine" in the absence of natural sunlight. Darker - chocolate-gold or black-gold - is used in spacious "southern" rooms, where daylight is abundant throughout most of the day. Do not apply too much shine - this visually "heavier" the interior, so the excessively bright gold-plated finish should occupy no more than one third of the room.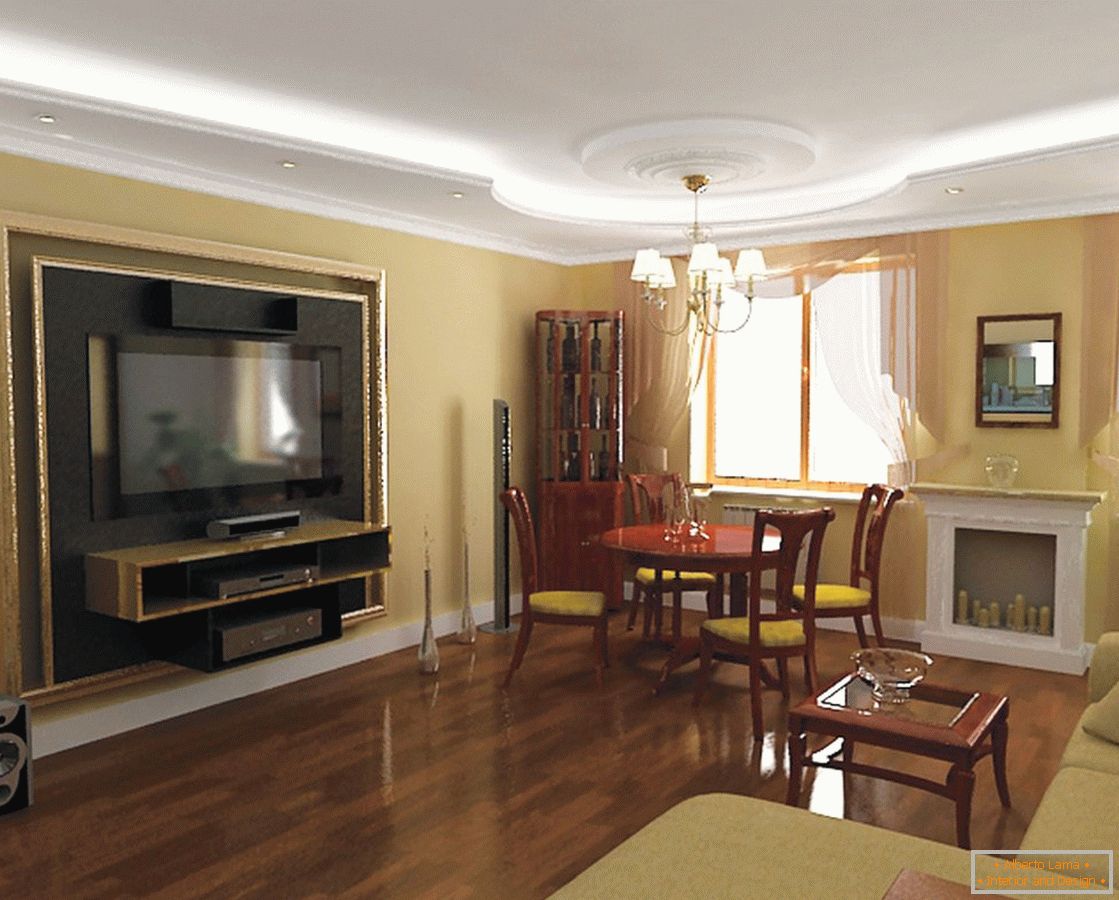 For what areas is better to use gold wallpaper:
living room - a variety of shades permissible, in combination with beige, cream, silver, terracotta, fuchsia, emerald, lilac;
bedroom - as little as possible shine, the ideal option - gilding on a light background;
kitchen - gilded decoration should be neat, but not excessively shiny;
children - suitable for very quiet children, preferable light muffled tone;
bathroom - occasionally used washable, preference is often given to self-adhesive film;
cloakroom - the walls here are not particularly visible, because their coloring does not really matter;
office - here nothing should detract from work, because the gloss is chosen minimal;
loggia or insulated balcony - the walls are decorated with the same color, texture as the whole room.
Any wallpaper "overlap" should start to glue from the window - if they even slightly peel off on the edge, the seams will not be visible, the overall appearance is not violated. When gluing the "butt joint" difference, where to glue, no.
Bedroom with gold trim
The golden walls of the bedroom will turn her into a wonderful apartment. Here you can fall asleep and wake up, imagining yourself in the royal chambers. Gloss should use the minimum amount - it is able to interfere with normal sleep, sharp, vivid contrasts are also inappropriate. Muted shades give the effect of antiquity, especially the color of red gold.
See also: Decor windows with curtains and not only +75 photo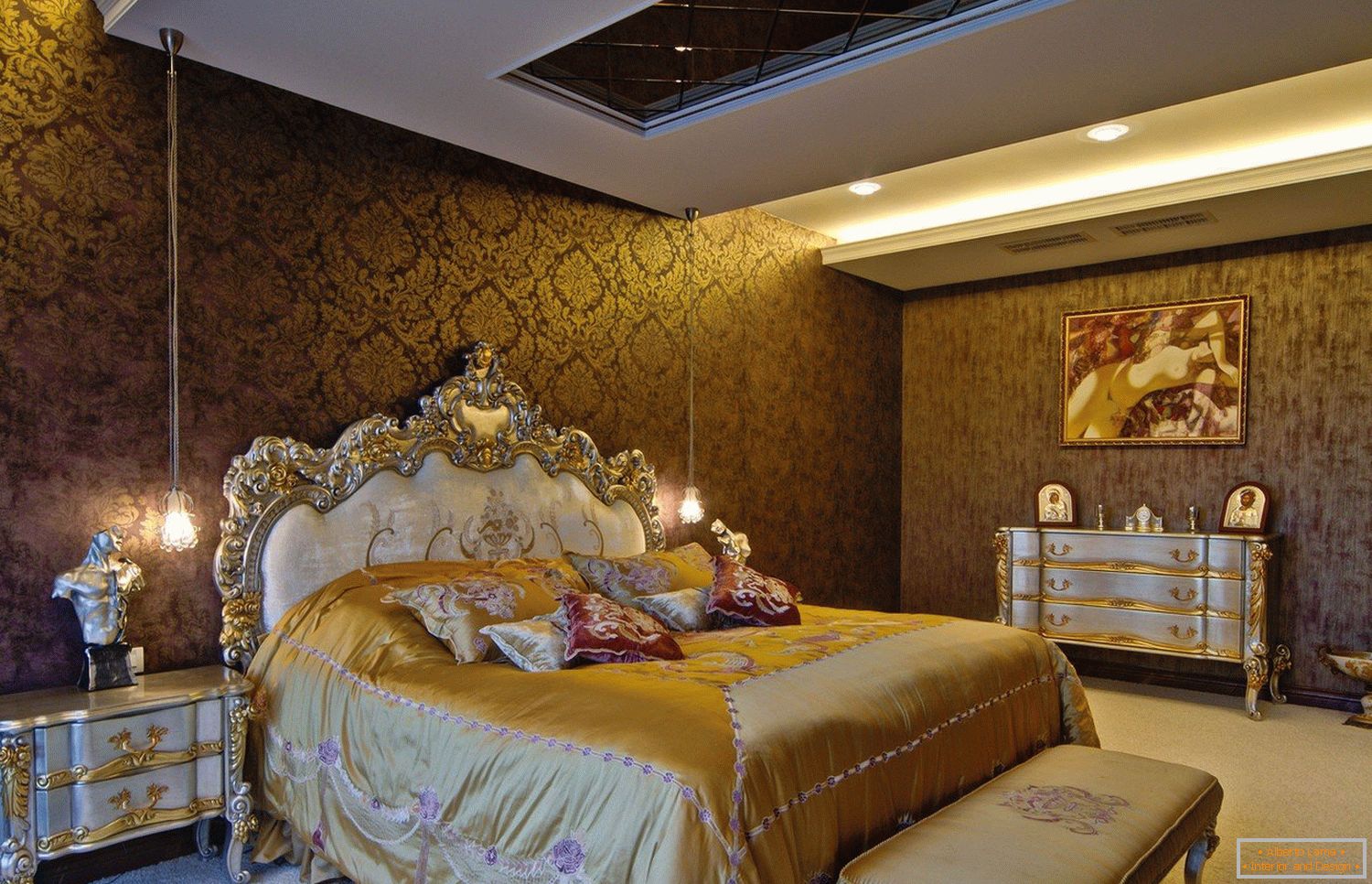 The most popular are the following options:
gold is made up a wall in the head of the bed, the rest of the walls are decorated with white;
the wall opposite the bed is decorated with gold wallpaper, depicting natural species or abstractions, the rest of the walls are solid;
light-colored wallpaper with a golden pattern all the walls are pasted.
Gold wallpapers with images of savanna or desert animals will decorate the unique children's room.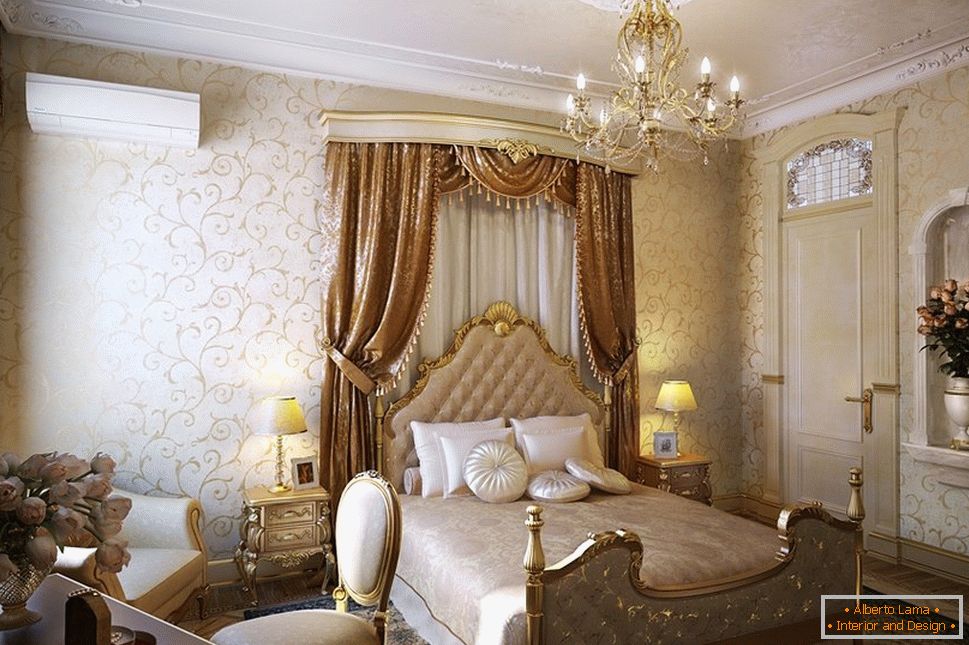 Living room options
A large bright living room, made in a classical style, with a high ceiling, light brown curtains, carved furniture, decorate wallpaper with a relief pattern of damascus. If the room is cramped, then a multitude of light sources, combined with white wallpaper, covered with gold ornaments, light furniture, decorating the floor for two or three tones darken the walls, visually expand it. Here use a lot of brilliance, to create a solemn atmosphere. Furniture is also chosen luxurious, preferably from an array of stained oak, pine, spruce, beech, mahogany, rosewood, walnut. It can have forged elements, which are also decorated with gilding.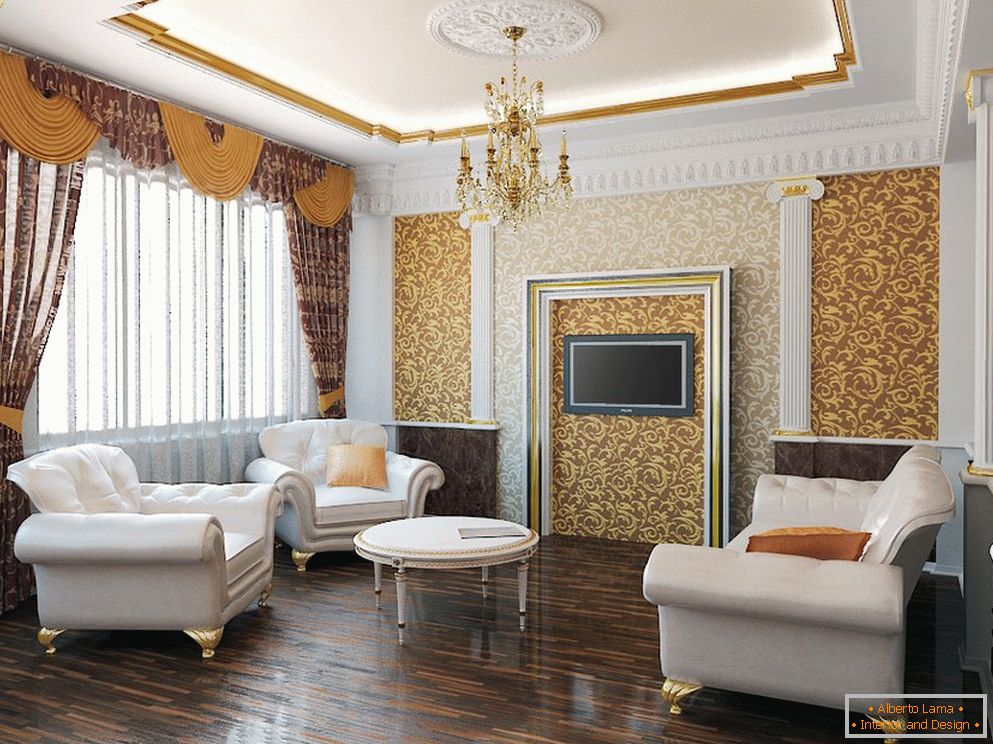 A huge sofa, upholstered in brown leather, combined with the same leather chairs, oak cabinet-wall, like a round table on carved legs perfectly fit into such an interior. Draperies on the windows are combined with upholstery of furniture, and wallpaper - with carpets, decorative elements, placed on shelves, table tops. Gypsum or plastic stucco on the walls, the ceiling is often covered with gold, but more dark or light.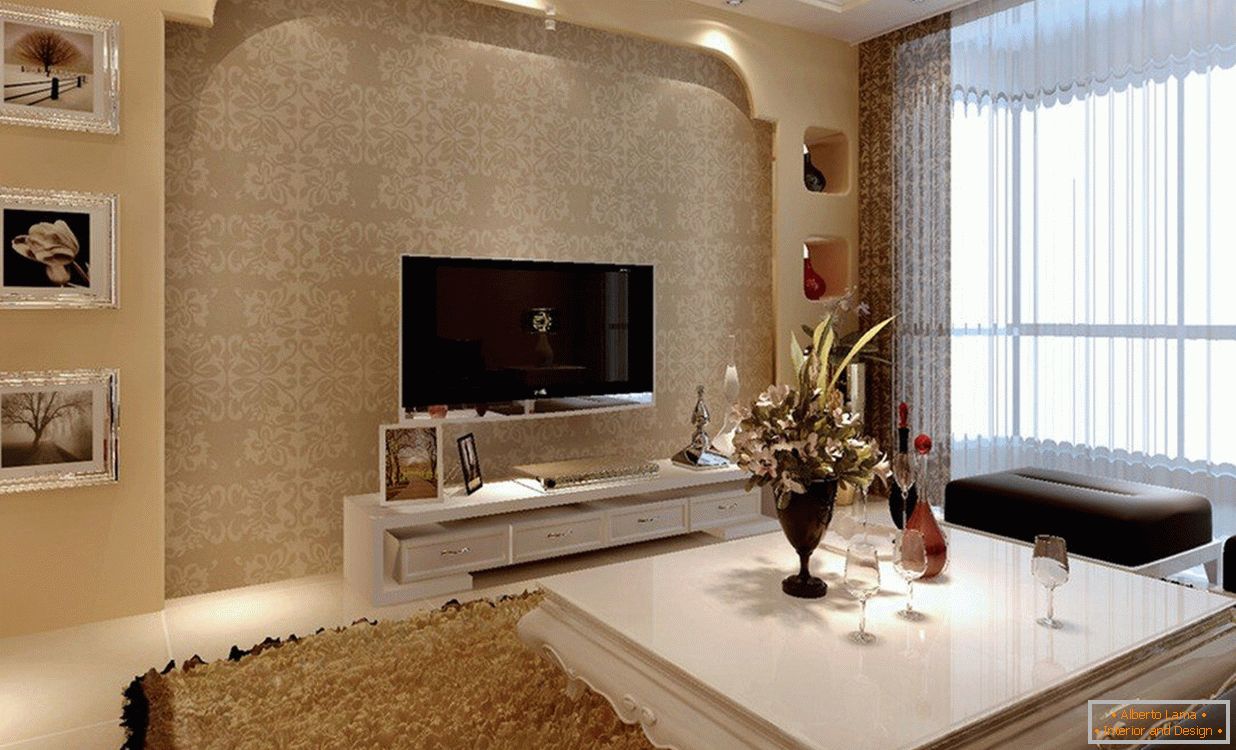 When the room is excessively large, uncomfortable, gold wallpapers are glued in stripes, alternating with any others that have a neutral color and differ in the size, texture of the picture.
Wall decoration in the kitchen
Gold in the kitchen should be used very carefully - there are usually too many brilliant details here. Ideal - matte white, light beige or straw color wallpaper with gold ornaments. The headset in this case is suitable for almost any: red, black, white, orange, purple, olive, green, etc. The floor tile is preferable matte, with an ornament, combined with a pattern of wallpaper, but without gloss. Since the kitchen constantly increases humidity, and the likelihood of contamination with slices of food, drops of fat here is high, then it usually gets washable coverings.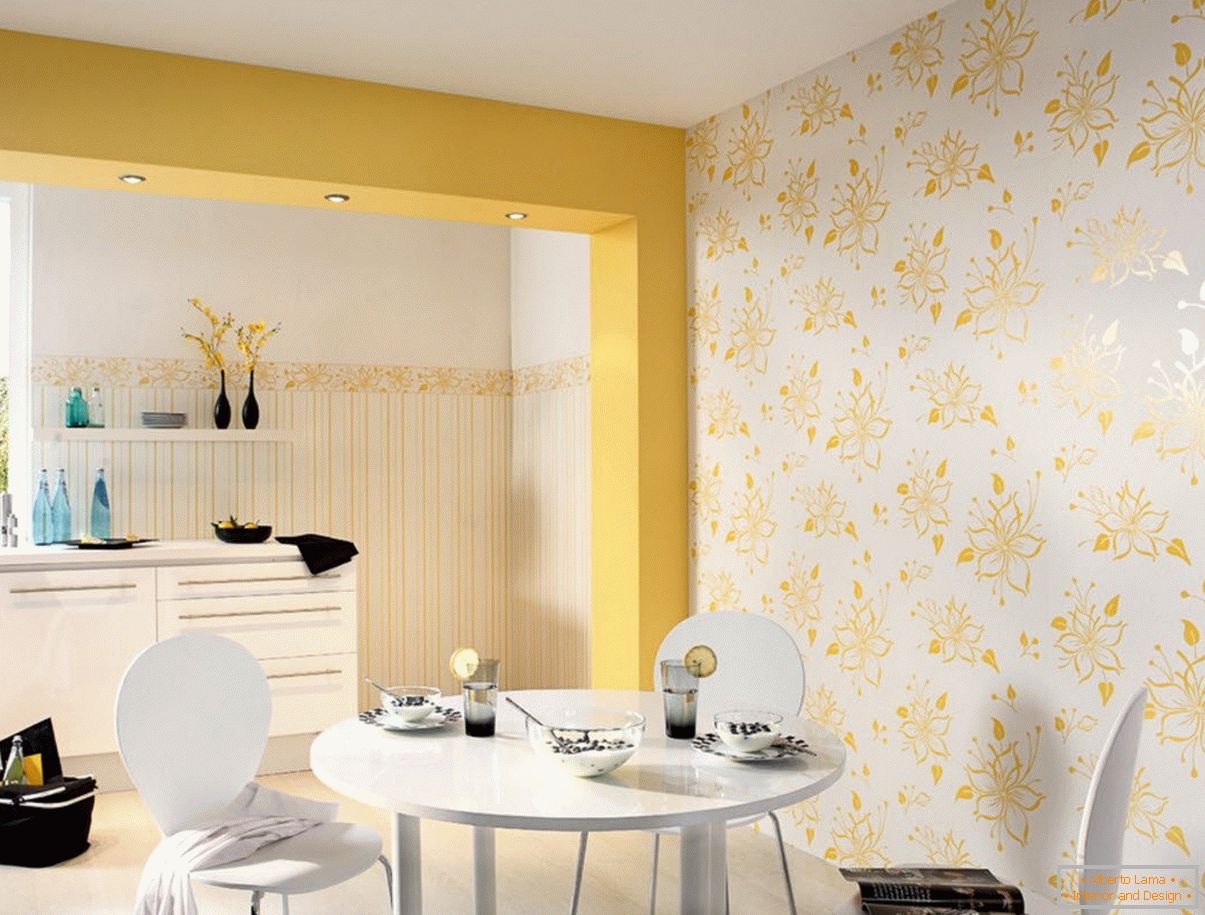 Entrance hall
Warm gold, combined with several mirrors "all over the wall", will significantly expand the hall space, which in most cases does not have windows. If the corridor is small, narrow, then the wallpaper is selected as light as possible. For large rooms use a large print, any bold combination - with emerald, eggplant, burgundy, azure, fuchsia. But when the whole apartment is decorated in light colors, the hallway should be made for a maximum of a couple of tones darker or the same as all the other rooms. Gold-plated frames for mirrors, elements in furniture furniture use only if the wallpaper is not entirely gilded, but have only a picture on a neutral background. Washable in the corridor are most practical, because the gold should shine with purity.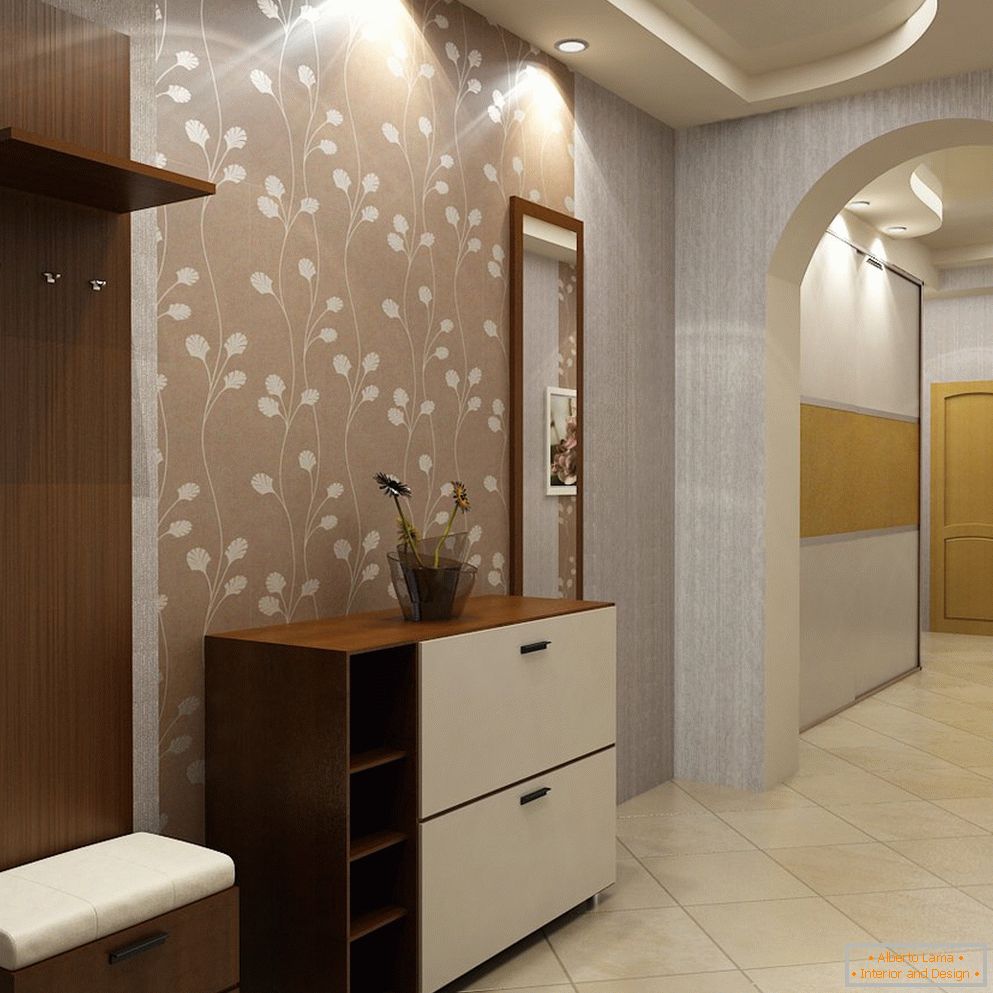 Conclusion
The golden decoration of rooms in a modern city apartment, a country mansion is no less relevant than in the chambers of kings, emperors of the past. The golden background in the interior creates the impression of an elite, "rich", warm, cozy room. The decoration of the "golden interior" sometimes causes difficulties, in this case, refer to professional designers who will select the most successful color scheme, type and pattern of wallpaper in accordance with the overall stylistic design and customer wishes.