The coffee table is the first thing that comes to mind immediately after the couch, when we plan to buy new furniture for the living room. And since this piece of furniture is so ubiquitous, the modern market offers us a huge variety to choose from. The following factors can greatly facilitate you the task of buying a coffee table.
A coffee table for a living room or a family room?
A coffee table in a room where it is really quite often received guests, performs a decorative role rather than a functional one, and does not necessarily have to be highly reliable.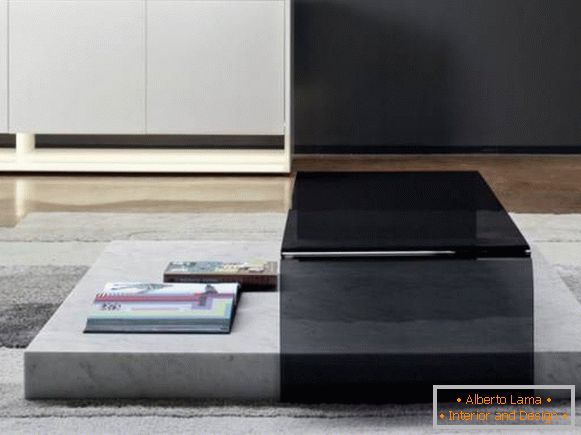 Glass coffee table with marble base Ribbon from Bonaldo
If you are looking for a table for a common room, where the whole family gathers in front of the TV and you need to put some cups, plates with snacks
etc.
, then the requirements for it can be completely different. For example, how much its surface is resistant to temperatures? Is it wide enough so that everyone can put a cup in comfort? Are there drawers or shelves near the table where you can put the console and other items?
Think about your habits (for example, putting your feet on the table), past experience (stains from spilled liquids, crushed joints, bruises from hitting against an acute angle etc.) and be sure to keep this in mind when buying a coffee table.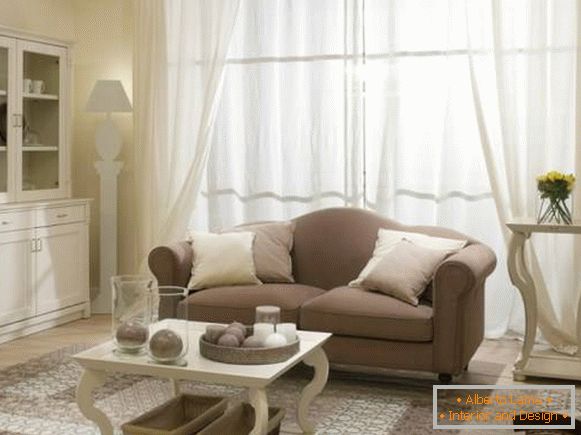 Coffee table English Mood by Minacciolo
For the living room you can choose a more formal coffee table, relying solely on your aesthetic needs. In this case, you can also refuse to use fragile and delicate materials, for example, glass.
Coffee table as the central element of the room
In many interior design projects, the coffee table occupies a central place in the room. In this case, there can be only one central element in the room - an accent that first attracts the attention of visitors and coordinates the movement around the room.
If you buy a coffee table in addition to the already existing situation, then notice, do you already have such a central element? It can be a bright carpet, a sofa or something else. In this case, the coffee table can not play the main role in the room and should not have an outstanding design.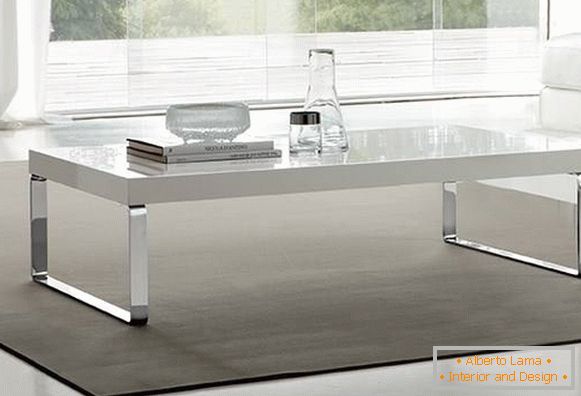 A simple coffee table Drink from Santarossa
If you decide that in the future interior design the coffee table will occupy a central place, then some of its following attributes should be different in originality:
style;
the size;
material;
coating and surface color.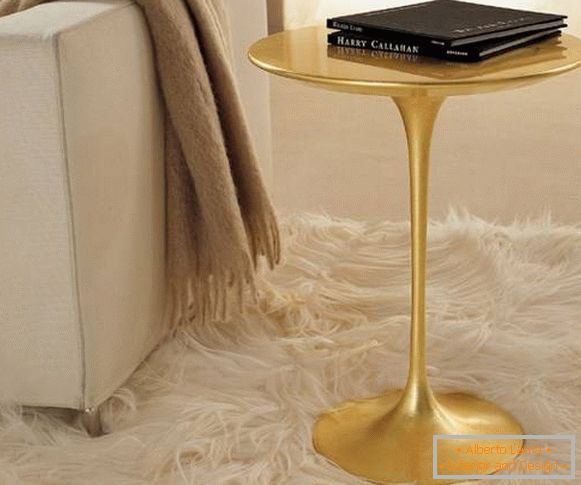 Coffee table Saar from Besana
Coffee table Dubai from Tonin
Which material should I choose?
Having visited several furniture stores, you can realize that the choice of coffee tables given to us really stuns a variety of materials.
The most obvious material that comes to mind is wood. But today even with it it is not easy to decide, because for the production of furniture it is used not only in a natural solid form, but also as MDF, chipboard etc. The easiest way to navigate here is:
if the quality requirements are high (especially if there are small children at home), then choose a real tree;
If the budget is limited, and the table is not supposed to be exposed to rough effects, then artificial panels.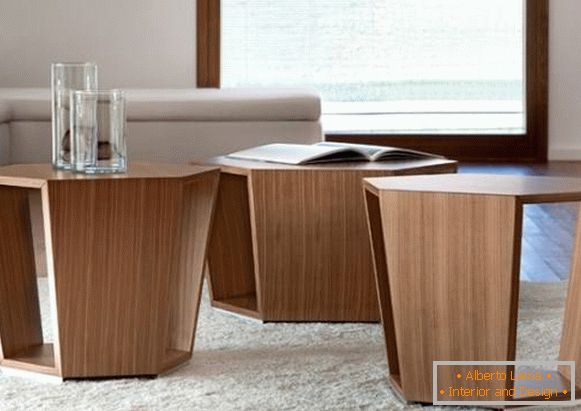 Wooden coffee tables Diamonds from Tonon
If you want to buy a more modern table, not wood, then pay attention to transparent acrylic and glass products that will help make a small room more open-looking. Glitter of metal will help to achieve the same goal.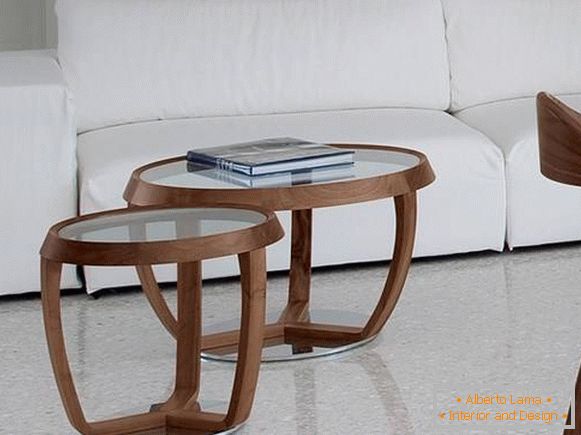 Coffee table in wood and glass Time from Tonon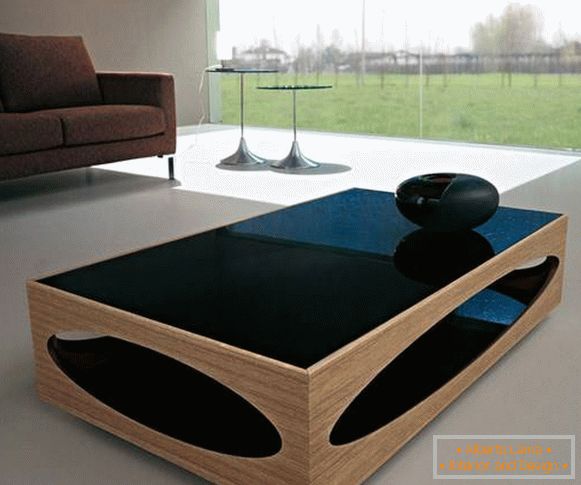 Coffee table Osowa from Tonin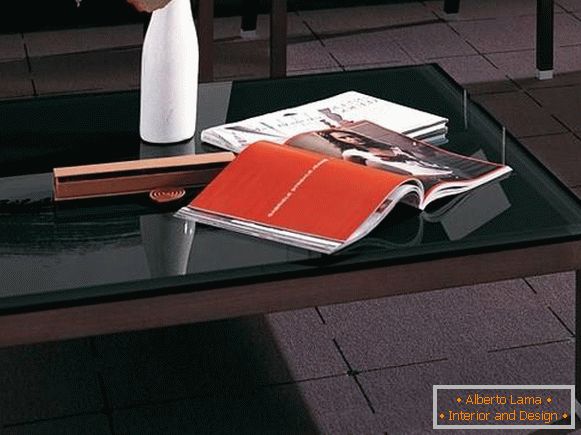 Sella coffee table from Tonon
Dark wood (for example, red or walnut), marble and metal look great in a traditional interior, especially next to leather furniture.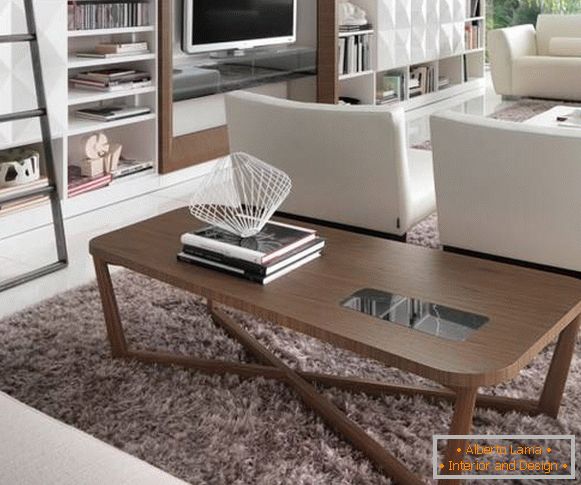 Coffee table from walnut Mosaico from Besana
By the way, the skin is also used as a cover for coffee tables and works well in various conditions, because it is quite easy to maintain.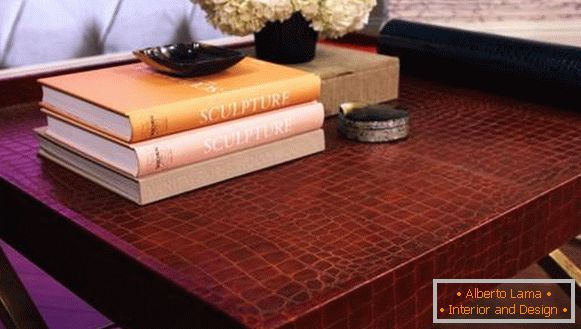 Coffee table with artificial crocodile skin
Forms of coffee tables
Coffee tables today are available in any form that only comes to mind. Since the shape of the room can play a major role in choosing a coffee table, we will consider here only a few configurations that are most convenient to use.
A narrow rectangular or oval coffee table works well in small rooms.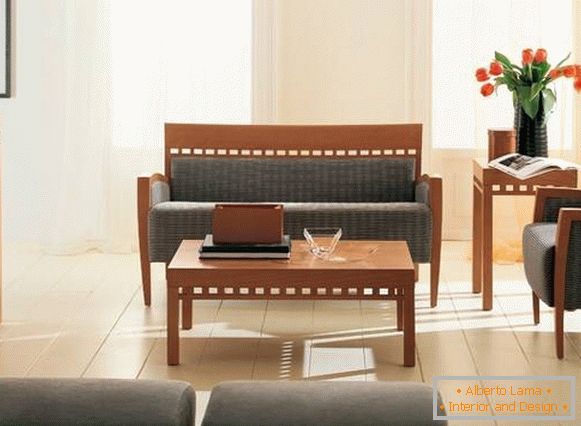 The rectangular coffee table Episodes from Tonon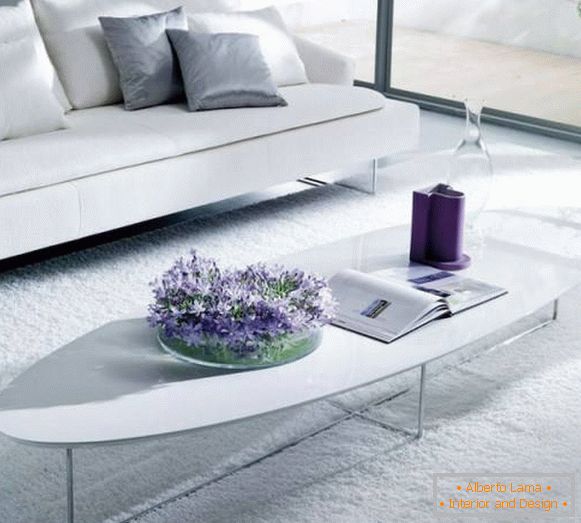 Oval coffee table from Bontempi
Square or round tables are good to use with a large seating area, for example, with corner sofas and sectional soft corners.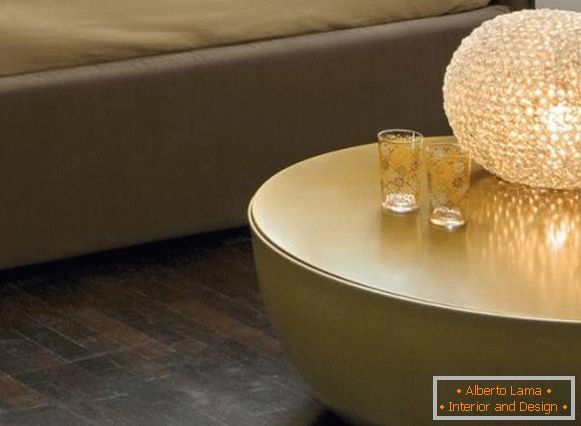 Round coffee table Gino Carollo from Bonaldo
Round or oval tables are also preferable for rooms where there are children, because they do not have sharp corners.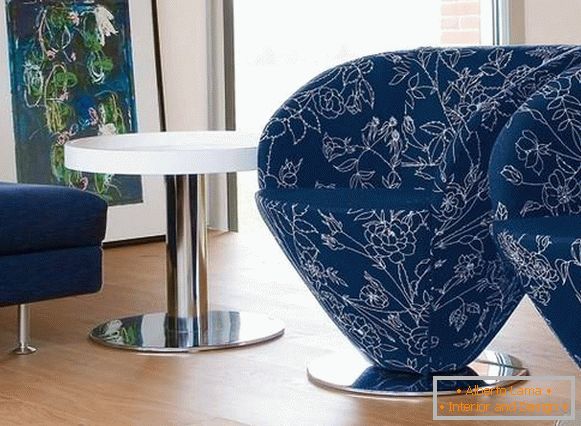 Round coffee table Take Away from Tonon
Additional functions that a coffee table can have
The level of functionality of an ideal coffee table for you depends on how you will use it. Most tables have one flat surface, while there are many others that offer additional options.
Look for a coffee table with shelves, drawers or compartments, if you need additional storage space for consoles, books, glasses and other accessories.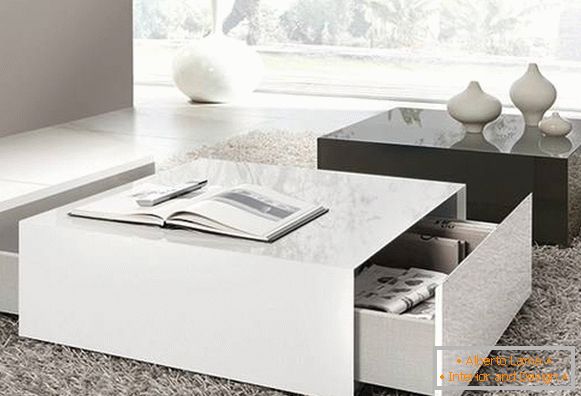 Coffee table Lucky from Santarossa
If you need extra space to store different things, consider also a table that opens like a chest. By the way, many of them have a soft surface, so that they can be used both as a table and as a footrest.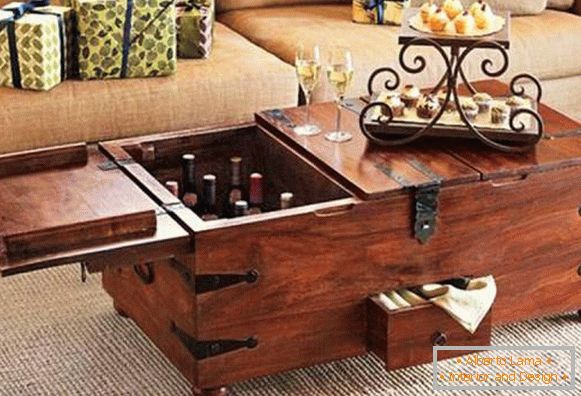 Coffee table in the form of a chest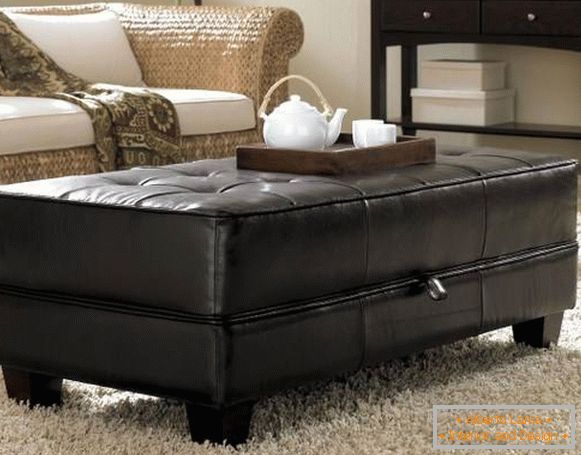 Coffee table type "ottoman"
Some coffee tables have a sliding surface that can be used for work or eating, as well as additional retractable seats.
Coffee table Ashley Furniture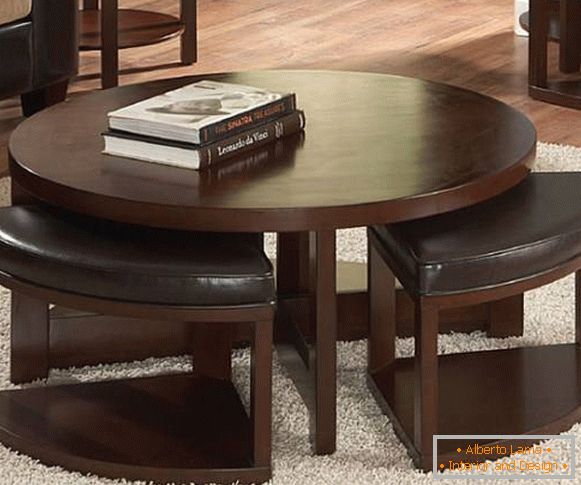 Coffee table with extendable chairs
But such a coffee table is sure to please your pet. They in fact so love secluded places!
Coffee table Pebble from Bonaldo
Also consider the need to purchase a coffee table with rollers or wheels.
And do not forget about the main thing!
Focusing on choosing the right style and quality of the coffee table, do not forget to note to yourself what size it should be. Choose a coffee table, the total length of which will be no more than 2/3 of the length of your sofa. In addition, it is important that enough space around the coffee table for the passage and for the feet. So, the distance between him and the sofa should not be less than 1.5 foot lengths (on average 45 cm).
Finally, the last and most important - your coffee table should be the same height as the seats on your couch. Below you can, but not higher!