Colorful furniture in the oriental style is used today in most styles of interior design. Generously decorated with paintings, carved patterns, embroidery or inlay, furniture from India is different in that it is not only stunningly beautiful, but also convenient to use. Soft cushions, footstools and miniature tables bring to the interior a relaxing atmosphere and will have a comfortable rest. What is Indian furniture and how it is used in a modern interior, - look further!
Magic Indian furniture: types and features of decoration
Thanks to the rich finish, any piece of furniture in the Indian style can itself serve as a decoration for the interior.
If you want to bring an exotic mood into the room, then you should pay attention to Indian furniture with bright hand-painted. Today the whole world is fond of coloring Indian ornaments, that's why you are probably familiar with them - mandalas, yantras, picturesque motifs of flora and fauna. They are painted buffets, bookshelves, coffee tables, pedestals, doors and any other wooden furniture with flat surfaces.
If you decide to paint your own furniture in Indian style, then at the end of this article you will find several useful tips and stencils. In the meantime, let's take a look at the finished product photos: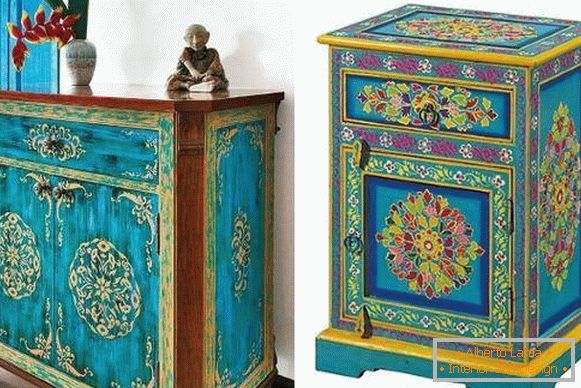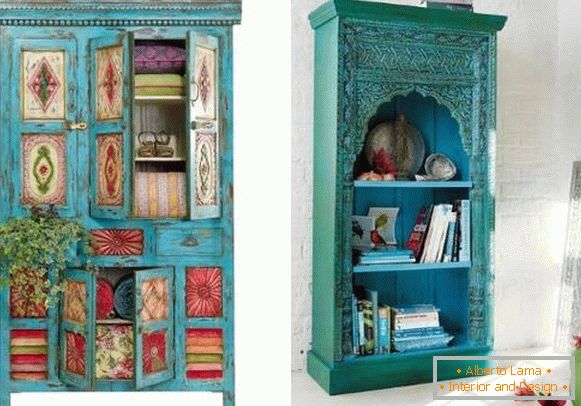 Also read: Furniture in Provence style - the best ideas with Pinterest
No less surprising, but still more elegant and luxurious in the interior will look Indian furniture with carved decoration. Made from teak, acacias, coconut palms and other rare tree species, this furniture will bring a bohemian spirit to any space, especially if combined with bright curtains, pillows and other textile decor.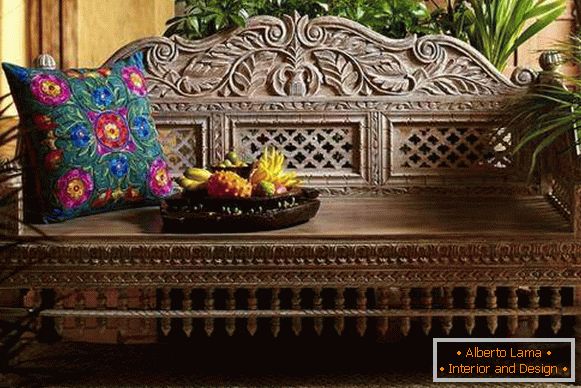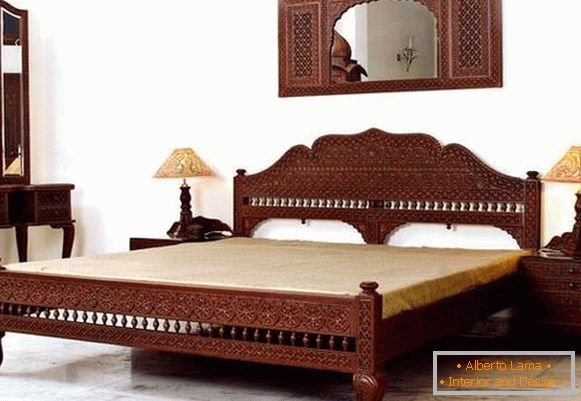 In addition to hand painting and carving, Indian furniture is also decorated with inlay. The most famous way of all is inlaid ivory. True, expensive materials and skillful work of the master make such furniture accessible only to a few. Therefore, today it is more often possible to find an imitation of inlaid patterns, made with white paint.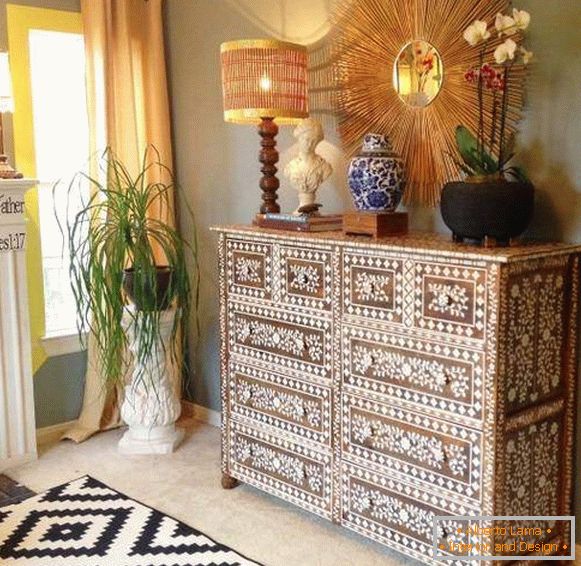 Finally, soft furniture in Indian style is the easiest and most accessible way to bring the magic of India to the interior of your house. Colorful fabrics with lurex yarn, embroidery and a wide variety of ornaments in the spirit of those used to decorate furniture are now often used in eclectic modern interior design, for example, in the role of upholstery, cushions, padded stools and low stools (by the way, the last one attribute is almost mandatory for any interior in Indian style).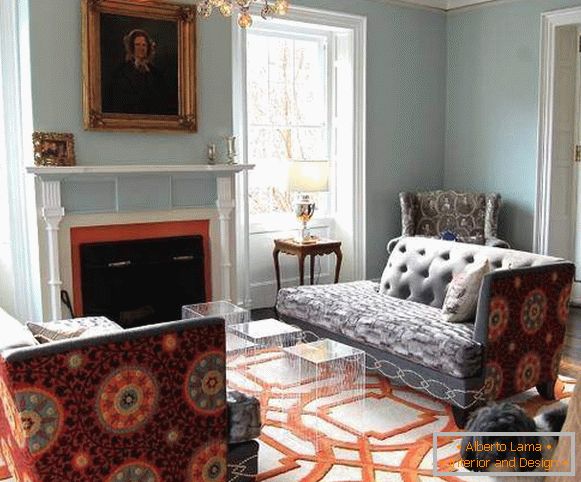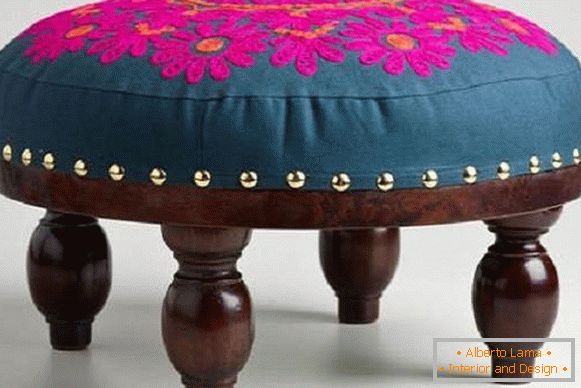 Also read: Religious pieces of furniture from famous designers
Indian style in the interior - 13 photos
Indian style in the interior can be set not only with the help of furniture, but also with such decor objects as: carpets, curtains, interior partitions, mirrors, pendant lamps, and also "thickets" from numerous indoor plants. We offer you a look at the photos of beautiful modern interiors made in Indian style. In some of them only furniture and ornaments from India are used, in others, on the contrary, these original elements are used in small doses - as a thin addition of space. What do you like more?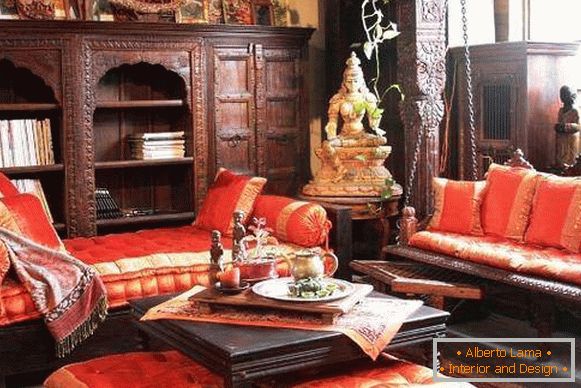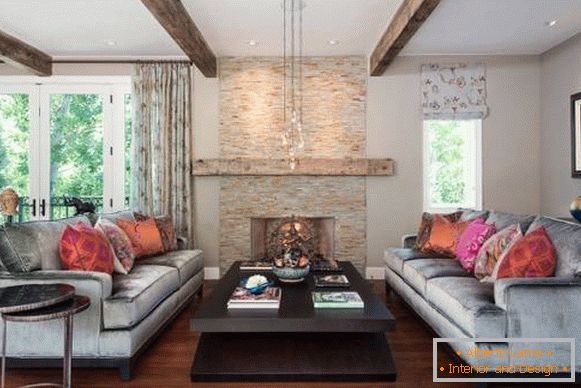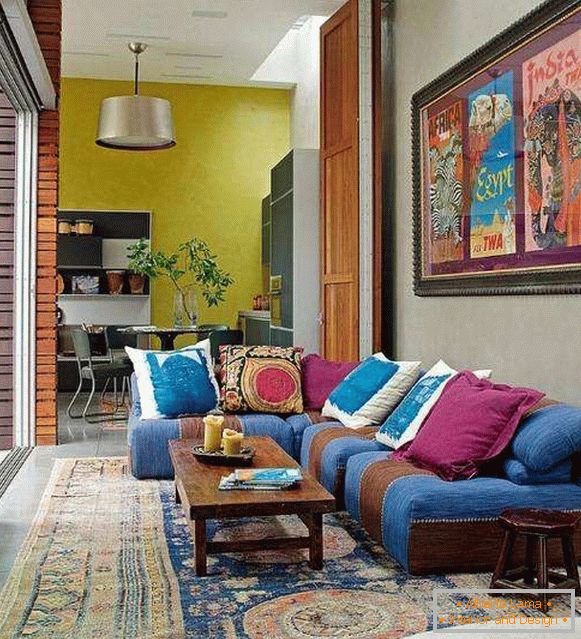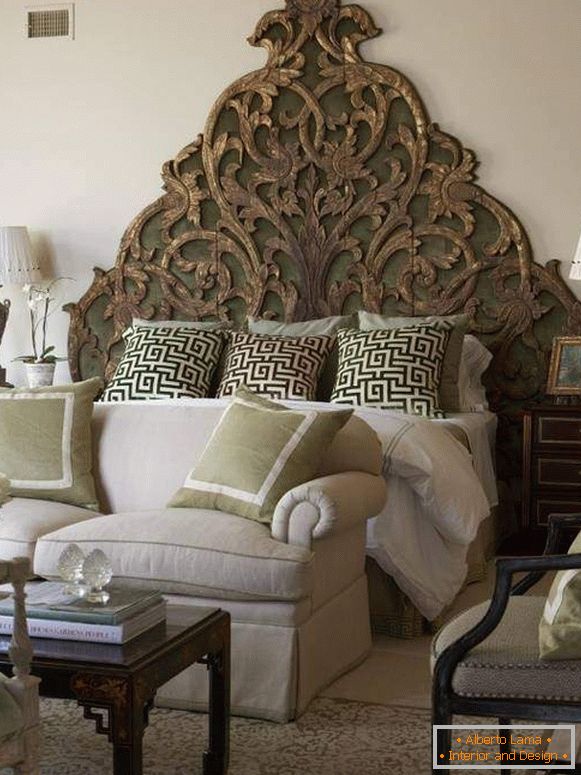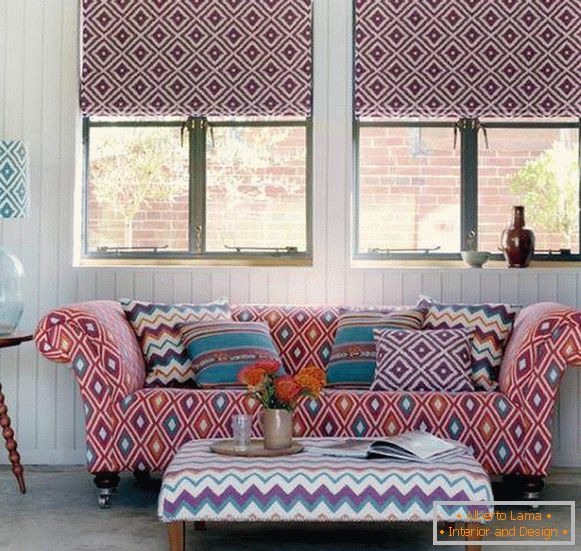 Also read: Interesting dividing walls in the interior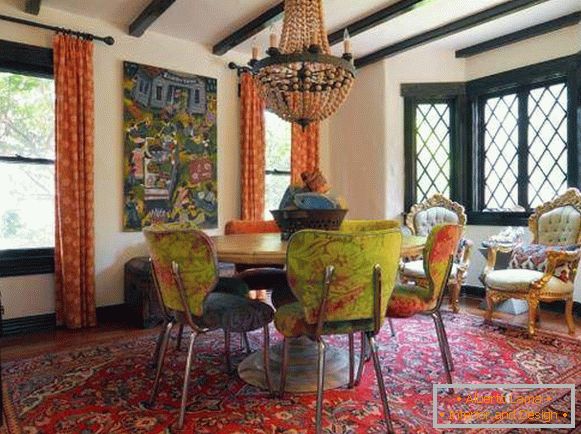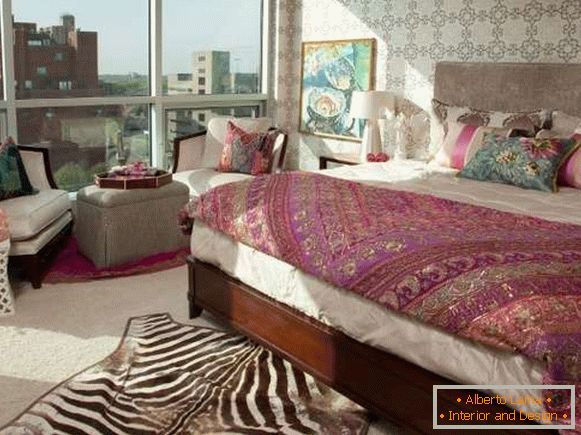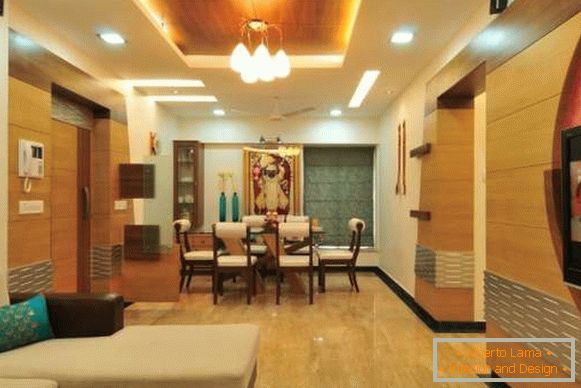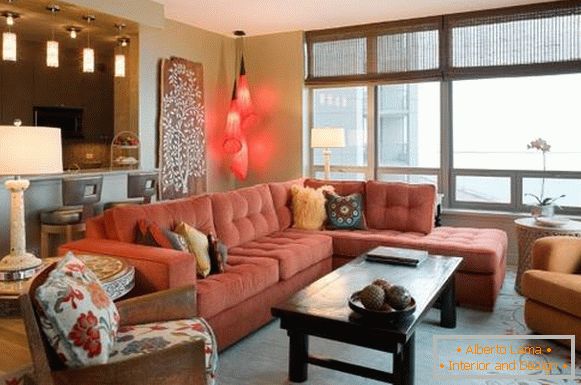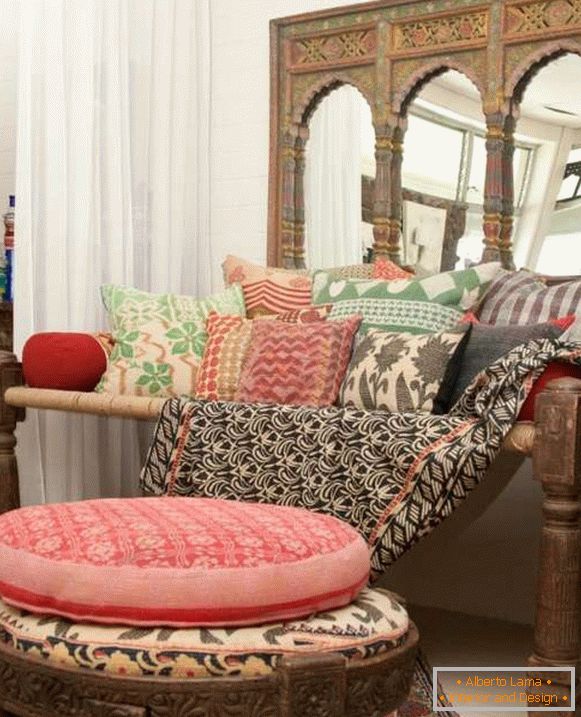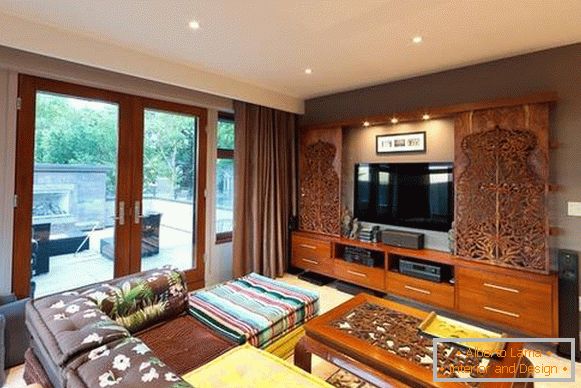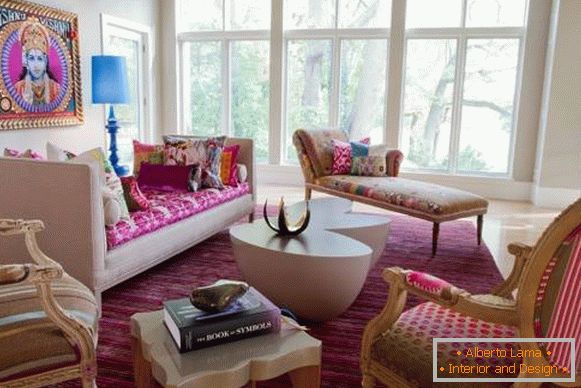 Furniture in Indian style with their own hands
In our article Restoration of Soviet furniture with your own hands, you can learn in detail about how to properly paint old furniture and give it a vintage appearance. Using the recommendations mentioned in it and inspiration from this article, you can independently make furniture in Indian style from an old dresser, dressing table, cupboard or other wooden product.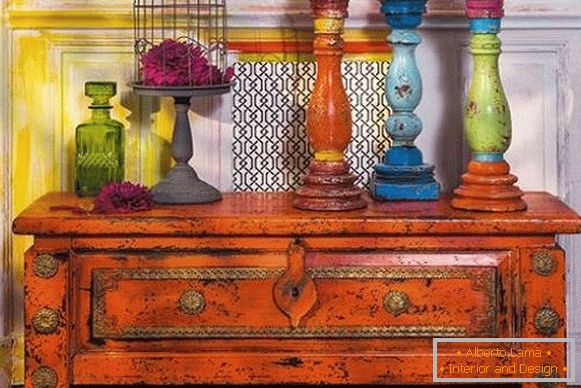 Colorful Indian painting will be especially interesting to look at turquoise, pink, olive or other bright background. To simulate the inlay with ivory, the background of black, gray, dark brown or beige is better suited. Do not forget to change the handles and the rest of the hardware if necessary. To give your old furniture the Indian style will help carved handles and legs with floral ornaments, as well as forged and vintage metal fittings.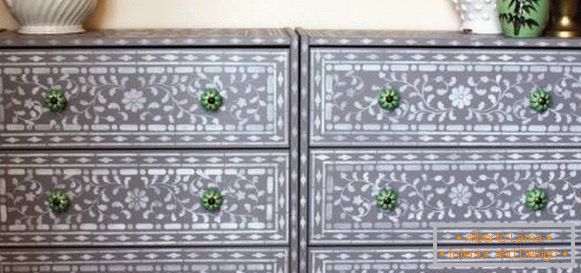 Finally we offer you a step-by-step photo and stencils for drawing Indian and other oriental ornaments on furniture. Thank you for reading Dekorin!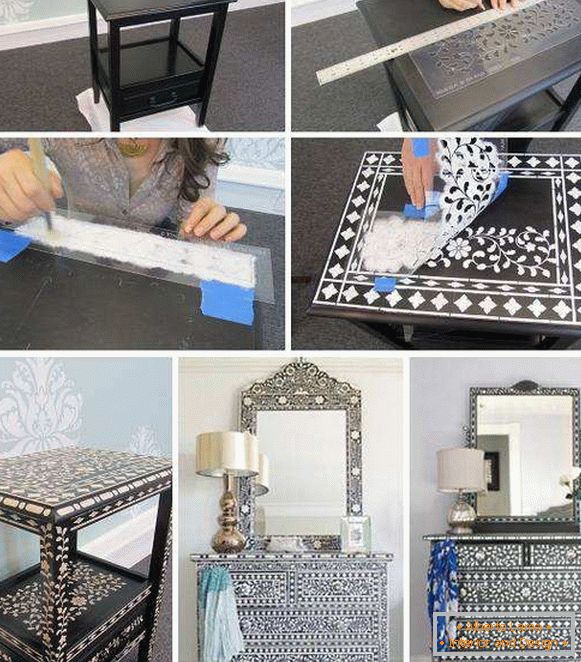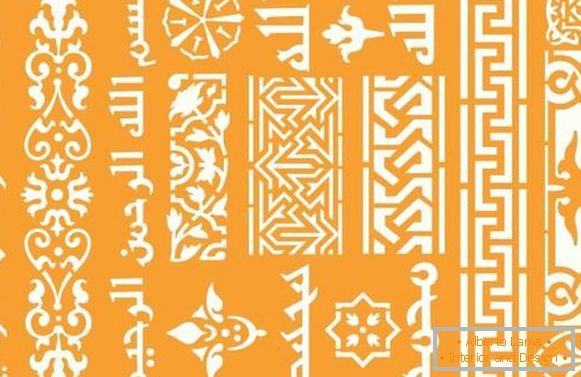 Write in the comments: What kind of style would you like to see on the pages of our site? And maybe you are interested in thematic decor ideas? We promise to prepare materials for your applications!