A bed with a soft headboard is one of the latest trends in interior design, which is predicted by a large increase in popularity in the coming years. And this is great news! Because soft backs are very comfortable for rest and reading in bed, and woven upholstery offers unlimited possibilities for decorating a bedroom.
In this article we will look at different ways how a soft headboard can decorate your bedroom, give examples of a beautiful combination of materials, and step-by-step instructions on creating a soft headboard for a bed with your own hands.
How to choose a fashionable bed with a soft headboard
The combination of a soft headboard and thin legs is the most fashionable choice that you can make for today. As you know, Italians are the main experts in the field of furniture design, so first of all we will present you with 2 Italian beds with a soft headboard from the latest collections from the brands Bonaldo and Bolzan Letti.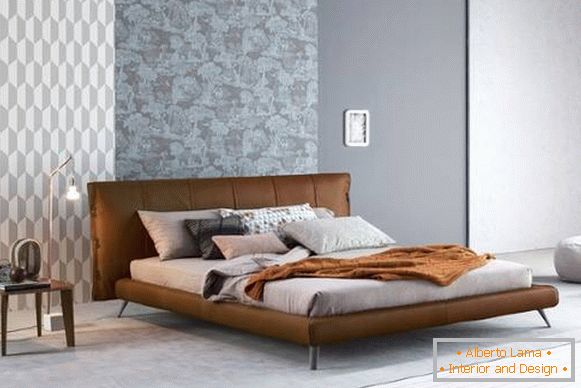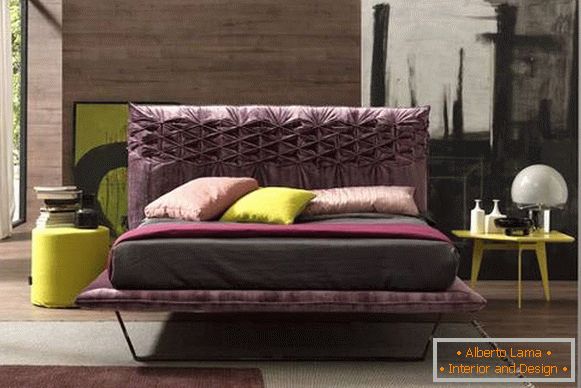 The magnificent finish of the headboard creates simultaneously a bold and charming effect, while very elegantly contrasting with the simple thin base of the bed. This option is equal, but it is not the only one. A very stylish and practical solution for a bedroom is a bed with a soft headboard and a hull made of wood.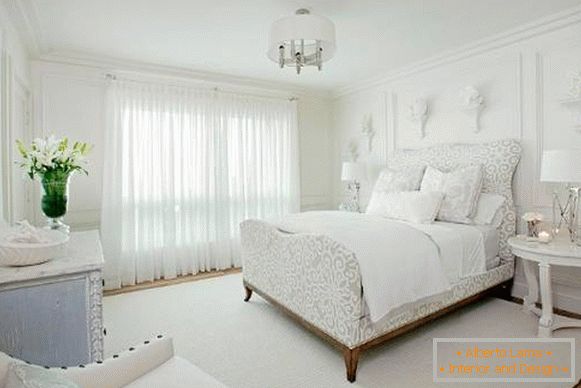 Thin legs are preferred here. In addition to them, designers advise to choose a natural fabric (linen, cotton) of natural shades - gray, beige etc. This design of the bed will perfectly fit into the bedroom interior in loft style, eco or retro, as well as in modern and Scandinavian style. Universal, but cool!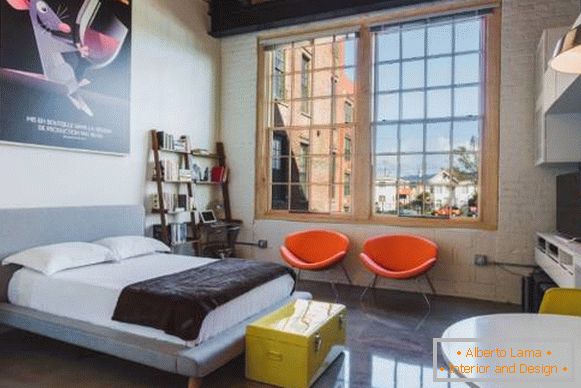 If you are more attracted to classical beds with a soft headboard, then pay attention to velvet fabrics, finish with buttons and carved shapes in the Moroccan classic style. Velvet confidently returns to fashion, especially bright, luxurious shades.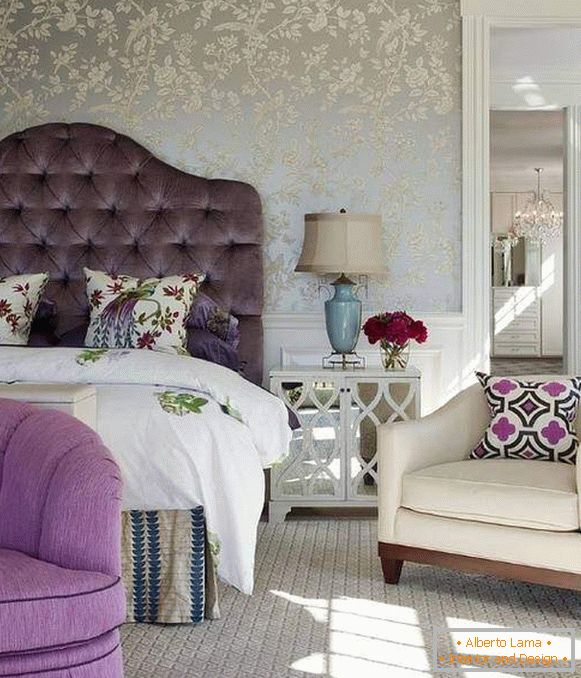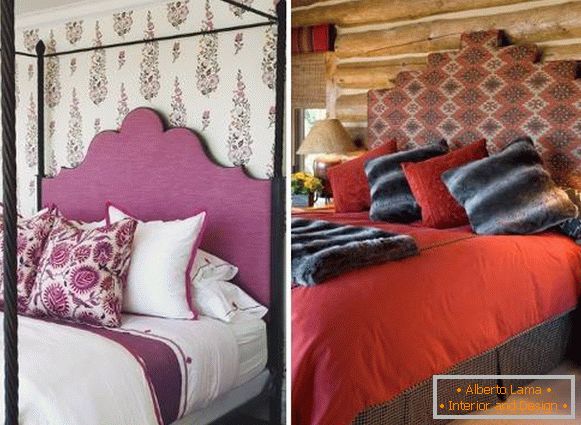 Also read: Save space - loft bed for children and adults
Double bed with a soft headboard - 8 more photos
The bed, upholstered in fabric, always looks elegant. Whichever design you choose, remember that for the bedroom, environmental friendliness of materials, tactile sensations and harmony of shades are important. Therefore, try to choose a calm, pleasant combination of body and soul, as in the following photos. To your attention - stylish double beds with a soft headboard!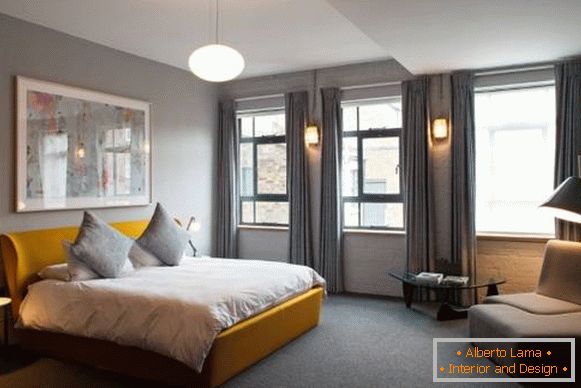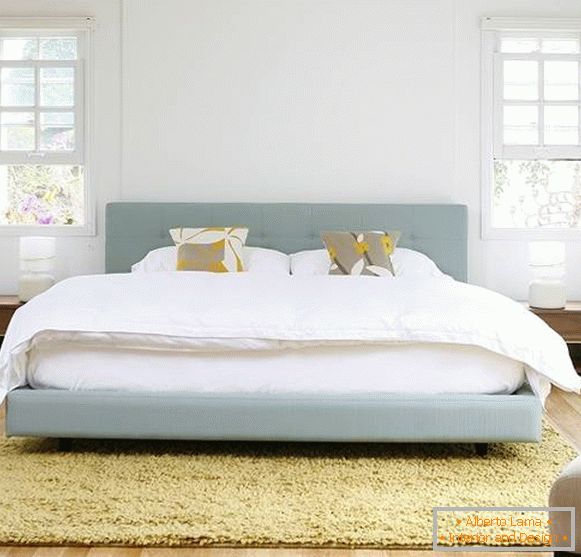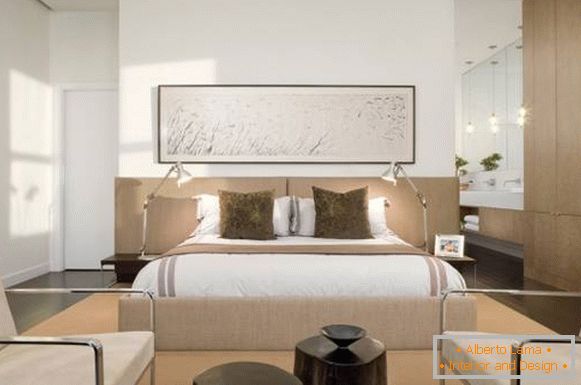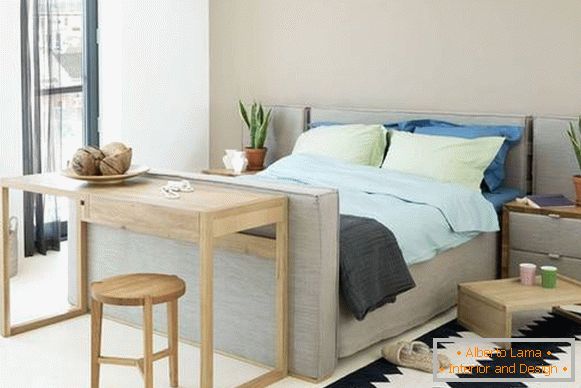 Also read: Modern bedroom design - ideas and photos 2016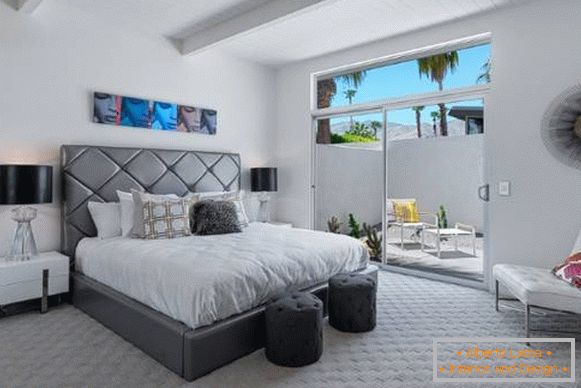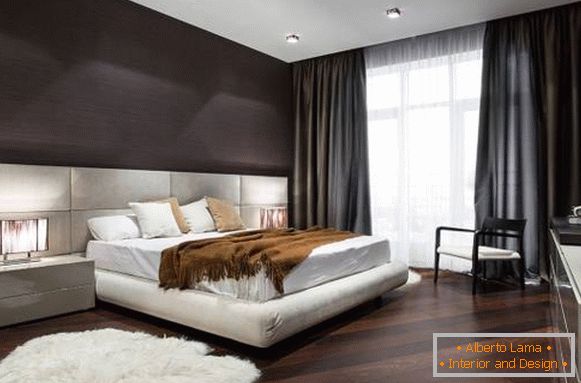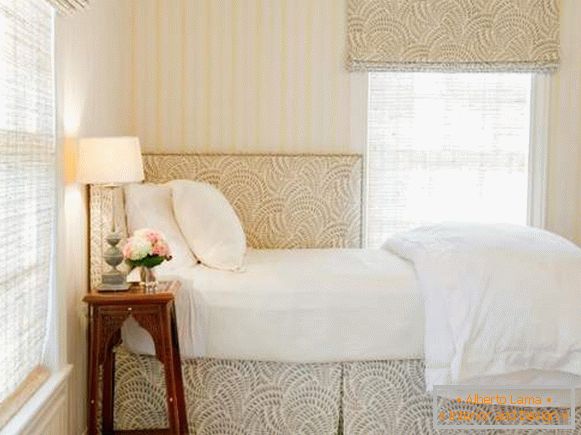 Bed with a high soft headboard in the interior
These amazing beds deserve a special mention. Pick up the upholstery fabric of a luxurious color (purple, emerald) or with a rich texture (velvet, suede, silk), and your bed with a high soft headboard will instantly give the bedroom an effect of luxury.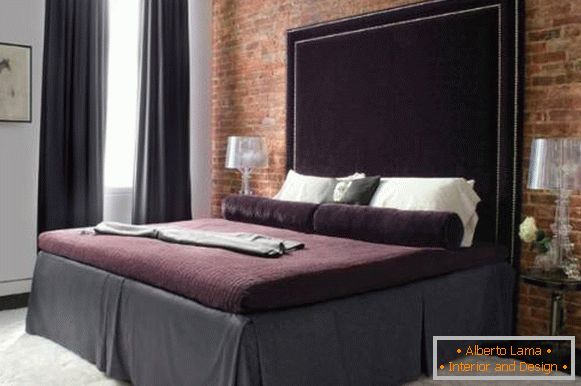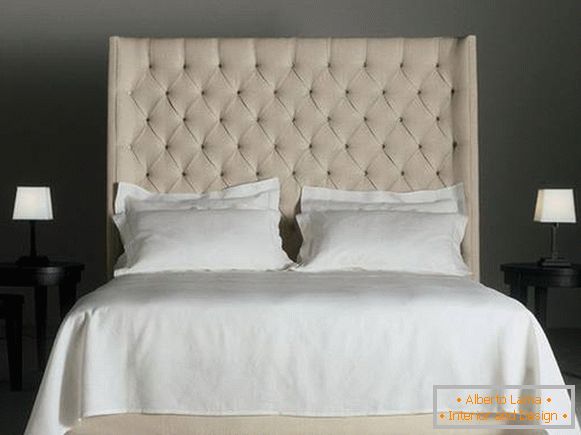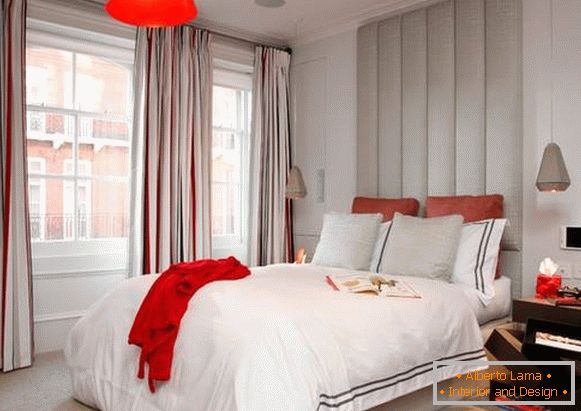 Also read: Wardrobe in the bedroom - the best ideas with a photo
How to make a bed with your hands with a soft headboard
Each thing brings twice as much joy, if it is made by own hands. And the bed in this case is no exception. To make a soft headboard for a bed with your own hands, you will need the following materials:
A strong base is a sheet of plywood, particle board, MDF or plastic;
Polyurethane foam, foam rubber, latex or other foam material of the desired thickness (the thicker, the softer will be the bed with a soft headboard);
Batting, felt, felt or sintepon (used as a layer between the upholstery and foam rubber);
Upholstery fabric.
On the basis of wood or plastic (less often cardboard) alternately lay a soft filler, interlayer and upholstery fabric. The first two layers are usually fixed with a stapler (photo below), upholstery fabric - can be threaded.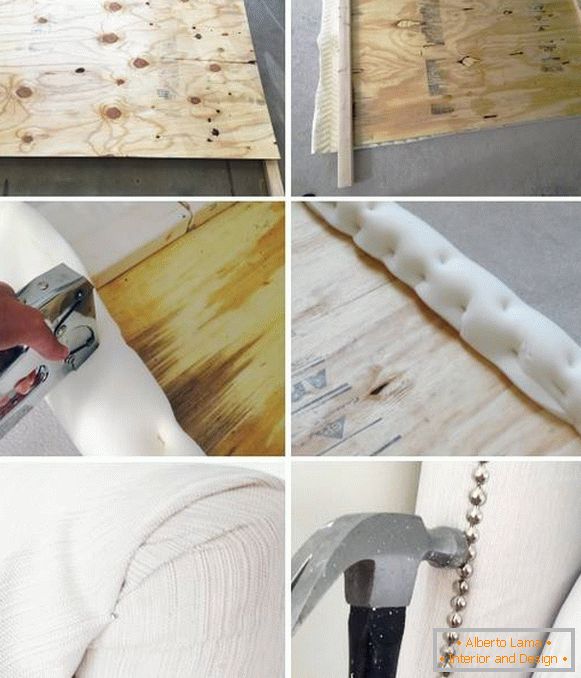 In the end it turns out very nicely: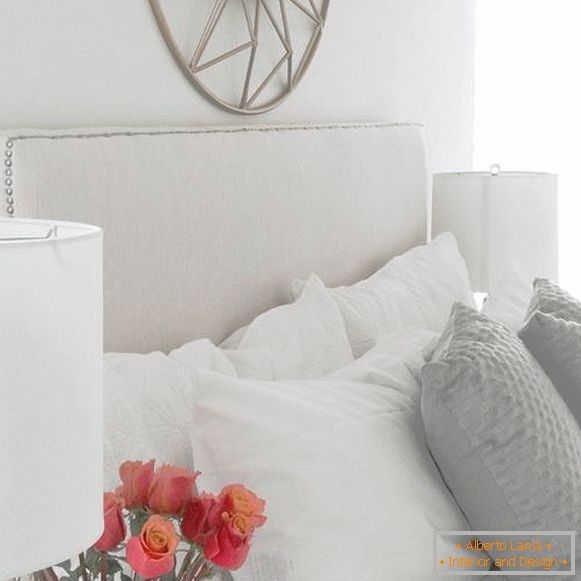 Also read: TOP-10 things you can do for yourself with your own hands
At the end of our article, we attach a few photos with step-by-step instructions on how to perform.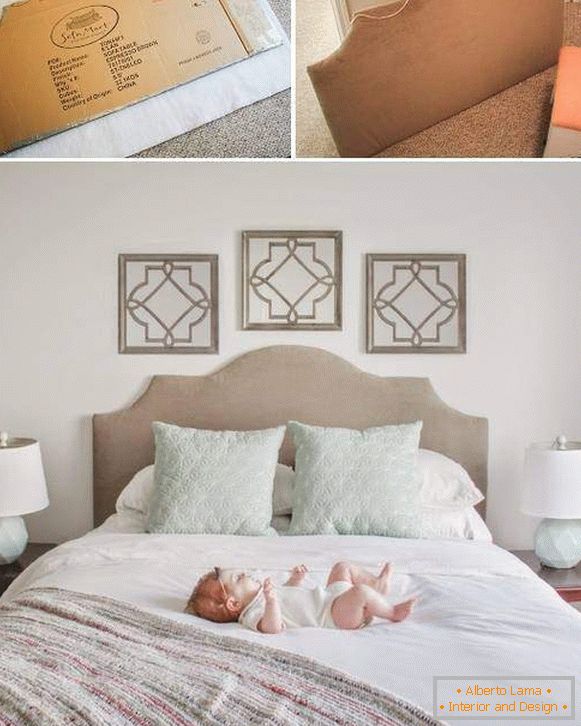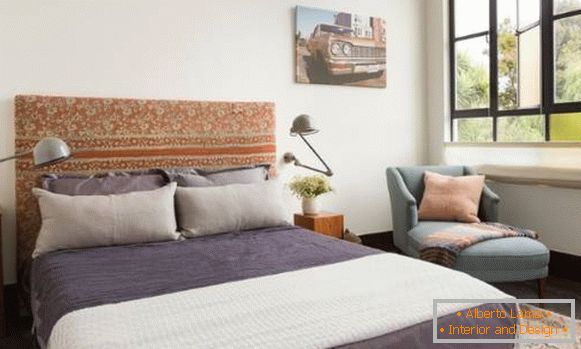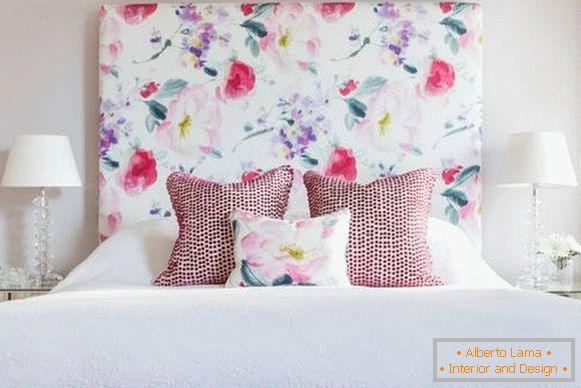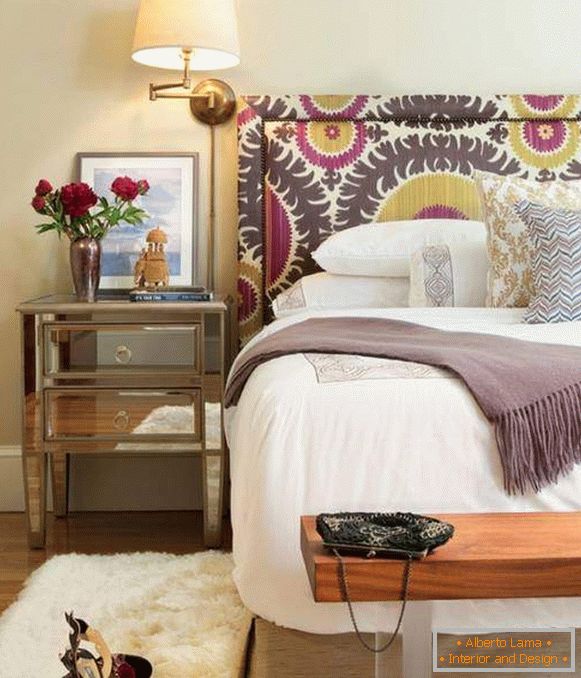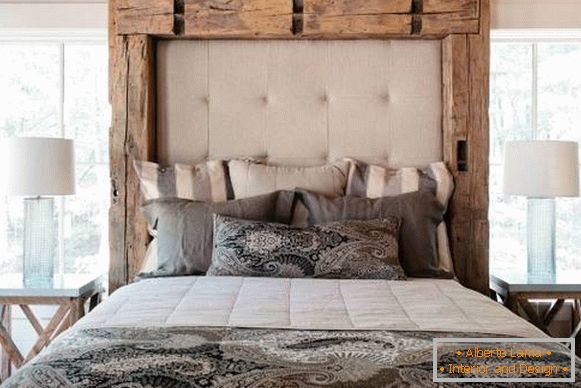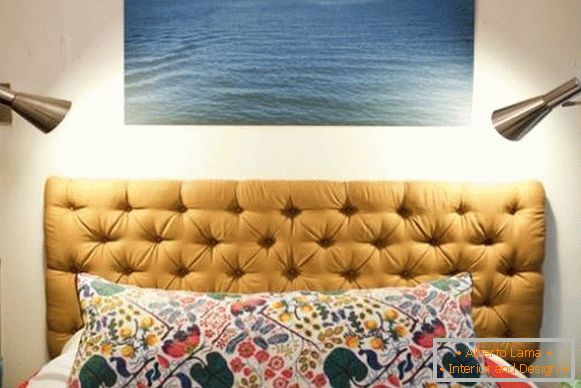 + A picture with popular shapes for a soft headboard with your own hands. Thank you for reading Dekorin!