The child's mind always surprises us with its openness and curiosity, and therefore it is very important to develop the child's imagination. Designing a children's room is one of the ways to do it in the most creative way. Forest motifs in the interior of the nursery will easily make your child's imagination work, and will cause him to interest in living nature. Presented below are 12 children's ideas with forest motives will make even you dream about trees and animals!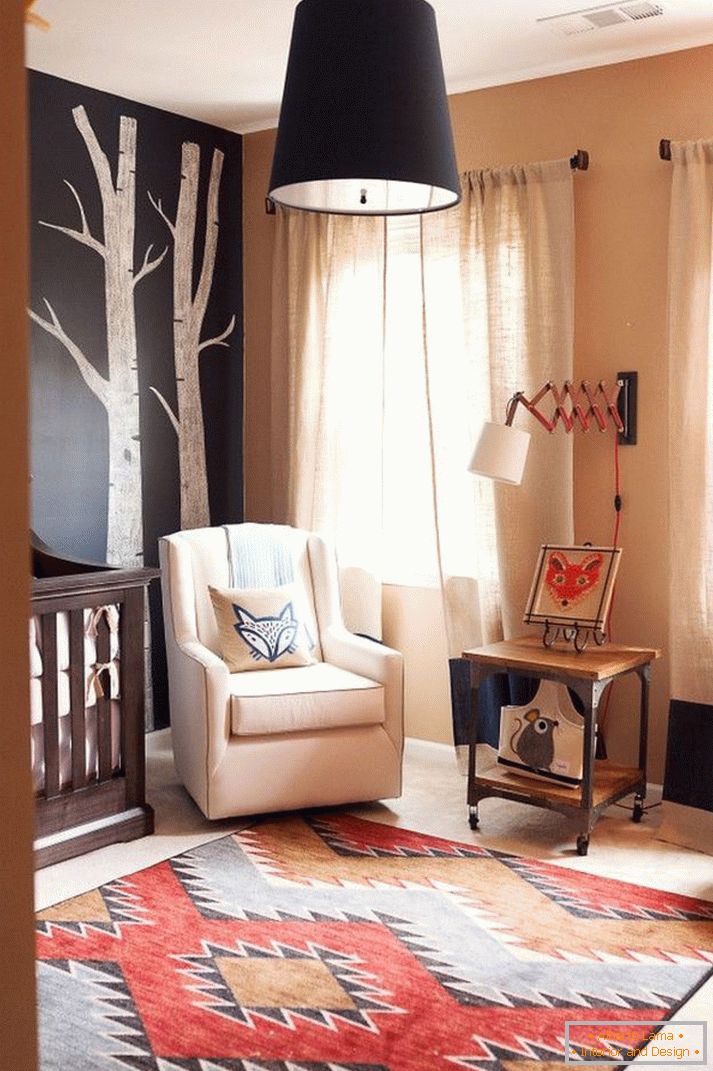 Forest motifs suggest the presence of animals. Foxes - one of the sweetest options, because a bright shade of fox fur can serve as a colorful touch in the design. In addition, take a look at the "fox" decor items in this photo. They are simply irresistible.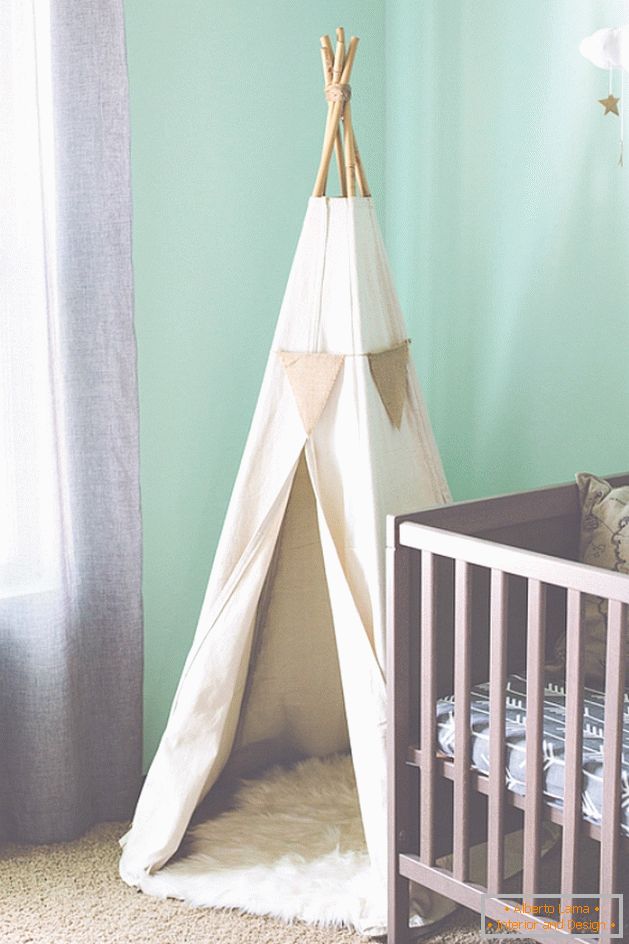 Where there are trees, you can build a fortress there. Let this idea develop and organize a tent in the form of a wigwam for your baby in his room with forest motives. Such a tent will serve as a wonderful cozy corner for reading and playing games.
Do you want to create forest motifs in a room for a girl? Take as a basis the idea of ​​camping in the forest, give it a little glamor - and here in your daughter's room there is already a pink tent! Add some lace, soft plush toys and do not forget about the garland of small lights.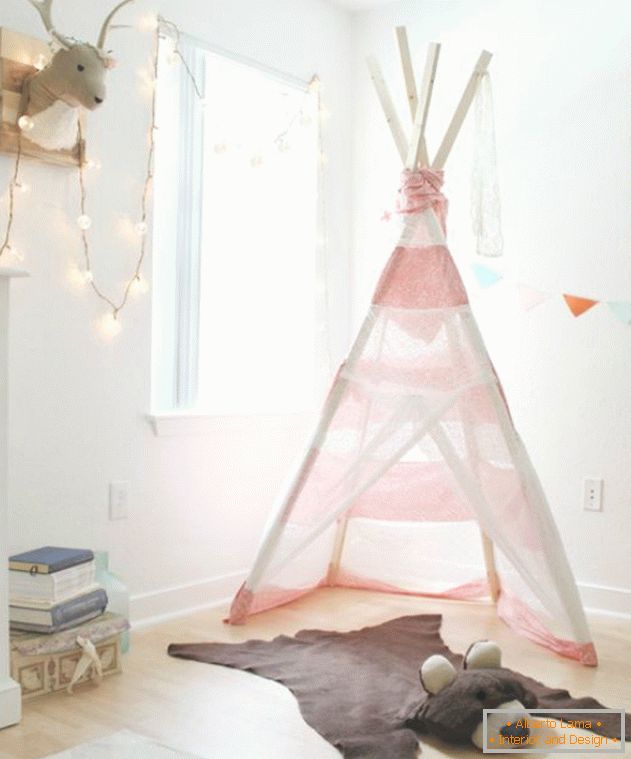 Children grow very quickly, so sometimes in a nursery it's better to use such decor items that are easy to replace. Stock up with paper for contact copying with a variety of patterns and decorate the wall in your child's nursery with the tree that is shown in the picture. And then, when your child grows up, you can easily peel off the paper and replace it with what the child will like.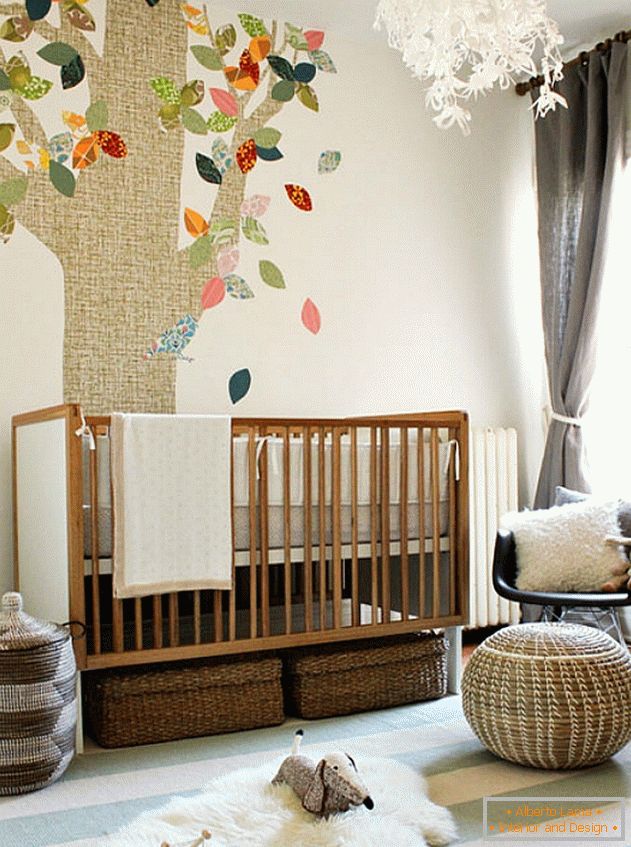 What child does not dream of sleeping in a tent under the light of the stars? Arrange for your child a private campground with the help of a tent-bed, as in the photo. No matter what other decor elements with forest motifs you decide to add, because such a bed will attract all the attention.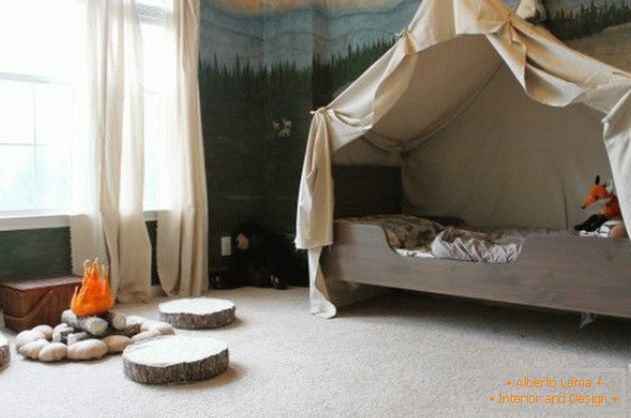 If you want to bring children's forest motifs into the interior, but do not want to make such serious changes as in the pictures above, just make the color scheme a couple of tones lighter. A light green shade will also remind you of forest motifs, like a saturated emerald green. In addition, you can add linen curtains as a soft rustic stroke, as in the photo.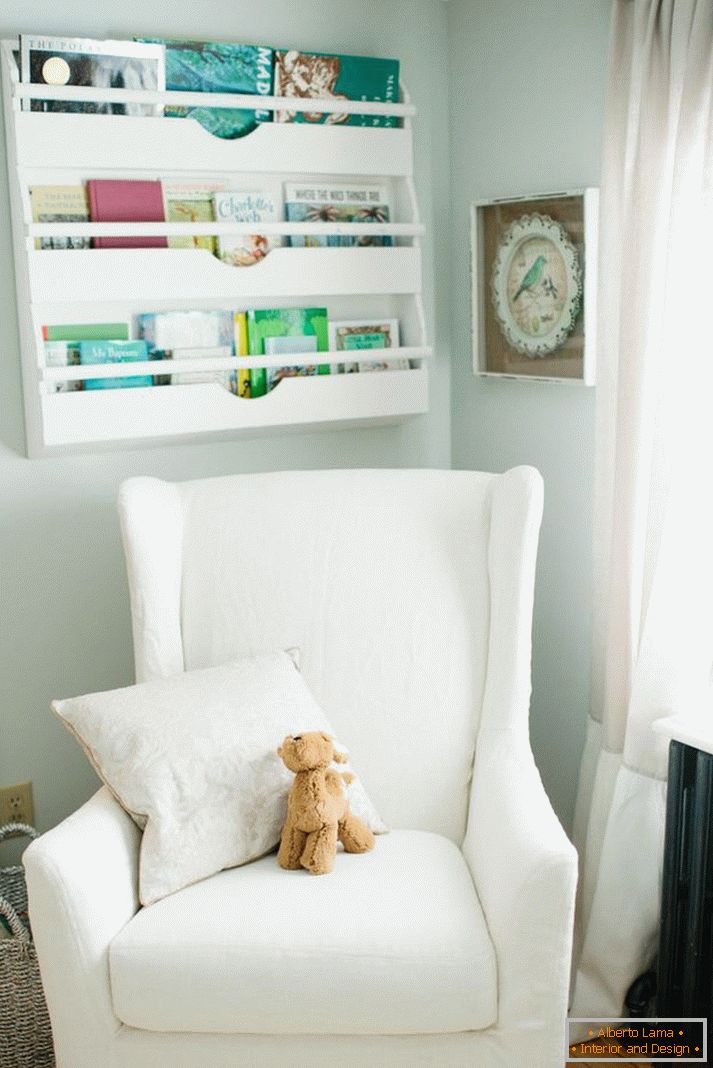 Chalkboard is still a popular decoration element, and here you can see why. The wall of the nursery, occupied by such a board, can easily turn into an element with forest motifs: all you need is to draw mountains on it. Or create a "sea" mood by drawing a fish on it. Or "cowboy", drawing horseshoes - the number of ideas for creativity is not limited.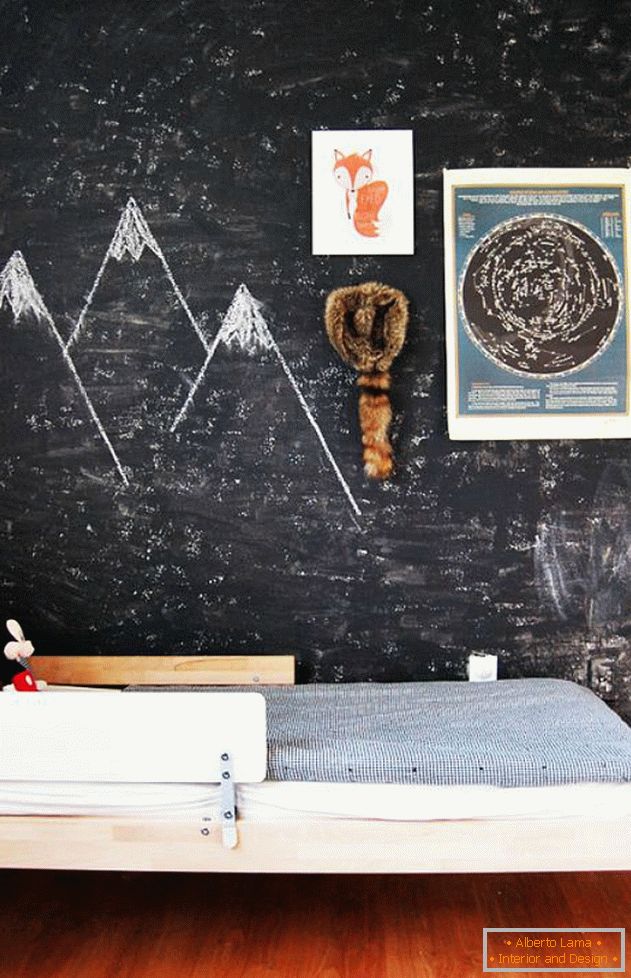 Just because someone constantly uses green and brown shades in the design of the nursery to create forest motives, does not mean that you have to do the same. Give preference to floral design and "Indian" patterns, as well as stripes and a pattern in peas, and you will create a wonderful atmosphere of a fairy forest.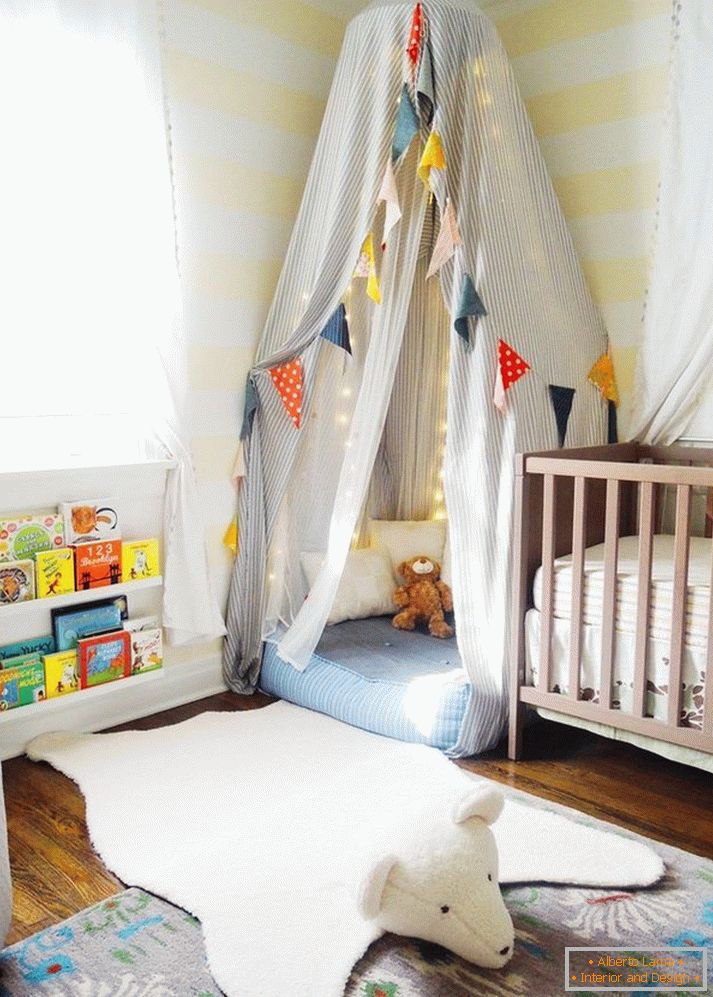 At the thought of forest animals, rabbits often come to mind. And at the thought of rabbits and children's rooms, the remarkable children's stories of Beatrice Potter come to mind. Nobody drew rabbits better than the famous writer, so do not be afraid to use decorative elements and drawings in her inimitable style.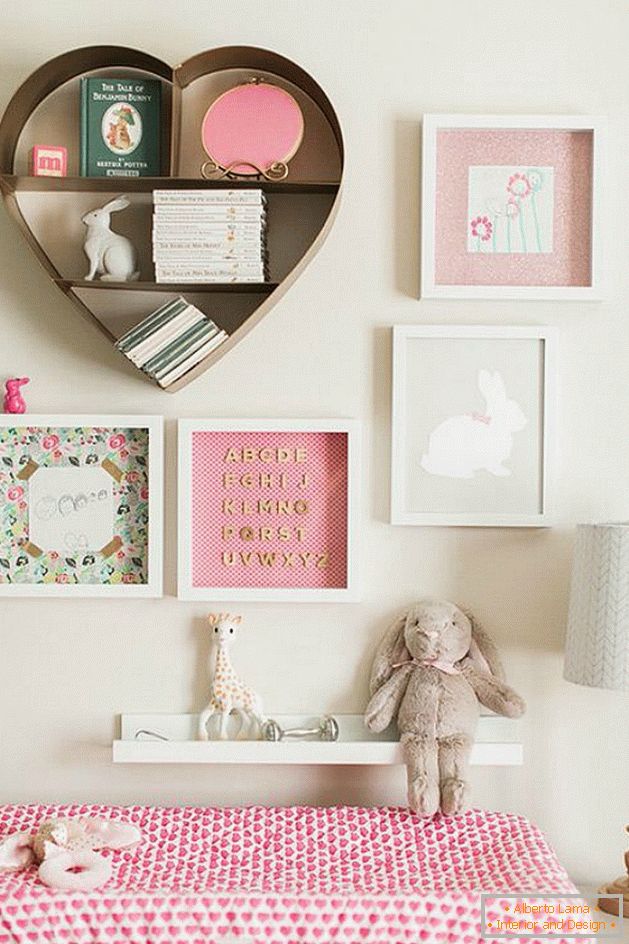 Wallpapers are very diverse, different colors and with different patterns - and this is the simplest solution for creating forest motifs in the children's room. Just find a wallpaper with a picture of plants and animals that fit well with the overall color scheme of the design, and cover them with the entire room or one of the walls (as in the case on the photo: here the wallpaper gives the impression of an impressive picture on the wall).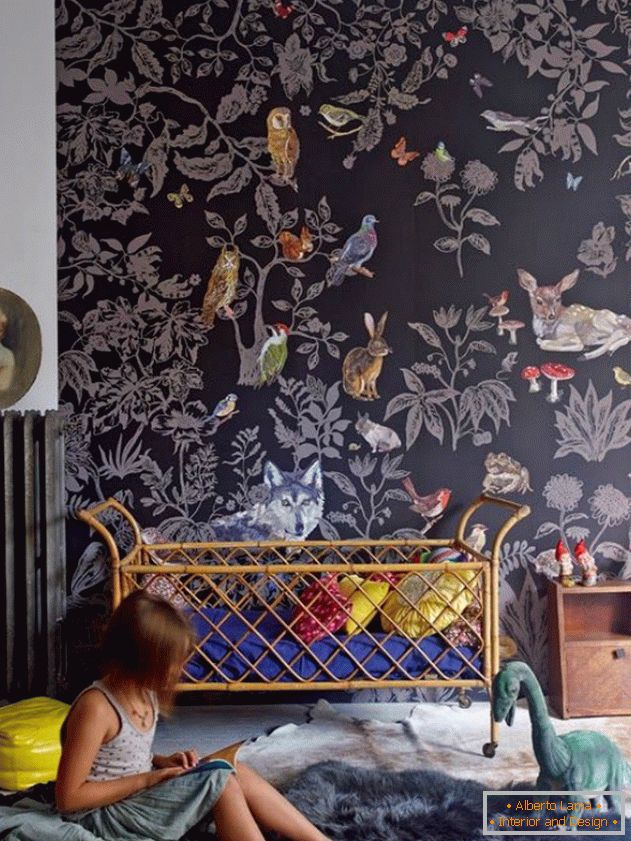 What if you live in a rented room that you can not rebuild or repaint at your own discretion? Pictures and patterns on the elements of the decor is an excellent solution for you. Collect a collection of pictures of animals and citations about nature and create a small gallery on one of the walls, after which you will certainly want to go for a forest walk (even if the rest of the room is painted in monotonous white).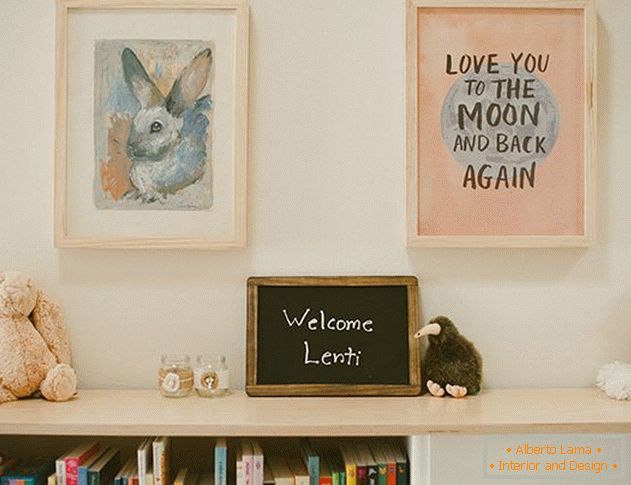 And if you are not constrained in money or ideas, then what are you waiting for? Add wood motifs wherever you can: a canvas or soft fleece cloth will turn your kid's room into a real childhood dream.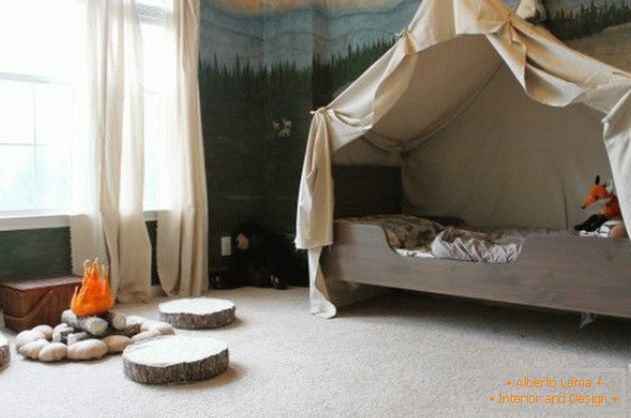 Photogallery Total | 12 pictures