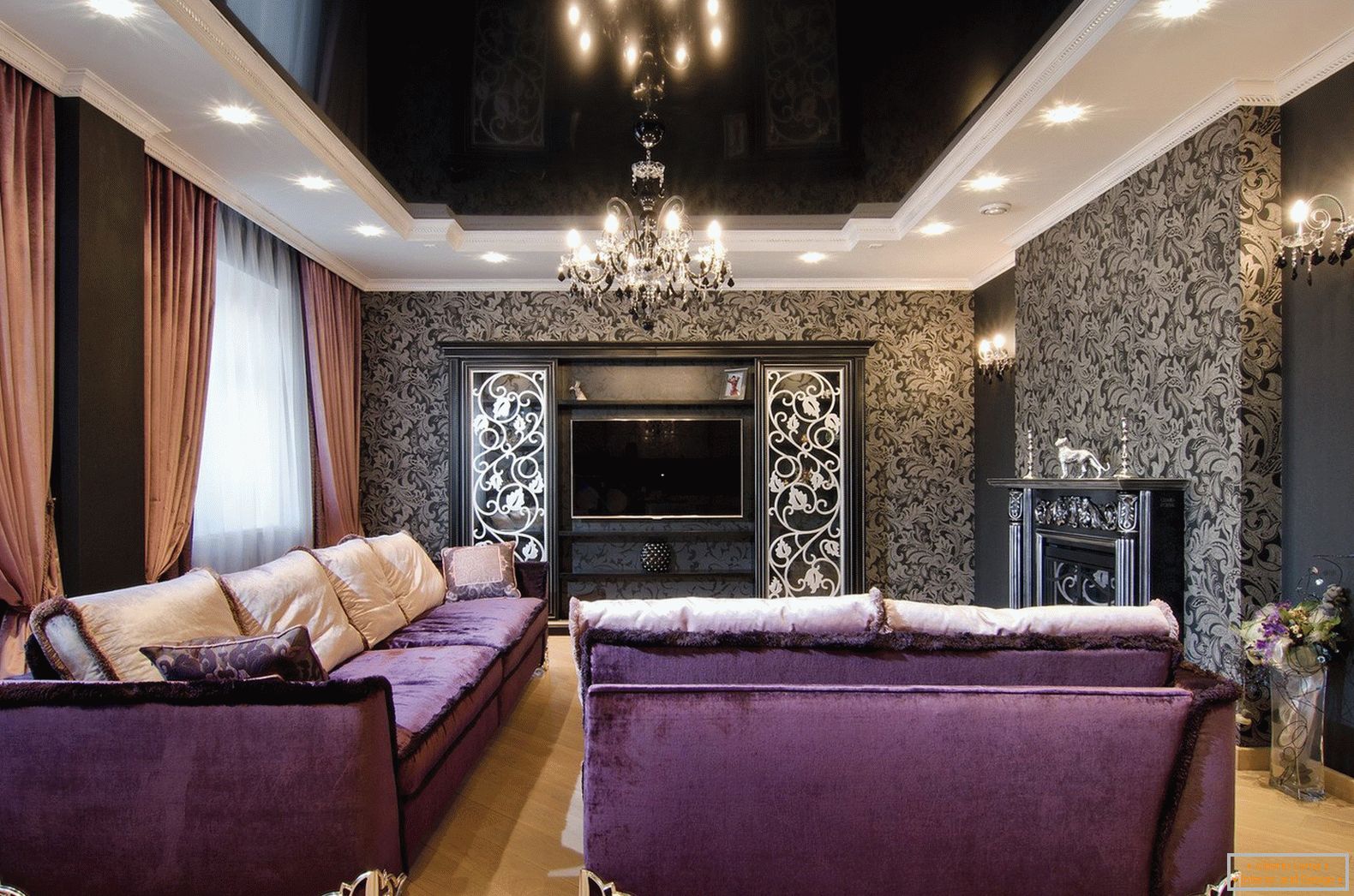 Art Deco is a very popular, incredibly expressive, elegant, recognizable style that has long been loved by many modern designers. He always looks rich, elegant, giving pleasure to the contemplative given interior. It is most often used for decorating hotels, expensive restaurants, halls, where official receptions, weddings, banquets are held. From the outside it seems that in such a room it is possible not so much to live and rest, how many to make a movie, to make photo sessions for memory. More details on how the art deco looks in the interior of different rooms, how and where it originated, the main features in the text of this article.
Later, in some countries art-deco or art-deco gave rise to a functionalism style, at the same time an art-nouveau style emerged, personifying a new art. On the architecture of buildings, decoration of the interiors of the USSR, Art Deco had a noticeable influence in the Stalin period - 30-40-ies. Then it was considered "a solid style for the middle class", and therefore for most Soviet people was considered unacceptable. Throughout the world, then became popular tourism, travel to exotic countries, there was a fashion for various souvenirs, trophies brought from there.





Distinctive features
The main features of art deco:
a clear pattern in everything;
bold "broken" geometry, including ethnic ornaments;
asymmetry, streamlining, sinuosity of lines;
an abundance of semitones with sparse impregnations of excessively bright colors;
the most expensive materials;
an elaborate luxury, the highest chic decoration;
stylized images of animals, the latest technology;
mosaic of wood, glass, stones, stained glass, many mirrors;
crystal, expensive dishes, unusual souvenirs from different countries;
an abundance of varnish, gloss, glamor.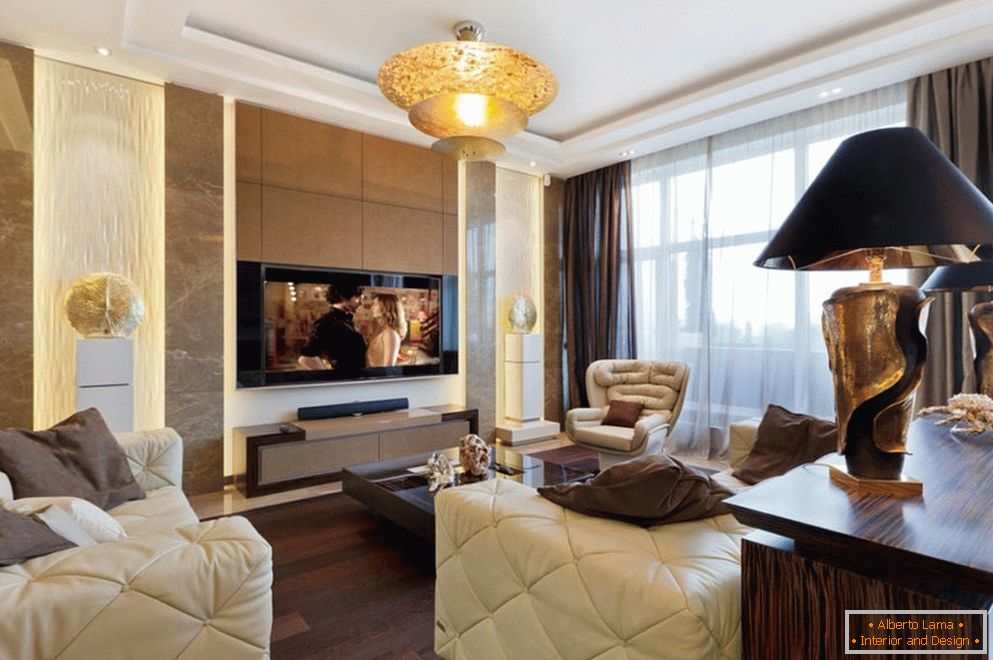 In modern times, real bone figures, terracotta figurines from Africa or the tribes of American Indians are often replaced by handicrafts of local designers, which makes the design a little cheaper, without affecting the overall appearance.





Materials, methods of surface finishing
Materials are used mainly modern, expensive:
ivory, horn of a rhinoceros, deer;
rare types of wood - mahogany, rosewood, sequoia, stained oak;
skin of reptiles - snake, crocodile;
various metals - aluminum, brass, steel, silver;
natural, less often artificial stone - granite, marble, onyx, travertine, labradorite, slate;
ceramics, expensive wallpaper;
gypsum board, ceiling tiles;
transparent, frosted, colored glass.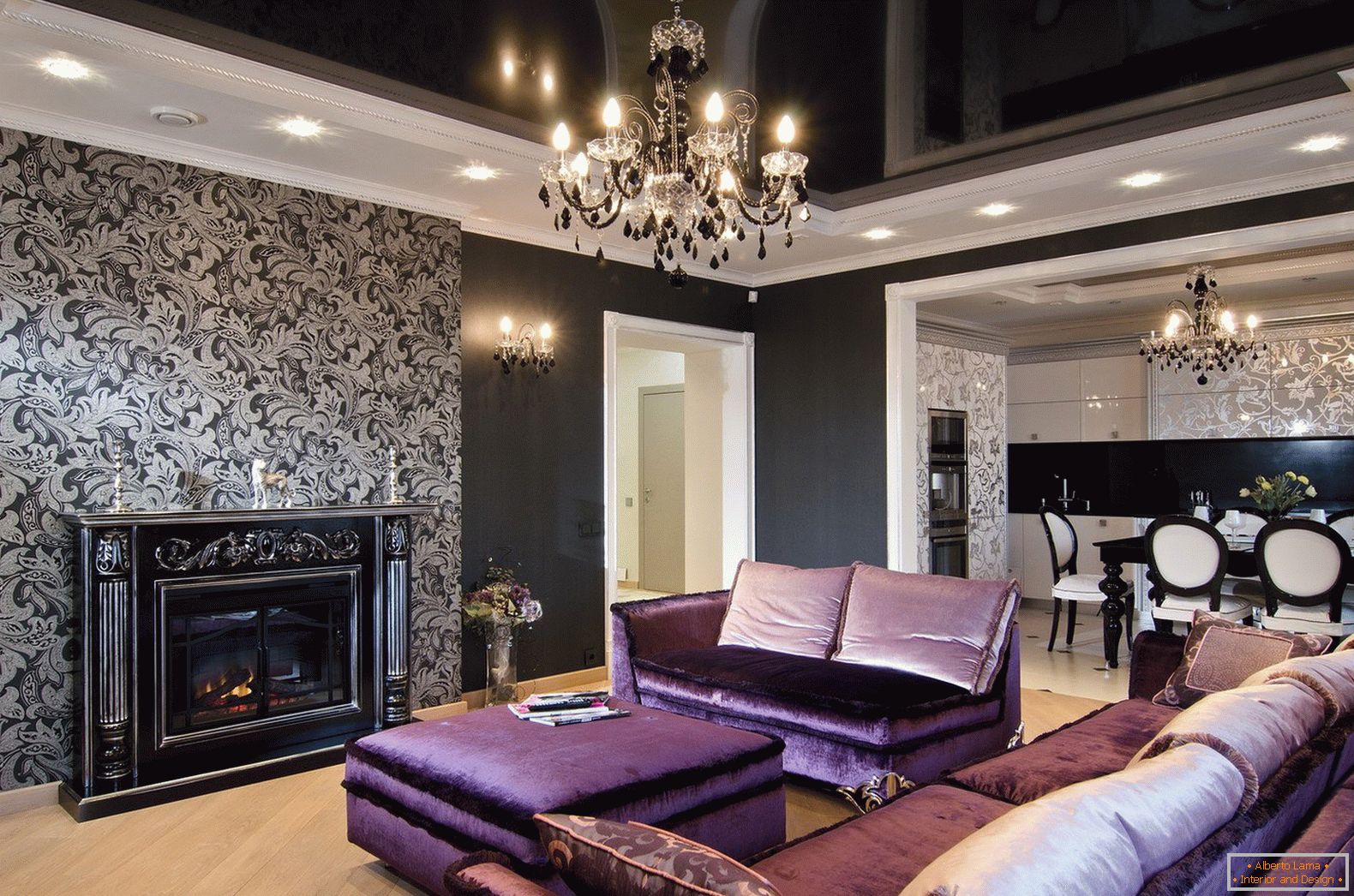 The ceiling is whitened, made of plasterboard, including multi-level, decorated with gypsum, polyurethane stucco. Plastic ceiling sockets, skirting boards, corner elements, moldings and half-columns on walls can have gilding or bronzing. The walls themselves are decorated with decorative plasters, silk wallpaper with a geometric pattern or heraldic ornaments, African patterns, oriental hieroglyphics.
The floor is usually made of parquet, combining several types of wood, from which are laid out complex patterns - with a central symmetry for the entire room or small, repetitive. Less often the floors are made with a stone, as it is very cold, and the mirror design is suitable for both the floor, and for the ceiling, walls, any furniture. Interior doors are preferred double-leafed wooden, paneled or having an insert of patterned glass, stained-glass windows depicting fantastic stories of ancient myths.





Used color palette
The following color combinations are often used:
gold with black;
white with golden brown;
White-green with violet-black;
chocolate with ivory color;
beige with noble purple;
purple with emerald;
antique-azure with terracotta;
bistre with pale yellow;
sand with bronze;
gold with wine-red;
глициния с графитово-черным;
chestnut with quartz-gray.
Read also: Country style in the interior +100 photo examples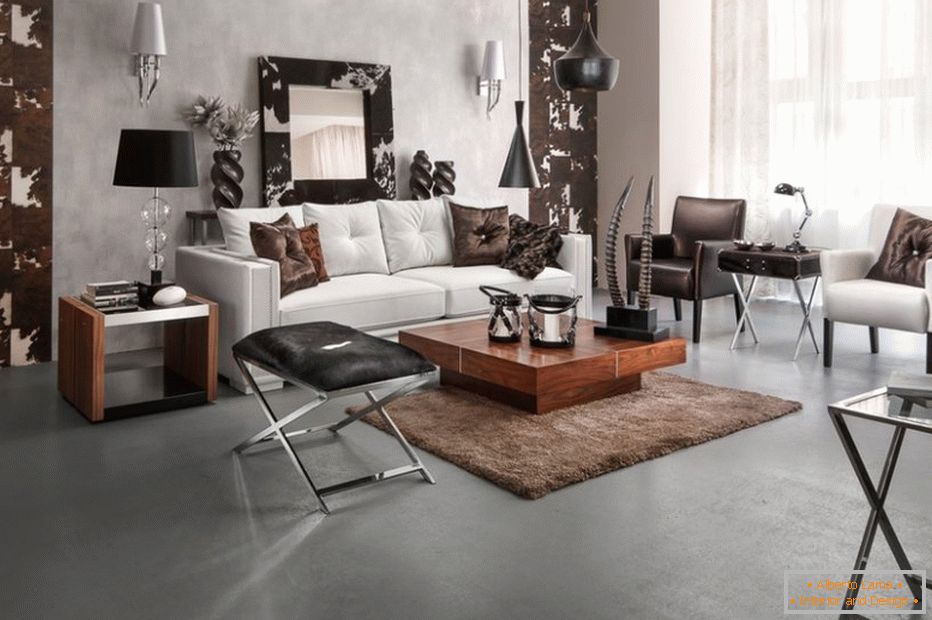 As a basis, golden, brown, beige shades, complemented by accessories, bright interspersions of red, blue, green, purple are almost always used.





Lighting
The right light in the interiors of art deco is not the last value, creating a cozy, giving even more solemnity to the situation. These are huge multicolored chandeliers made of crystal, glass, gently scattering light. The smaller the room, the more lamps and luminaires should be used. This is especially true for the "northern" rooms with small windows or those where the windows are not at all - a dressing room, a bathroom, a hallway, a corridor.
The walls are illuminated with the help of a wall, sometimes with excessively pretentious forms, floor lamps with large shades on the ornate carved wooden leg or with a base in the form of an ancient Greek statue. The illumination of the floor for this interior is unacceptable in any form - light falls strictly from above, maximum from the side, but not less than from a height of one-third the distance from the floor to the ceiling.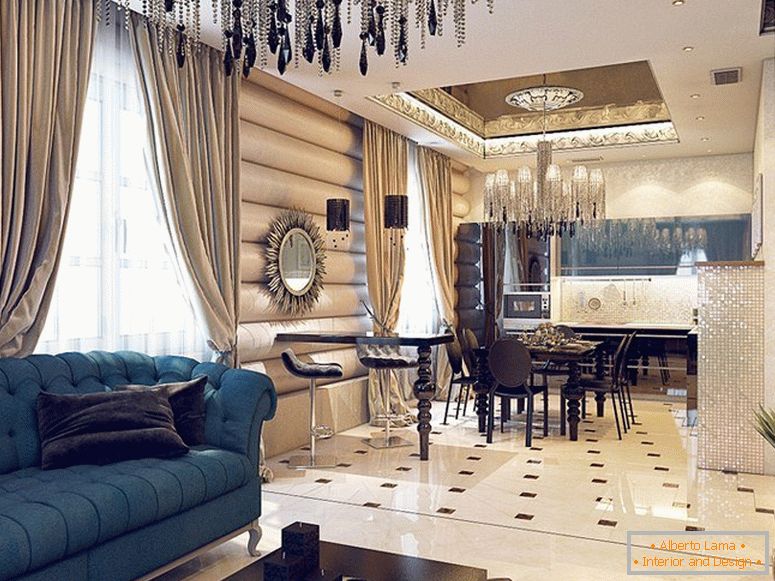 Chandeliers fit the most incredible, large, luxurious - with a lot of horns, complex geometry, gilding, in the form of a huge painted ball, etc. Miniature spotlights are only allowed in those rooms where due to the small area a full-length chandelier does not fit.
Light is preferable to warm - with it, the forms of various decorative elements are emphasized more favorably. The abundance of mirrors also visually "multiplies" the amount of illumination.





Furniture
All furnishings have smooth lines, rounded corners. Of the materials, in the vast majority of cases, an array of natural wood of valuable species is used, but sometimes even fiberboard is allowed, lined with veneer, produced from expensive wood.
The main types of wood used for furniture art deco interiors:
palisandr;
nut;
oak;
pink tree;
maple;
ash;
palm tree.
Chromed, forged, inlaid, carved details are also used frequently. In some pieces of furniture use glass, including matte, colored stained glass, ivory. For the design of upholstered furniture, various types of leather are used:
| | |
| --- | --- |
| traditional | veal, pork, sheep, goat, deer |
| exotic | snake, crocodile, fish, shark, elephant, zebra, lizard |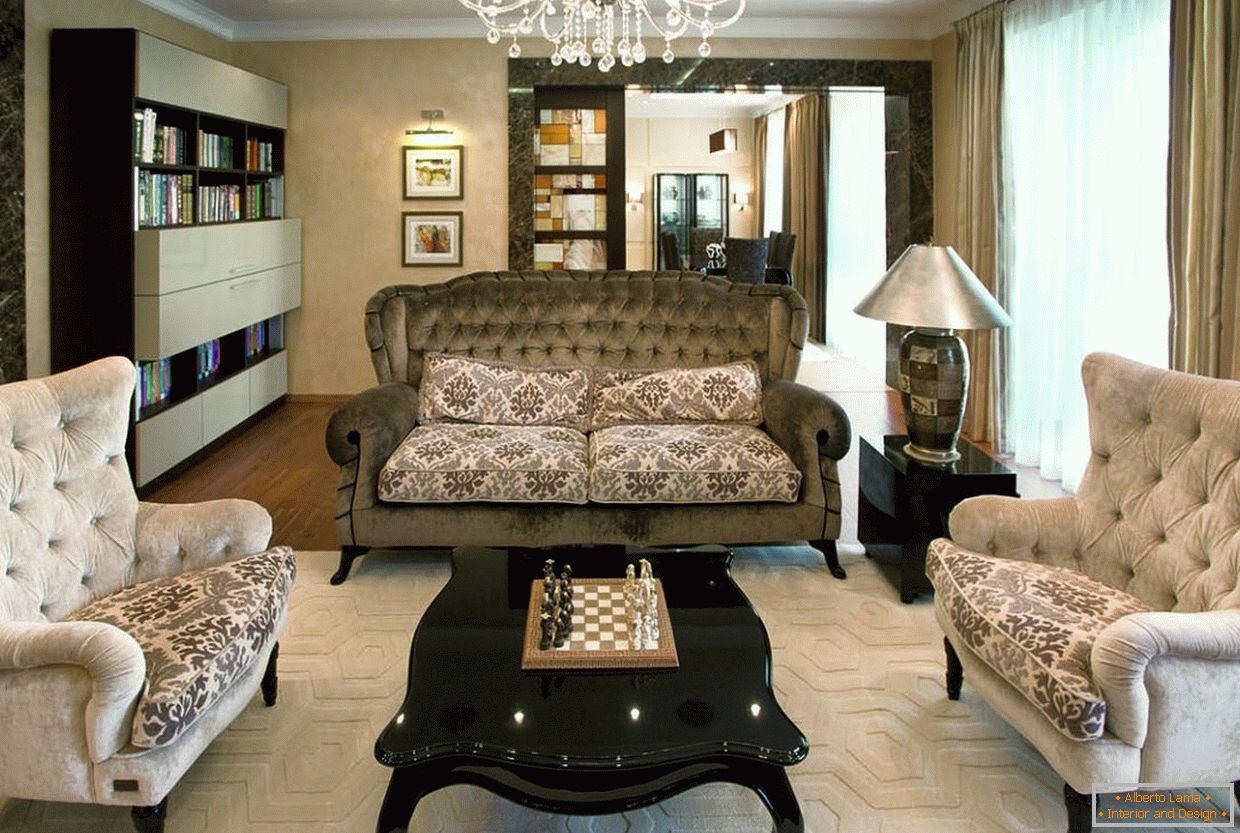 Many types of upholstery fabrics are used:
dense jacquard;
tapestry;
velours;
velvet;
artificial leather;
flock and others.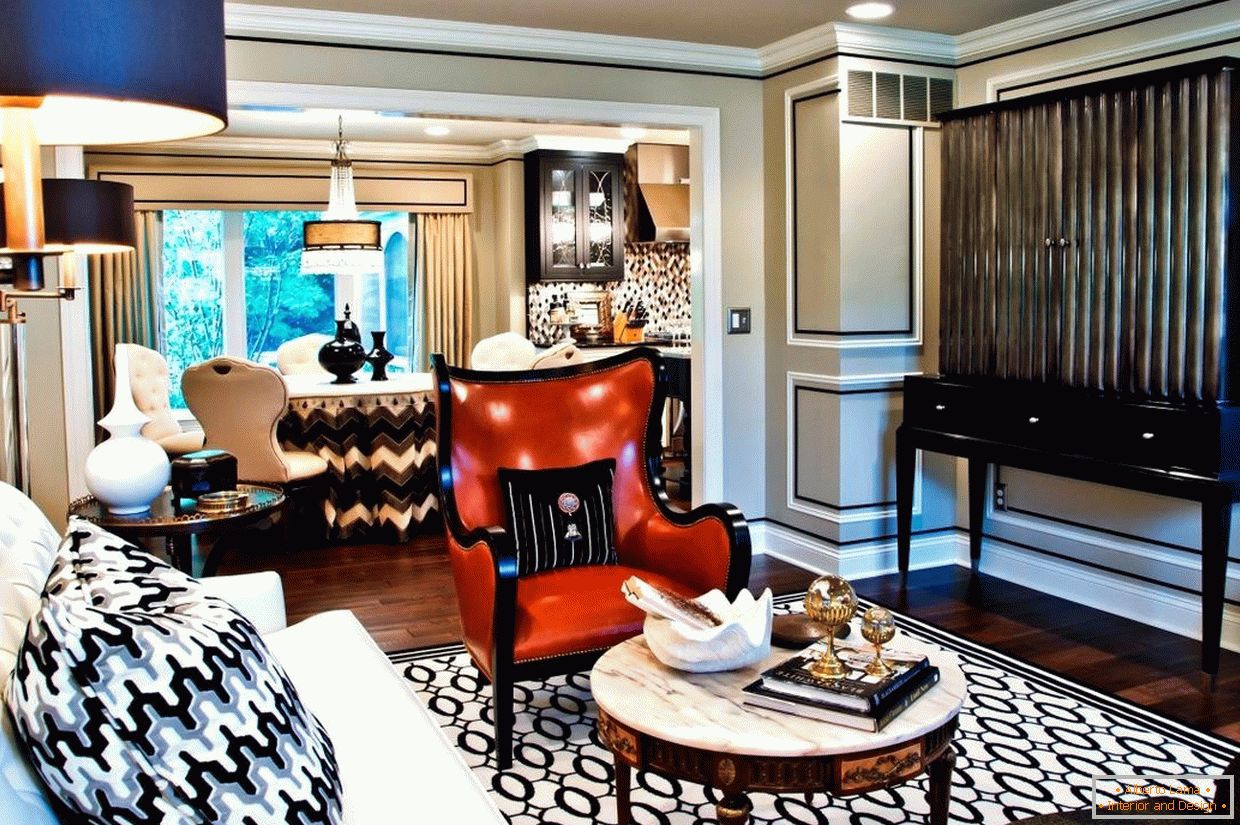 Upholstered furniture for the art deco style is used by many - narrow sofas, couches, high beds, huge sofas, armchairs, soft chairs, puffs are present in all rooms. Often furniture is made to order, in single copies or limited series. All the furnishing is done in the same color, but it is allowed to perform individual elements in a different color scheme, to create several bright accents.
It is not necessary to give preference to overly massive pieces of furniture, if they are necessary, then you must have separate elegant elements or decor - openwork carving, painting, inlay.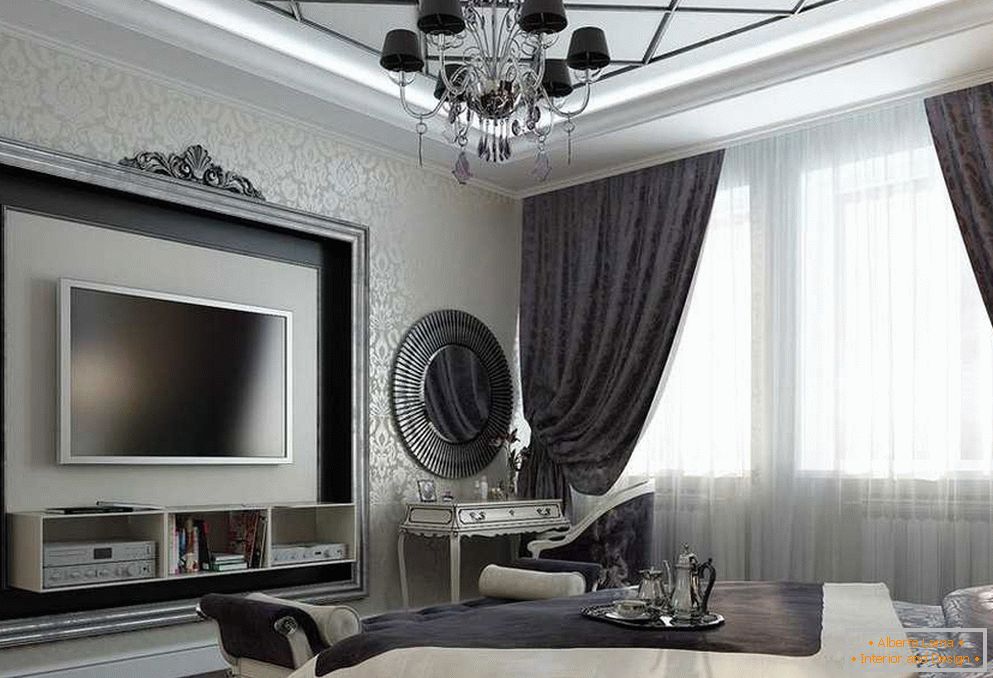 Textile decoration
The abundance of various textiles is usually present in the stylistic design of Art Deco. Fabrics are selected monochrome, with zigzag, geometric patterns, colored stripes or cages, "zebra", "leopard", "snake" prints also fit. Also popular are the Damask ornament, "crow's feet", meanders.
The most commonly used tissues are:
velvet;
kasemir;
velvet;
tapestry;
coarse woolen fabrics;
silk.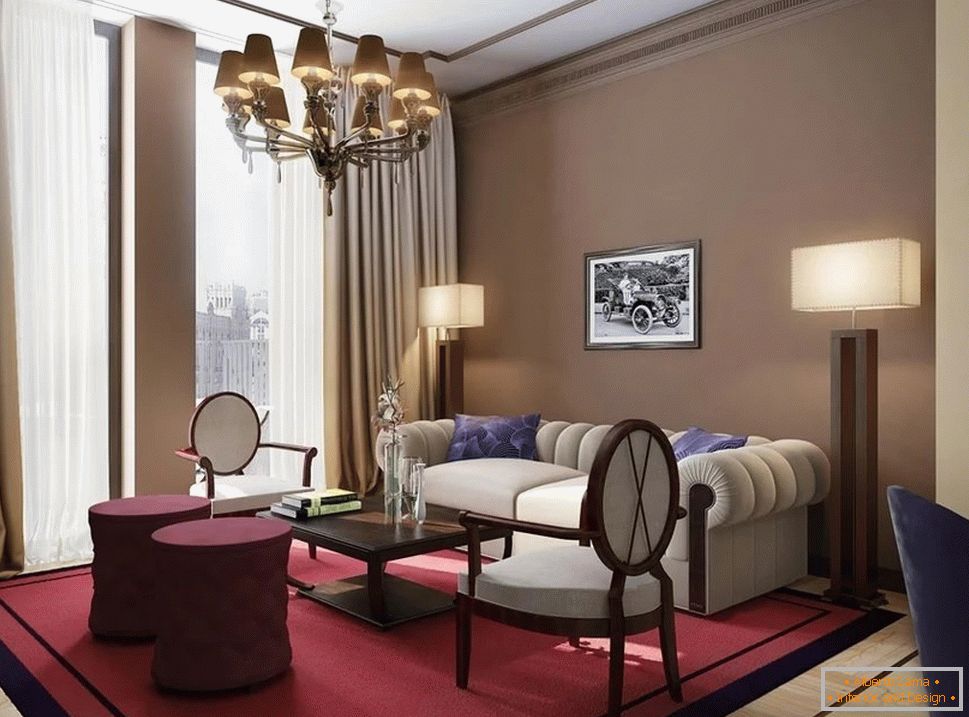 In the interior there are luxurious carpets, heavy drapes, tapestries, cross-stitched paintings, embroidered pillows with gold patterns, canopies with floral ornaments framing the bed or dressing table. Soft rugs are made of two-sided, wool or artificial fur.
Draperies on the walls also take place at the head of the beds or in the form of moving elements that separate a large space or a studio apartment. Cases of various sizes are present in the interiors of almost all rooms, can be performed in monophonic or variegated. Dense patterned curtains with a printed pattern is complemented by tulle with an abundance of flounces. The edges of the carpets are complemented by bands of meanders or Chinese hieroglyphs.
See also: Design in the style of Provence - French interior in the apartment





Accessories, decor
Decorative design is very diverse, most often in abundance there are such items and details:
figurines, animal figures;
luxurious fans, candles;
mirrors on any surfaces;
Forged gratings, including zoning space;
paintings in carved frames - the larger, the better;
decorative ceramic, glassware;
souvenir bottles with expensive alcohol;
pearls, natural bone, tortoise shells;
dry bouquets, floral panels.
From the paintings, in the descriptions of famous interiors, there are works of Klimt, Vasnetsov, Delorme, Serebryakova, Kassandra, Dupa and many others.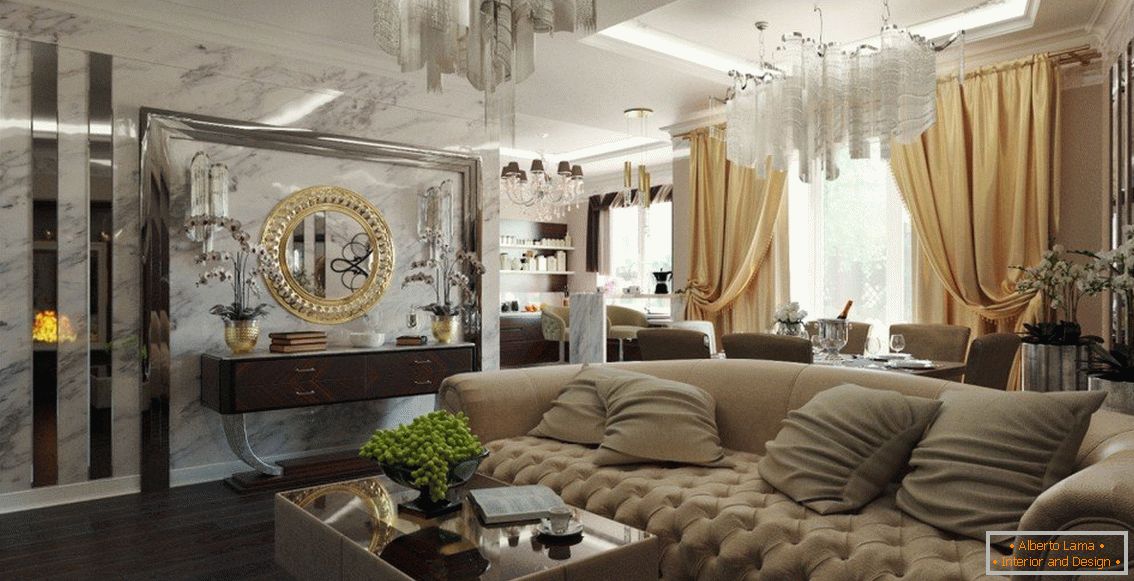 From the artistic motifs of sculptures, paintings are present:
geometric shapes - circles, squares, zigzags, polygons, ovals, black and white piano keys, steps;
oriental motifs - ziggurats, pyramids, sphinxes, murals;
vegetable, animal ornaments and forms - cherry branches, bonsai tree, leaves of exotic trees, fantastic animals, mythological characters;
anthropomorphic plots - Arabic, Indian, elegant figures of women.
In a too cramped room, do not place too much decor, enough to focus on a few contrasting elements - the room will look littered.





Interiors of rooms
This style is not mass, but it is widely known everywhere. Any hints at asceticism, minimal interior is alien to him.
Here in abundance are used:
carpets, curtains, all kinds of draperies;
decorative fountains, podiums, arches;
reproductions of canvases in the style of cubism, well-known American charts;
sculptures from ebony wood, ceramics;
outdoor vases, palm trees in pots.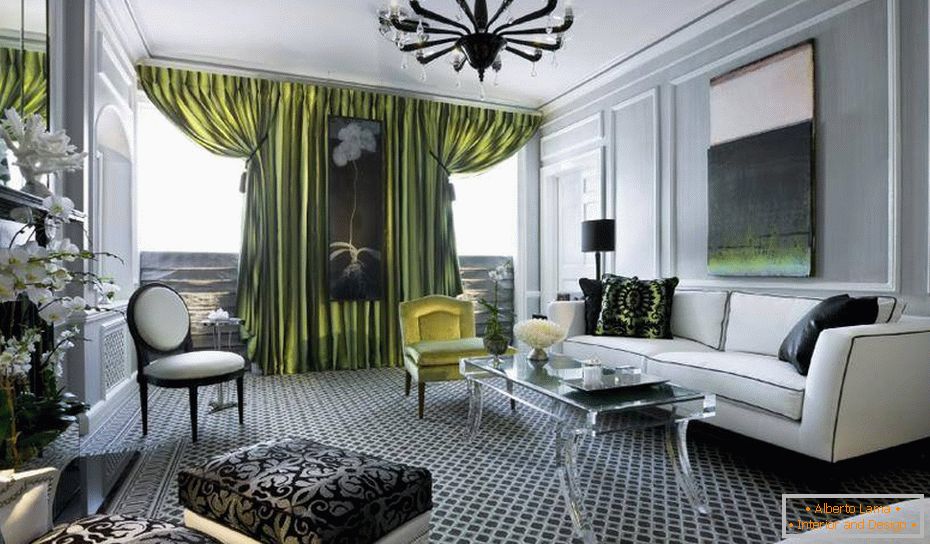 In the style of art deco, it's easy to combine objects that are difficult to fit into a single style. There are always a lot of elements, and the overall picture need not be conceptual.
Fully and completely recreate the interior of the "palace" of the last century in a small apartment is unlikely to succeed, but the use of individual elements, attributes of style, will make at least a miniature likeness.





Bedroom
Looks good light, tall, as if "swollen" on the sides of the chest of drawers with figured handles on the facades of boxes. Illumination on both sides of the bed above the bedside tables is carried out using a refined form of sconces, with shades in the form of flowers that gently scatter light. Intricate interweaving of patterns on wallpaper will revive the room, and a decorative or electric fireplace will create a feeling of warmth, coziness.
Ideally looks a bedroom where one or two, a maximum of three groups of objects have the same pattern - the carpet is combined with curtains, ceiling tiles with wallpaper, pillows on the bed with upholstery and chairs on the floor. A double bed with a patterned canopy and a gaze is in harmony with a sophisticated writing desk, a dressing table, over which is a round mirror, decorated with a frame in the form of the sun. The dressing room is separated by a patterned screen.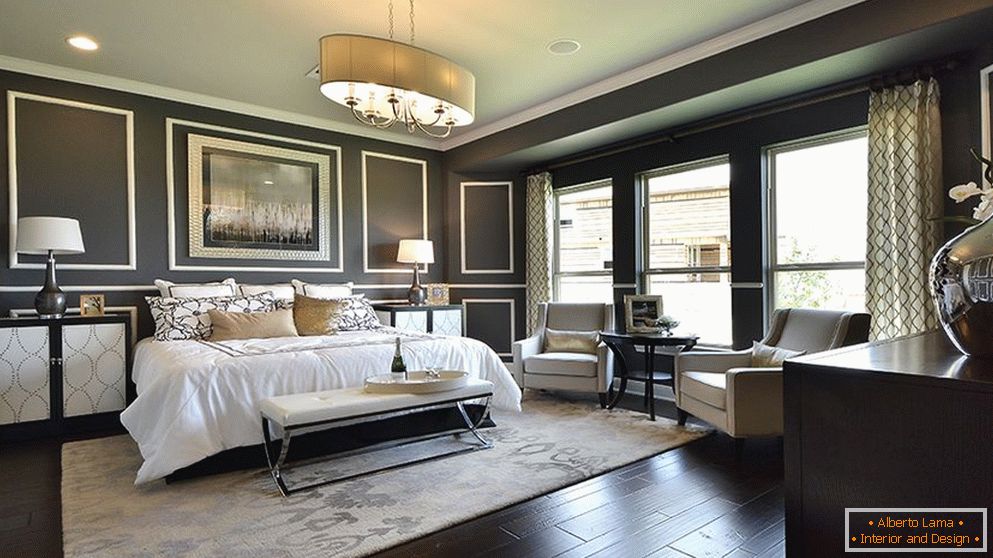 If the wall opposite the head of the bed is decorated with an intricate labyrinth, which is often an attribute of the Art Deco style, then it will be pleasant to consider it, meditating before going to sleep.





Living room
A huge leather sofa, with a dome-shaped back, will become the compositional center of the Art Deco interior. The interior of a medium-sized chest of rosewood or palm wood, covered with a thick layer of varnish, a low "eastern" table, chairs or padded stools, decorated with zebra or leopard prints. The middle of the ceiling will be decorated with a large crystal chandelier, and the corners - floor lamps or sconces, made in the same luxurious style. On the floor in the center of the room is a bamboo mat in Japanese style, bound with gold threads or a fluffy carpet with folk ornaments.
The marble console, playing the role of stand for flat TV will also be appropriate. In the most spacious rooms with high ceilings, good acoustics put the piano on the podium, occasionally even a full-fledged drum kit or a DJ console with all the attendant attributes.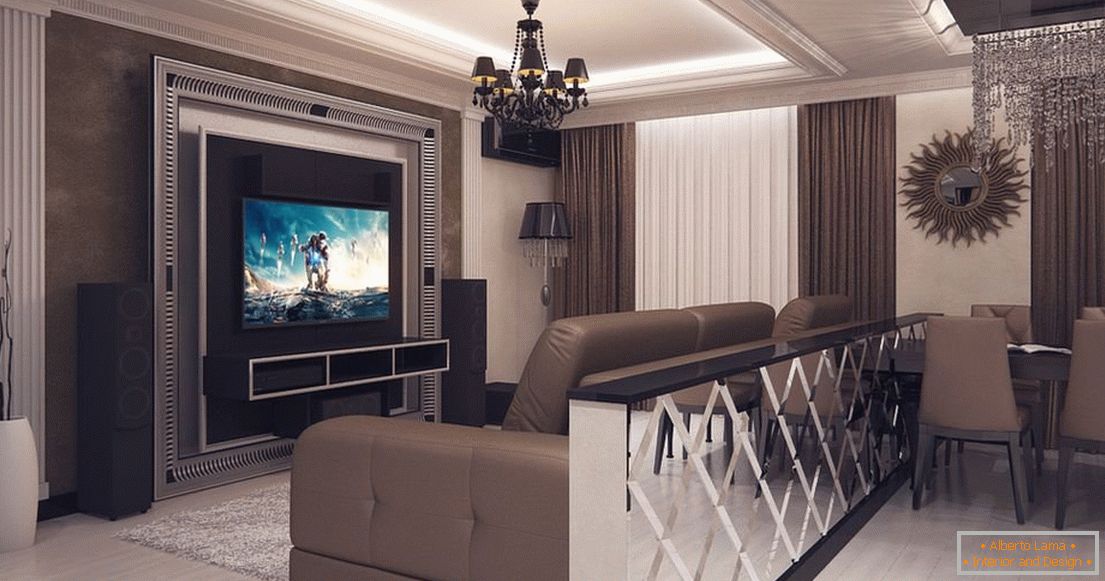 The space of the living room may well look like an exhibition hall, where a lot of various items are considered for hours, each time finding all the new details.





See also: Design of an apartment in the Art Nouveau style +80 interior photo
Children's
Furniture в детской, как и других комнатах ар-деко, не имеет острых углов. Теплый, мягкий шерстяной ковер позволит детям играть на полу долгими зимними вечерами. Не стоит перегружать данное помещение обилием хрупкого декора, особенно если дети маленькие – безопасность здесь превыше всего. Лепнина на потолке, высоко расположенный светильник из небьющегося стекла, балдахин над кроваткой, множество кофров для хранения игрушек, пара-тройка картинок в резных рамках – этого достаточно, чтобы четко обозначить стиль.
The room is easy to decorate with your own hand, along with the child, through the stencil, through colored damask monograms, geometric figures on the walls, lampshades, window frames. Above the headboard is often depicted the rising sun, harmonizing with the same embroidery on the backs of soft chairs or sofa cushions.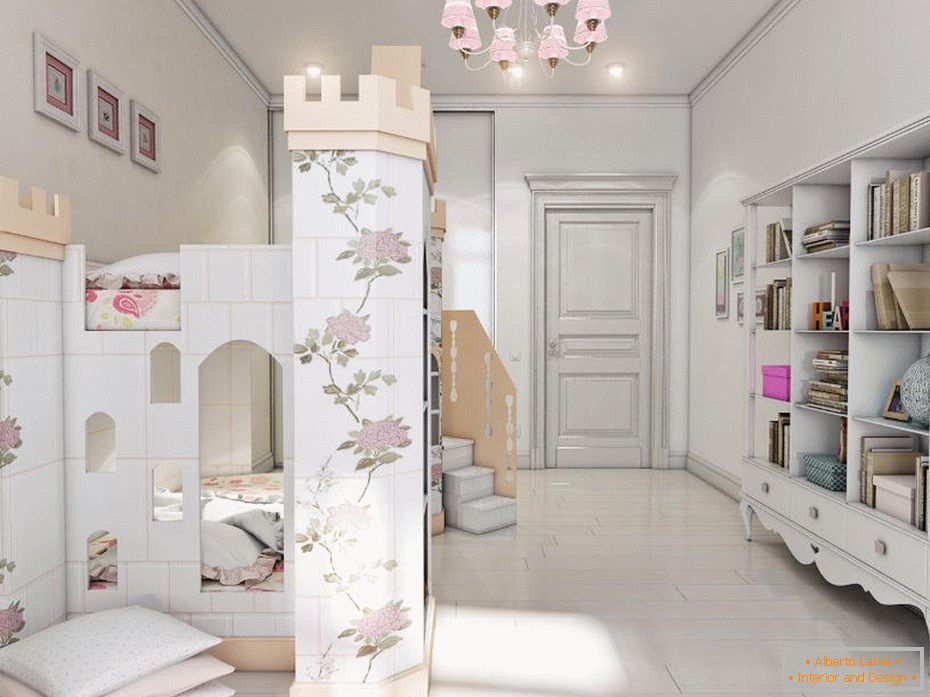 Here the following shades are preferred:
pink, blue;
gold, silver;
violet, beige;
light yellow, spring greens;
linen, bluish-gray.
A miniature dressing table can be used for this style if the room belongs to a girl. For the boy is also made a comfortable functional table of suitable stylistics.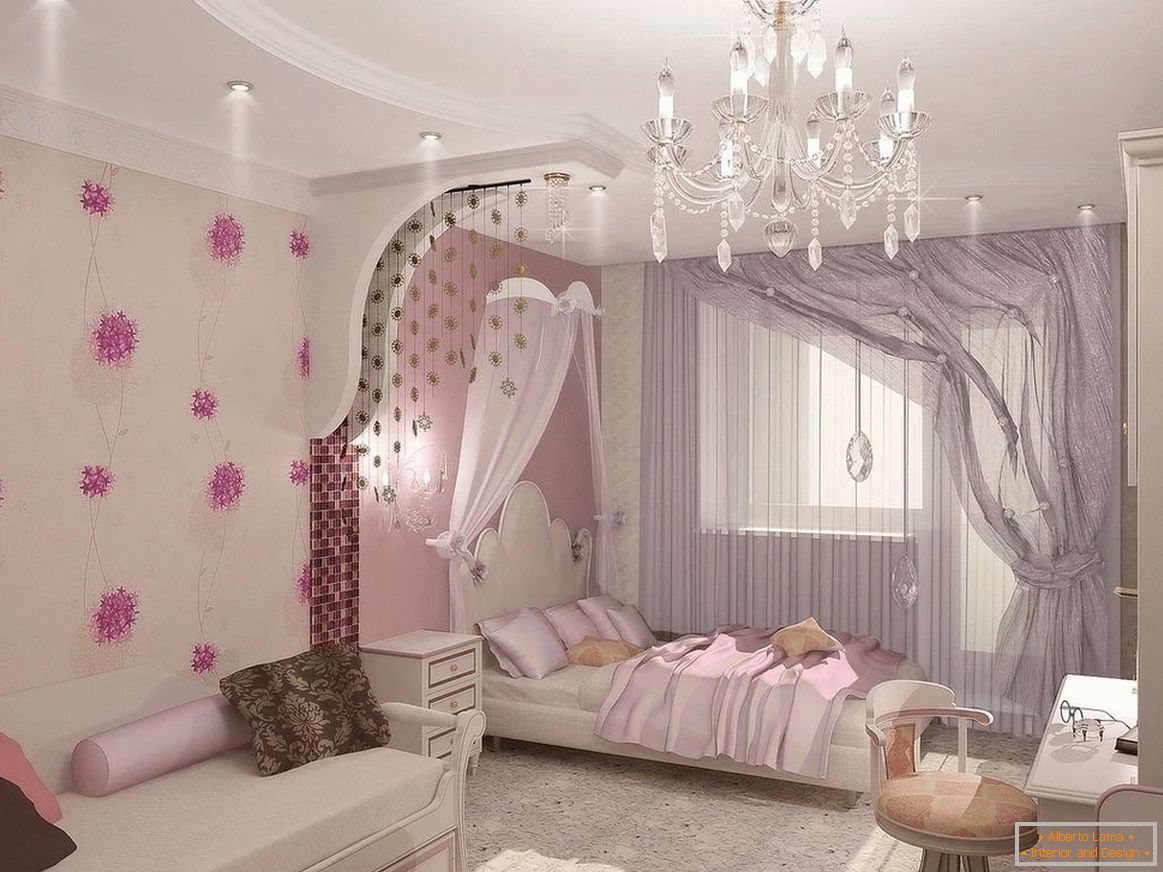 Kitchen
Light marble walls are often present in kitchens made in this style. It looks most beautiful when the room has a warmed balcony, a spacious loggia or a bay window - then a part of the window panes is decorated with colored stained-glass windows, which allows even the "pale" interior to play with new colors.
The floor of ceramic tiles in black and white "chess" will be very much in order here. It can be combined with the same coloring with a kitchen apron, in sharp contrast to a set that is bright or extremely bright. The curved countertops of the working surfaces, the rounded bar counter with a suitable kind of chairs, will perfectly fit into the overall art deco style. The facades of the headset are necessarily glossy, the doors have glass with engraving or colored stained-glass windows, all household appliances are preferred built-in. The dining table has a luxurious tablecloth, and the chairs around it have appropriate upholstery.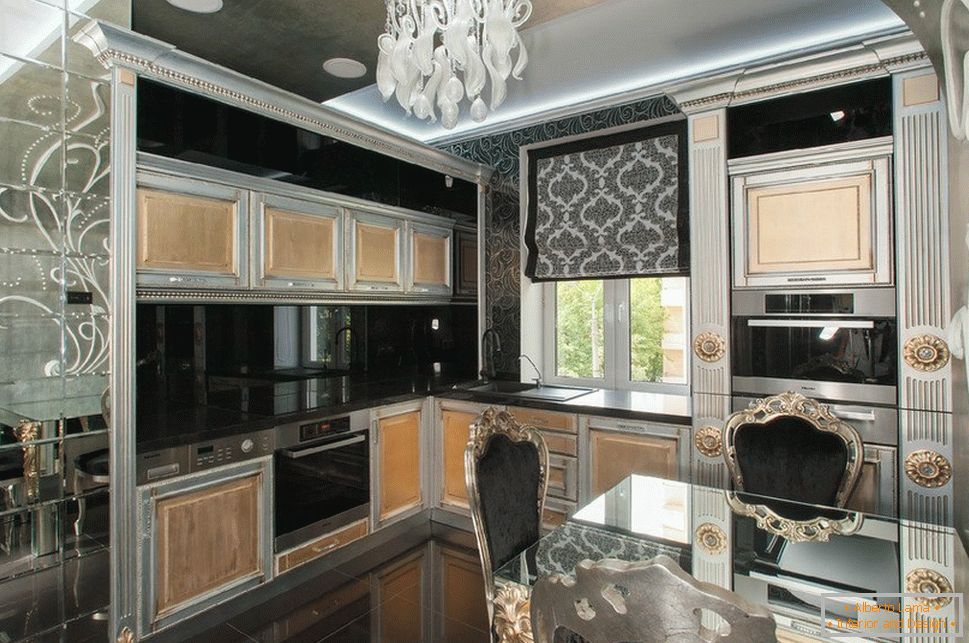 For a spacious kitchen is quite suitable island set, and a place along the walls will take up soft sofas and all sorts of decor.





Entrance hall
The walls of the long corridor are decorated with stylized lamps for oil lamps or candles, located on both sides, on the floor they carpet the carpet, like in a real palace. Plastic stucco along the ceiling also does not hurt.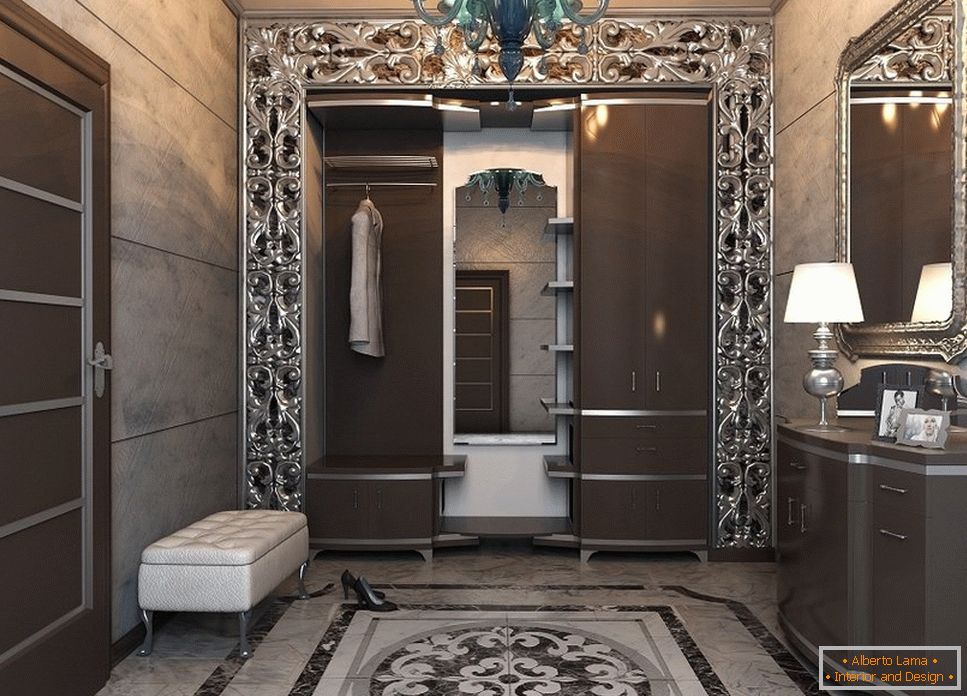 A large mirror in a wooden or wrought-iron frame with gilding, from the threshold, highlights the high cost of the interior. Graphics here are very useful: wallpaper with a damask ornament, floor tiles or padded stools with the same pattern. The legs of the small furniture of the hallway are often wrapped in fish skin. In a square hallway they hang a chandelier shaped like an inverted dome.
For a narrow corridor or a narrow hall, the brightest design of walls with a minimum of contrasts is chosen.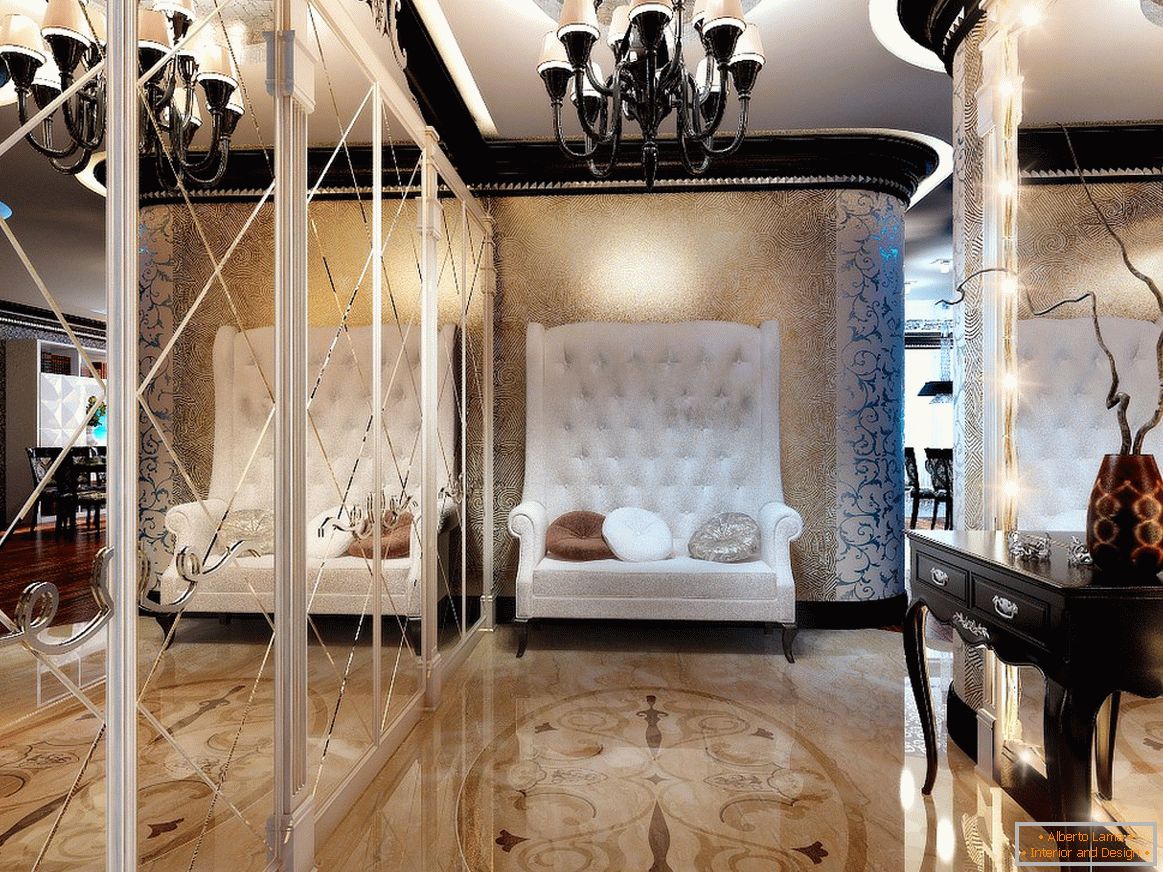 Bathroom
The walls, decorated with frescoes a la Egypt, will give this room uniqueness, creating interesting accents. The same motifs are duplicated on towels, a curtain over the bathroom. The stone cladding, combined with a spotlight, will add even more solidity to the interior. Monochrome porcelain tiles on the floor of a joint or separate bathroom, especially contrasting with the color of the walls, gives a hint of the Renaissance, and the abundance of mirrors will make the room light, spacious. The golden mosaic, which denotes the individual zones of the room, also looks wonderful.
If the floor is made entirely of stone, it is desirable to equip it with special heating, otherwise it will be cold to the bare feet to step on it even if there is a carpet.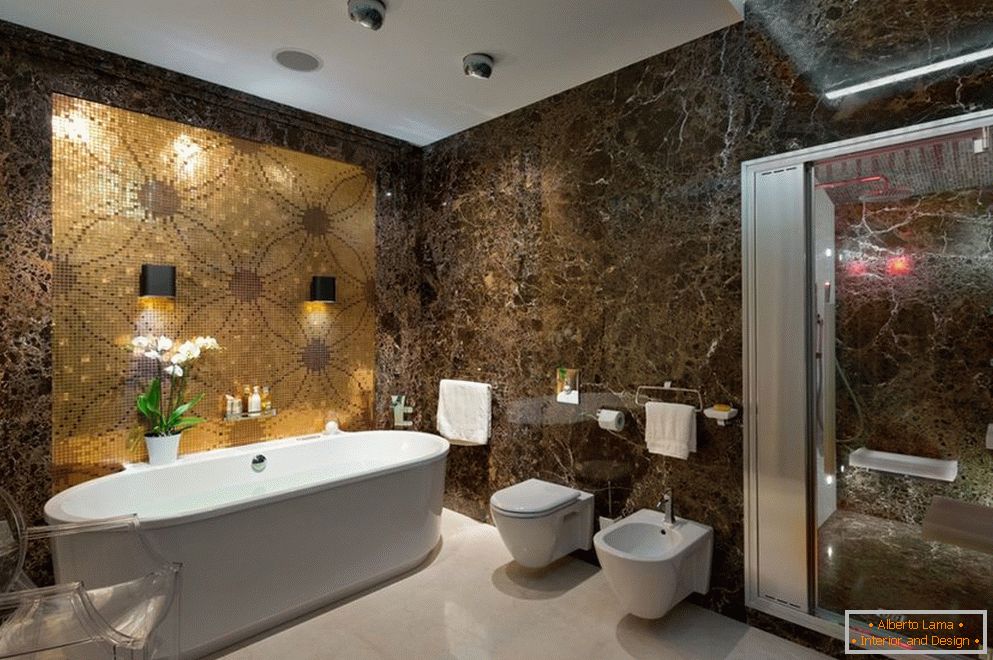 Conclusion
Art deco, embodying luxury and glamor, will taste like a fan of classical, baroque interiors, and avid lovers of loft, hi-tech or industrial styles. It is chic and, at the same time, daring, luxurious, maximal. Art deco is more suitable for a large, spacious house, but the decoration of even a small apartment in this style also looks great. To fully equip the whole interior within the Art Deco or Art Nouveau is problematic on its own, that's why many turn to professional interior designers for help.