Fresh flowers can bring new life and energy to any space. Therefore, the best way to celebrate the return of warm weather and bring the breath of spring to your home is to decorate the interior with beautiful spring flowers. We offer you 22 ideas for creating stylish bouquets and flower compositions!
1. Lovely bouquets in rural style
The tender beauty of plants is especially well emphasized by various old things, for example, peeling pots, garden watering cans, buckets etc. Create a romantic-nostalgic mood in the room, using such extravagant "vases" for tulips or other wonderful spring flowers.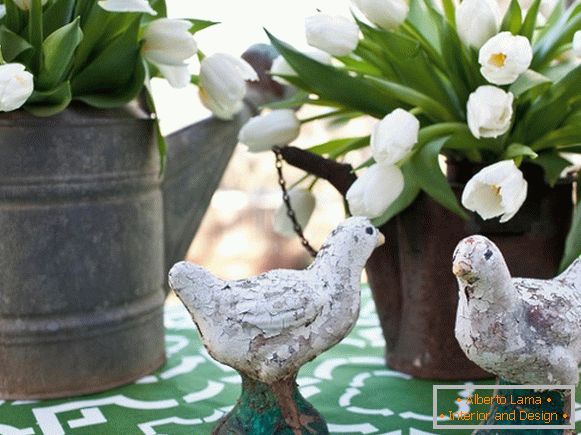 2. Bright multicolored bouquets
Spring is the ideal time to transform your windowsill. Use a low wooden container to decorate it along its entire length with a wide variety of bright colors, for example, early lavender, peonies and roses combined with wildflowers, as in the photo below.
3. Pots with inscriptions
Any pot can easily be given a playfulness with a special dark paint "chalkboard", which will allow to leave on them various inscriptions chalk.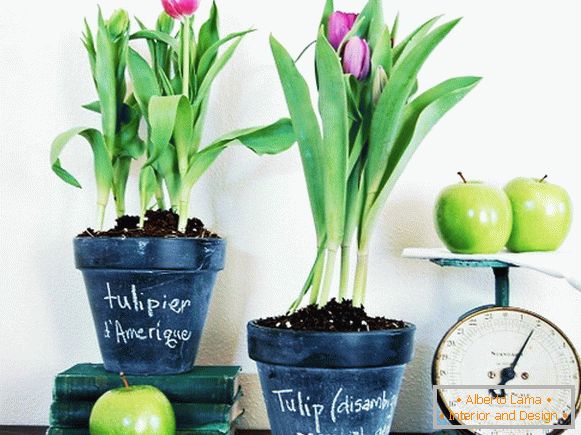 4. The magic of monochrome colors
A multi-level array of different plant species of the same shade will give your room a truly luxurious and refined look. In the next photo you can see how yellow hazel grouses, tulips, freesias and daffodils, put together in different pots and glass vases, create an amazing composition for decorating the interior for the celebration of March 8, Easter or another spring holiday!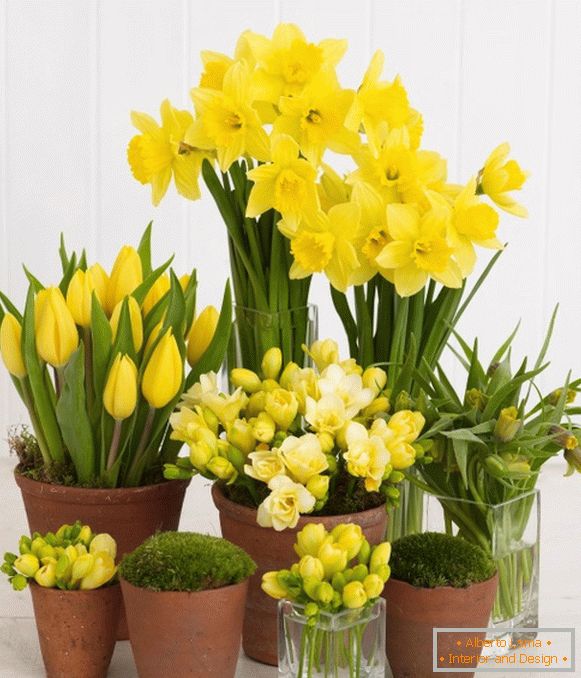 5. Delicate pink flowers
A bouquet of different red and pink flowers will be a wonderful gift for your beloved woman and will look particularly good in a white ceramic vase.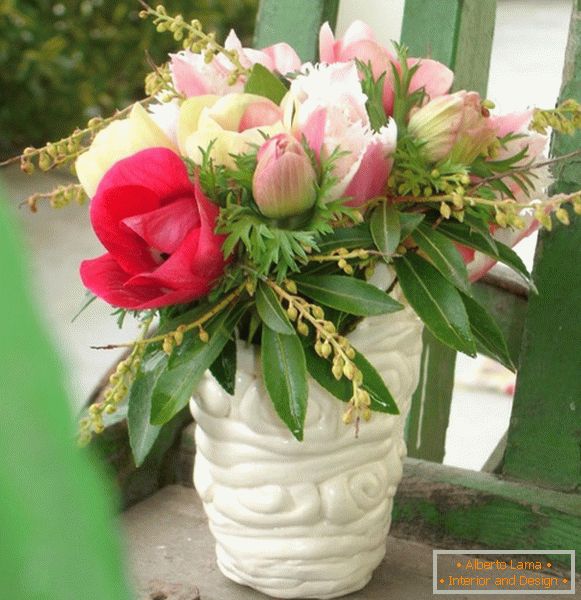 6. Stylish little bouquets
From small flowers - small bouquets! Of course, a lush bouquet of small flowers can also give joy, but to highlight the beauty of each individual plant it is better to use their small number and low small vases.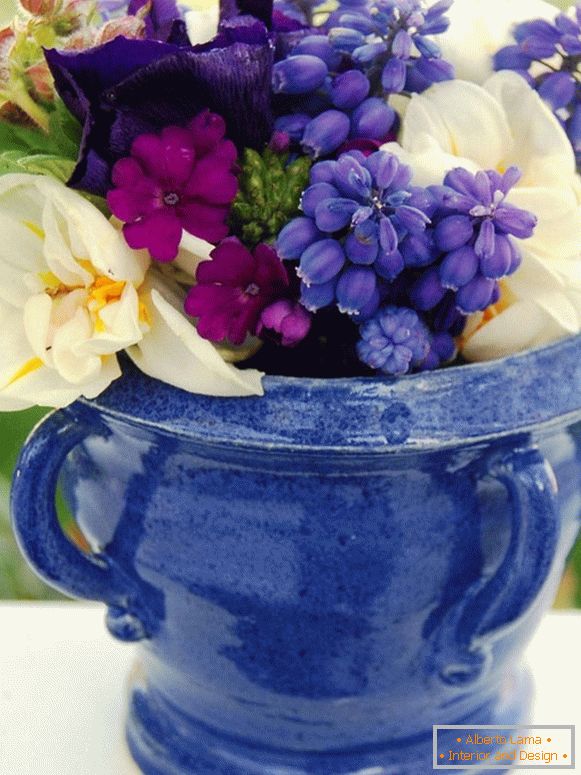 7. Soothing effect in the interior
Light and gentle shades of plants will give you a pleasant and soothing mood every morning, if you arrange them near your bed. See how the next photo glass vase with hyacinths and crocuses gives the bedroom a calm and tender touch of spring.
8. Unordered arrangement of colors
Arrangement of flowers does not have to be clearly thought out and complicated. Sometimes, to create an exquisite bouquet, it is enough to choose 3 different kinds of flowers with a similar shape of a bud and trim their stems to the same height. A good example is in the photo below.
9. A combination of contrasting shades
The contrast between, for example, purple and orange flowers makes the bouquet particularly impressive. A great way to express your strong feelings!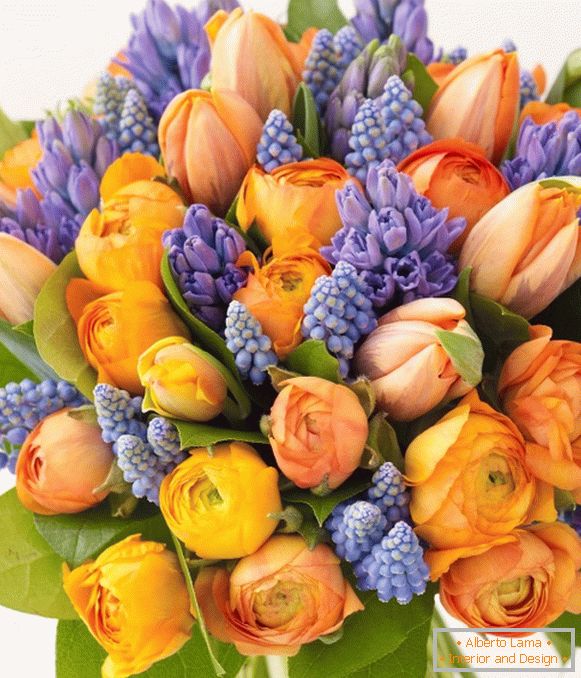 10. Narcissus as an alternative to cut flowers
Recently, flower shops are increasingly offering not only freshly cut flowers, but also plants in pots. In the spring, for example, they thus sell narcissi, which allows them to last much longer than other colors. In the next photo you see how the combination of daffodils and cornel stems in a vase creates an interesting and unusual optical illusion.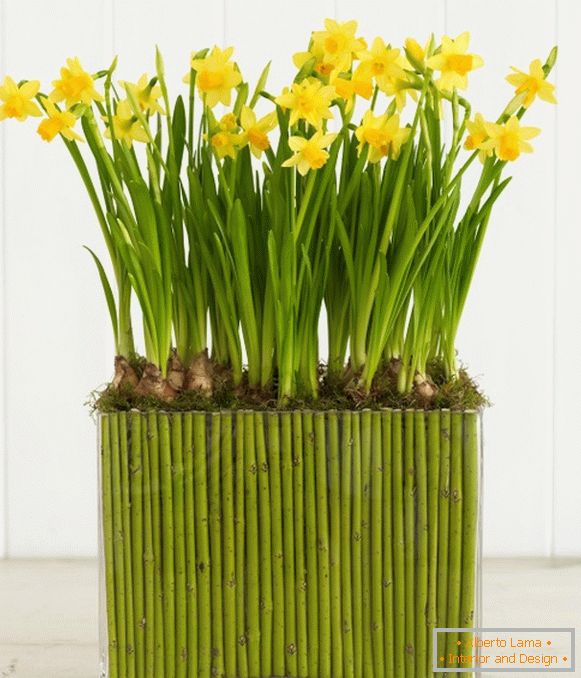 11. Unusual combination of plants
Young irises, blooming under the crowns of horse chestnut, can be an ideal decoration for a long wall shelf or window sill in your interior. Such a unique composition allows us to emphasize the nature and unusual shape of each individual plant or flower.
12. Flowering cherry branches in the Japanese manner
Japanese painting was the source of inspiration for creating this amazing spring composition. An informal vase with cherry branches looks like a tree in bloom and is perfect for decorating a large, spacious hall, living room or veranda.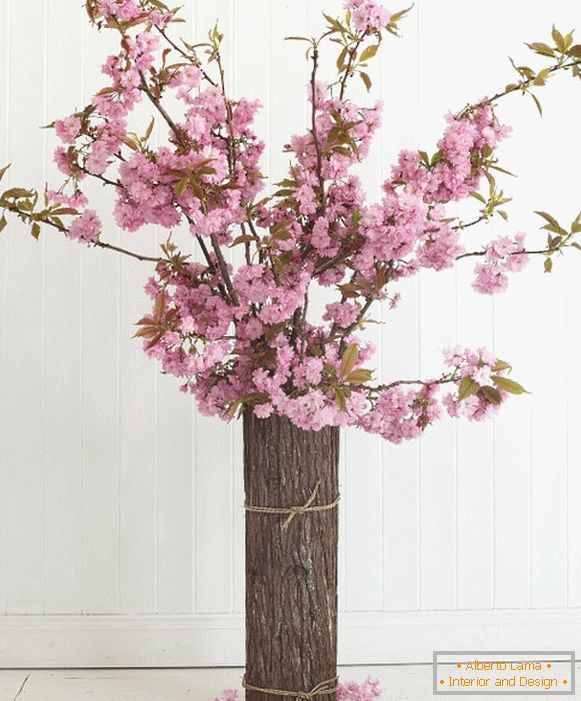 13. A combination of flowers and fruits
Citrus halves add an unexpected splash of color to this bright white-yellow-orange bouquet. In addition, adding sliced ​​lemons, limes or oranges to a bouquet is an excellent way to refresh it before the arrival of guests.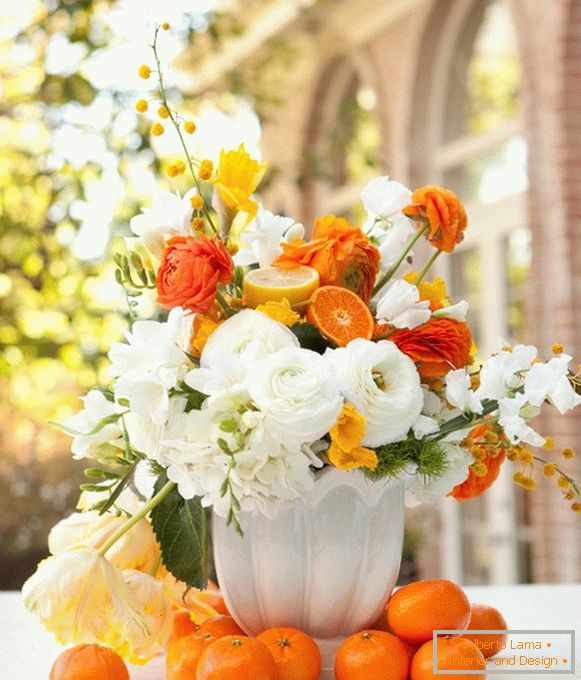 14. Branches and flowers as table decoration
The combination of different branches of trees and flowers allows you to create the most original and bizarre compositions for decorating the table.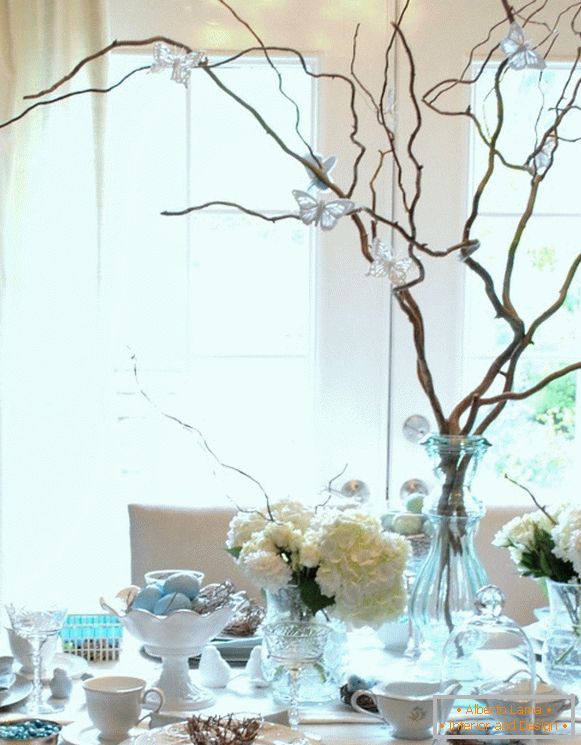 15. Flowers in small bottles
Use fine glassware for a stylish decoration of the window sill with bright and varied colors.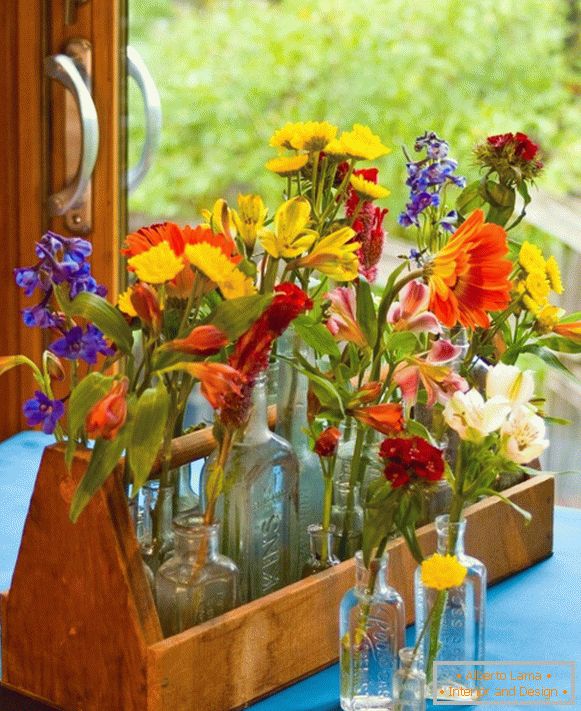 16. Clean and fresh appearance
Silver vase, filled with pastel colors, is ideal for decorating a kitchen or bathroom, where it will help to give the interior a clean and fresh look.
17. Simple and exquisite bouquet decoration
Small flowers, for example, like this sweet pea, are much easier to turn into a cute gift than large plants. Well, is it possible to wrap a beautiful bouquet in a beautiful leaf, for example, from roses? The gentle, intimate look and delicate aroma of such a bouquet, as in the next photo, can give a truly sensual pleasure.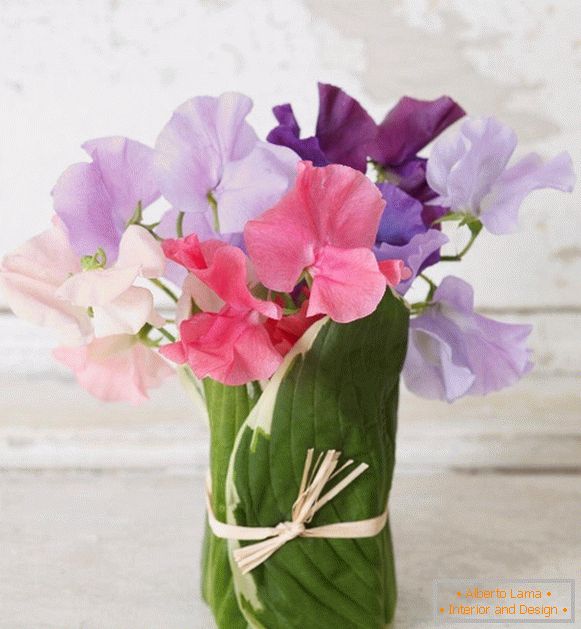 18. Tulips in cups
A simple arrangement can also make a big impression. These loosely arranged tulips will focus on your dressing table, shelf or window sill, and create a favorable environment for a cozy tea party.
19. Classic luxurious bouquet
This impressive bouquet of roses and lilacs seems to embody the abundance of flowers, but in fact most of it is carefully organized green leaves or plants. Such a luxurious bouquet will simply look stunning in a minimalist interior design.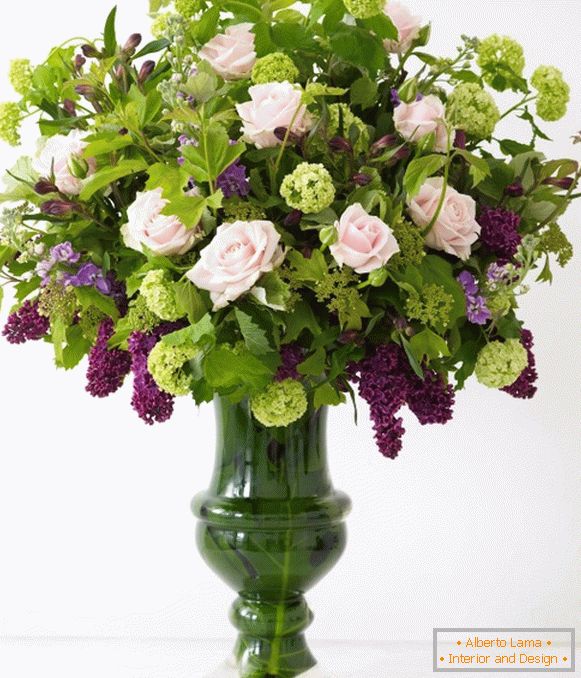 20. Pitcher in the role of vase
Some bright flowers, such as lilacs, look particularly beautiful, being cleaned in the simplest pitcher or monophonic light vase.
21. Well-considered spring composition
This exciting, colorful and energetic arrangement of flowers is distinguished by a unique combination of 3 different shades of pink with the addition of fresh herbs and natural wood. Bright and unusual festive decoration for the interior!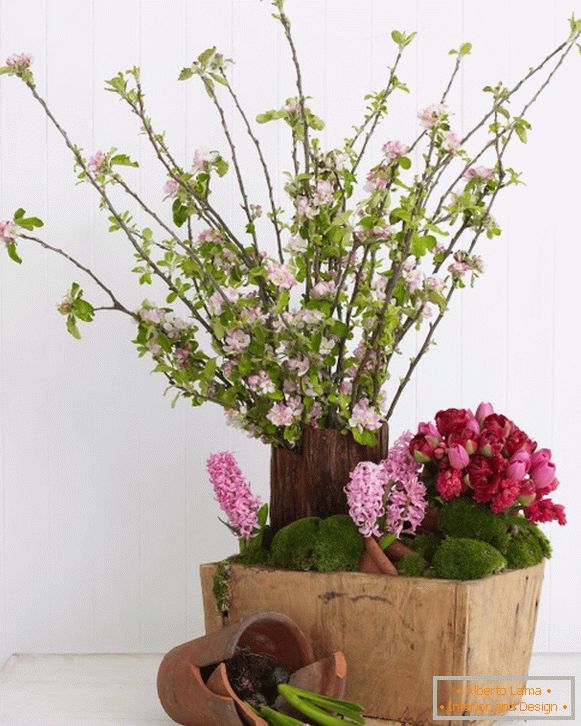 22. The main precursors of the spring
Snowdrops, lilies of the valley, hyacinths and other well-known harbingers of spring can create a spring mood in absolutely any interior. At the same time, an ideal container for them is a small and contrasting ceramic vase.