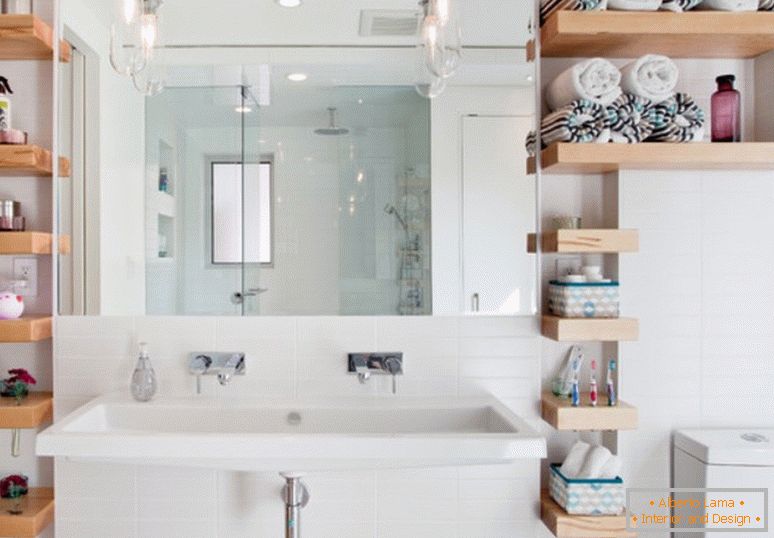 Making a small bathroom: tips and ideas for organizing optimal storage
The decoration of a small bathroom can be made functional, convenient for owners and very beautiful. We present an overview of 44 products and ideas that can help save space, eliminate clutter and create a bright and neat image.
Speech will go about four categories of compact accessories and furnishings:
for vertical storage;
to increase the usable space in the lockers;
bathroom furniture;
various storage devices.
Stylish textiles - towels, rugs and shower curtains - will make the small bathroom elegant and cozy.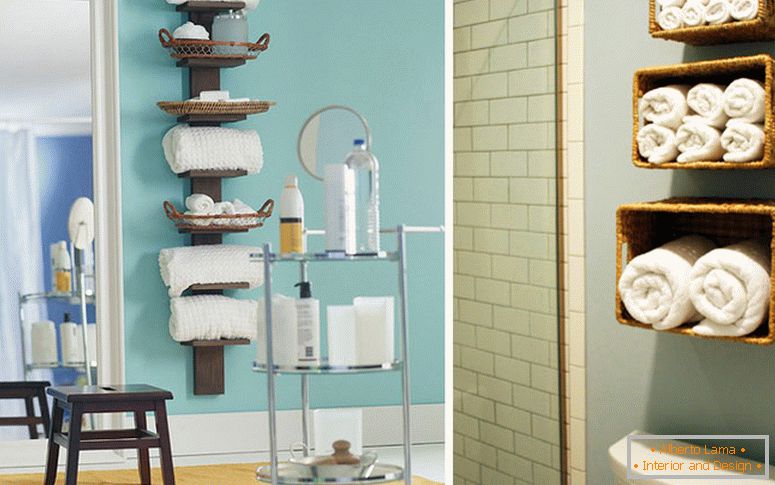 Ideas for organizing storage on walls
Lack of extra space in small bathrooms is a common problem. In them it is very difficult to place all hygienic supplies.
Defeat the mess in your bathroom by placing special devices on the walls:
Narrow open shelves are a versatile option for placing various items.
Shelves, which are usually hung in the kitchen and used to store seasonings. They are compact and therefore do not clutter up space. Perfectly suitable for small items.
Magnetic strips. In the kitchen, they are used to store knives. In the bathroom they can be hung with hairpins, nail clippers and other small items made of metal.
Suspended baskets. They can be placed in two ways - the bottom or the back surface to the wall.
Wall cabinets in mini format. Choose narrow models, supplied with some useful addition. For example, a mirror on the door.
Shelves for towels. Fold or twist the towels in the same tight rollers, so that they take up less space on the shelves and look stylish and neat.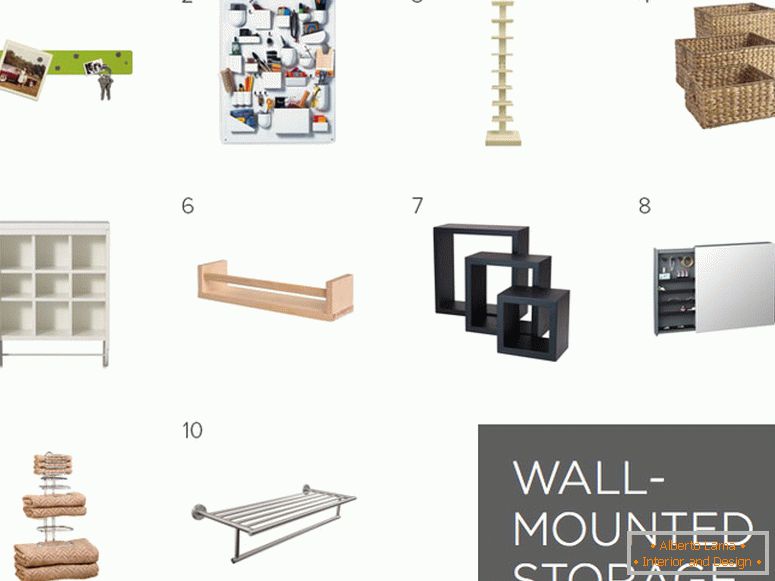 The numbers of objects in the photograph correspond to the order of transfer
1. A miniature magnetic strip Bulletin Board ensures the accurate storage of metal objects.
2. Uten.Silo from Dorothee Becker is an organizer in the classical design that is suitable for storage of personal hygiene items on the wall.
3. Book shelves Proman Spine Book and Media Tower are suitable for storing towels, baskets and other items.
4. Pier 1 Imports Carson Shelf Storage baskets have a metal frame, strong enough to be attached to the wall.
. The wall organizer Martha Stewart Living Craft Space consists of convenient drawers and a holder for towels.
6. A shelf for cans with Bekvam seasonings from Ikea can be painted in any color. It can accommodate small bottles with perfume or cosmetics and other small items.
7. Wooden shelves of the square form of nexxt Cubbi from AZ Home and Gifts can be hung in any order.
8. A narrow locker with a SAIC Valet mirror, designed for storing jewelry, will become a versatile and functional piece of furniture for the bathroom.
9. Shelves for Organize-It towels improve their storage.
10. Minimalist regiment Gatco Latitude II combines a heated towel rack with space for storage of spare towels or boxes.
Tip: in the stores of kitchen accessories you can find a lot of storage items that will look good in the bathroom.
Ideas for increasing the usable space in the lockers
The big problem of compact bathrooms is the excessive depth of the cupboard under the washbasin and drawers. Search for small items in them is very difficult. Plumbing pipes can create problems. We offer you several ideas:
Drawers. They can be selected in the kitchen accessories department and installed in the bathroom cabinets.
Metal shelves and baskets for the shower. They are easy to attach to the shower and help to use the space around the pipe.
Additional shelves. Replace existing shelves with convenient, more functional and efficient ones. If there is not enough room in the bathroom, then such shelves can be hung on the bar for the curtain of the bathroom.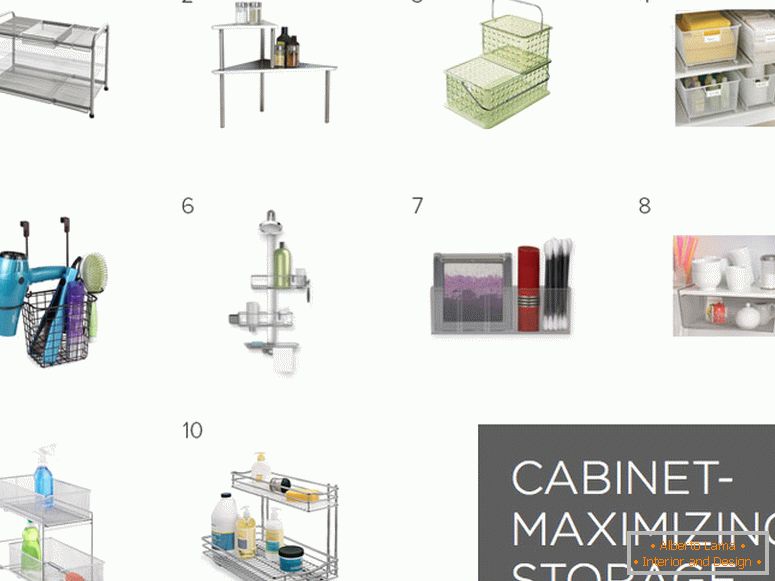 The numbers of objects in the photograph correspond to the order of transfer
1. The ORG 2-Tier Mesh wheel can grow with your storage needs growing.
2. The mini-stainless steel rack Cook N Home will fit in a corner above the bathroom.
3. Stackable Green Grid Totes allow you to easily find any detail.
4. Boxes Sized elfa Mesh Easy Gliders Solution allows you to maximize the use of a narrow space around the pipe under the sink.
5. A rack with a basket Organize It Over will help keep the combs and hair dryer in one place.
6. The position of the metal shelves for the Simplehuman shower can be adjusted.
7. StickOnPods are a great solution for hanging light, small objects. Attach them to the mirror or to the cabinet door.
8. The Design Ideas basket can be attached under any shelf.
9. Storage box Silver 2 Drawer Mesh Organizer is equipped with comfortable skids.
10. Lynk wheelbarrow is multi-level and mobile.
Tip:
creatively approach the use of every inch of your bathroom.
Bathroom furniture
If a small bathroom has a sink with a pedestal, it is impossible to use the space around it for storage. Use high and narrow cabinets (pencil cases). There are several other items that can help you organize the area of ​​the room:
Narrow cupboard over the toilet.
Storage devices in the angular spaces.
Holders for towels with baskets.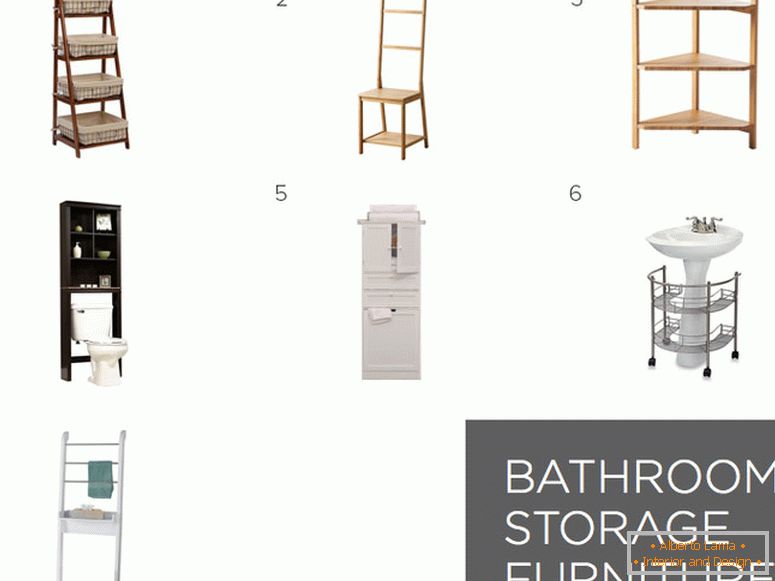 The numbers of objects in the photograph correspond to the order of transfer
1. Pottery Barn Benchwright is an attractive, compact piece of furniture that can solve the problem of shortage of storage space.
2. The Ragrund chair from Ikea can be used not only for its intended purpose, but also as a towel holder.
3. Corner shelf Ragrund from Ikea is combined with a chair and allows you to use the corners of the room.
4. The Sauder Peppercorn shelves are suitable for placement above the toilet.
5. The corner cabinet of Elite Home Fashions Taylor is supplemented with a pull-out laundry basket.
6. Shelf-organizer Bed Bath and Beyond neatly girdles the pedestal of the sink.
7. A very narrow Monarch shelf is made in the form of a ladder.
Tip:
Angular furniture efficiently saves space.
Storage Containers
Useful little things are best kept in attractive jars, boxes, organizers and baskets. Here are some solutions for compact storage: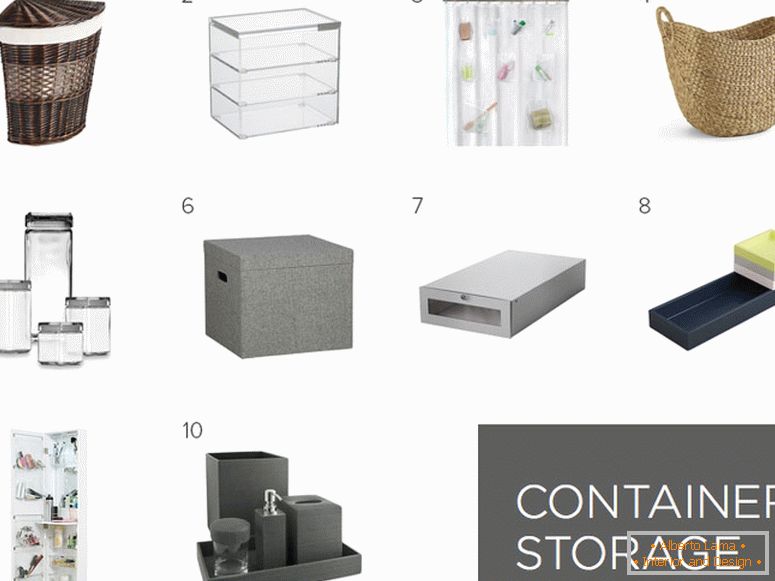 The numbers of objects in the photograph correspond to the order of transfer
1. A large wicker basket with a cover of Better Homes and Gardens Wicker fits easily in the corner.
2. A set of three boxes CB2 Format is able to accommodate all necessities.
3. The shower curtain with pockets Maytex PEVA implements an excellent way of storing jars and sponges.
4. Basket West Elm - a wonderful device for storing towels or toilet paper.
5. Cost Plus World Market - glass jars with lids and stickers that help sort out all small items.
6. A large felt box with a CB2 cover is suitable for placement on the floor.
7. The Hyfs box from Ikea is designed to store shoes, but it can also come in handy in the bathroom. A convenient addition is a transparent window on the front side.
8. In fashionable boxes from CB2 you can store jewelry.
9. Mirror Door Solutions Over and the Cosmetic organizer is best placed outside the door.
10. A set of accessories Asiaphile Buntal Granite combines handmade work with an elegant modern design.
Tip:
Sign banks and boxes to easily find the right one.
Stylish essentials
After you have organized convenient storage areas, focus on increasing the attractiveness of space. The small size of the bathroom should not prevent you from decorating a stylish interior. Fashionable colors and textures will divert attention from problem areas. Here are some items that can be useful in creating a stylish design:
Spectacular shower curtain.
Textured mat.
Funny towels.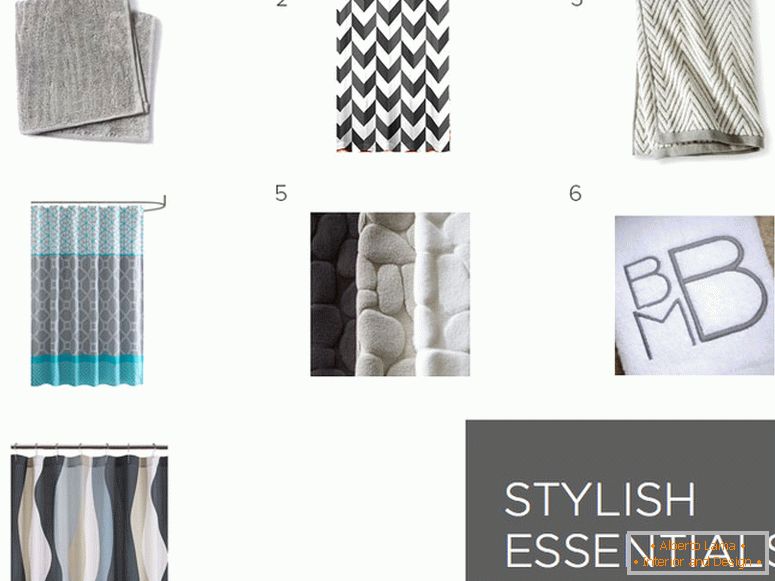 The numbers of objects in the photograph correspond to the order of transfer
1. Towels West Elm Organic unusual and fashionable texture, imitating a tree.
2. Bed Bath and Beyond Razor - shower curtain in a fashionable gray with beautiful ornaments.
3. Textured towels Target Threshold duplicate the curtain ornament.
4. Blind for the bathroom of microfiber Intelligent Design Clara - a very durable accessory with an interesting design.
5. Bath mat Privet House has a luxurious texture, imitating river pebbles.
6. Modern towels with monograms from the Avenue Custom
7. Shower curtain with wavy ornament from Crate and Barrel is combined with any color scheme.
Tip:
 choose three fashionable shades for the interior design of your bathroom. Whether they contrast with each other or complement each other, this combination will create the illusion of space.
We hope that these accessories, ideas and tips inspired you to update the interior of your bathroom. Now you are convinced that it can easily be made functional, neat and beautiful. Just choose the solutions that you liked the most.