Create a Christmas mood is not difficult at all, especially if your little fidgets become helpers. Let's break the stereotypes that adornments of the interior should only be dealt with by adults. Imagine how surprised your friends and relatives will be when they learn that their beauty has been born to your children! And the kids themselves are always happy to respond to the proposal to engage in common creativity, especially on the eve of the merry and long-awaited holidays. In gratitude for the hard work, one should not forget about the decor of the children's room for restlessness. Do not know how beautiful, and most importantly, safely decorate the nursery? No problem, we will help! Below are a few of the most popular, interesting, and most importantly absolutely affordable handicrafts for your kids.
We make a Christmas tree with our own hands
We sew merry Christmas socks
We decorate the windows
Lovely Snowmen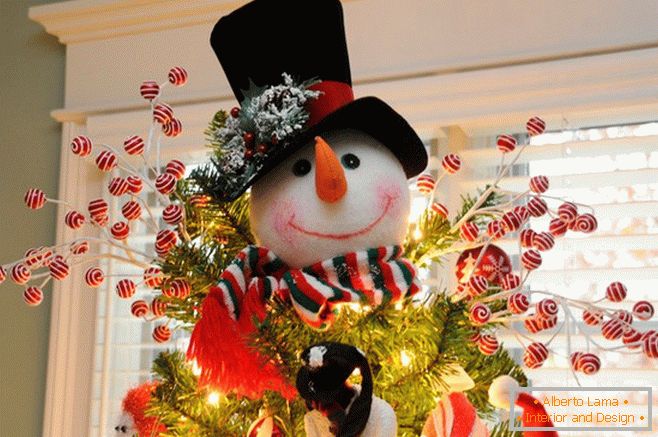 We make a Christmas tree with our own hands
The tradition to establish a Christmas tree on Christmas holidays exists a very long time ago. Usually it is placed in the living room, in the most prominent and convenient place. But why not add a piece of festive mood in the baby's room? Let the tree be unreal, but necessarily elegant. It's easy to make by yourself. There are the following ways:
festive fir-tree. This craft is sure to please your fidgety kid, because it's so interesting not only to watch, but to participate in the process, when from ordinary materials you get a completely unusual and beautiful composition. You only need one sheet of cardboard, pasta of different shapes (you can have the same kind), glue, paint. From the cardboard we make a cone, which with glue adorns with pasta. There is a huge field for flying fantasy. Let the kid himself decide what arrangement of the details he likes most. When the workpiece is ready, then it is colored with multicolored paints;
Christmas tree made of corrugated paper. Such a tree will never prick the child's tender fingers. For manufacturing you will need a corrugated paper of one or several colors, scissors, a stapler, threads with a needle, a wooden stick. From the paper we cut out two identical rectangles, alternately each of them is folded into an accordion and beautifully shaped, then folded in half and fixed with a stapler. From each rectangle you get a detail resembling a fan. We fix them together, we tie the middle with a thread, one of the levels of the future tree is ready. The number of levels and their size is determined individually. When all the elements are made, it remains only to string them on a wooden stick.
herringbone from pompoms is beautiful decorate the interior of the children's room for the girl, besides, your daughter will be most interesting to participate in its creation. For the craft, you need pom-poms (you can make them yourself or buy ready-made ones), a wooden stand and superglue. It's very simple. Three pompoms are connected together, one more is fastened on top - the top of the tree is obtained, then the whole construction is assembled on the same principle, which is then glued to the wooden support.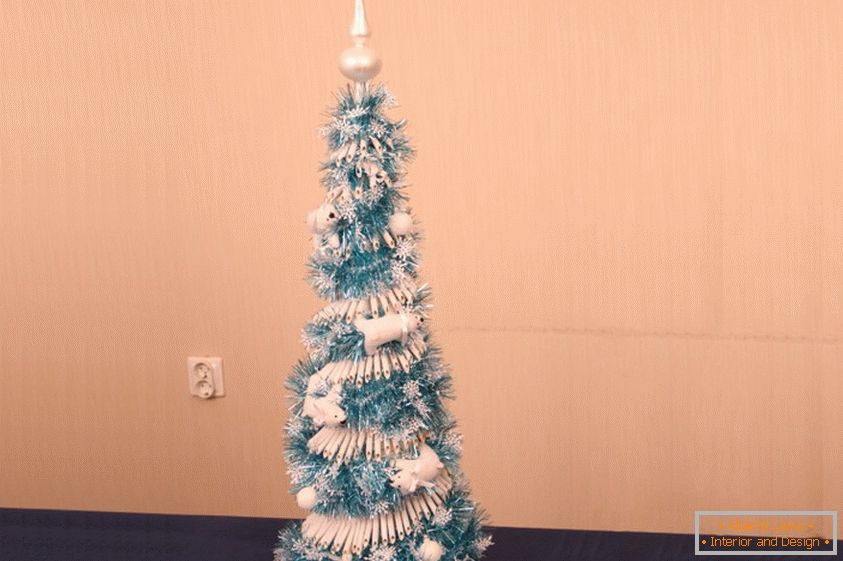 There are infinitely many options to make a festive tree. Their main advantage is that you can not worry at all that your little fidgets can get hurt or smash these crafts, they are absolutely safe.
We sew merry Christmas socks
Large Christmas socks - this is not only one of the main attributes of the holiday, but also a fun adventure, it's so cool to languish in anticipation of finding out what's inside. They will take very little time to produce. They are sewed so easily that even young assistants will cope with such a task. The most important thing is to decide on the form and draw a pattern. Next thing for small. Choosing a dense material, ideally it is a soft fleece, cut out the details according to the pattern and stitch it from the wrong side. Then the toe must be turned to the front and ironed well. Beautifully and neatly make out the top part of the product and sew a small loop. Everything, the perfect decor element is ready!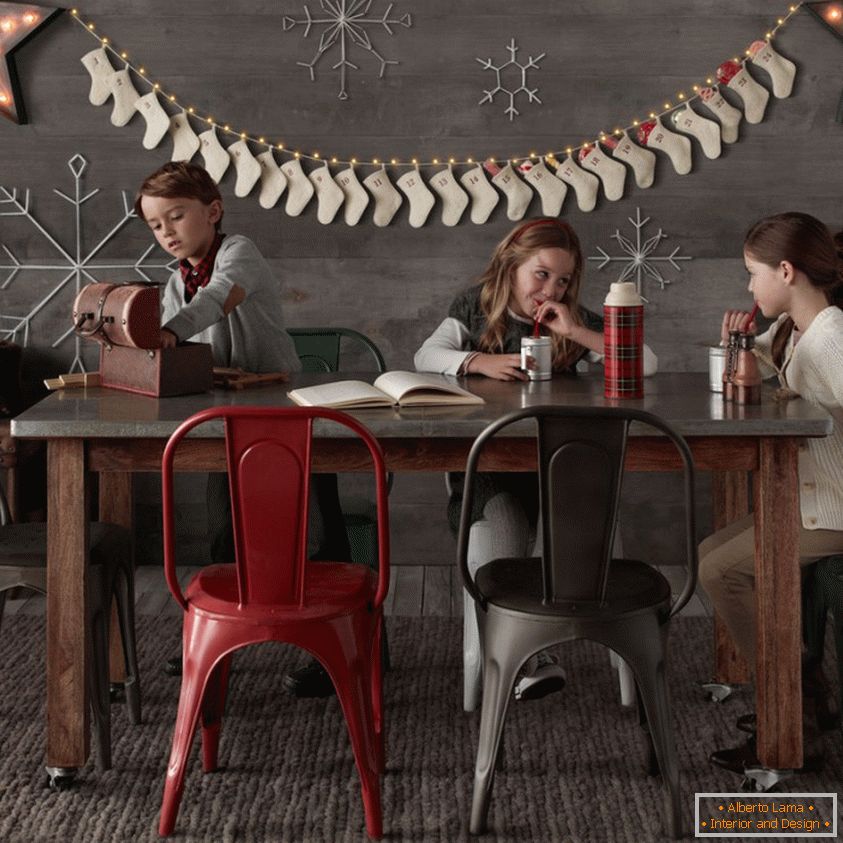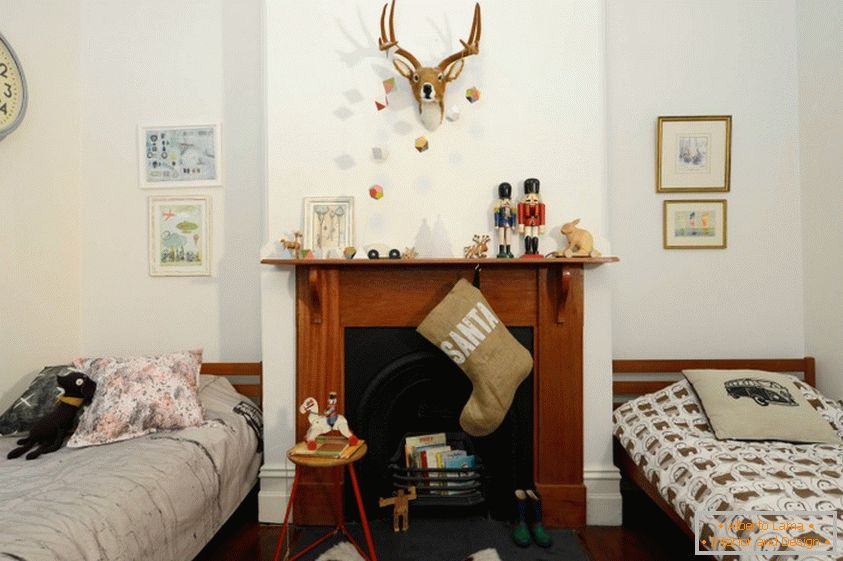 We decorate the windows
It so happened that often, when we prepare a children's room for the holidays, the weather may not please white and fluffy snow at all. Do not get upset, because you can create a fun and snowy atmosphere yourself. First, you need to make several stencils with images of snowflakes. The benefit is now on the network you can find them for every taste or draw by yourself. After selecting models, print them out and carefully cut out the extra elements. We buy artificial snow in the decor store, and we are ready to create. Your baby will be just happy to see merry snowflakes or other beautiful drawings on the window.
Snowflakes can also be cut from paper, they will look beautifully hung from the ceiling.
Lovely Snowmen
In the interior of the children's room will be very interesting and cute snowmen. They are made of cotton buds, threads, paper, pompons and even socks. How? Easily. Let's talk about some of the ways:
crochet snowman. We will need to pack the cotton buds, how much depends on the desired size of the snowman, plasticine, scissors and decorative elements for decoration. From the plasticine, we form three balls of different sizes, we cut the cotton buds in half and insert one into the balls tightly to each other until there is no space left. Eyes, nose and mouth of a snowman can be painted with paint or decorated in some other way;
snowman from threads. To make such a model you will need a hank of thin threads, preferably cotton, several air balls, glue, and a needle. Balls are inflated to a different size, using a needle pierce the jar with glue PVA and thread the beginning of the thread. Then we wind the thread over the entire surface of the ball. When there is no free space, we let the workpieces dry. Balls burst and are extracted outside. Finished items are collected in a snowman and decorate it;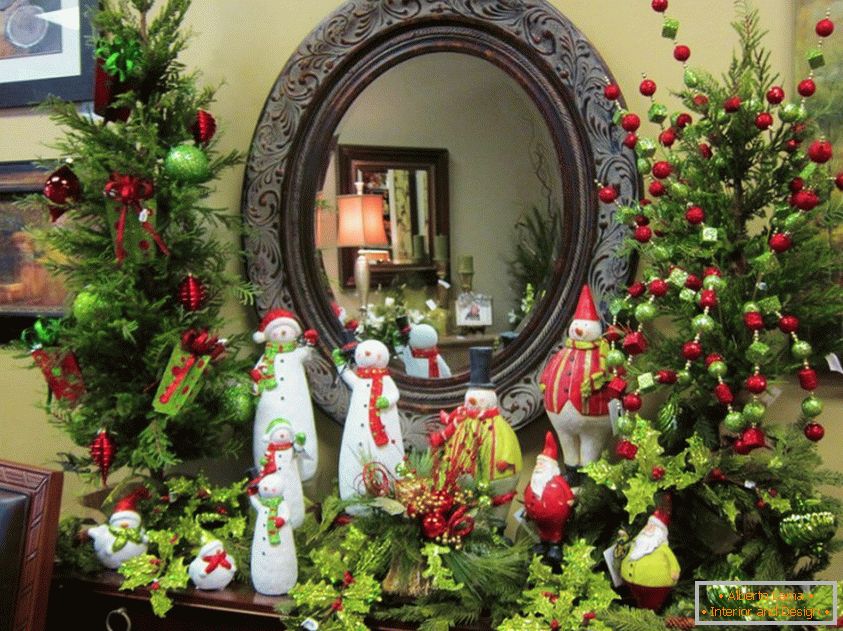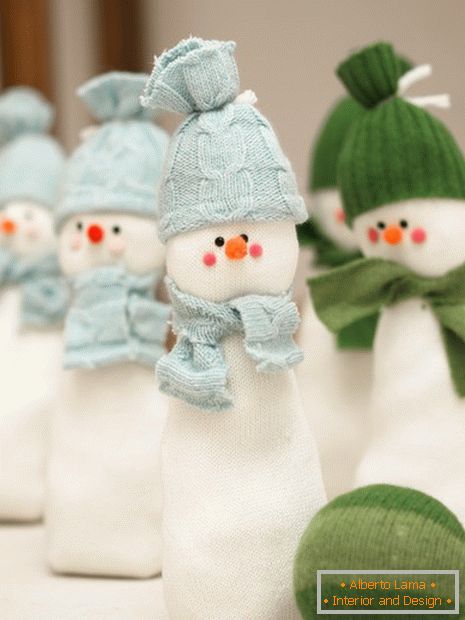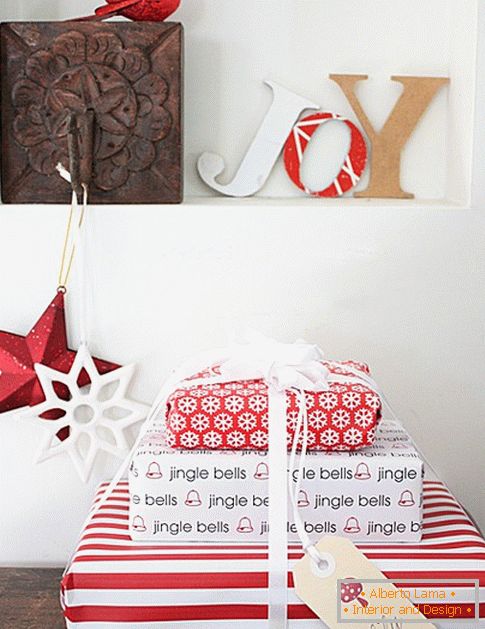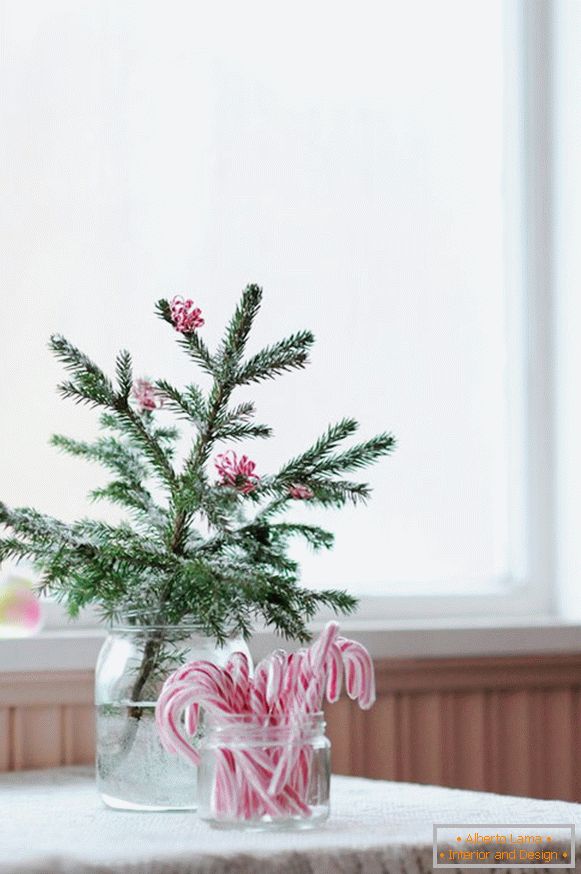 To issue children's clothes for the holidays will not be difficult. A little patience, zeal and fantasy and beautiful, and most importantly, safe jewelry is ready. We know for sure that you have many own ideas on this topic. Be sure to share them with us in the comments.