If you like to be in a trend, then this article is definitely for you. We present you a brief overview of the new collections of home decor produced by the world's leading brands: Cristian Lacroix, Ralph Lauren, West Elm, Elitis, Designers Guild, etc. What will be fashionable this fall? What patterns, colors and materials are worth choosing for home this season? You will learn further.
Main trends of autumn 2015
Autumn has traditionally been associated with the end of the vacation season and the beginning of a new training / working period. Therefore, the main autumn theme is always a slight nostalgia for the old days. But besides this, autumn is also time for harvesting and the time when trees change their color. Autumn is a rich and generous time.
This year, designers have tried to create collections of interior items that best embody these two sides of autumn: nostalgia and luxury. Let's start to get acquainted with them, finding out ...
Fashionable colors and color combinations this season
The world's leading color expert, the Pantone Institute, has produced an exclusive color palette for this autumn, combining neutral earthy hues with a range of bold and cheerful tones that can also be found in nature. The palette is presented in the following photo: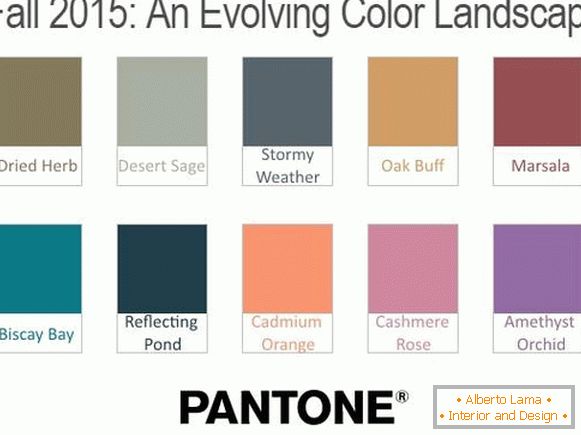 As you can see, among the fashionable colors from Pantone is still the wine shade of Marsala, called the color of 2015.
The general idea of ​​the color palette, according to experts Pantone, is to match the shades from opposite sides of the spectrum, in order to emphasize their balance and confidence on the way forward. All colors are designed to evoke memories of love for nature and timeless gratitude to the things that patronize us.
"This fall, designers pay tribute to the progressive moments of the last century - from the seductive 20s to the bohemian hippies and modernists of the 60s and 70s - through shades and styles that initially easily fit both men and women."
To follow this idea does not necessarily strictly adhere to the color palette of Pantone. So, in the new catalog of the Canadian brand The Urban Barn, we found not only fascinating interior items, but also stylishly selected color combinations, which should be taken note this fall: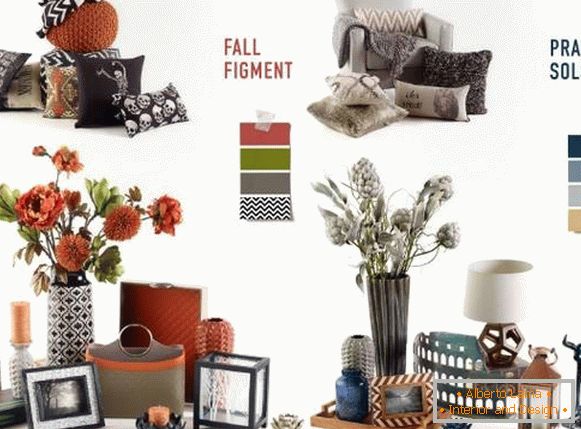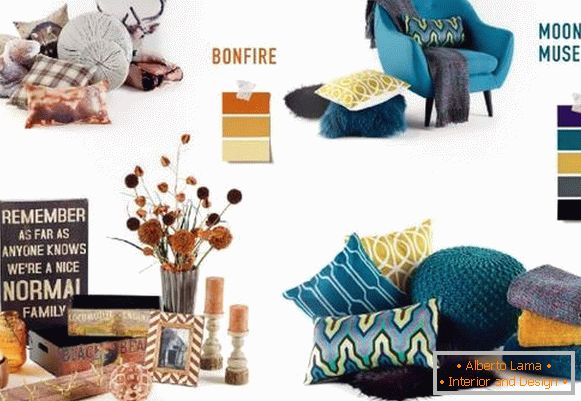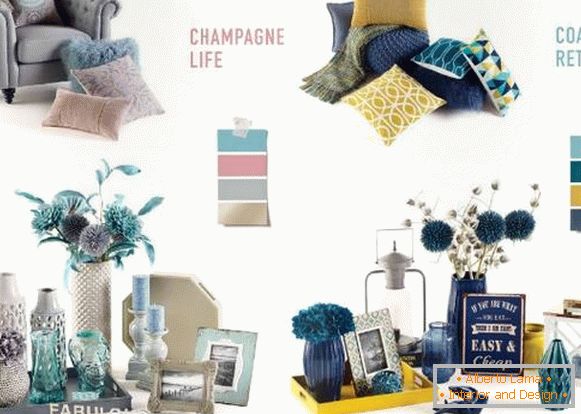 Do you want to choose your own color palette? In this case, designers are advised to adhere to calm earthy shades, designed to balance our disturbing lifestyle, and add to them deeper shades that warm the soul: pumpkin, salmon, turquoise, terracotta, nevi, figs, whiskey, merlot etc.
It is also expected that closer to the winter in fashion will include soft blue and blue tones (note the last two color schemes).
Stylish interior items. Decor overview Autumn 2015
If you want to update the home decor this fall, then you should pay attention to the interior items that were popular in the middle of the last century. Thin Paisley ornaments, geometric patterns, cage, tweed and shabby skin are confidently returning to fashion.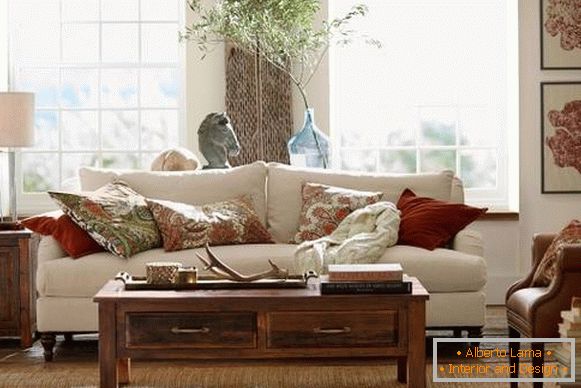 Interior items from the Pottery Barn brand (Autumn 2015 collection)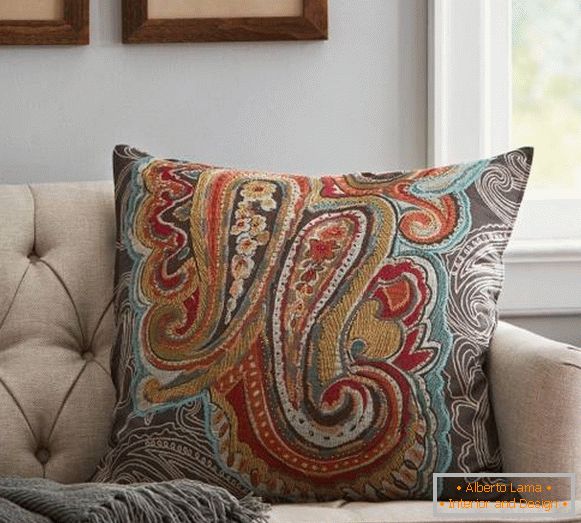 Patches of Paisley in the new collection from Pottery Barn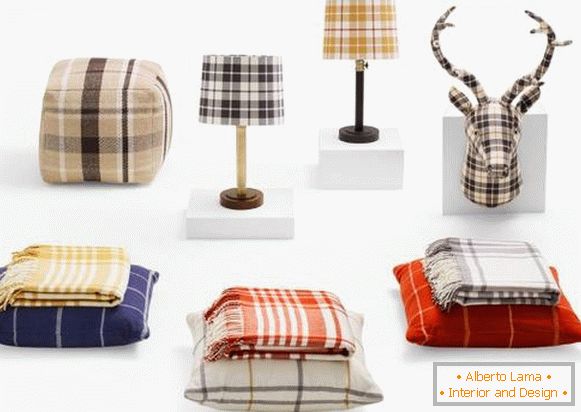 The pattern in the cage is back in fashion (a collection of decor from the brand Target)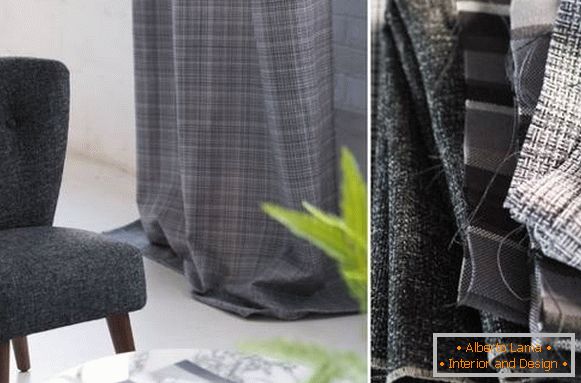 Collection of fabrics "Tweed" from Designers Guild
For sure, this is good news for fans of country style. The same people who do not like the old "grandmother's" patterns, designers advise paying attention to the delicate modern geometric patterns, which in new collections of decor 2015, more than enough.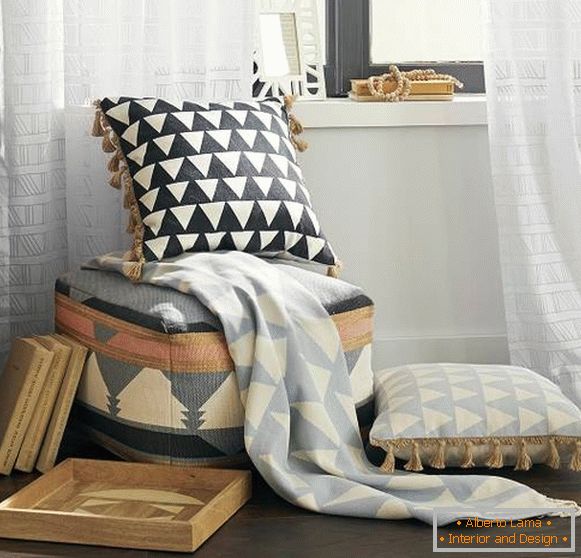 Pillows and ottomans from the designer Nate Berkus for Target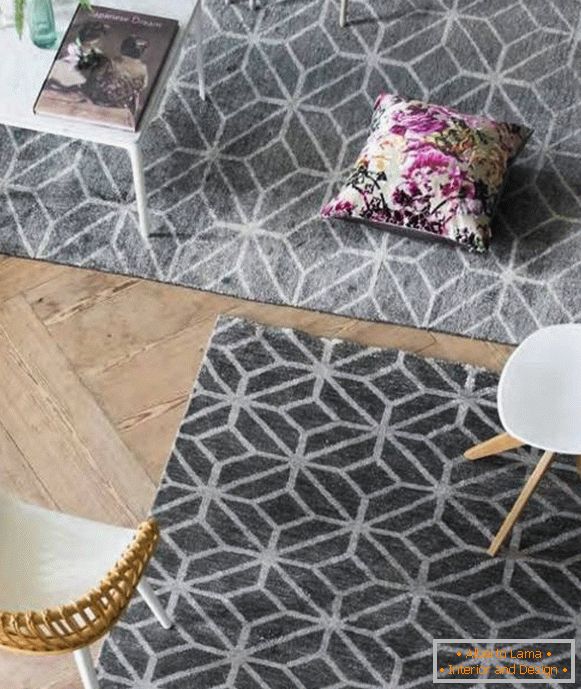 Carpets from the brand Designers Guild (Autumn-Winter 2016)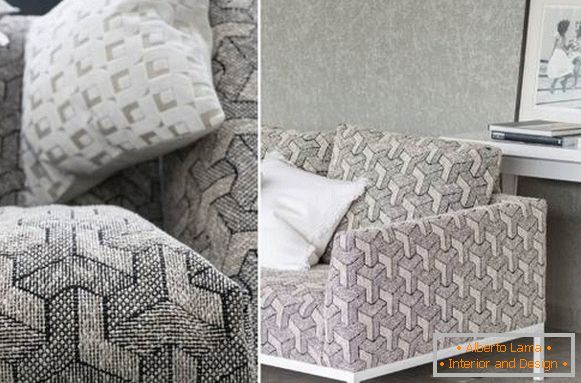 Furniture fabrics Pugin from Designers Guild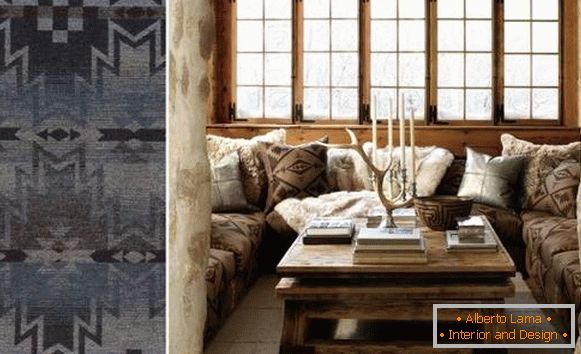 Upholstery fabrics and decor from Ralph Lauren
It should be noted that such patterns perfectly look against the background of pleasant natural shades that have become fashionable this season. Soft colors are designed to soothe and give warmth, while subtle ornaments make the interior bold and expressive. But this is just one of the ways that you can go when updating the design of your home this fall.
Another way is to follow the best Scandinavian traditions and give preference to light colors, minimalism and organic forms. Expressive and warm, as if warmed by the sun, interior items in Scandinavian style - unconditional trends in autumn 2015.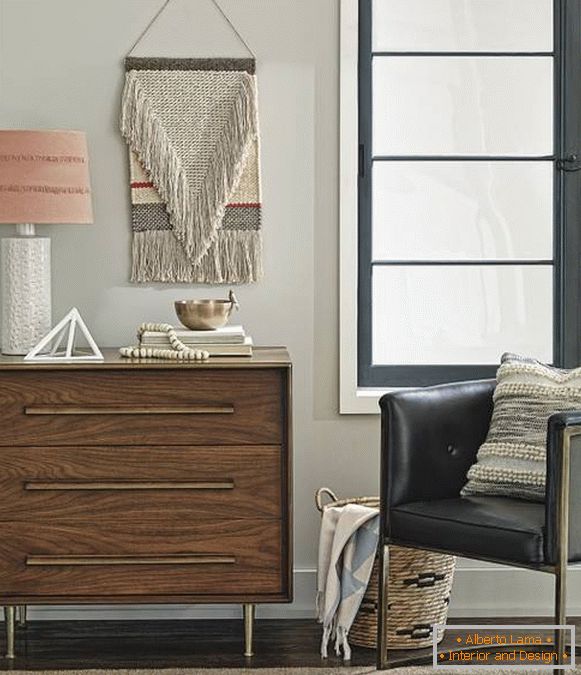 Nate Berkus for Target 2015 Decoration Collection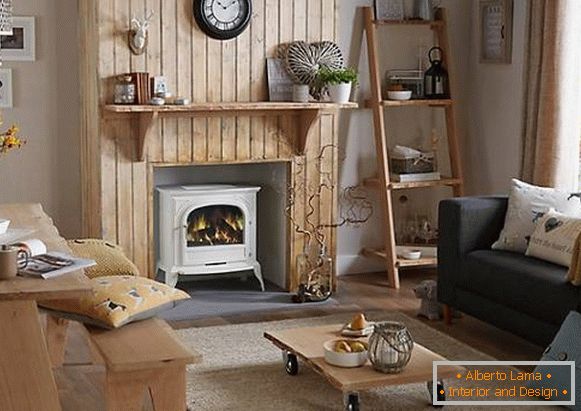 Домашний декор от B&Q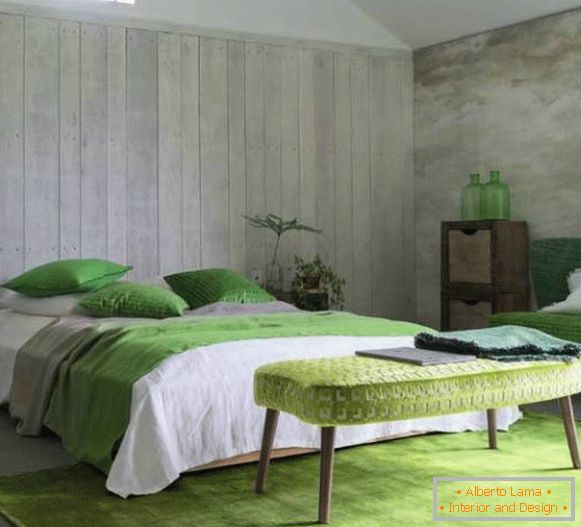 Interior photo from Automn-Winter 2016 catalog from Designers Guild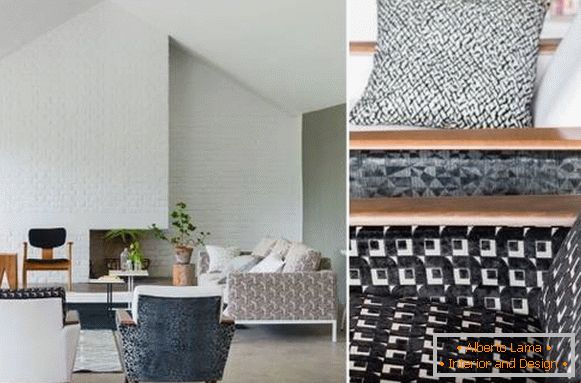 Design and interior decoration from Designers Guild
One can not but note the growing popularity of dark shades in the interior. Do you think that autumn is too dark for the time being? And here not! Dark gray and black wallpaper, carpets, furniture fabrics and other decorations look very nice and cozy in combination with fur, leather and knitted products, as well as shiny metal and glass surfaces.
Interior items Ralph Lauren Home Fall 2015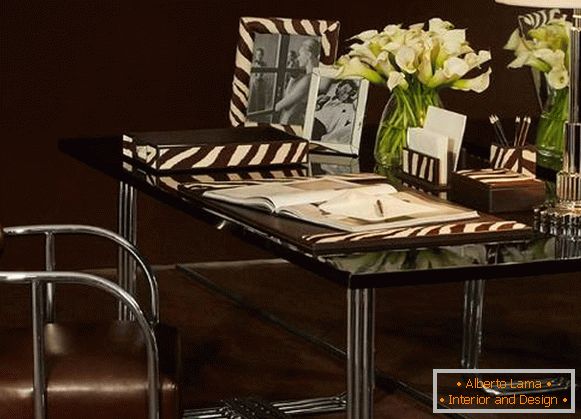 Decoration from the collection of Penthouse Suite by Ralph Lauren
Stylish decor Penthouse Suite by Ralph Lauren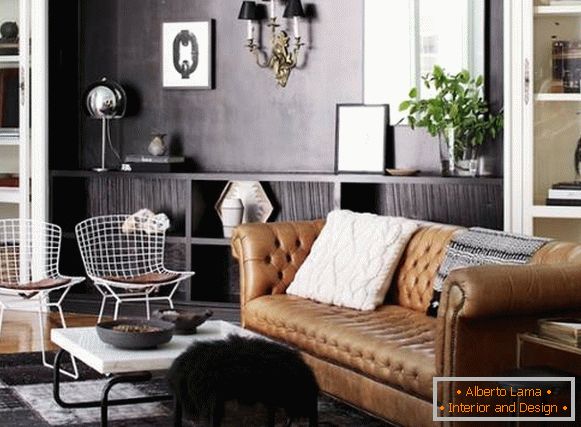 Design and interior items from Nate Berkus for Target
But despite the fact that earthy natural tones are the obvious trends of autumn 2015, in new collections of decor there was also a place for bright and cheerful shades and patterns that will not let you get bored in anticipation of summer.
Decor Collection 2015 by Christian Lacroix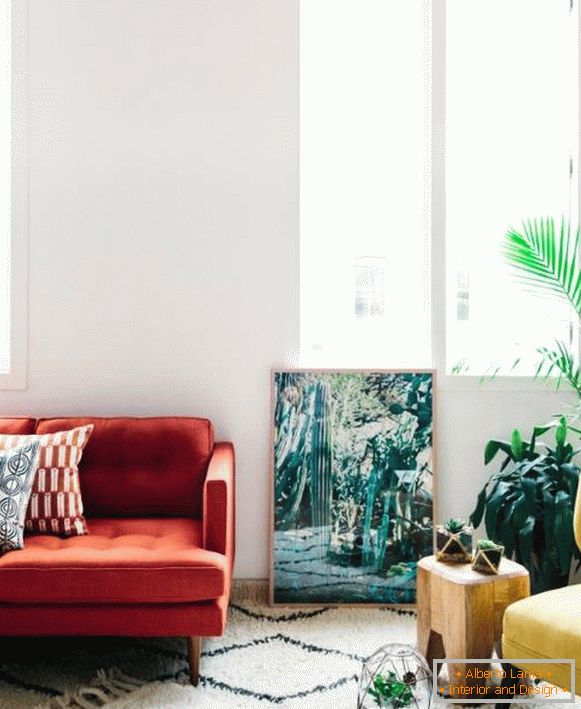 Interior photo with decor from West Elm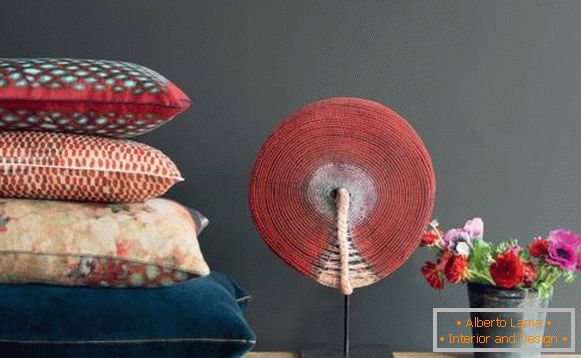 Fabrics and wall coverings 2015 from Elitis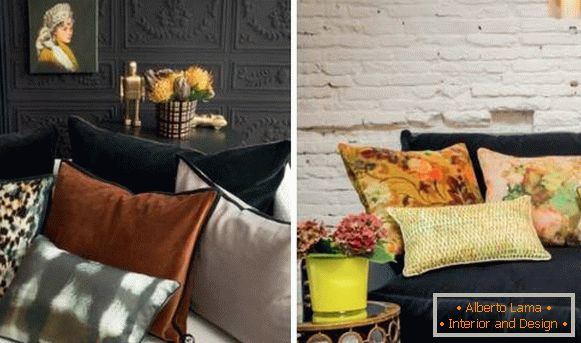 Home decor from the French brand Elitis
Autumn collection of decor from Elitis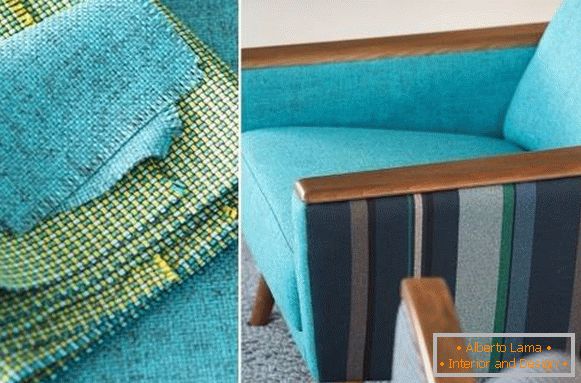 Bright tweed from the Designers Guild brand for Autumn 2015
As you can see, the trends of autumn 2015 include stylish interior items for every taste and color. The key idea that you can follow when choosing a decor for a house this fall is the combination of opposites: bright and dark, new and old, glossy and matte, warm and cold.
So, the combination of various kinds and shades of metals is welcomed: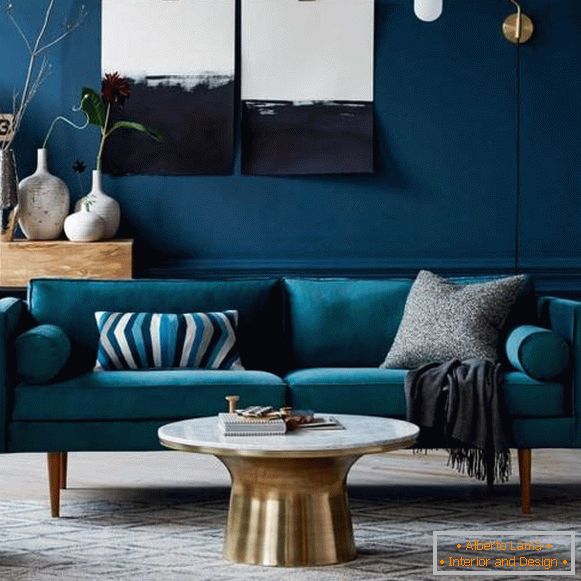 The combination of different shades of metal (decor from West Elm)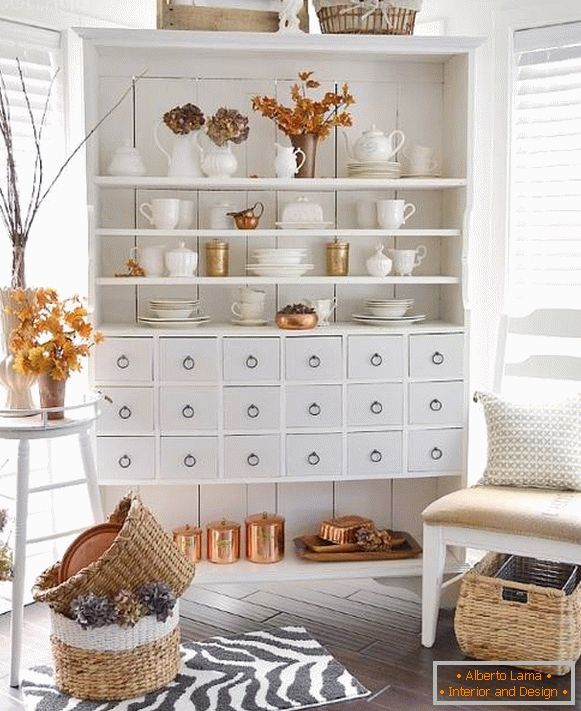 Warm metallic shades and white decor
And also a combination of strict black and white with various warm shades, which creates an invigorating and visually interesting effect: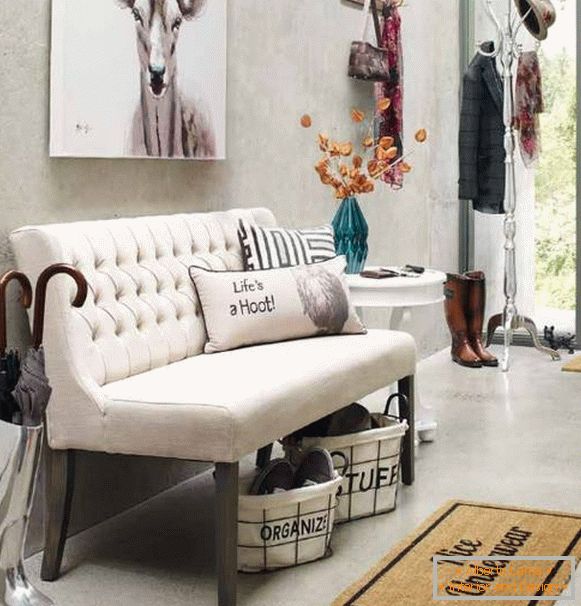 Decor for the hallway from The Urban Barn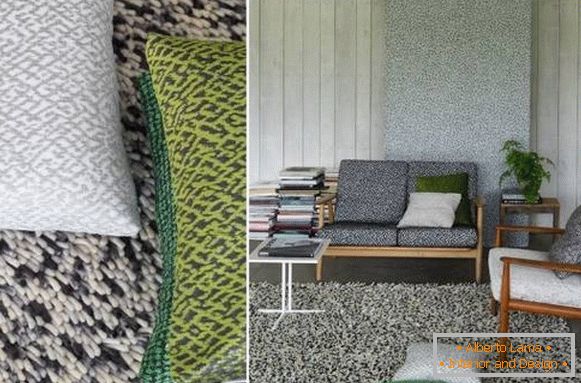 Design and interior decoration from Designers Guild
Finally, if you are not going to make major changes to the interior design, but just want to add a couple of new elements, then safely choose animalistic motives (despite the fact that they are on the list of the most controversial trends), as in the following photos.
Interior items Fall 2015 from The Urban Barn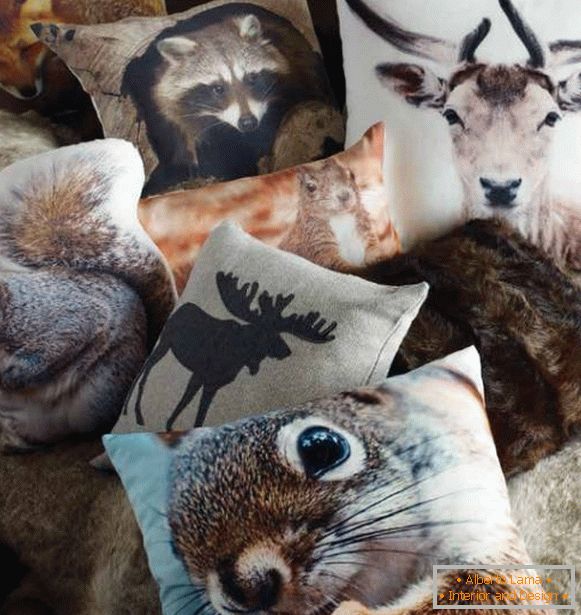 The new collection of pillows by The Urban Barn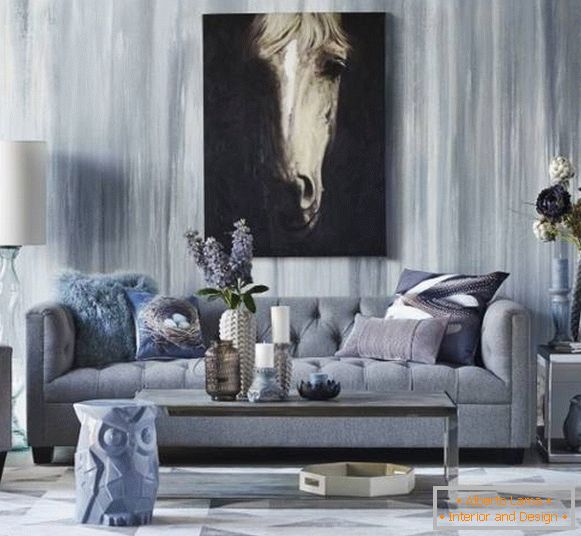 Trends of the Fall 2015: Animal Decoration by The Urban Barn
On this, our small survey of new collections of decor and trends in the fall of 2015 came to an end. Stay with Dekorin if you want to keep abreast of the latest trends in the world of house and apartment design, and also have a permanent source for inspiration with beautiful photos!