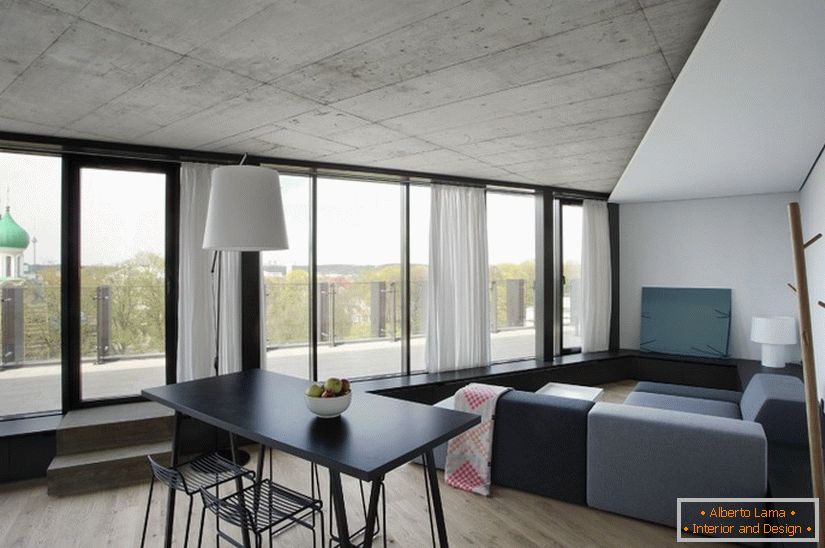 Vilnius features an impressive cultural environment and magnificent architecture. In the city a large number of beautiful buildings, on the sixth floor of one of which is a studio apartment, the design of which worked specialists studio Inblum.
Before the architects Laura Malceaite and Dmitry Kudin, representing the studio, faced a difficult task: it was required to visually expand a small living space with a total area of ​​57 square meters. for a nonresident client who often visits the capital of Lithuania.
Denoting the main emphasis on the functionality of the premises, and having carried out a competent redevelopment, Dmitry and Laura turned her shortcomings into visible virtues. The concept of dwelling was defined as a loft in Scandinavian stylistics, treated in a minimalist manner. To this solution had the form of an apartment without bearing internal walls and large panoramic windows.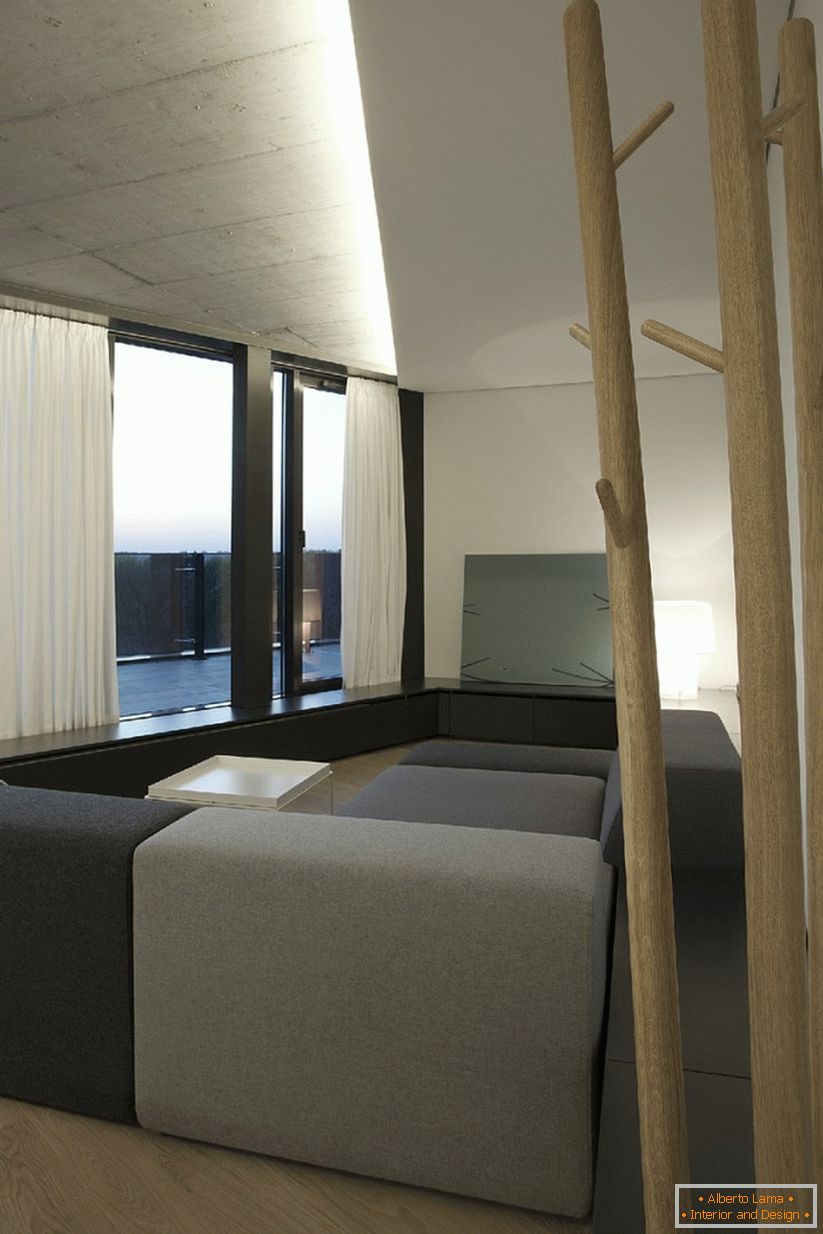 Before redevelopment, the living space was divided into a living room, a bedroom, in which a corridor from the entrance door led, and a separate bathroom. Such an irrational delimitation of space architects managed to overcome by getting rid of partitions, except one transverse, and installing sliding doors (in the bathroom and in the bedroom), which unite all the premises of the apartment.
Technical issues were solved by integrating engineering systems into furnishings. So, radiators of heating have hidden in wide window sills, and systems of ventilation and air-conditioning became uniform with the volumetric kitchen module.
Along the walls of the open space of the living room, a line of outdoor storage places was built, which under the windows are continued by cabinets-sills. This element organically linked the loft zones. The sofa from the split segments, made to order, if necessary, is transformed into an additional double bed for sleeping.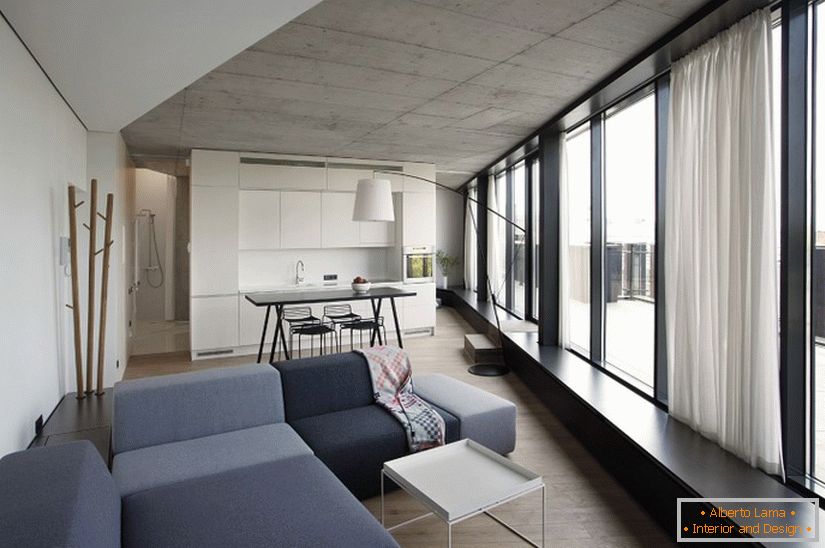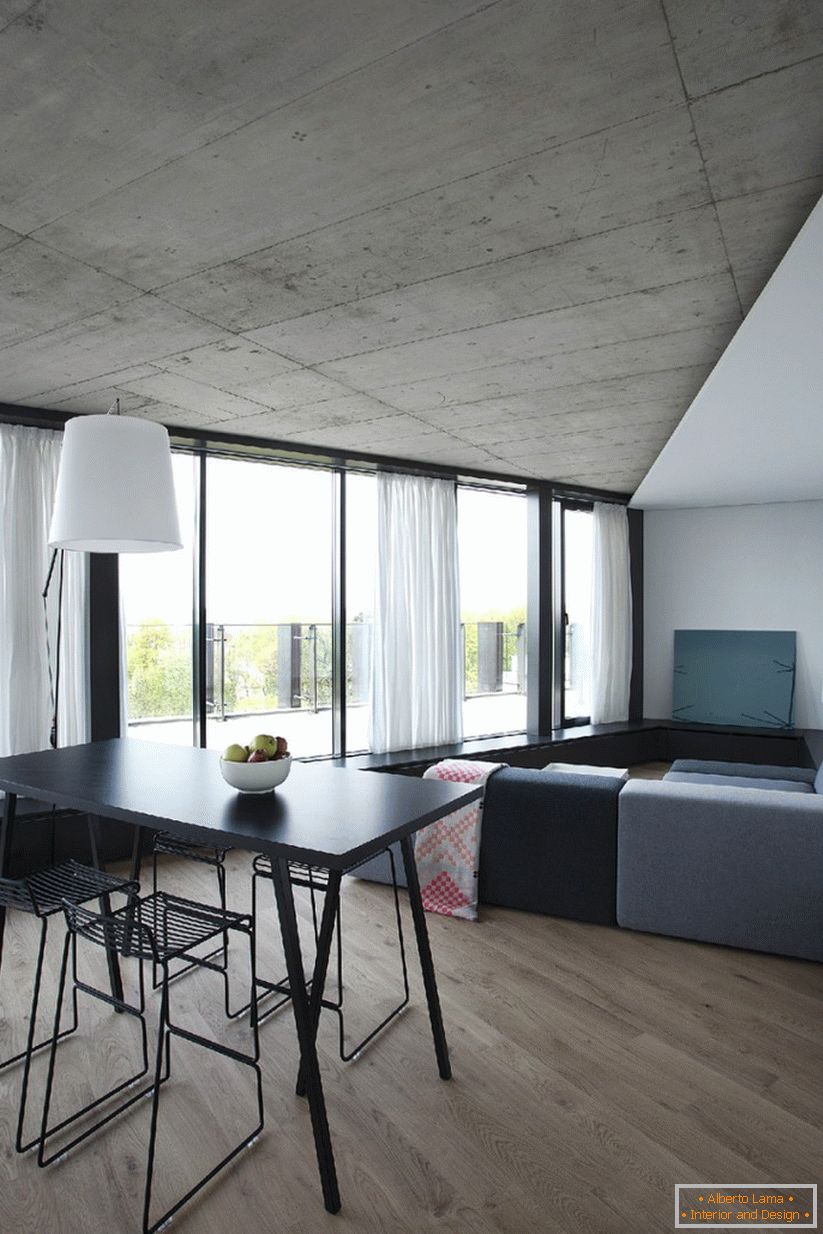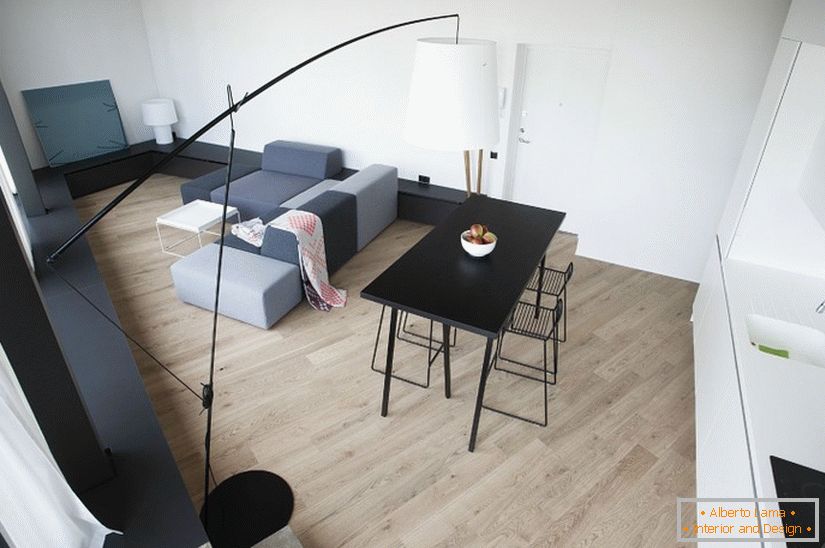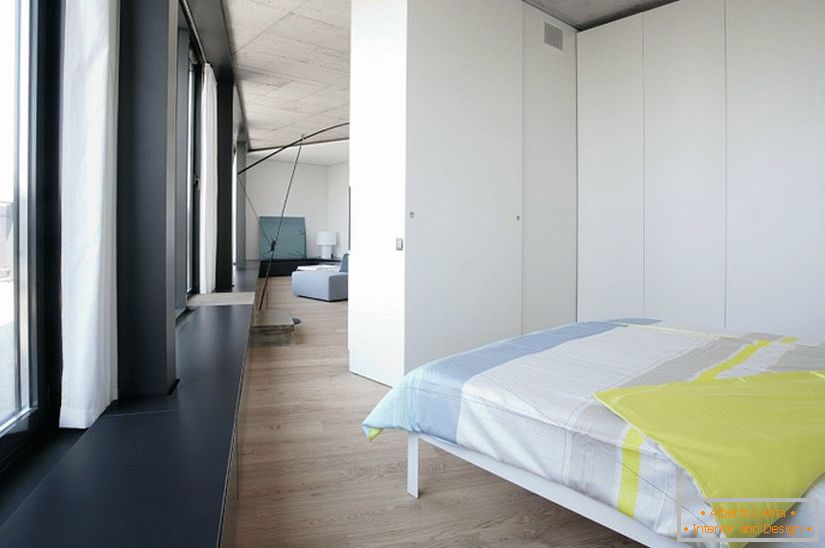 In the cold light range, white and gray colors predominate with inclusions of black, achromatic furniture of mean shapes. Simple, but expressive materials of finish - white floorboard, rough concrete - visually expanded the space.
A significant part of the ceiling remained unclosed in the construction of plasterboard, and the exposed reinforced concrete slabs of the floors emphasized the "loft" style of the interior.
The space is illuminated by a backlight illumination and an original floor lamp with an adjustable slope, creating a pleasant and comfortable for the eyes lighting.
In the bathroom - a real white kingdom of minimalism. In addition to the most necessary, there is not a single extra accessory. Here is the only bearing support in the apartment - a round column of concrete, the rough surface of which is combined with the ceiling slabs.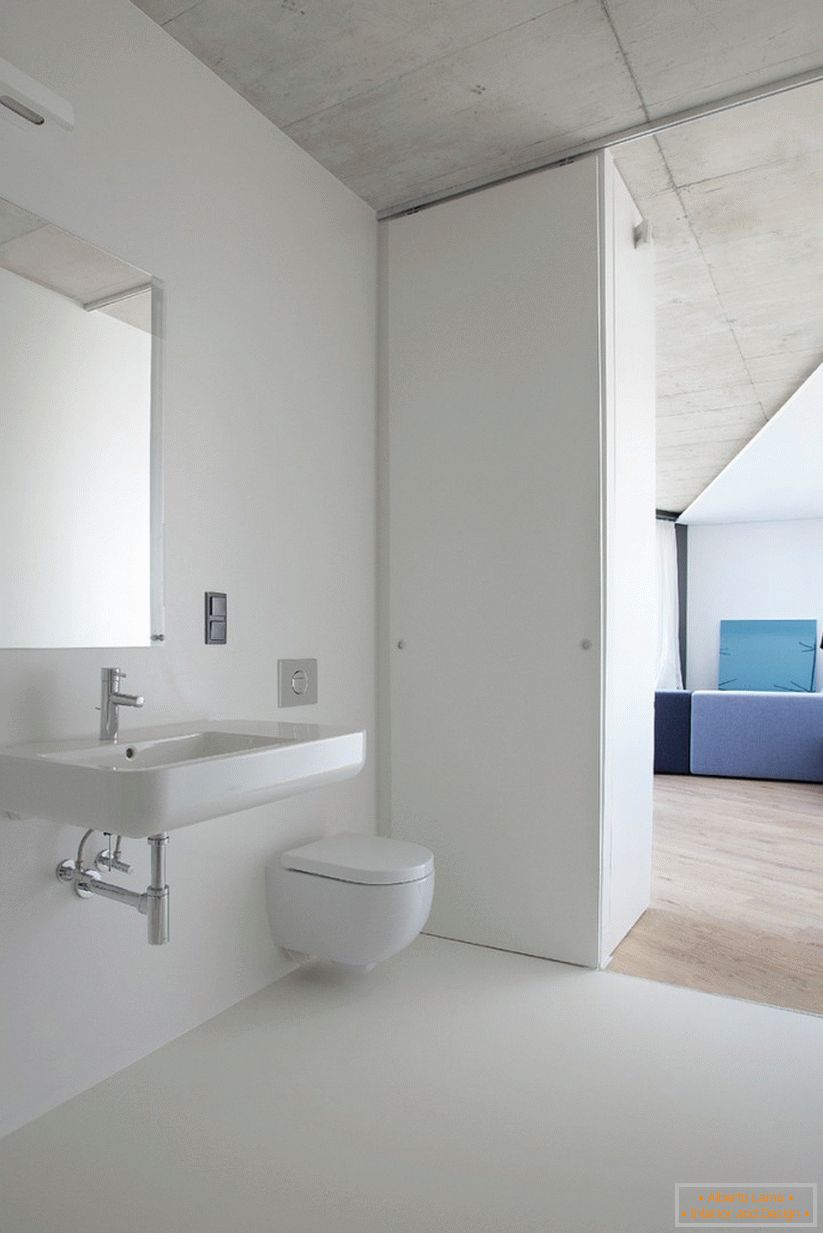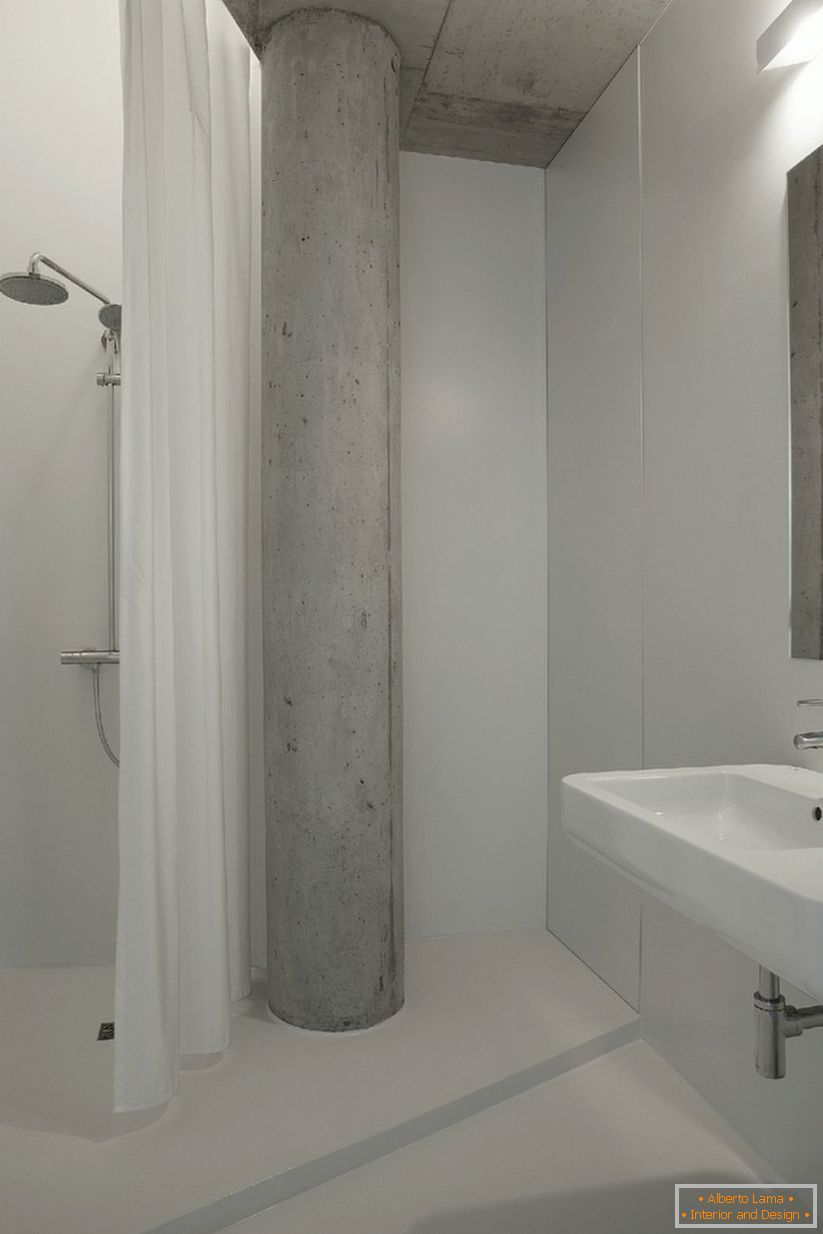 The sterile-white open kitchen is equipped with a solid top with a stove and sink, framed by spacious closets. This zone is separated from the living room by a black table-rack.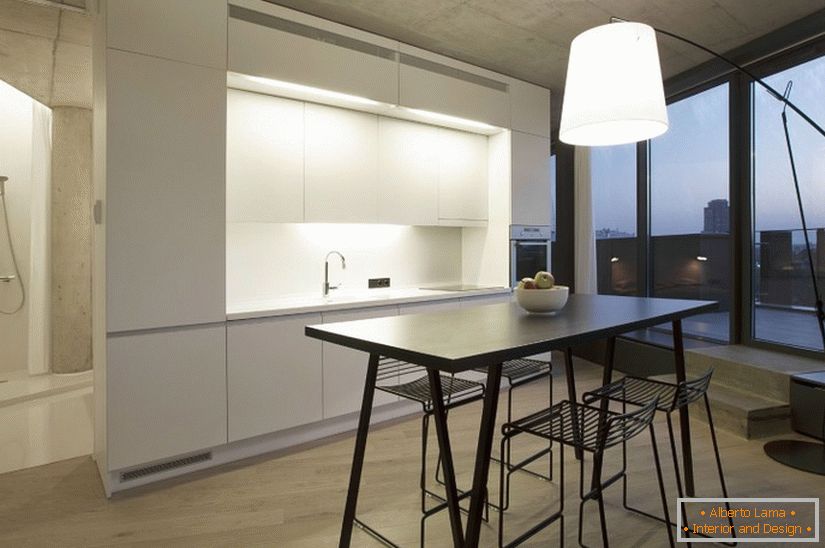 From the dining area there is an exit to a spacious terrace, from where you can watch the sunset over old Vilnius.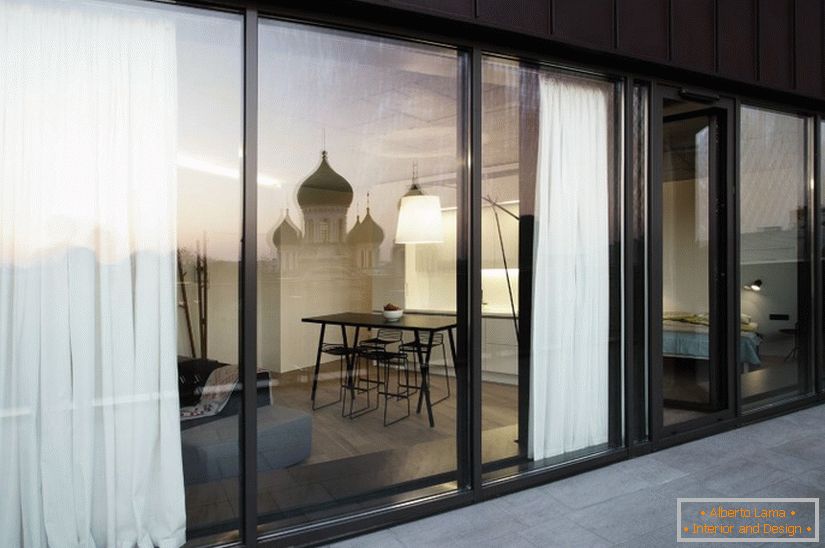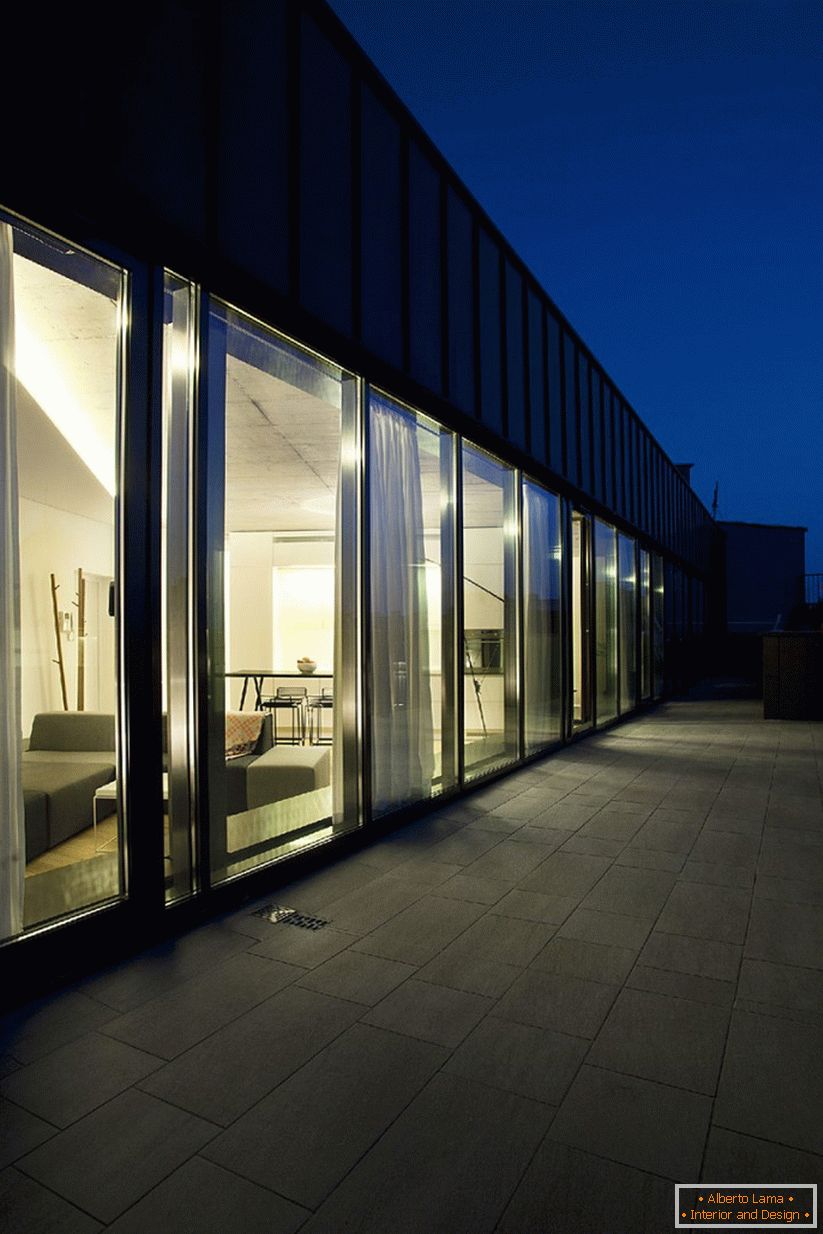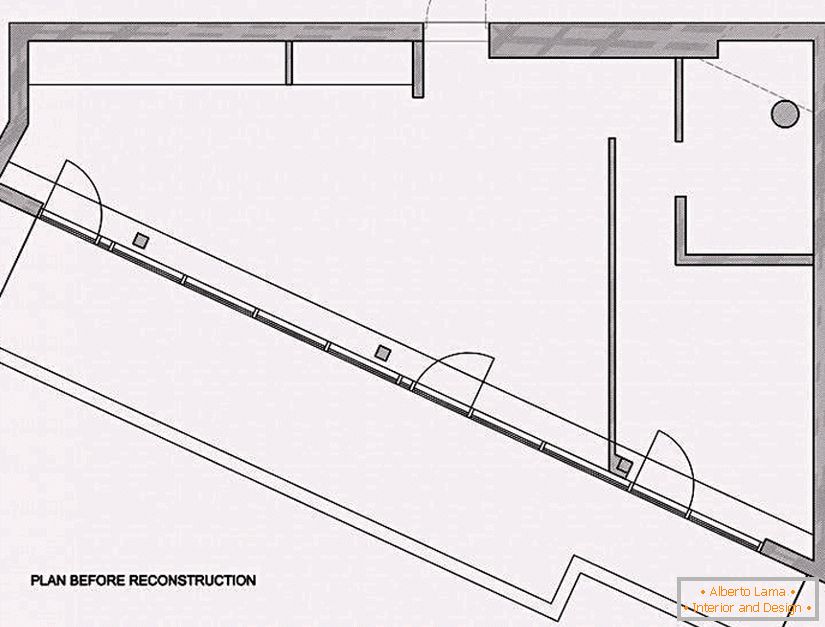 Layout before reconstruction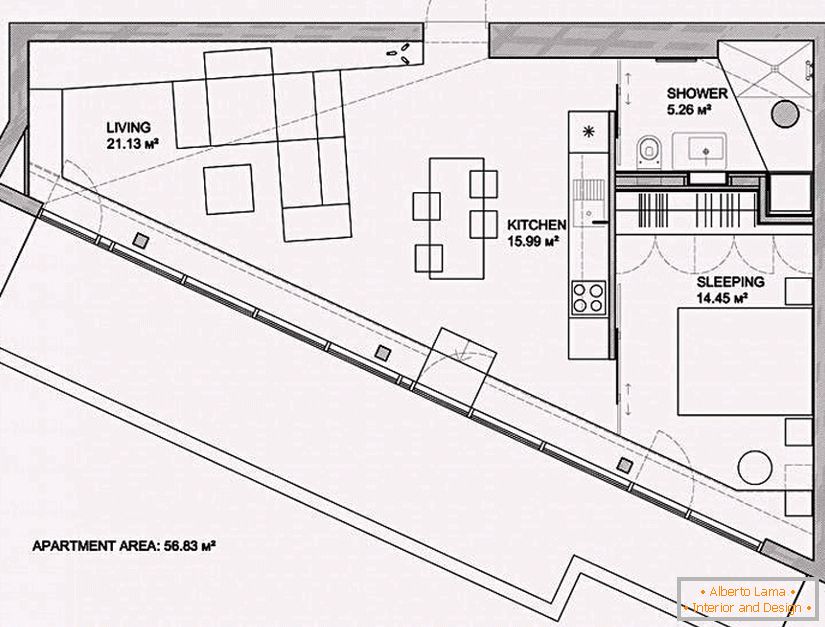 The layout after reconstruction