If you are bored with the boring and monotonous things in your apartment that you see every day, then it's time to diversify the design with the help of hand made. A table lamp by one's own hands is an excellent way to start. It does not require special skills and hassle, and the result often exceeds expectations. In this article, we'll show you how to make a table lamp with your own hands, how to decorate it and how to properly connect it. We also prepared an excellent selection of photos for your inspiration for creativity.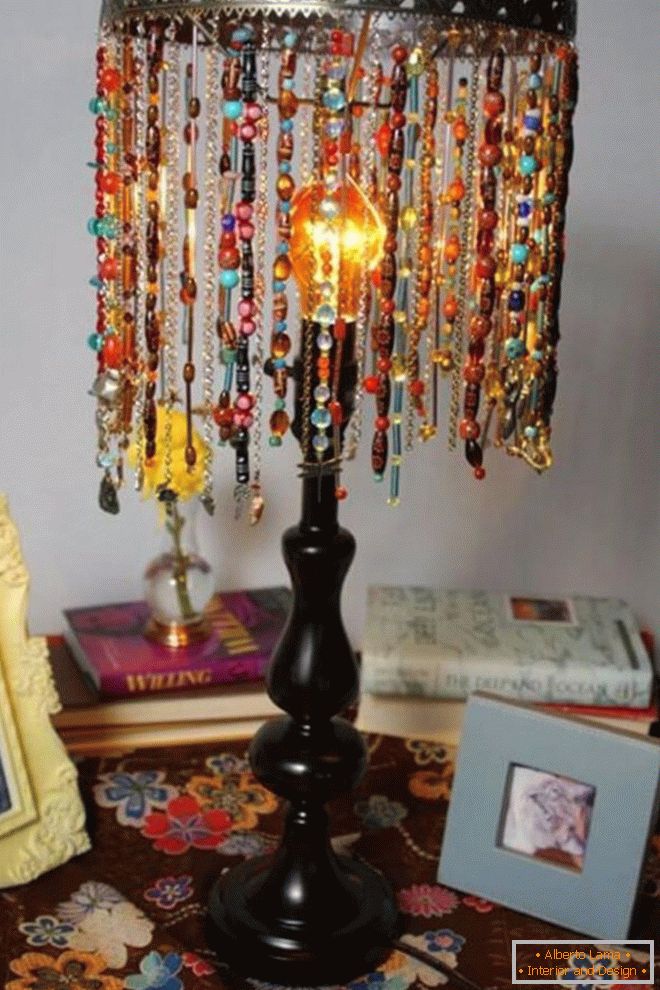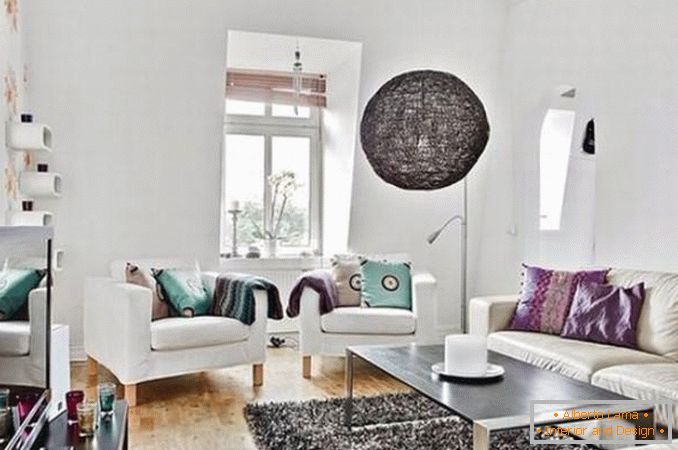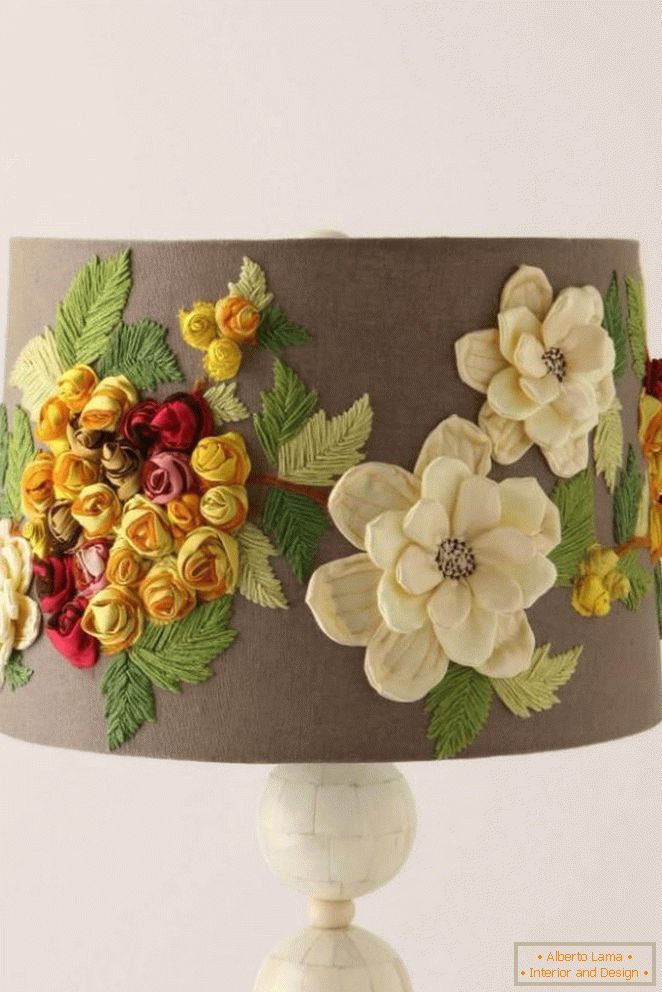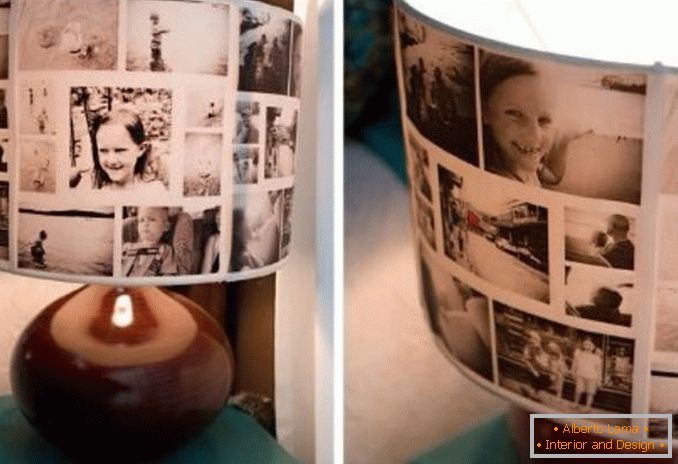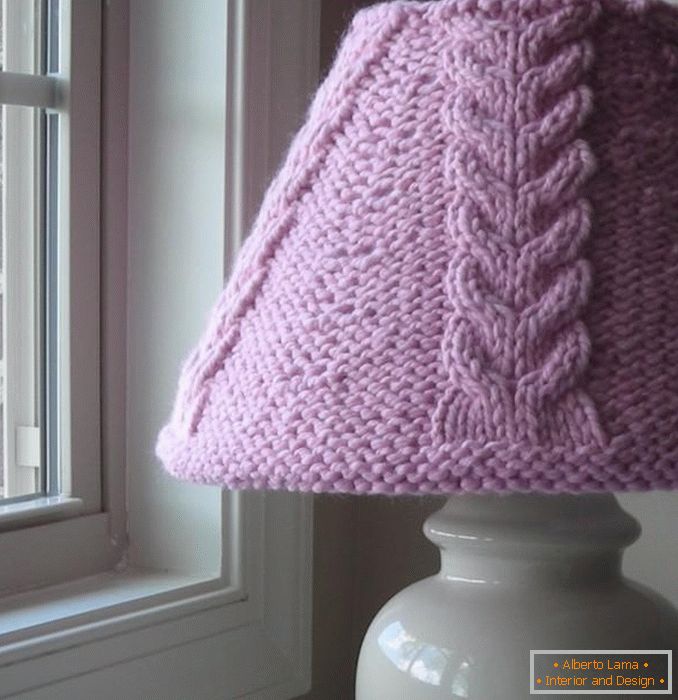 Table lamp with your hands: the main elements of the design
The most popular and simple materials for creating a table lamp with your own hands are: cardboard, paper, glass bottles, jars, plastic containers, pipes from water pipes and cement. We will tell you how to make a lamp out of all this stuff.
The main elements of the design in a table lamp of any type:
Electromechanical - provides stability to a self-made table lamp and a safe power supply directly to the lamp.
Support - supports a reflector or illuminator.
The illuminator is a lamp in a lampshade.
The electroscheme of the desk lamp is quite simple: the mains plug, cable, switch, lamp holder. Sometimes add a voltage regulator. The holder for the narrow minion-socle E14 is also attached to the thread or to the lamellae in the form of a steel strip. For the table lamp with their own hands, the best option is chandelier cartridges with threaded flanges: between them you can clamp a steel faceplate with a lampshade frame or a hanger clamp.
The table lamp must be electrically safe by one's own hands. Especially it concerns lamps on hinges and consoles. You can create the security of a table lamp with a simple scheme:
The cable must be round, in double insulation
Current-carrying veins of a cable - flexible, from numerous wires. Cross-section of veins from 0,35 sq. M. mm.
Places of cable wiring must be protected with dense dielectrics.
The cable is tied up from the inside with a knot or pulled through the holes of the dielectric lock washer so that it can not tear. Further it follows the decoration and decorating.
The original lampshade for the table lamp by own hands
The lampshade must be manufactured taking into account not only the aesthetic aspect, but also the practical one. It is important to properly fix it, and also make a convenient hole for the bulb. Paper, plastic and threads are materials that are most often used to make a homemade lampshade.
The most simple and convenient material is paper. To create such a lampshade, besides paper, you will need: threads, PVA glue, sewing needle and scissors. There are many ways to make a lampshade for a table lamp with your own hands made of paper. The simplest method is to draw a bead of a ball of paper strips, while gluing them together and at the poles. The shape in the form of a sphere will further strengthen the fragile lampshade made of paper.
Also an elementary shade is made of disposable plastic cups, which are fastened with a stapler. This lampshade has quite good lighting characteristics, but the view is quite utilitarian. Such a lampshade is good for rooms where high-quality lighting is necessary, but aesthetic appearance is not necessary.
When making a lampshade from threads, you need at least 100 m. It makes no sense to use inflatable balls as mandrels, because after 10-20 turns the ball will start to bulge in different directions and spoil the shape. It is best for a mandrel to use a tightly inflated, durable ball. The mandrel must be lubricated with petroleum jelly. Next, pre-greased with glue, wind the thread on the ball. When winding, do not forget to leave a hole for the cable and the cartridge. After a day, you need to blow off the mandrel, which, thanks to Vaseline, will not stick to the threads. Also, the threads can be replaced with jute, sisal or propylene twine.
These lampshades form an even soft light and are therefore ideal for any room.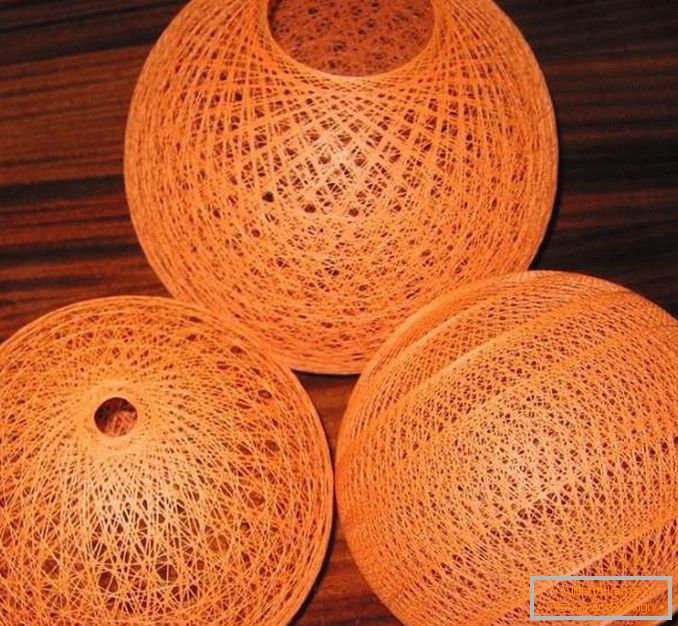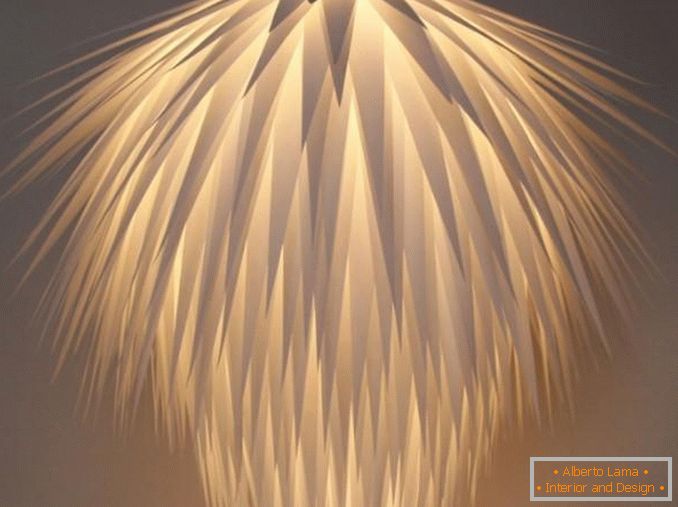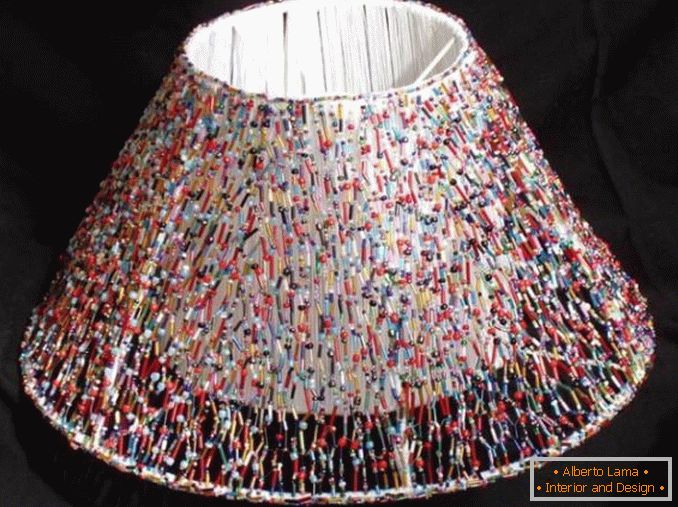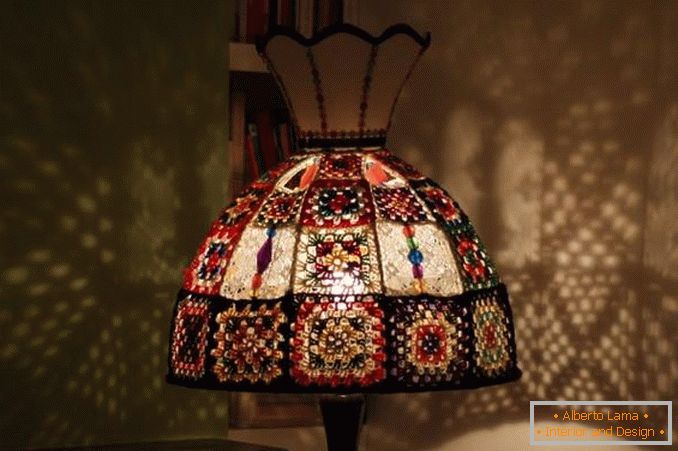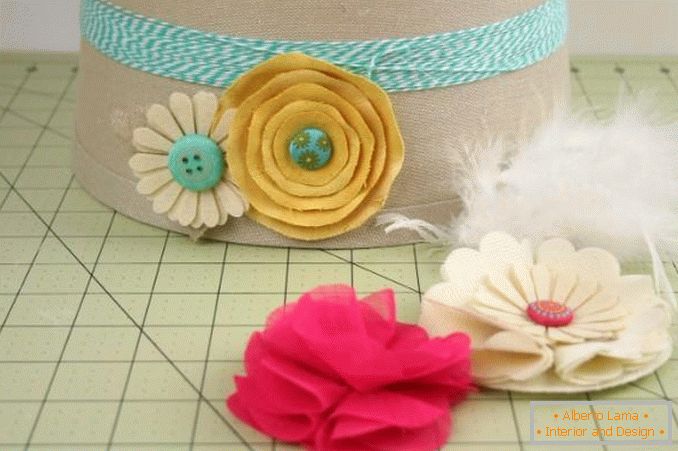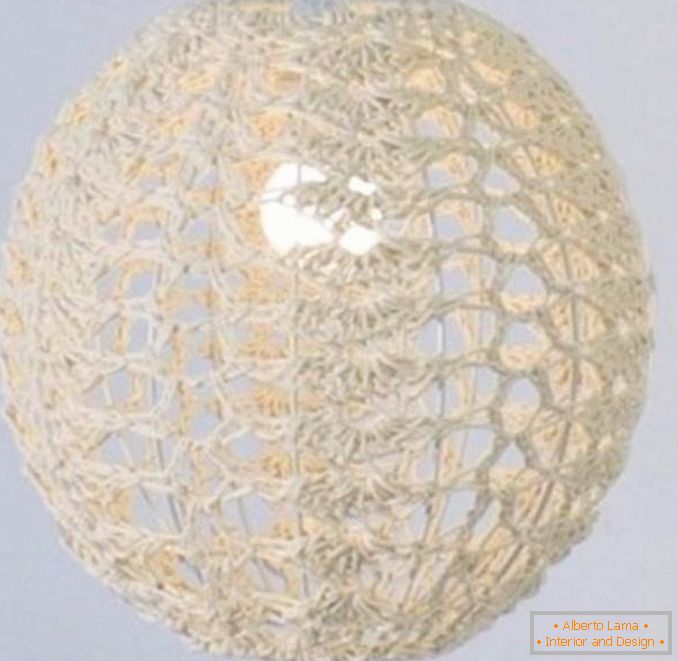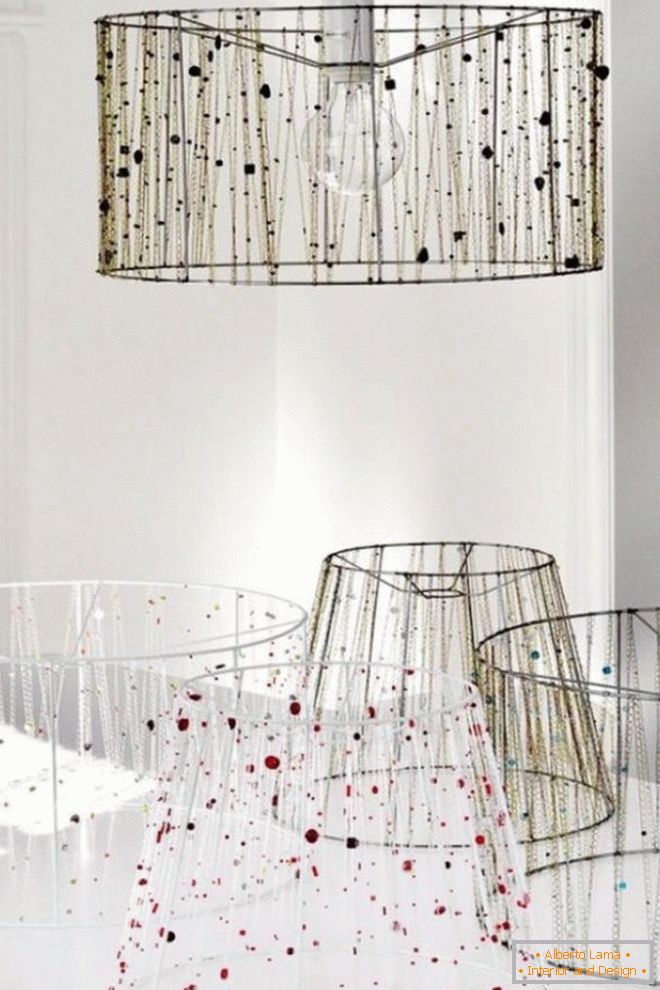 Read also: LED table lamp Madera 007 - a universal solution for the whole family
How to update lampshade for a table lamp with your own hands
Old, annoying, worn and burnt lampshades can easily be updated with the help of improvised tools or even create a new one. We will tell you how to do it correctly and beautifully. As materials you can take any textiles. Using fabrics and threads, you can sew or tie a shade in the form of a dress. It is easy to decorate a lampshade for a table lamp with your own hands with the help of: buttons, stickers, butterflies, beads, flowers and various braids.
If you want to create an original lampshade from improvised tools, then there are a lot of ways. To create such a shade are suitable: lids from cans, disposable tableware, your favorite pictures from a photo album, a paper with drawings or just a lampshade, decorated with your hands.
It is enough to include imagination and you will receive an original lamp in the interior of your house or apartment. In the photo below, see the selection of lampshade options for the table lamp with your own hands.