A long narrow corridor is often the most neglected space in the house, where shoe boxes, old jackets and other unnecessary things fall down. Nevertheless, it is this place that opens the gaze of the guests as soon as they cross the threshold. Therefore, it is still worth the time and effort to give it beauty and functionality. Today you will learn how to create an impeccable design of a narrow corridor in an apartment or a private house with the help of paints, floor coverings, lighting and accessories, and see 28 photos of modern ideas.
How to visually expand a narrow corridor
To make the narrow corridor appear wider in several ways, for example, "playing" with light, the color of walls and the selection of finishing materials. To add airiness to the interior, use light wallpaper for walls, for example, fashionable pastel or neutral tones. Not bad will look and cool shades, which will serve as a refreshing background for dark furniture and other elements.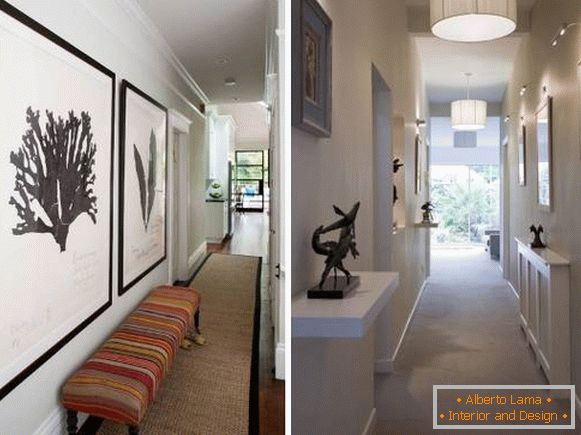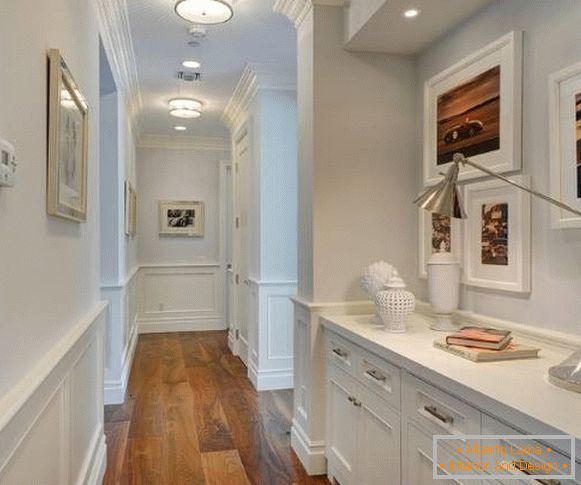 Also read: A small corridor in the house - 7 ways of decoration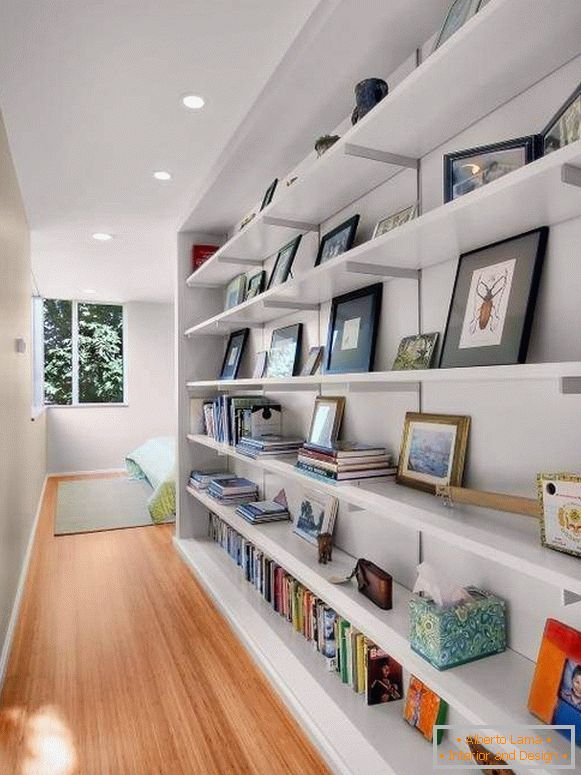 Dark wallpaper for a narrow corridor is recommended to be used in combination with bright lighting, mirrors and light decoration, in particular the doors from the corridor to other rooms.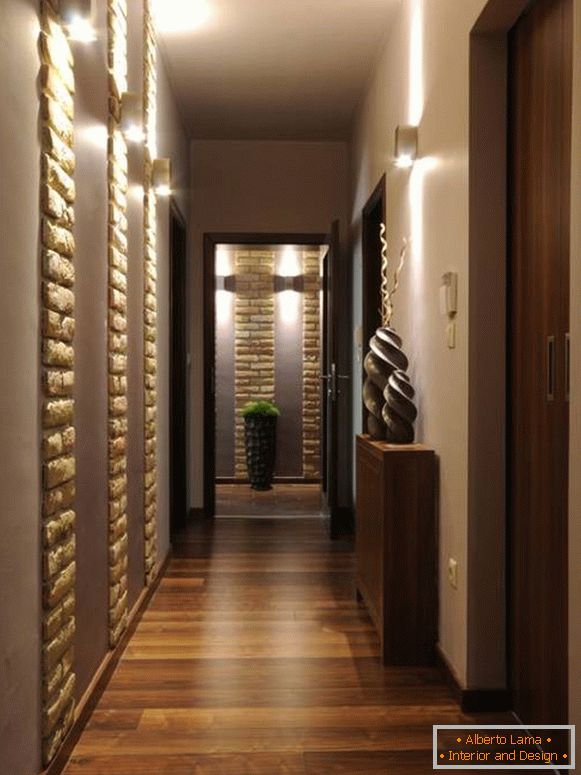 By the way, dark doors against the background of lighter walls are another useful idea for the design of a narrow corridor, which allows to visually increase the area of ​​space.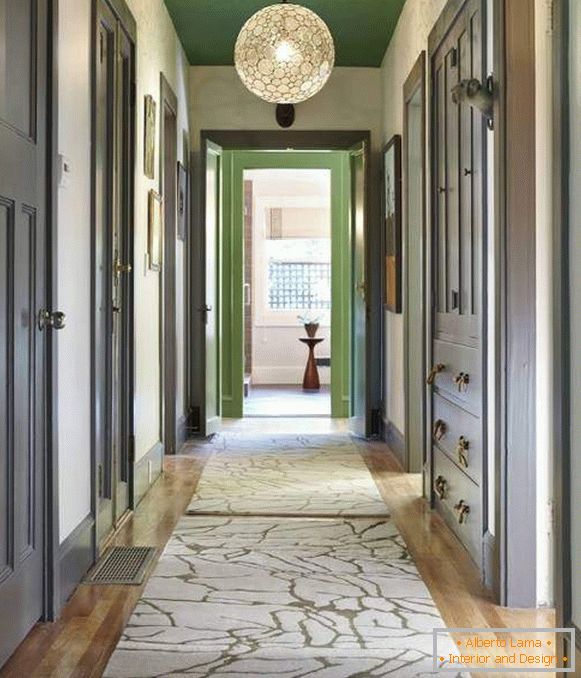 Note that when choosing the finishing materials for walls, it is worth paying special attention to wear resistance, shockproof and ease of maintenance. Washable wallpaper, tiles and paint will allow you to repair the narrow corridor as rarely as possible.
Design of a narrow corridor: we select practical furniture
In order not to encumber and without this tight interior, use in the corridor compact and multipurpose furniture, for example:
A console table with a mirror suspended above it (see wall mirrors for the hallway);
A narrow closet (depth 40-45 cm) with mirror doors;
Built-in cabinets and cabinets with open shelves;
Hangers and hooks for jackets and bags, shoe baskets and other organizational items that will save a narrow corridor from the mess and do not take up much space.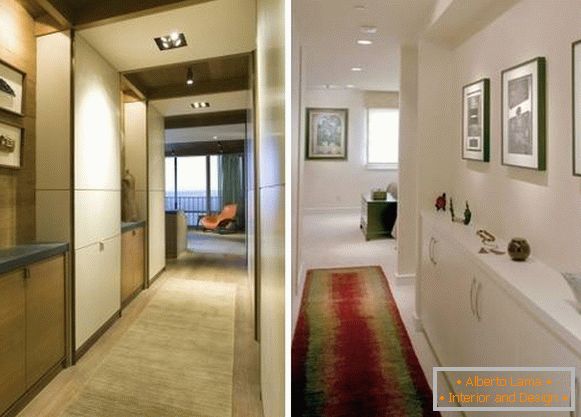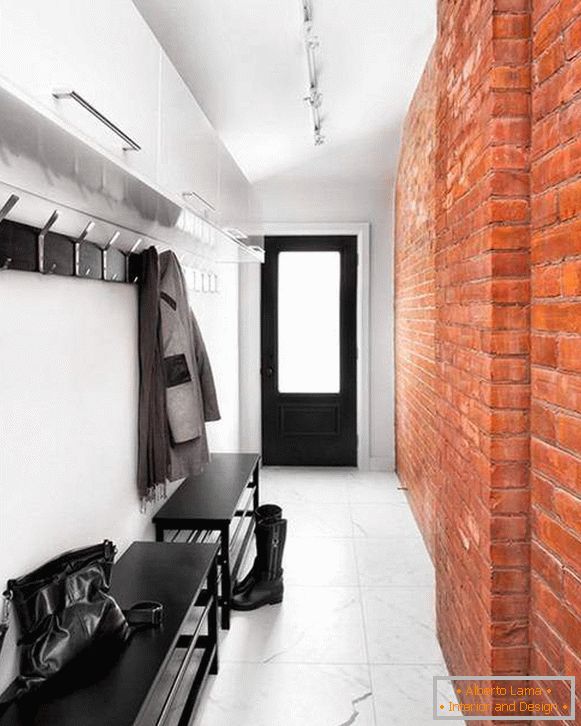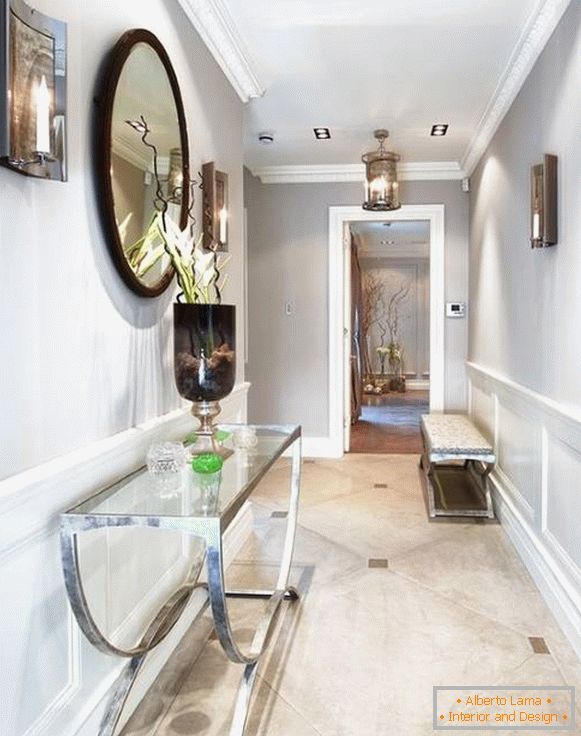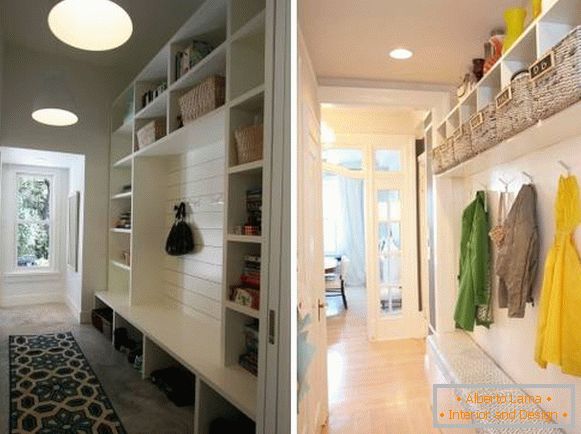 Also read: Design of the hallway 2016 - the best modern ideas and photos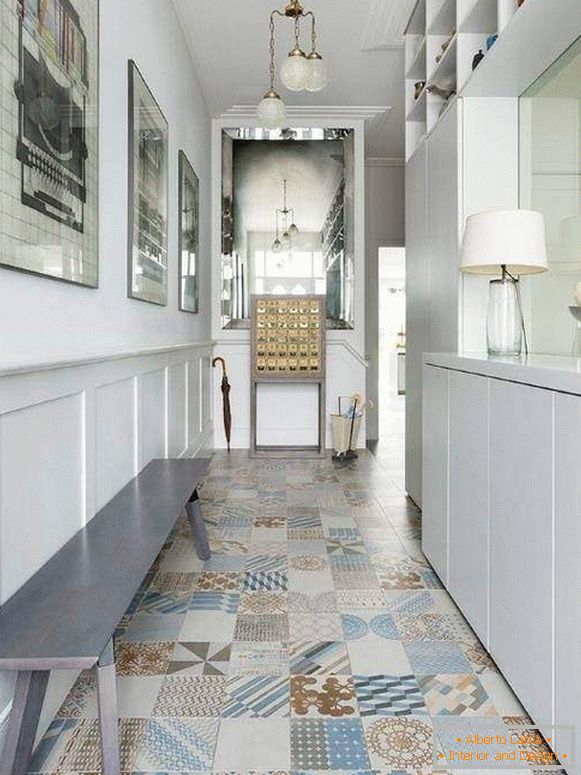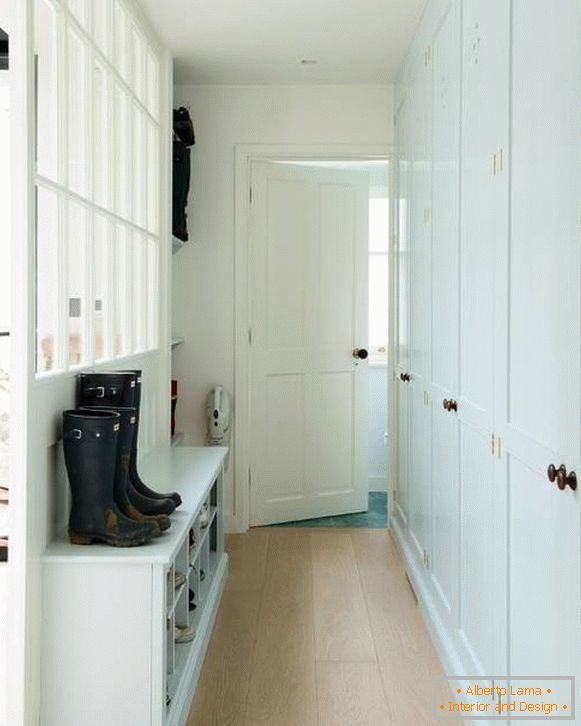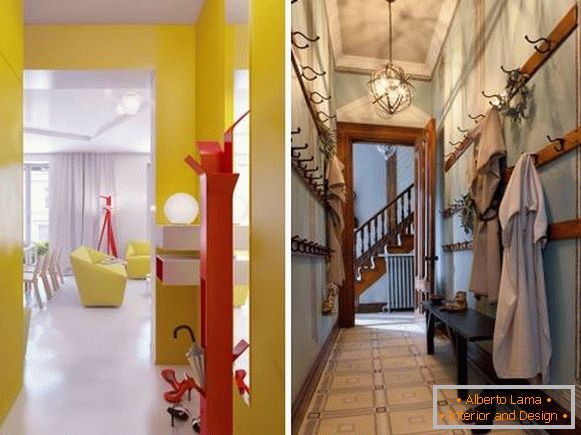 Features of interior lighting of a narrow corridor
This factor is very important, because the interior of a narrow corridor in an apartment is usually devoid of natural sunlight, which makes it look gloomy even in the daytime. Bright lighting can not only visually expand the space, but also emphasize the original design.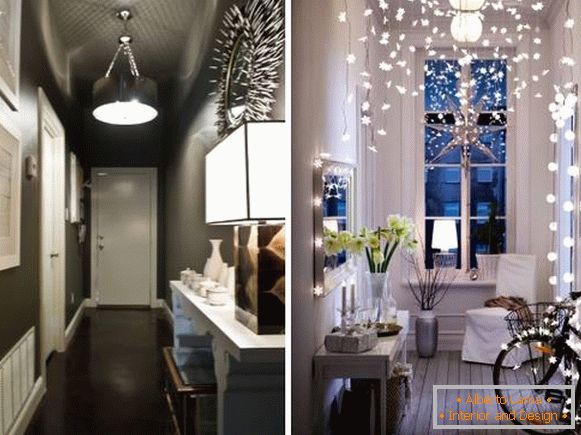 For example, wall lights are a popular choice for a long narrow corridor. Hang the sconces near the mirrors, glass or other shiny elements in the corridor and they will beautifully shatter the space and give a refined touch to the boring long wall.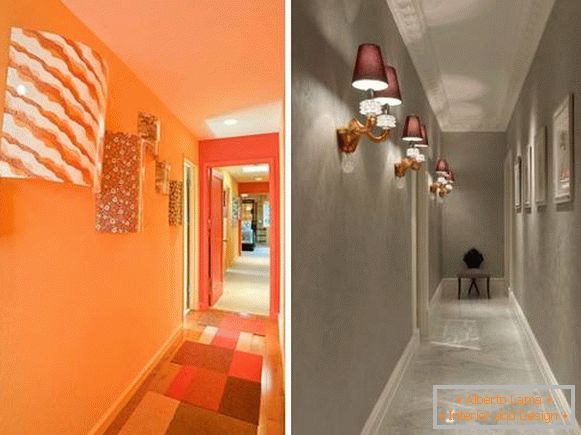 Decorative hanging and ceiling lights will add style and comfort to the design of the narrow corridor, especially in combination with paintings or other wall decor.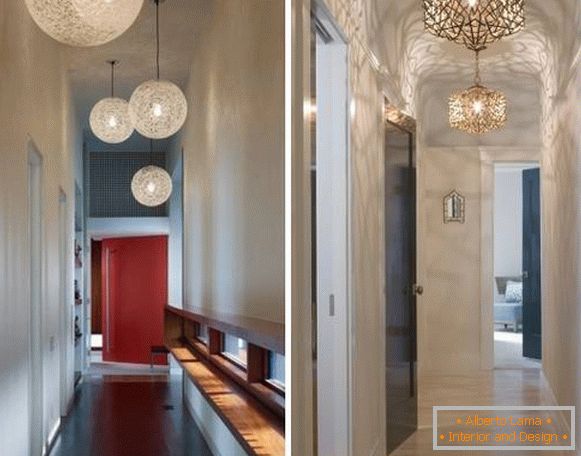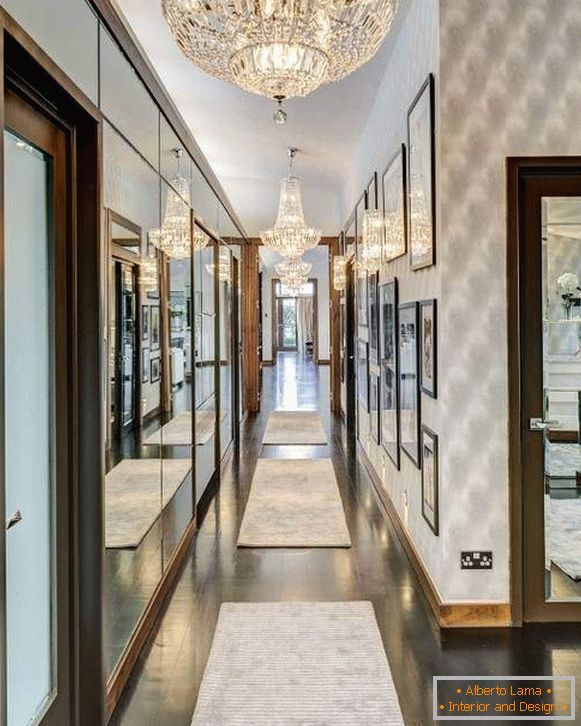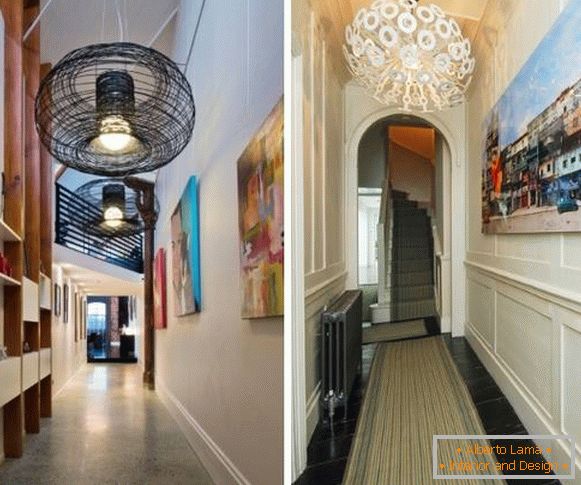 Spot lights and built-in LED backlight illuminate the narrowest and narrowest corridor, and even give it an unusual style.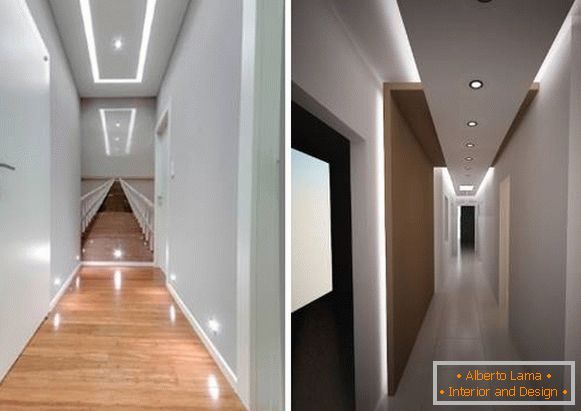 Also read: LED ceiling lighting - 30 ideas for the interior
How to decorate a long narrow corridor
A narrow corridor will appear wider if you decorate it with a light carpet, especially in a horizontal strip. The same applies to wooden flooring - it is recommended to lay the boards perpendicularly, and not parallel to the walls. Two carpets will help visually break and bring comfort in a long narrow corridor.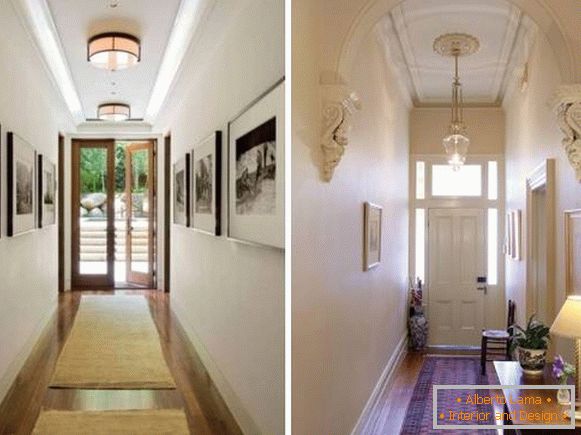 In addition, you can decorate the corridor with pictures and photographs within the framework, bookshelves, mirrors and houseplants. Let the following photos of interiors serve as inspiration for you!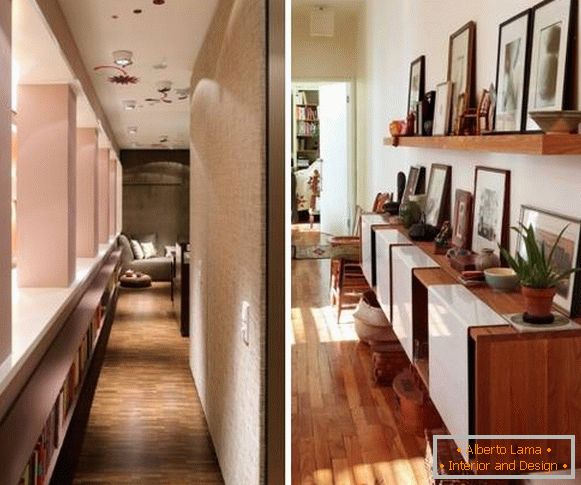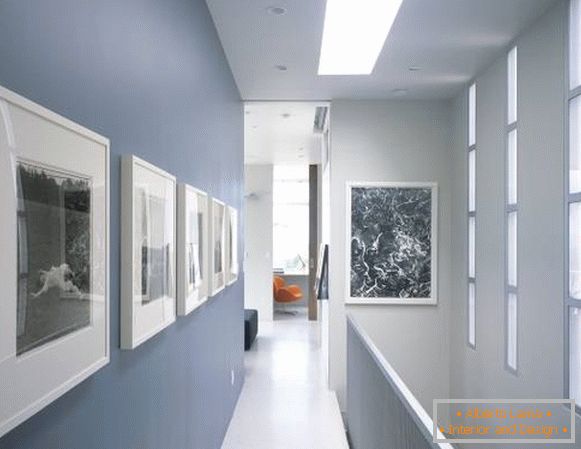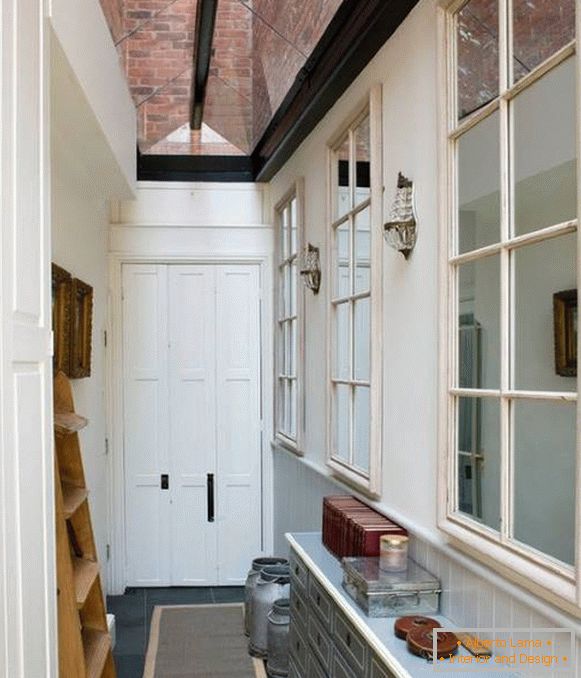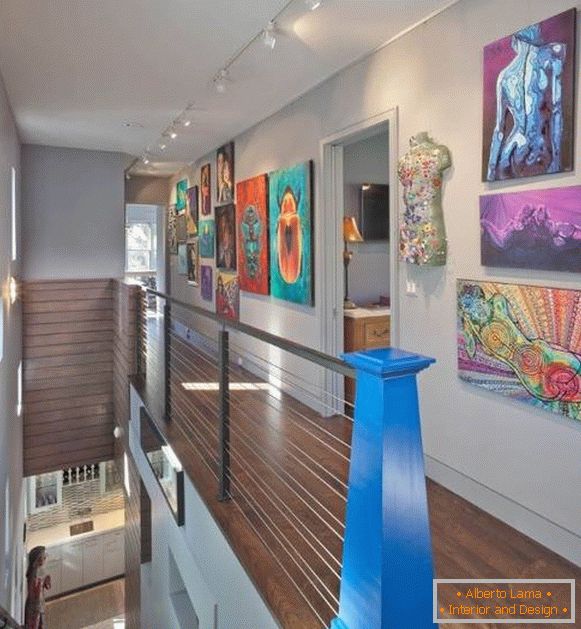 Thank you for reading Dekorin! Do not forget to share interesting publications on social networks!