High tech style (High Tech) appeared in the 30s of the XX century and at first also was called rationalism. For interiors, this style is characterized by straight lines, the use of a large amount of glass, fantastic lighting and sparkling metal finish. If you want to have an interior in high-tech style at home, then this article will tell you what to do:
What colors are worth choosing for the interior in the style of high-tech;
What distinguishes the kitchen, bedroom and other rooms in the style of High Tech;
How to choose the right furniture, curtains and lamps.
High Tech can be used to decorate apartments and houses of any area. So the design of a one-room apartment in the style of high-tech will be very handy, since it can relieve a small space of unnecessary decor elements. The output is a small housing, which does not cause a sense of tightness, but gives an exceptionally easy feeling.
Enjoy reading!
High-tech style in the interior - 60 photos and features
It's amazing how the interior design in high-tech style fascinates people, although it's not characteristic for it to use the decor. The main concept of this style is to give space a feeling of freedom and love for the modern world. Therefore, in High Tech houses and apartments there are only those furnishing items that are needed, and they all differ in quality, simple beauty, functionality, but not in a flashy design.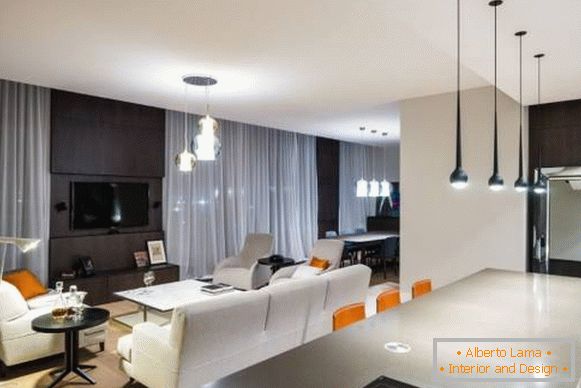 The absence of decorative details is compensated by beautiful textures and unusual combinations of materials. Among them, the most popular are glass, metal, plastic and concrete. In the color palette the leading role is played by white color, which can be supplemented by such tones as golden yellow, cream, gray-blue, coffee-brown etc. Also, the style of high-tech in the interior can be made in some dark, even black. Then it is often added fresh blue, beige, green and other details.
The ceiling and walls in the High Tech room are generally monochrome, covered with plaster, textured wallpaper or huge mirrors that reflect light and visually increase space. Now let's look at the features of individual rooms in high-tech style.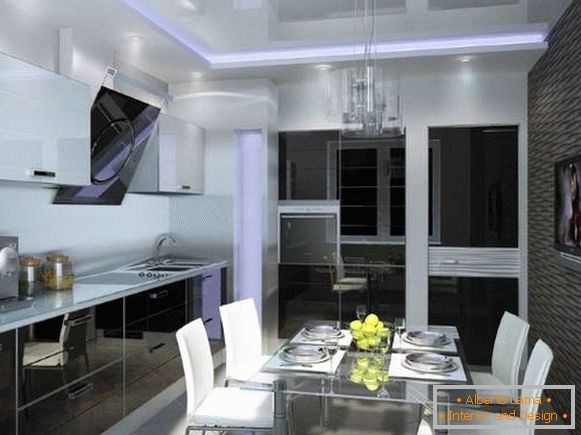 Kitchen in Styles High Tech - 15 Photo
The design of the kitchen in the style of high-tech is designed to make this room as comfortable, comfortable and modern as possible. Kitchen furniture in high-tech style is distinguished by simple lines, but it can look very impressive due to a combination of contrasting shades or materials, for example, wood and metal, glass and plastic. Note that thread on the tree is inadmissible, as well as bright patterns on fabrics, which are often used to create rural comfort.
The decoration for the kitchen in high-tech style can serve as a stylish modern technique (microwave, electric kettle, glass-ceramic hob, refrigerator etc.), as well as parts made of stainless or nickel-plated steel. Habitual plates, stupas, panels and other decorative elements, which decorate kitchen tables and shelves, should be cleaned in the closet. Built-in lights, LED lighting and blinds on the windows perfectly complement this minimalist design and will make even the smallest kitchen convenient.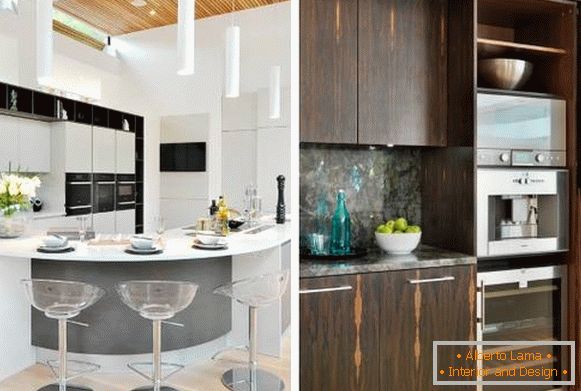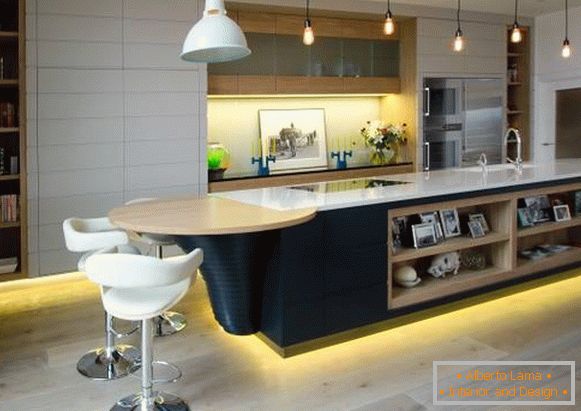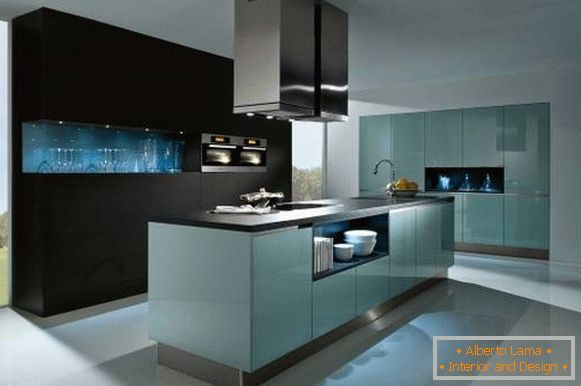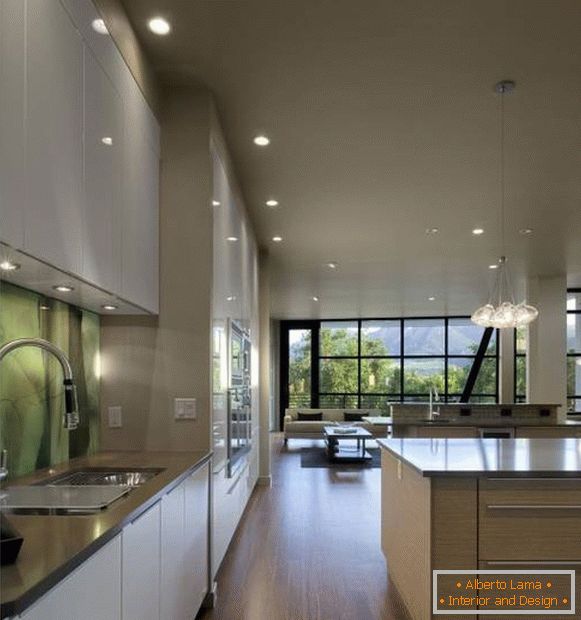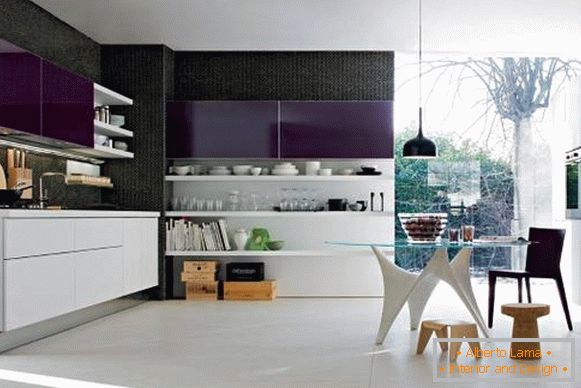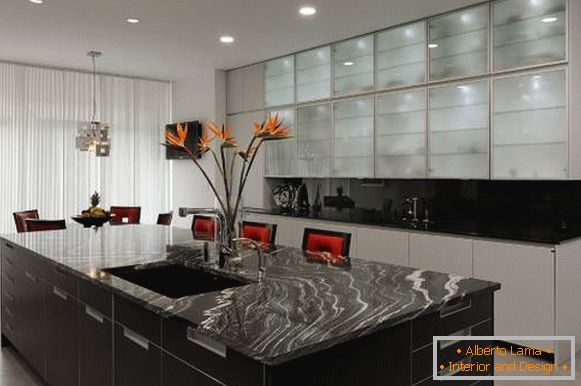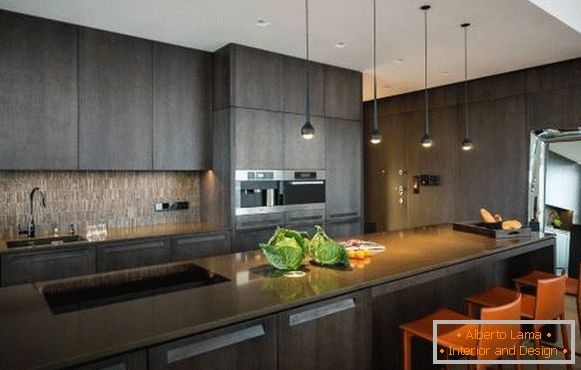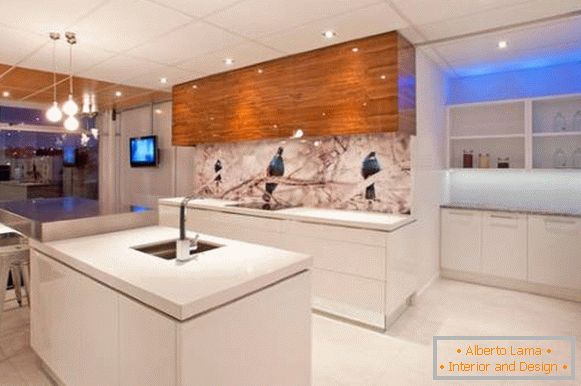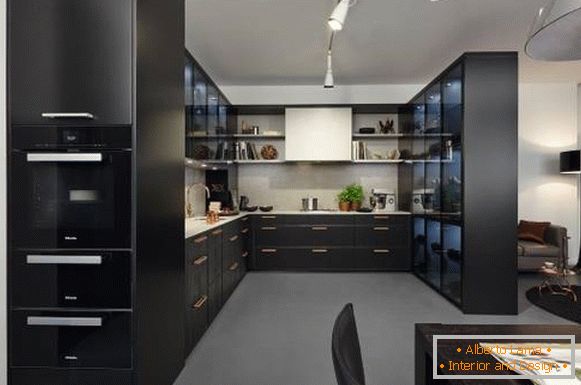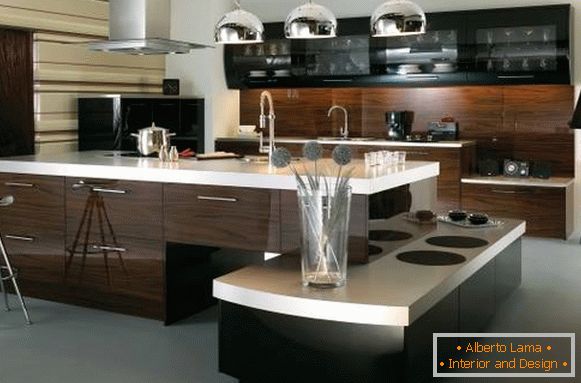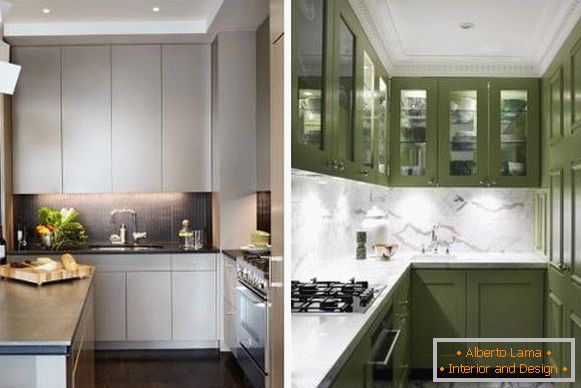 Also read: Beautiful Kitchen 2015 - Trends and Photos
Futuristic living room in high-tech style
With a high-tech style, the living room is filled with a minimum of furniture (sofa, TV stand, shelves), play of light and glitter of metal.
The furniture has a modern or futuristic design. The use of multifunctional and modular units is welcomed, such as: revolving chairs, modular sofas and wall systems, open shelves with illumination, a coffee table transformer and so on. An excellent solution for the living room in high-tech style will be hinged lockers with mirrors or textured glass.
For comfort, you can add textile elements - sofa cushions, bedspreads or curtains. It is desirable that they were made of natural fabrics and had large modern patterns or were monophonic. Well, the main element of the design of the living room in the style of high-tech can be a beautiful chandelier.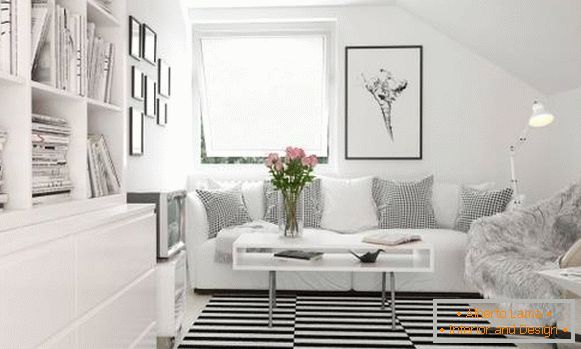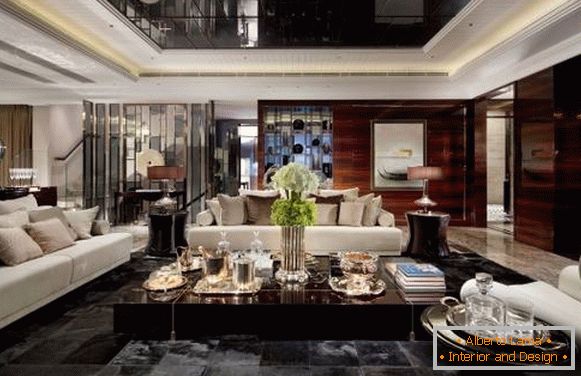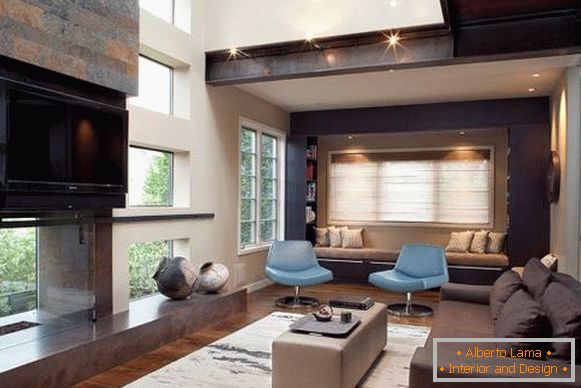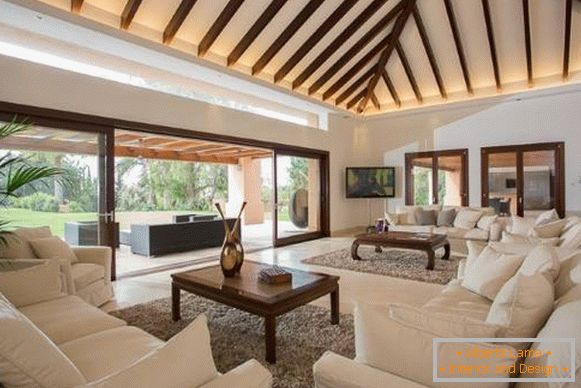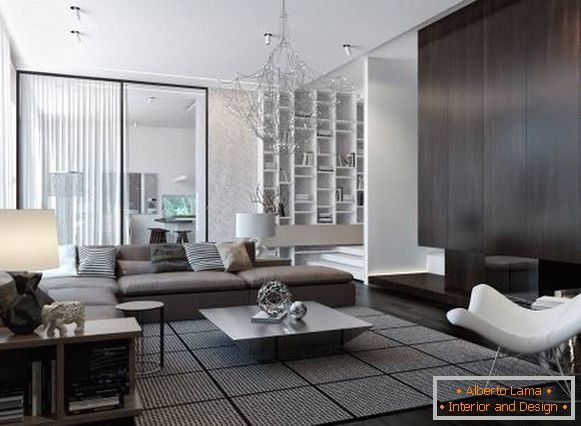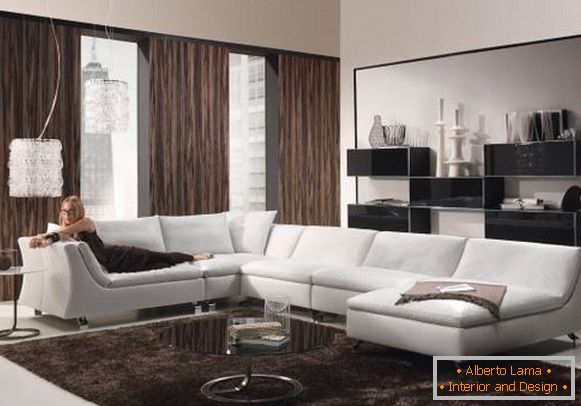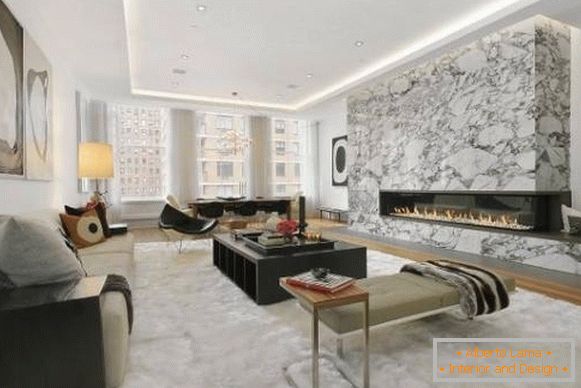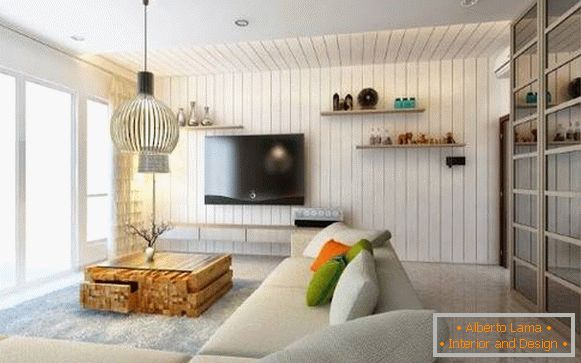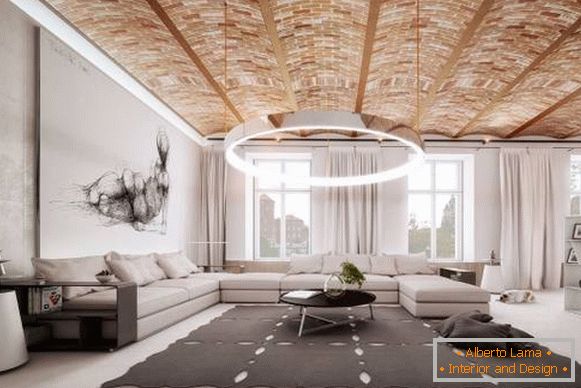 Also read: 33 ideas for decorating a coffee table in the living room
What should be a bedroom in high-tech style
In the design of the bedroom, high-tech style makes it easy to solve several problems at once:
Provide the necessary comfort for recreation;
Create a calm and free atmosphere for sleep;
It is convenient to organize a room so that everything you need is at hand.
Remember that for the high-tech style in 2015, the use of colors such as pink, lilac and other "sweet" shades as a basis is unacceptable. Better prefer white, black, gray and silver colors. And in addition to the main palette, the elements of red, green, yellow or dark blue are suitable.
As for furniture, for a bedroom in high-tech style it will be enough:
Modern multifunctional bed, for example, with adjustable head, lifting mechanism, built-in lighting, shelves etc.
An open cloakroom system or a slim chest and cabinet;
Pairs of bedside tables or tables.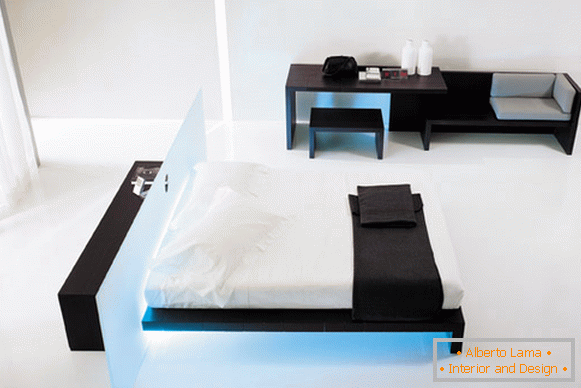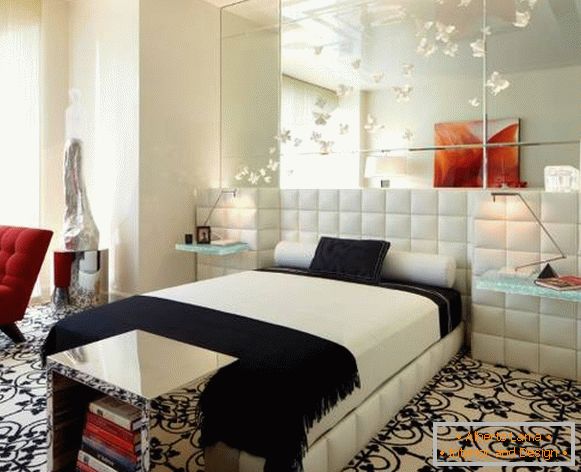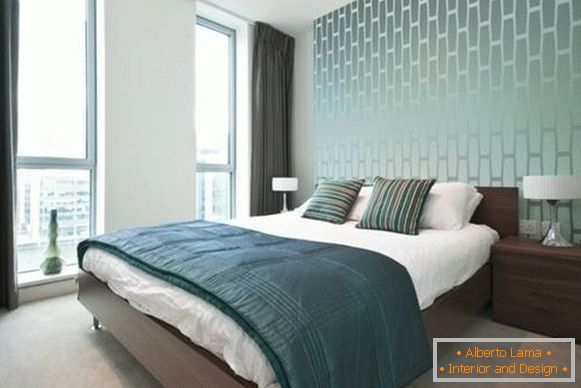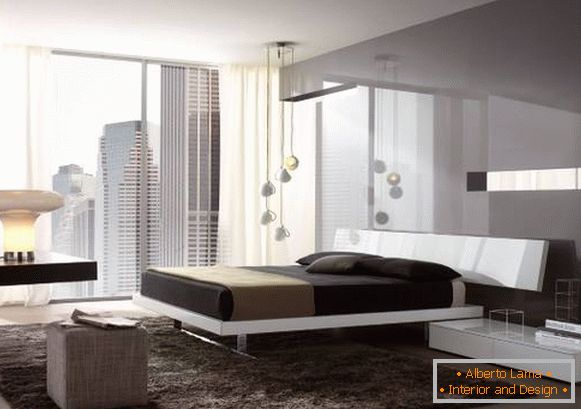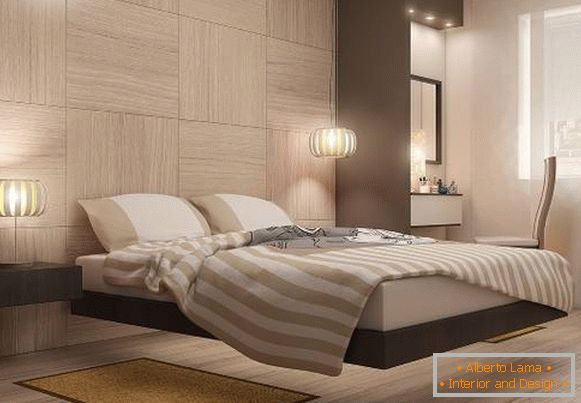 Also read: Floating and hanging beds without legs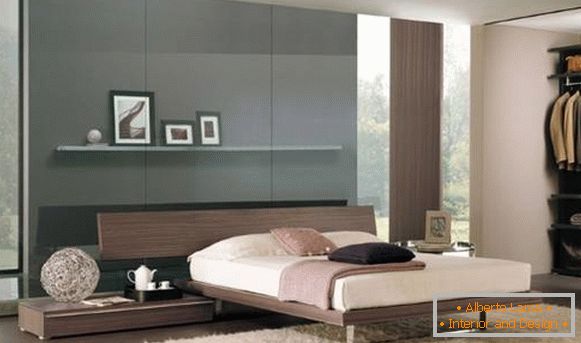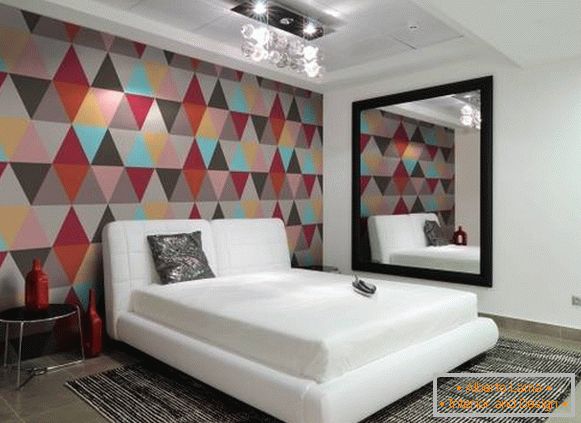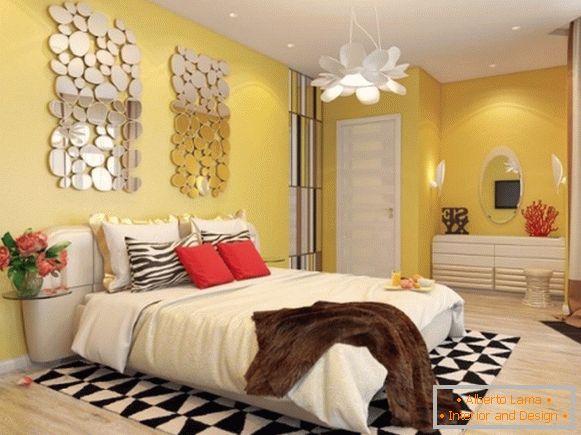 What distinguishes a bathroom in the style of high-tech
To the bathroom in the style of high-tech the same requirements as for the rest of the rooms - minimalism, shiny surfaces, stylish lighting. But due to the fact that bathrooms usually have small sizes, the focus is on LED lighting and using modern gadgets: built-in audio system, chromotherapy, ultramodern mixers, nozzles on the shower (waterfall or other). etc.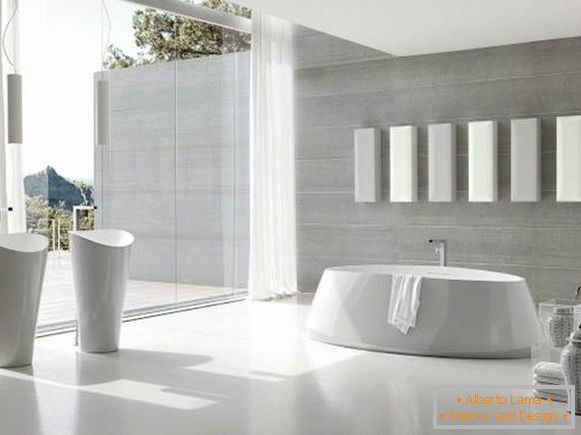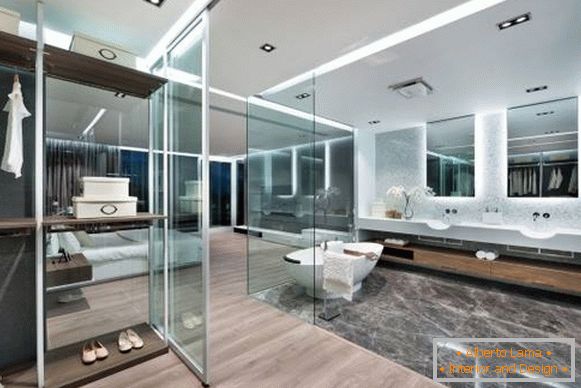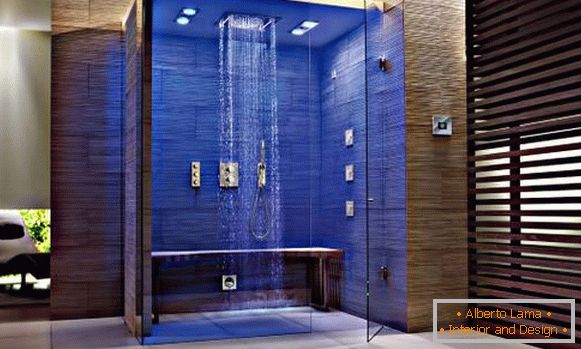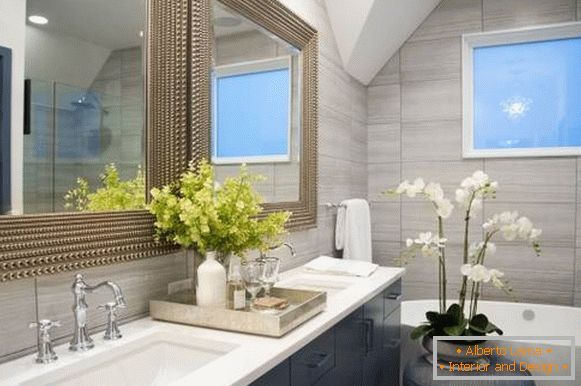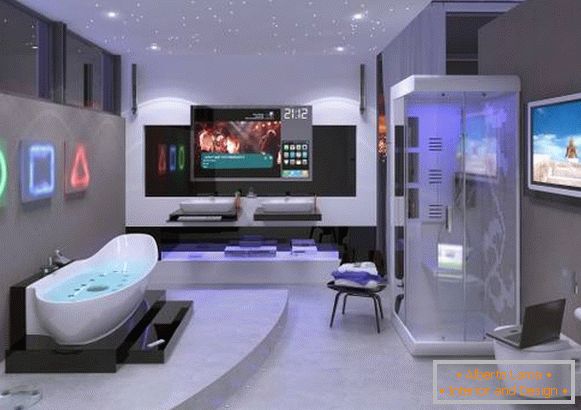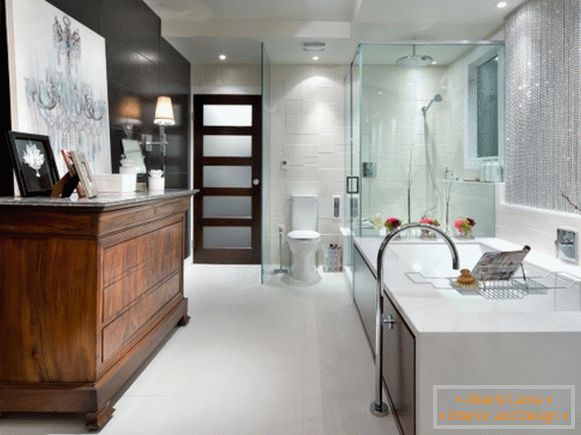 Also read: 10 simple ways to make a bathroom look expensive
Which curtains for interior design in high-tech style
The best curtains in high-tech style are those that have the greatest functionality and convenience of regulation. Vertical and horizontal blinds, roller blinds and Roman curtains, as well as curtains on electric or mechanical cornices can be an excellent choice. As for fabrics for curtains, they should either have modern large patterns, or be monophonic. They can be finished with metal rivets, zippers, elements of shiny lurex thread. It is also worth paying attention to curtains made of high-tech fabrics with a protective Teflon coating or impregnation from fire.
The hi-tech style palette is cold, monochrome. Using curtains with patterns here is the exception rather than the rule. At the same time, the interior design in high-tech style not only allows, but also encourages the use of modern curtains with photographs or other images.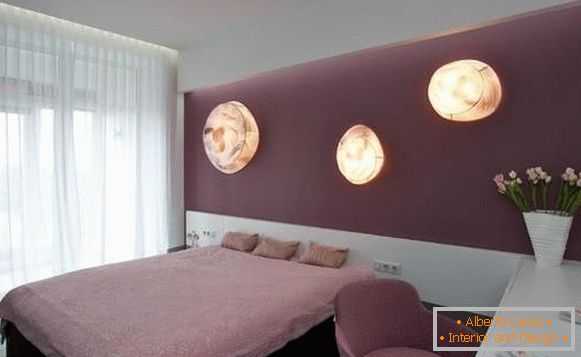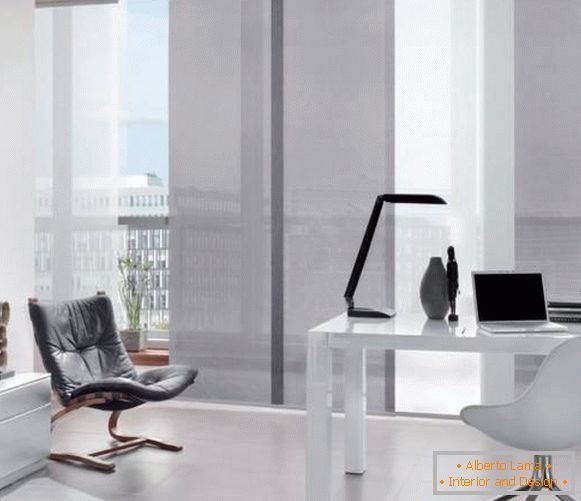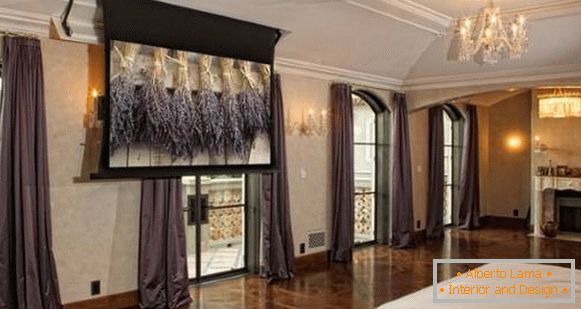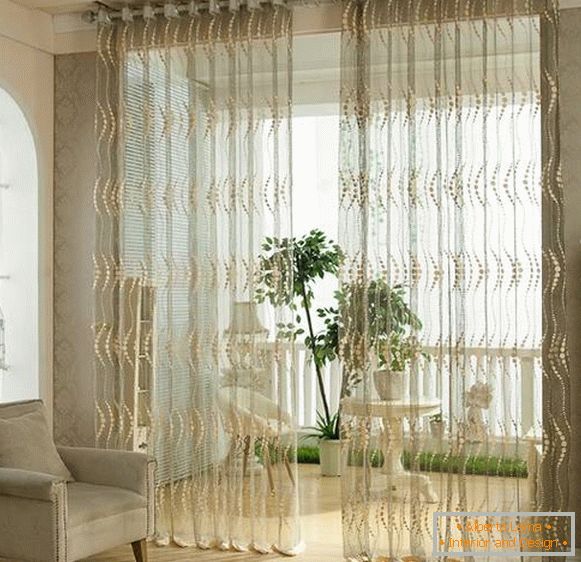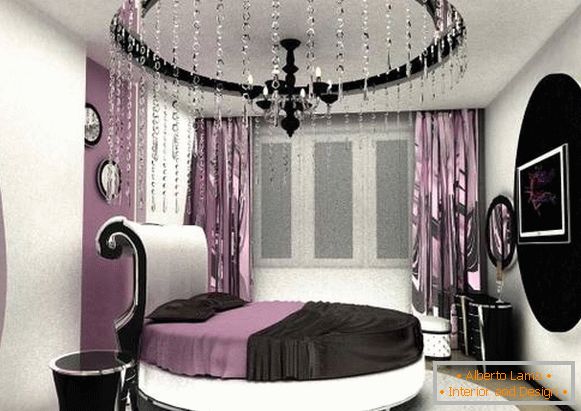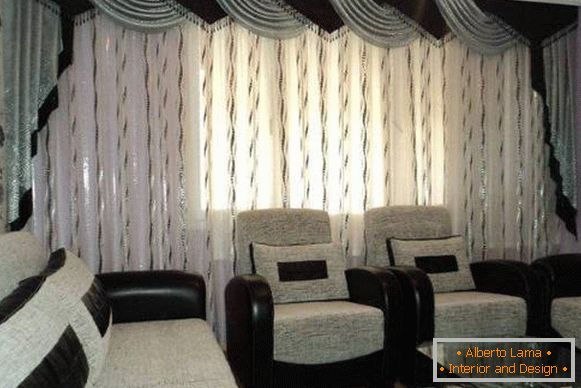 High luminaires and chandeliers
As you may have noticed, lighting plays a very important role in high-tech interiors. Welcome multi-level and architectural light, built-in led lighting, giving the room a futuristic look, as well as the use of halogen lamps, string lights and chic modern chandeliers. Stylish floodlights, tripods and metal industrial lamps can also be appropriate.