Have you decided to create a new kitchen design and do not know where to start? Have seen a lot of photos on the Internet, but have not decided yet? Naturally, because decor manufacturers and designers offer such a huge choice! Nevertheless, the best cuisine can be only one - the one that in everything corresponds to your personal needs and preferences. Let us guide you in the right direction!
Your attention - a free guide with practical advice for those who decided to transform the kitchen space.
Kitchen layout
Before considering different decorative elements, which should contain the future design of the kitchen, think about exactly how you would like to use it. Is not there something you missed in the old kitchen? Maybe you want to watch your favorite TV series while cooking? Is there no need for additional space for the children's table? And can the cooking zone and the dining room be separated by a bar counter? Or find a place for a new dishwasher / microwave / gas column?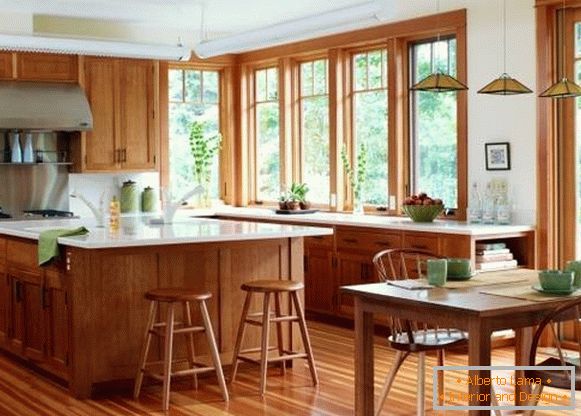 Beautiful kitchen design
To develop a detailed kitchen plan and do not miss out on any significant details, arm yourself with a ruler, pencil and paper. Do not regret the paper, let the plan be large enough so that it is convenient to apply various small elements, up to the place for the coffee maker or flower pots.
So, after you applied the perimeter of the room on the graph paper, start making the plan of the kitchen in the following order:
1. Specify the doors and the direction in which they open, as well as the size and location of the windows.
2. Set the position for large technical appliances, plumbing fixtures, lamps and cabinets (in this order).
In this case, think about ergonomics: the kitchen should provide maximum comfort and efficiency of actions. Ideally, the sink, stove and refrigerator should form a "working triangle" - their distance from each other should not exceed the length of the outstretched arm more than 2 times.
Kitchen design: working triangle
3. Mark the surfaces that will occupy the countertops. Remember that they must be set according to your height. Average convenient height of worktops: 88-90 cm.
4. If the room allocated to the kitchen is quite spacious, then think about creating an "island". The distance between the island and the rest of the kitchen should be about 1 m. It must necessarily be equipped with lamps and bedside tables for storing different kitchen accessories. In addition, it usually includes a cooker with a hood or sink.
Kitchen design with an "island"
Kitchen design with an "island"
Kitchen design with an "island"
5. If you do not install a shell on the "island", then another best location for it is near the window. After that - at the wall, but just avoid placing cupboards over it! Consider whether you need a single or double sink, stainless steel or ceramic. Place the switches and sockets as far as possible from it.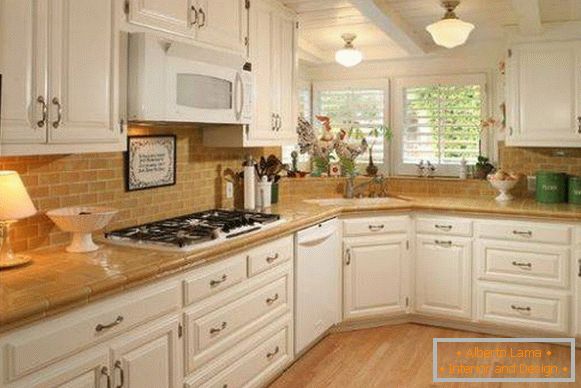 Kitchen design with sink near the window
6. Place a dishwasher next to the sink and cupboard.
7. If possible, install the slab at the outer wall, which will facilitate the installation of the hood, which should be 53-76 cm above the surface of the slab.
Before installing the slab next to the window, keep in mind that even small air flows from the slots in the windows can extinguish the gas flame and cause a fire of the curtains.
8. Consider the need to create a gap for opening doors of various devices, especially overall industrial models.
Choice of appliances for the kitchen
On the Internet today you can find a technical specification for any technique, so you can find a suitable place in the kitchen even before you buy it, and it will fit perfectly into your plan.
We will not dwell on which refrigerator or microwave oven you should choose. As a rule, there are no special problems with their placement, and this choice often depends more on design and brand than on any other indicators. But at the same time I would like to talk a little about another technique for the kitchen, which only recently began to appear in our homes.
How do you see the purchase of dishwashers instead of standard dishwashers? Some manufacturers already produce dishwashers with two boxes, one of which can be started for daily work, and the second - it should be used only after the holidays etc.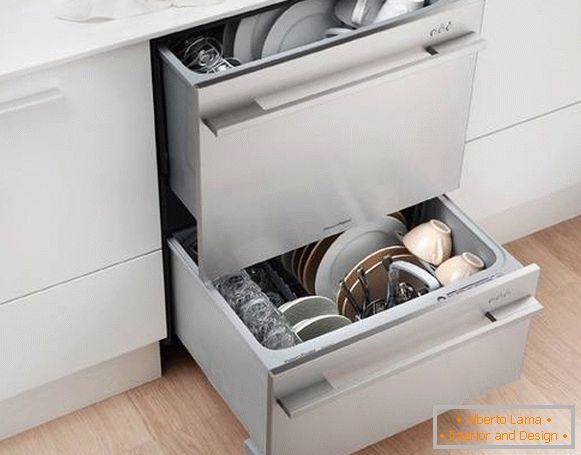 Dishwasher with two drawers
To owners of spacious kitchens we also recommend paying special attention to special cooling chambers. They can help out if the refrigerator is located far from the cooker or is often clogged to failure. In them you can conveniently store kitchen essentials and those that are used by you every day.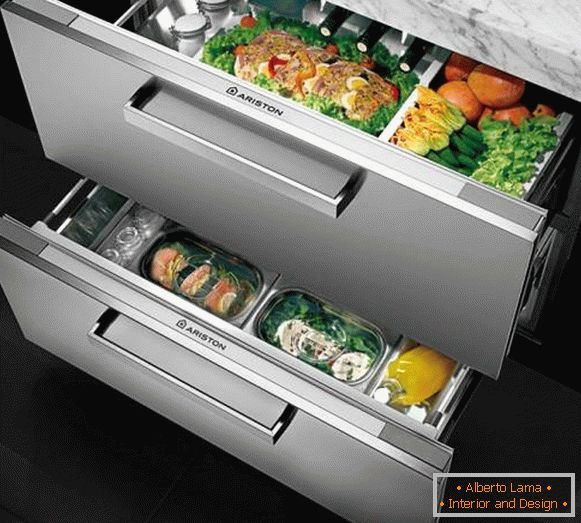 Cooling boxes for kitchen
After you have indicated on your plan all the equipment that will be built into your kitchen, you can proceed with the selection of lockers and other furniture. First, determine the appropriate width of the lockers: 30, 60 or 90 cm. Now proceed to selecting a quality countertop.
How to choose a countertop in the kitchen
The kitchen worktop should contain as few connections as possible because these places are very hard to clean.
Wooden countertops require proper maintenance: they must be regularly treated with linseed oil. In addition, scorched or scratched places will be visible on the tree. If you choose a wooden countertop, then you also need to have a separate metal surface on which you can put hot pans.
Granite work tops are very strong, withstand high temperatures and are ideal for those housewives who often delight their family with confectionery (the dough does not stick to the cold surface of the granite).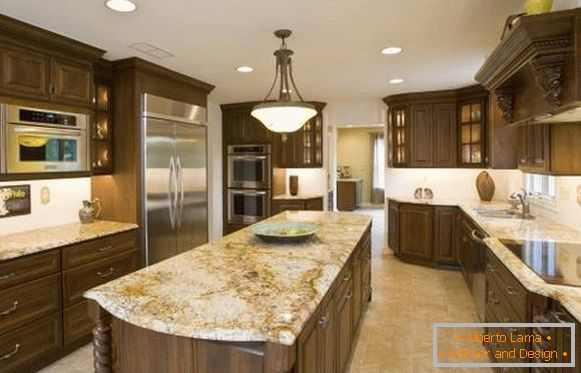 Granite Countertops
Marble and limestone can be colored by contact with lemon juice or some kind of oil.
Concrete - a good material for countertops, if only because it is possible to produce a seamless surface from it.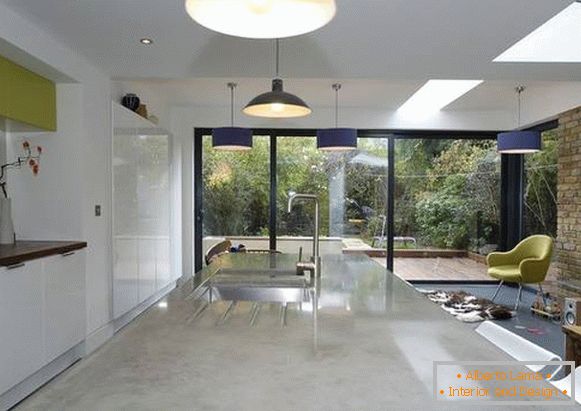 Table top made of concrete
Stainless steel quite easily scratches, but has an important advantage - hygiene and ability to withstand high temperatures.
Laminated countertops (тонкий пластик, связанный с ДСП, фанерой или МДФ) стоят недорого, легко чистятся и доступны в широком диапазоне цветов. Если вы выбираете для столешницы ламинат, то подумайте также об окантовке для нее из дерева или нержавеющей стали. Laminated countertops могут выцветать, а пластик отслаиваться, если влага попадает в швы.
There are also countertops from an artificial composite. This material is durable, non-porous, easy to clean, which can also be slightly ground up when corrosive stains appear. Composite worktops are often very expensive, since they are almost entirely made up of crushed quartz (one of the hardest materials in nature).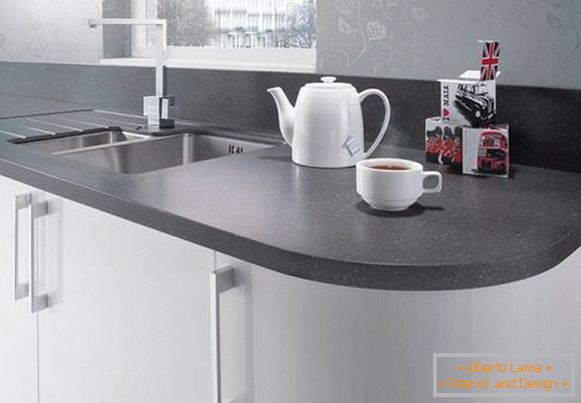 Composite worktop
Glass countertops perfectly resist the harmful effects of moisture, heat and various acids. They can be ordered with a variety of finishes, including opaque and with a metallic effect, in a wide range of colors.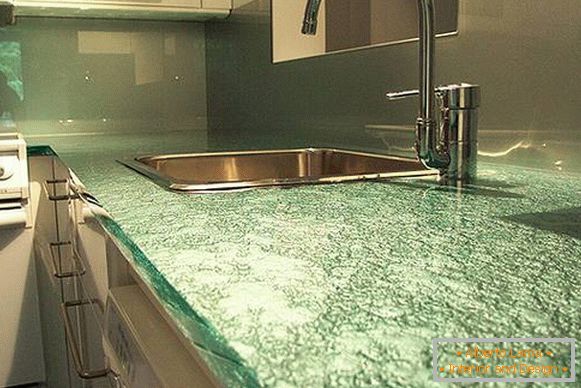 Glass table top
After choosing the type of countertop, determine which design should be at its edge: beveled, rounded or other.
Storage systems for kitchens
If you are planning a new kitchen design, then try to effectively use every centimeter of space. For example, you can remove plinths, and also hollow out false panels and platbands for storing wine. Even the kitchen corner can be used as part of the storage system in the kitchen.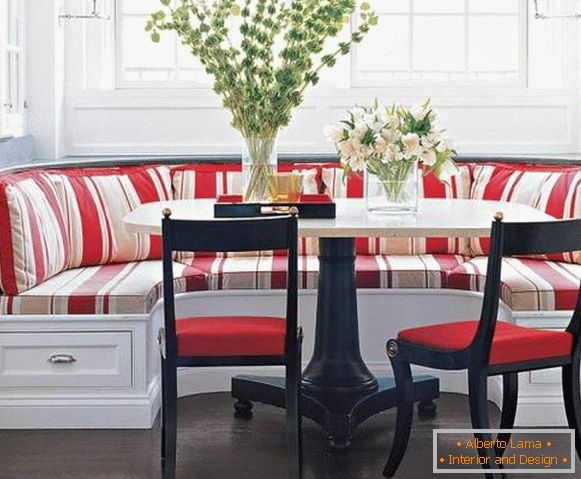 Kitchenette with storage boxes
It is also worth considering how you can conveniently place garbage cans, especially if you separate the plastic from the rest of the waste.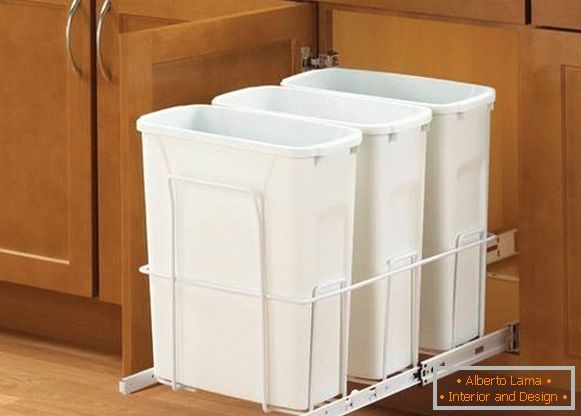 Waste space in the kitchen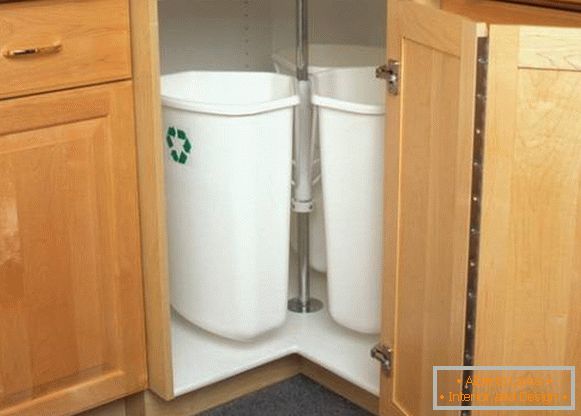 Waste space in the kitchen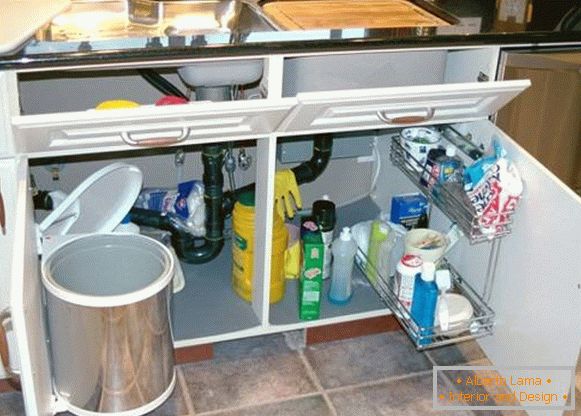 Waste space in the kitchen
It is useful that the locker with spices be located next to the stove. This, insignificant at first glance, little attention is paid to the details at the planning stage of the kitchen, which has subsequently been repeatedly regretted.
Spice box in the kitchen
As a rule, the locker in the corner of the kitchen remains empty or filled with all sorts of unnecessary items that are used extremely rarely or never. Nobody wants to constantly climb into a corner, at the risk of overturning the items on the way, so think about using retractable corner elements.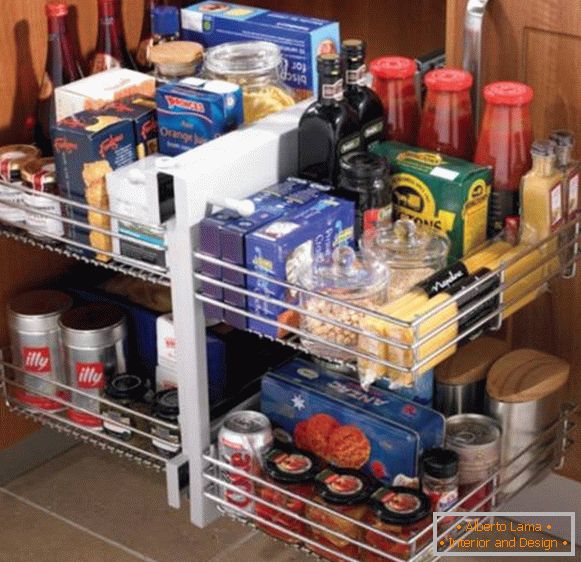 How to decorate a kitchen corner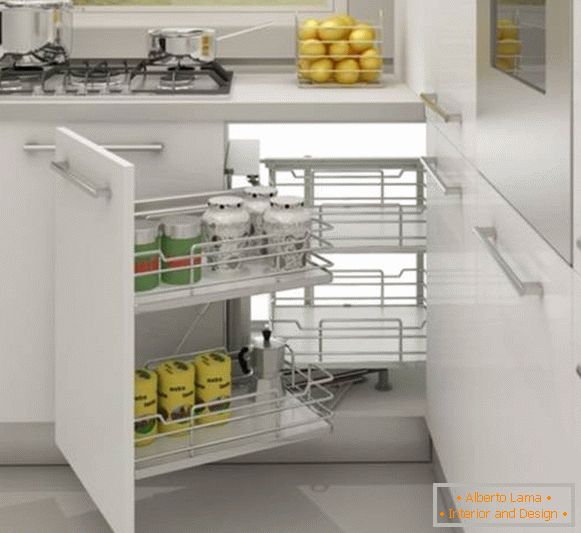 How to decorate a kitchen corner
How to decorate a kitchen corner
To make it more convenient to use the bottom of the storage system in the kitchen, use drawers as an alternative to lockers with shelves. This will allow you to lay out more densely items, which will help significantly save space.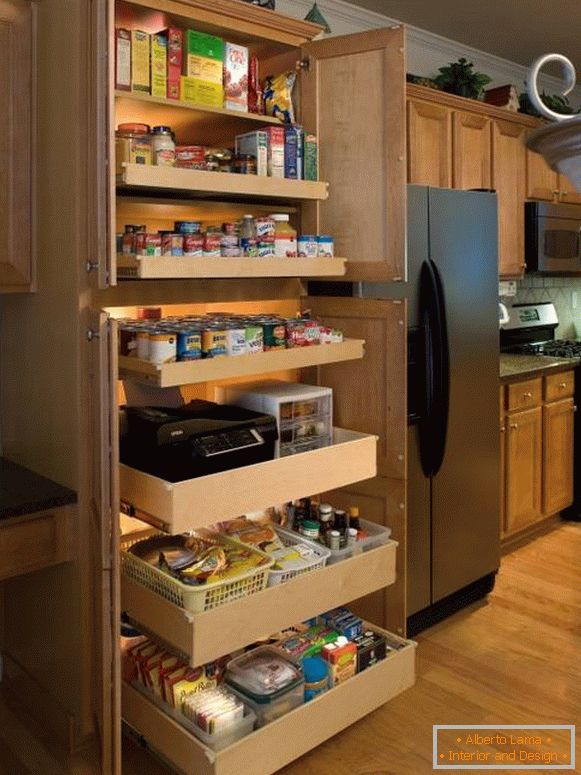 Kitchen cupboard with drawers
How to update an old kitchen
If your budget is limited, consider upgrading, not replacing, your old kitchen.
For example, you can color your technique in any color, just try to use a heat-resistant paint or special household enamel for this.
Kitchen cabinets are also covered with a special primer, after which they are painted and get the effect of eco, satin or egg shell. Even the most ugly and boring kitchen doors can be transformed with special smart paints, for example from the British manufacturers Sanderson or Zoffany, which are sold in Ukraine and Russia.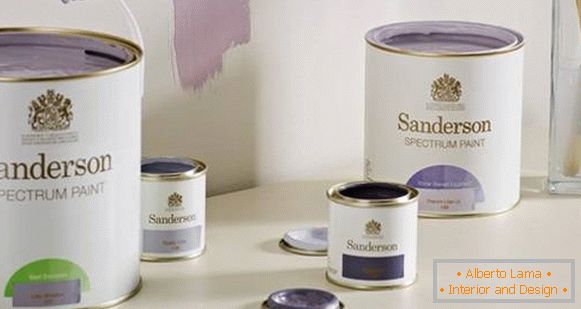 Paints Sanderson
Another cost-effective and practical way to upgrade an old kitchen is to glue the glass on a part of the wall between the upper and lower cupboards.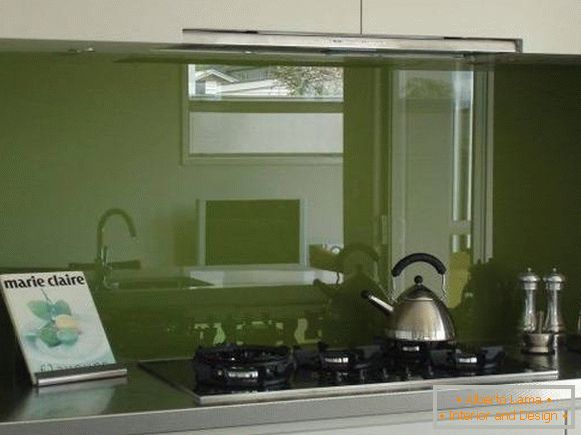 Glass as a kitchen decor
Changing the handles of furniture can be quite expensive, but still this is another way to save on the transformation of their kitchen. In addition, if the old handles were made of brass, they can be lowered overnight into a solution of hydrochloric acid. From this they will acquire a beautiful grayish color of cannon-bronze. Finally, cover them with a spray spray.
What you need to keep in mind when planning a kitchen design:
It is very important to detail your budget in detail. You can forget one single detail, but it can significantly change the final amount that you have to spend, especially if it's a countertop or handles for lockers.
Together with the contractor, make a written agreement, which will specify the amount of work, time and method of payment. Make sure that the contractor, architect or designer really understands the building codes and rules before allowing them to clean the wall or install a new plumber or electrician.
When all the main points associated with the layout of the kitchen, will be settled, think about what optional decorative details you might give it a special look. How about a board on which you could leave your family memories with pleasant notes or plan purchases?
Slate in the kitchen
If after placing all the necessary elements in your kitchen there is still enough free space, then remember, do you want to move furniture from other rooms in the house earlier? For example, a cozy armchair to read for him cookbooks, or an antique cabinet that can perfectly play the role of a cupboard. After all, there is nothing more pleasant when the kitchen simultaneously combines both practicality and comfort!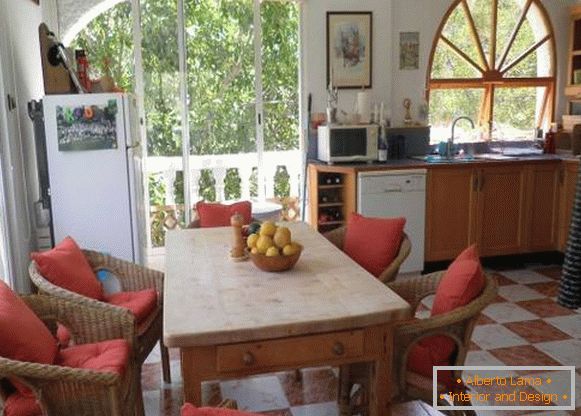 Kitchen with wicker furniture