We all know that the kitchen is a workplace and a trash can is needed, but we do not want to have it in front of us or stumble every few minutes. In this article, you are offered a number of practical solutions that will help you comfortably handle kitchen waste and hide them from your eyes.
Some of our ideas suggest simply changing the bin, others may need the help of specialists, and you can easily implement them yourself. Maybe you already have experience? We will be glad if you share it in the comments!
In the meantime, let's look at the 5 best ways to mark a trash can in the kitchen:
1. Put under the sink (the traditional solution)
This option is optimal for a kitchen of any size. And if there is a locker under the sink, then this is, perhaps, the easiest way to remove waste from the eyes. BUT! What do we do with such a bucket in the cooking process? We have to either get it and put it under our feet, or constantly bend under the sink to gently throw out the garbage and not miss.
Therefore, if during cooking you take out a bucket and put it beside you, we advise you to buy a trash can with a pedal: on the one hand - the trash is hidden from your eyes, and on the other - you do not need to bend over to lift the lid.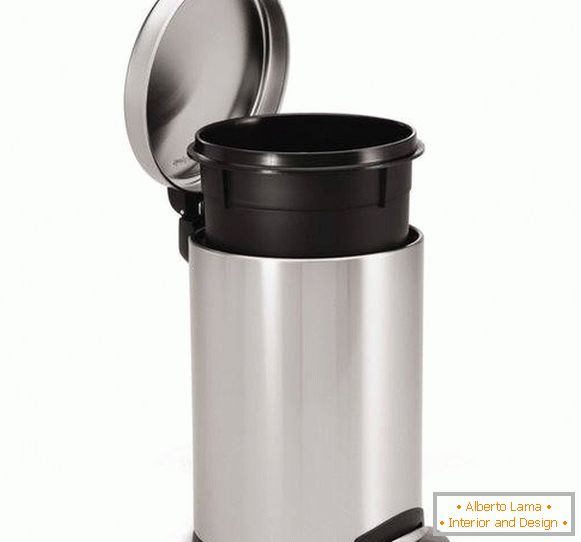 Even more convenient option may be a bucket without a pedal, but with a functional cover, which departs with a slight pressure. The only drawback of such a bin is the need to keep the lid clean.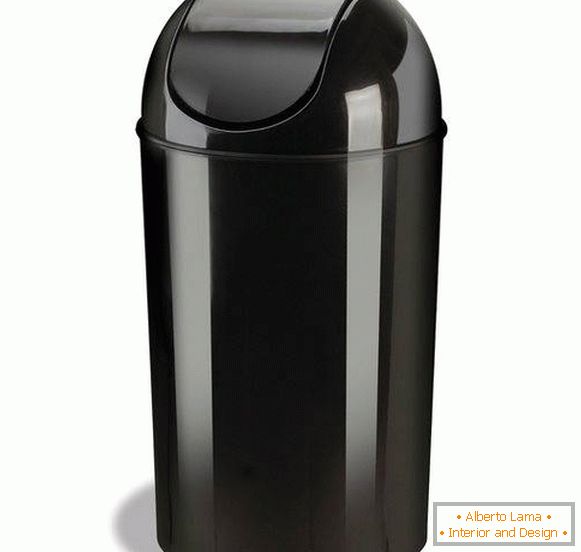 So, with the most simple and obvious way of placing the trash can, we sorted it out. All subsequent decisions do not provide for you the need to get the trash can from the place reserved for him in the kitchen.
2. Attach to the cabinet door
It's really very convenient. In addition, you can attach a trash can to the locker door today yourself, using a simple metal frame, and with the help of special installations that are sold in most stores and include interesting retractable options for corner kitchens and much more.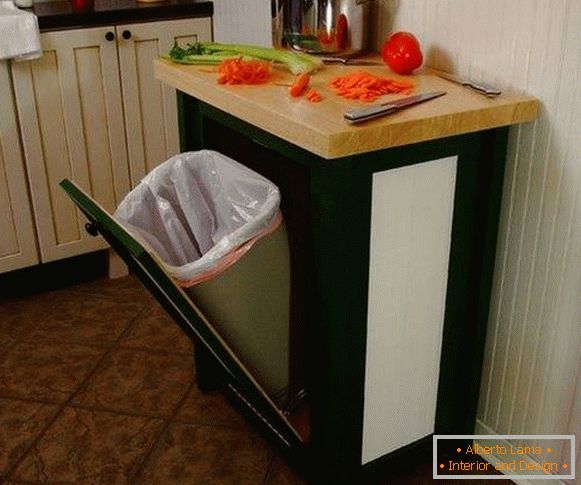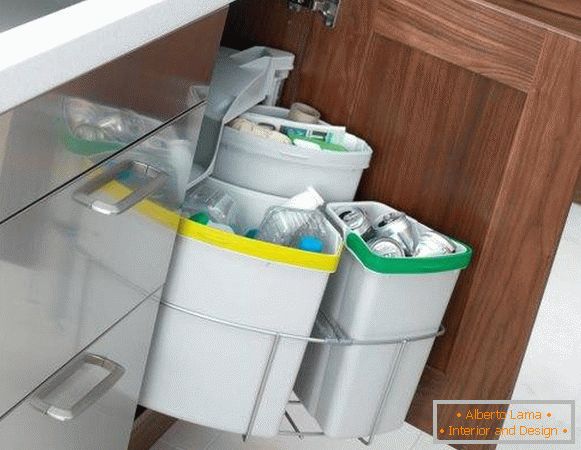 By the way, did you ever think about separating your waste? Today in many yards there are special containers for plastic bottles, and more and more people are trying to do their part to save the environment. You can also find that it is very convenient to separate perishable waste from all the others. However, in this case, when you want to have more than one bucket, but a few, you will probably enjoy using the drawer more than installing it. Let's consider this option.
3. Organize the box
What is the main advantage of the drawer above the shelves when it comes to the lower part of the kitchen? It is obvious and undeniable: it is much more convenient to put it and even more pleasant to get various items. From above, you can immediately see that where it stands, and there is no need to move things to find the necessary. Even if you use one trash can, and there will be plenty of free space in the box, it will certainly have something to place, for example, cleaning and cleaning products, spare sponges etc.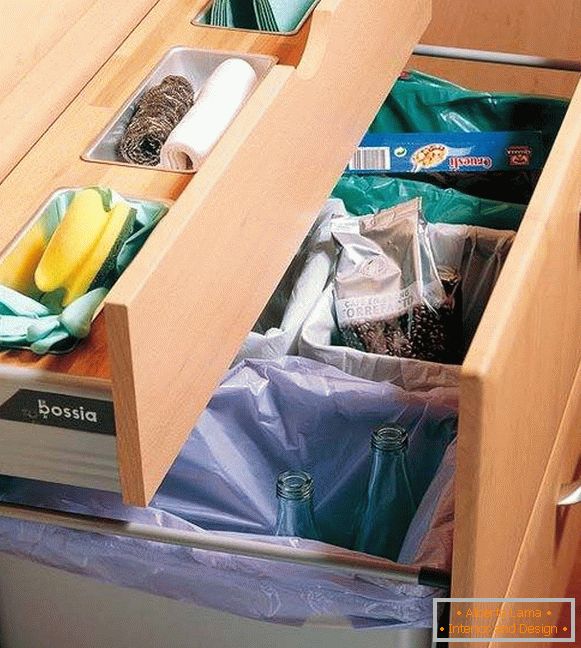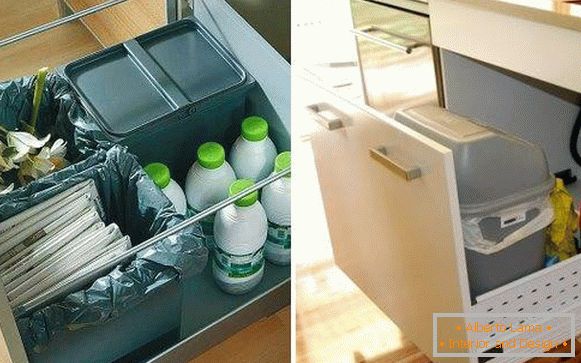 And if you place a drawer directly above the box with a trash can, as shown in the photo below, your comfort during cooking will increase many times!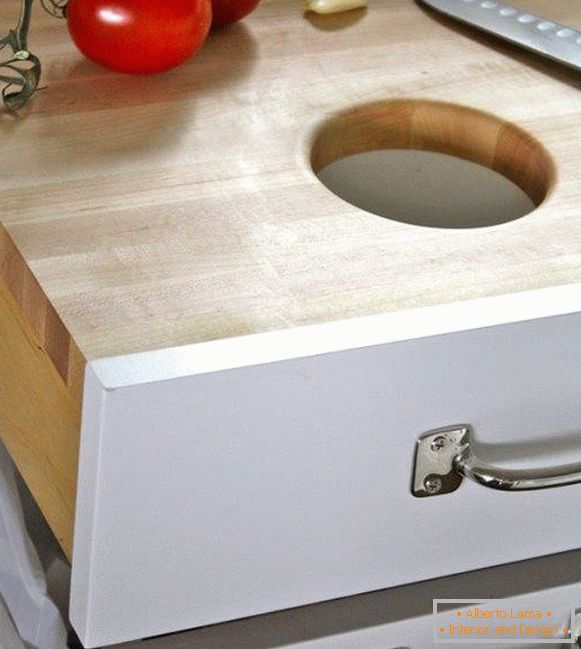 4. Mount in the countertop
This is perhaps the most non-standard solution for kitchen waste in our list, and perhaps one of the most convenient. We bring to your attention a curious device that is mounted directly into the countertop.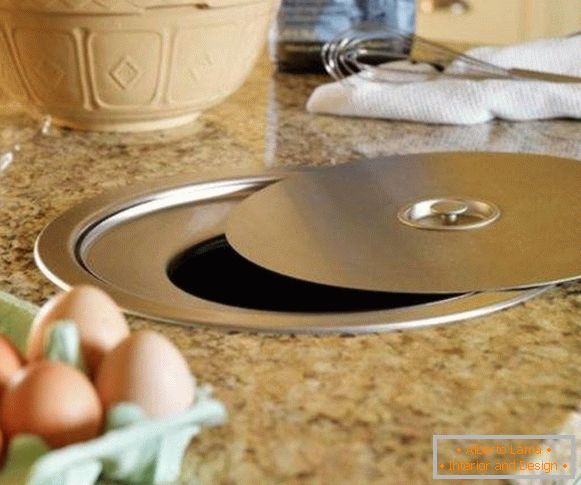 It consists of a tank that is placed inside a deep box and can be removed from it if necessary, and a simple flat cover. Agree: it looks neat and pretty presentable. However, we note that in the market such products are still represented by only a few companies, for example, Ikea, Blum and Hettich.
Let us draw your attention to another interesting detail. Some of these buckets, for example, like this model from Poh Joo, have an outlet with a stopper that can be connected to the drain pipe. This makes it very easy to wash the bucket after getting rid of waste.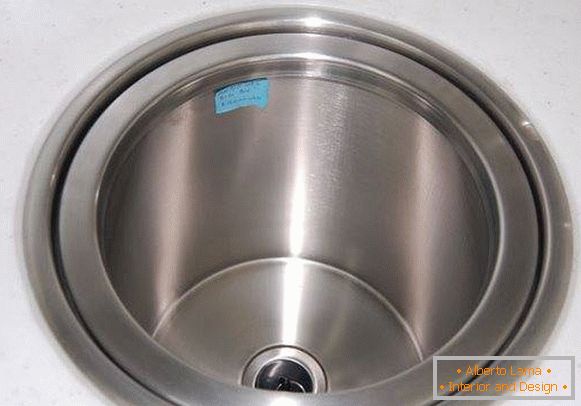 5. Place near the table
And finally, this is how our last version looks like, assuming that it is still more convenient for you to keep the trash can handy, rather than constantly opening and closing some boxes or doors.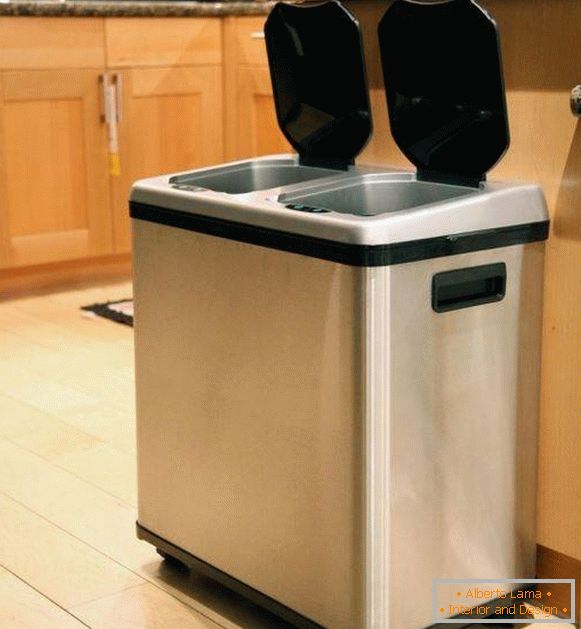 However, this solution is best suited for kitchens with an "island", or for kitchens, where a free corner or niche for a trash can was provided in advance. It's great that today manufacturers make containers of the most diverse shapes, sizes and colors, so we can choose a stylish version that does not take up much space.
And now we would be very interested to know which of the solutions seems to be the most optimal for you? Or maybe you will offer our readers an even better option?