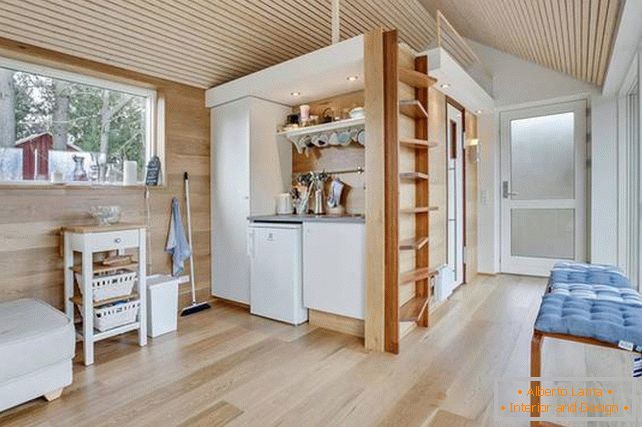 Cozy design of a small private house
Often, the correct design of a small private house can solve the problem of space. Popular in our days the Scandinavian style in the interior is very simple at all stages from decoration to the placement of furniture and decor items. In many ways, he is associated with the world-famous furniture and home furnishing store IKEA.
This small modern house is only 24 sq.m. is located in Denmark, Jutland. It embodies the many remarkable characteristics of this style: simplicity, comfort and comfort, as well as free space.
Designed and built by architect Simon Steffensen in just 8 months, this design is used as a summer house. It is located in a small village near the big cottages.
Steffensen himself says that he built this house as an experiment, and wants to show people that a small living space can be beautiful and comfortable.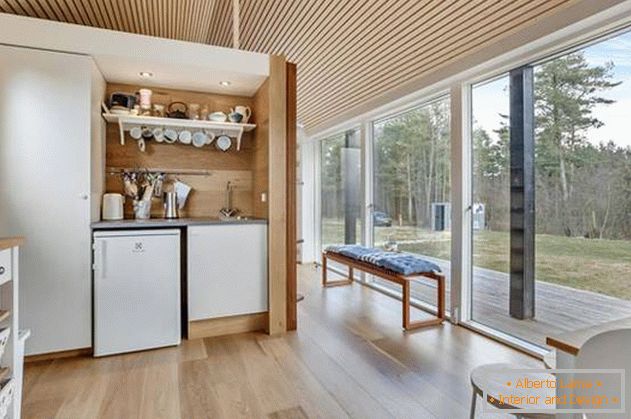 Compact kitchen
Thanks to the fully glazed wall, the interior is well lit. The concept of open space means that all rooms are made in the form of different zones, and only the bathroom is separated by an opaque partition.
The oak flooring, with its floors and walls, creates a simple and cozy atmosphere, which is in many respects typical for the Scandinavian style. Also in the interior are used some recycled materials, including wood.
In one part of the house there is a bathroom, a kitchen and a bed. The kitchen is very small, and is suitable for those who like to cook simple dishes.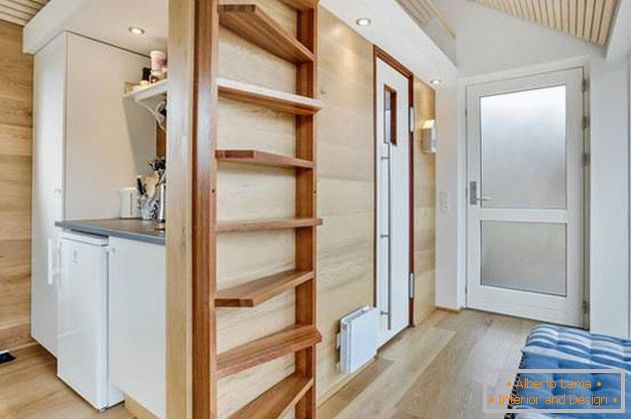 The house has a non-standard layout
The sleeping space is located in the attic, which is led by a very unusual staircase. It is convenient, because it allows you to hold on to the steps with your hands, more reliable and takes up less space than many other stairs.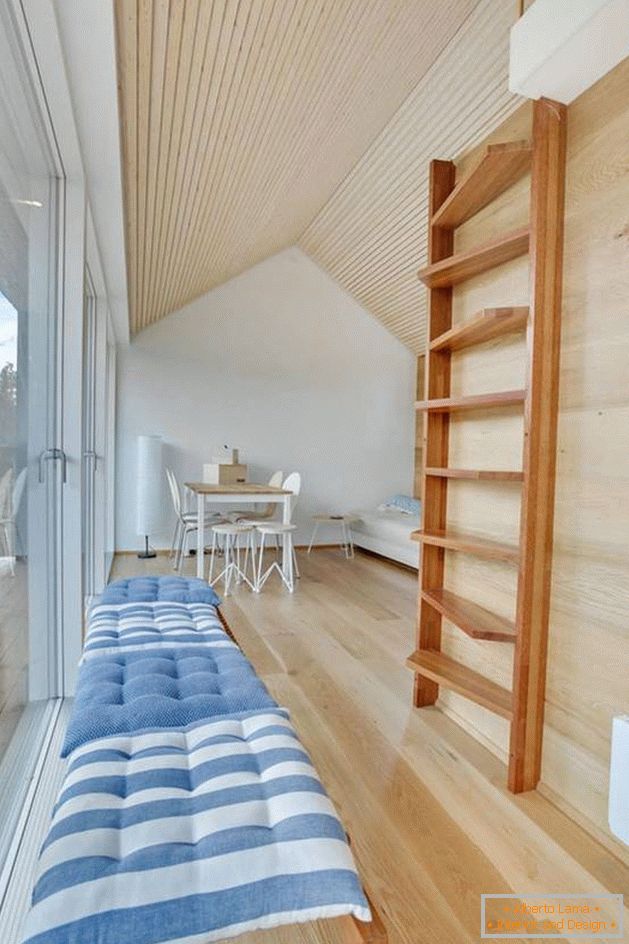 In the attic is an unusual staircase
Attic seems spacious. Despite the fact that it is located under the roof slopes, the place in it is enough for most people.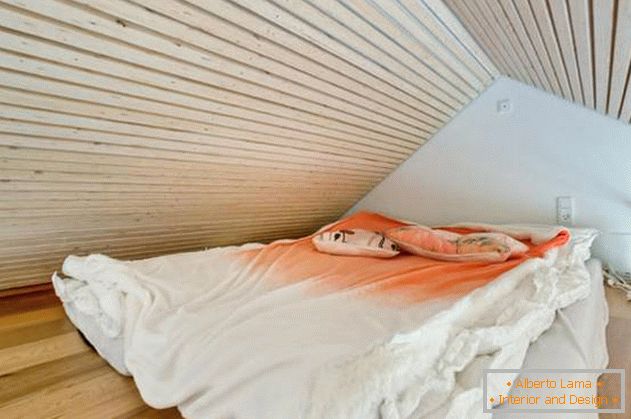 The bed is under the roof itself
Under the attic there is a bathroom.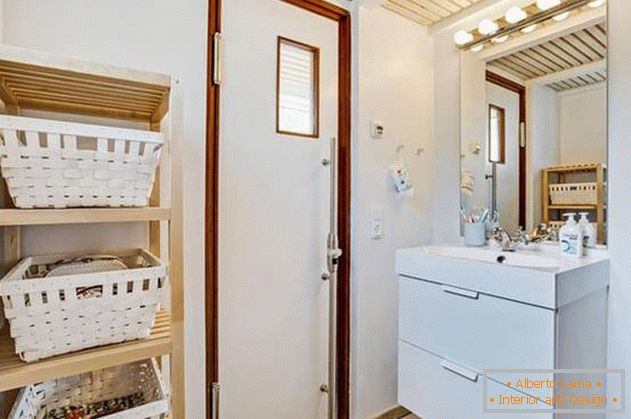 Shower room also made in Scandinavian style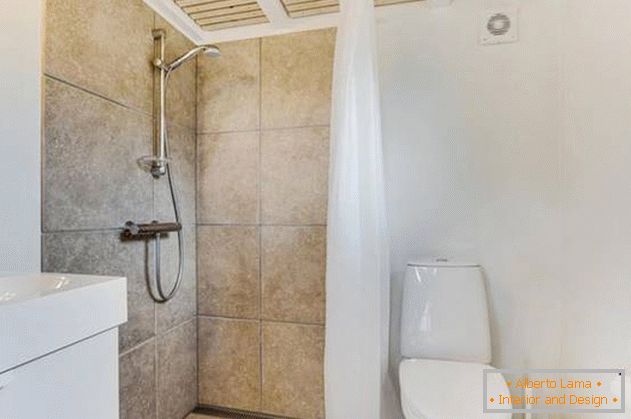 The bathroom is located directly under the bed
In the other part of the house there is a small dining room with a resting place, which can also become a guest bedroom. Moreover, this zone serves as a working space if necessary.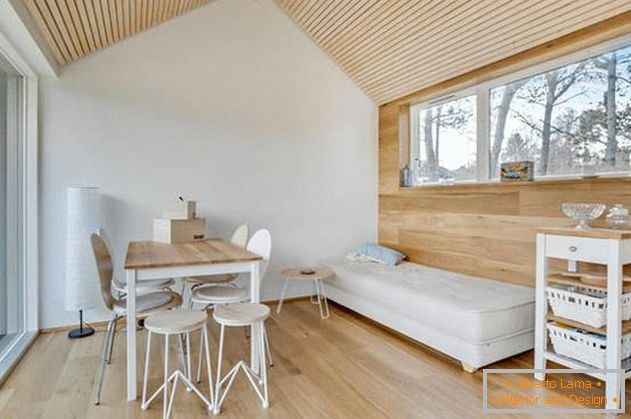 Small but cozy dining room
Outside, the roof has a small trough for draining water, which at the same time is a canopy. He creates a compact terrace and regulates the amount of solar board penetrating the house through a glassed-in wall.
On the side there is a small porch with a ledge on which you can sit or where guests can leave their shoes before they enter.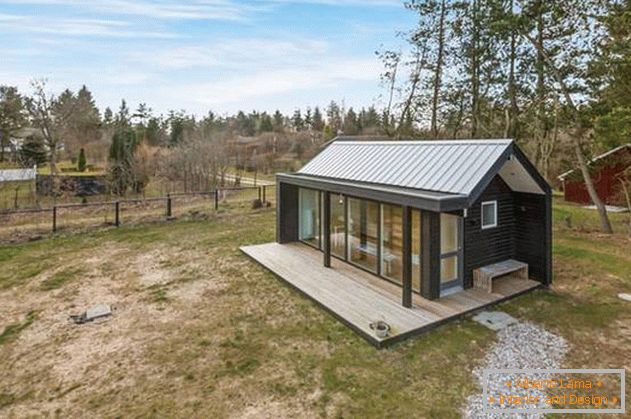 Exterior of a small private house
Minimalistic, but executed with taste, this country house breaks stereotypes about all small spaces. This construction shows that it is not necessary that the van on wheels or without them will look like a caricature of a real house: it can also be beautiful, cozy and functional.