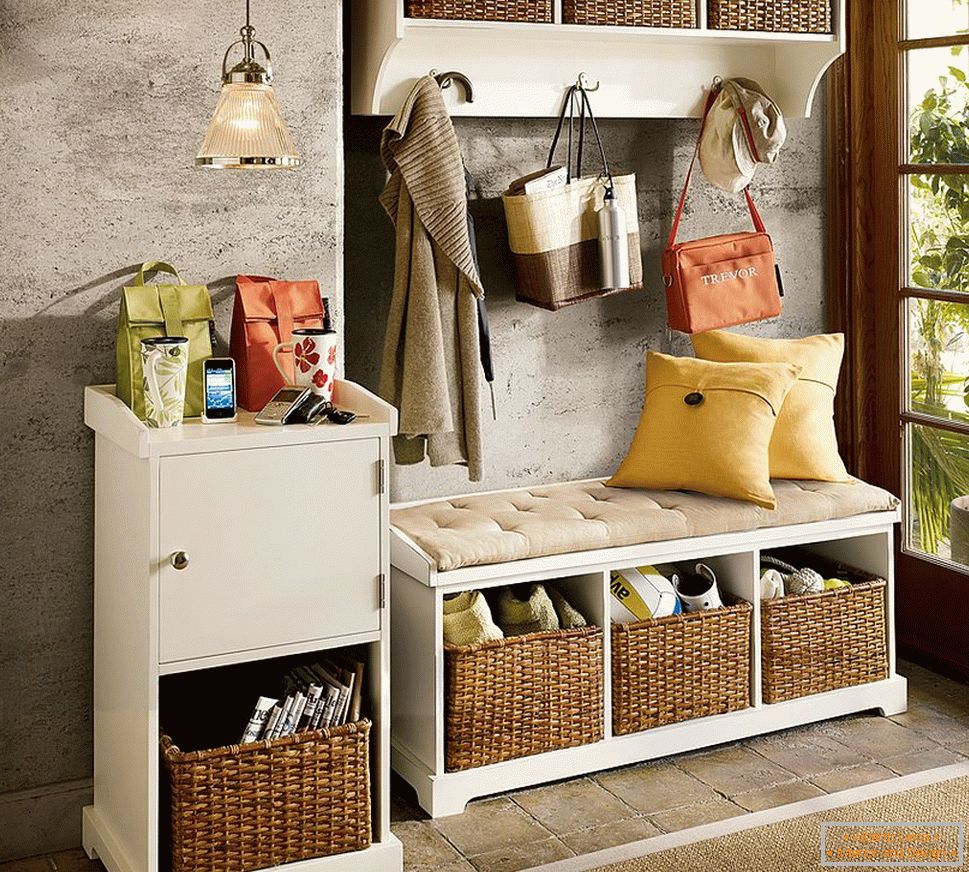 Take a few tips on arranging the space in the hallway, and, believe me, your shoes and other items will be in perfect order.
The transition from winter to spring is the best period that you should use to get rid of excess items before entering your home. Consider the eight ways we offer refresh your anteroom.
Their implementation will give warmth to the space, add places for storing shoes, inventory and other items, set the tone for the rest of the house. Even if you did not improve the whole room, but, just, the wall section.
1. Make a list of gadgets that you would like to have in the hallway
When coming home, pay attention to what items and accessories are with you - this will help determine the range of furniture and accessories that you will need. So, silk scarves will require a box or basket, whereas bags require shelves or hooks. Here is an example of such a list:
hooks;
shoe tray;
shelving;
chest of drawers;
carpet;
mirror;
baskets;
clock;
a tray for mail;
a container for waste paper and unnecessary mail.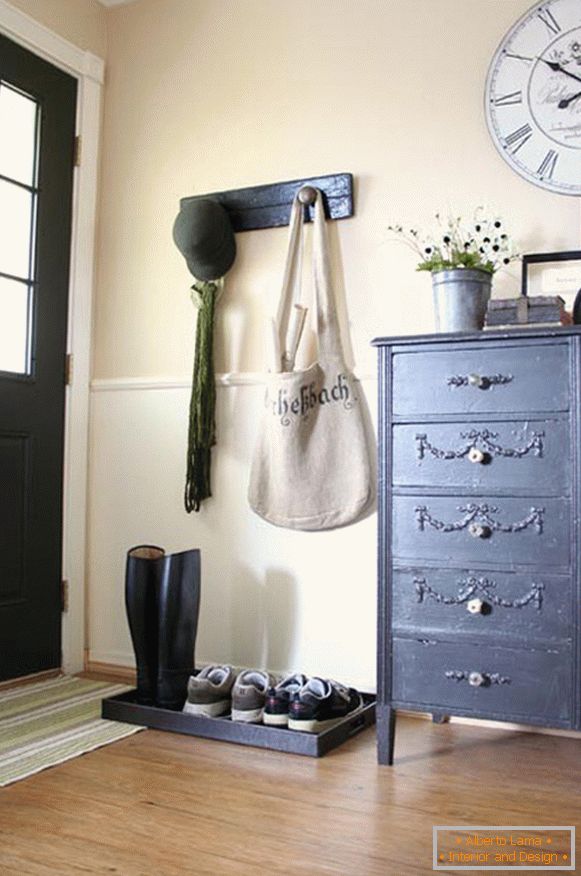 2. Think about the composition of furniture, take a creative approach to it
Sometimes it is useful to redesign the existing room instead of adding a new one. And it is not necessary to put in a hall a rigid wooden bench. A small double sofa or armchair will be a charming addition.
However, if you are afraid of stains, put a cover on the chair. In this world, as a convenient repository, an old chest can find its second life.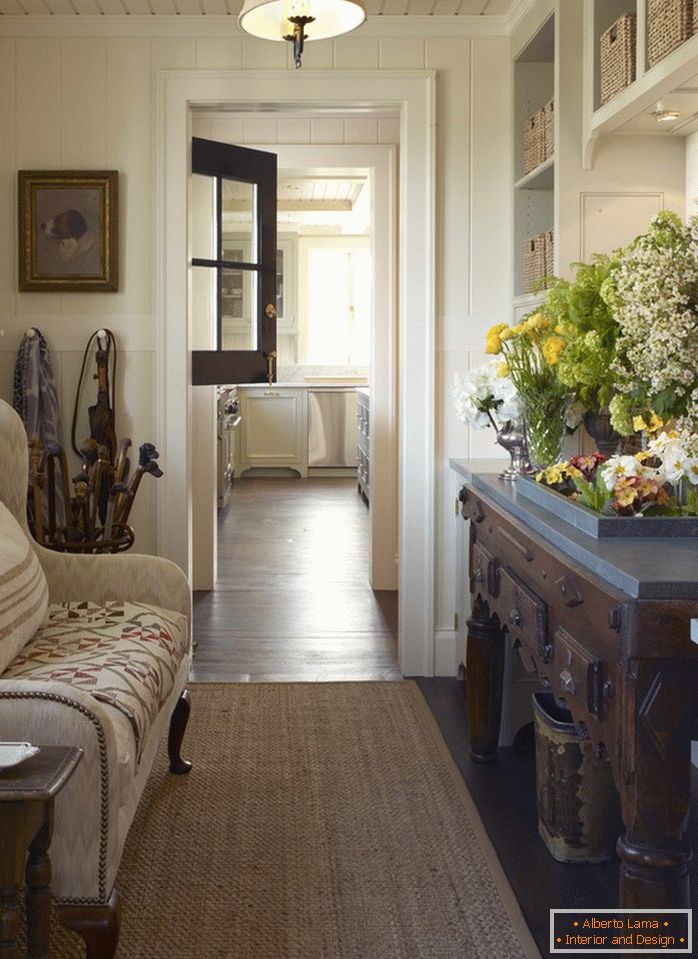 3. Decorate the space with colored decor and elements of fine art
Paints can work wonders. Covering the walls, the pattern of the picture on the floor, repainting the furniture gives the situation a completely new look.
The combination of pale green and white colors creates an atmosphere of spring and looks especially refreshing. At the same time, such jewelry does not require large expenditures. Here are a few ideas for inexpensive wall decor:
Cut out botanical illustrations from old books.
Cut a page with a photo from a beautiful calendar.
Make a herbarium of leaves and flowers from your garden or garden, put them in a transparent cover (plastic film, bag) and hang on a wall in a frame.
Fill in the hoops bought in the store samples of colorful fabrics.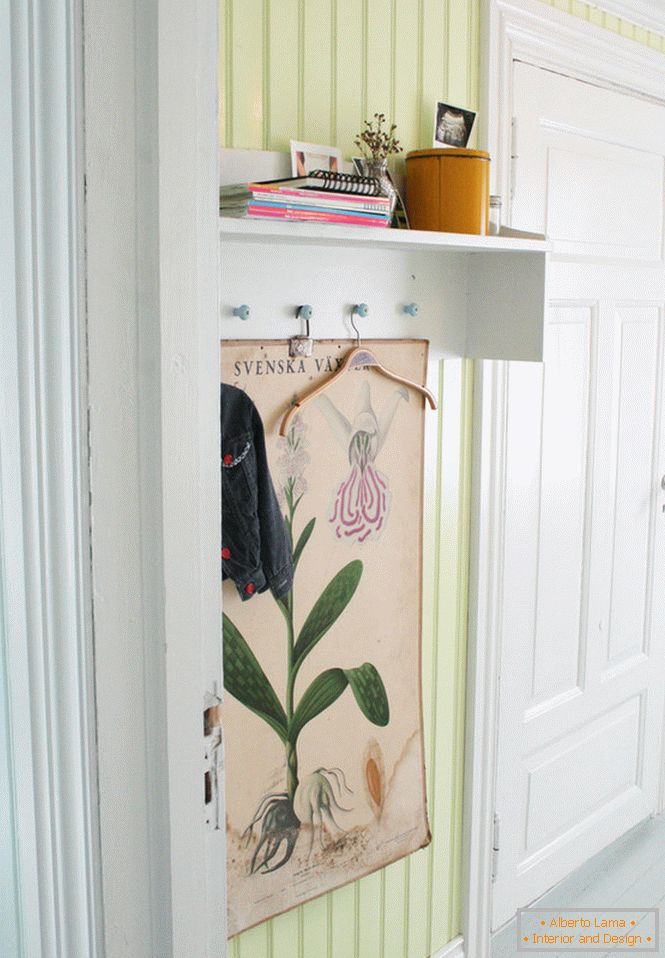 4. Take advantage of a small space
Remember - if you do not have an anteroom, this does not mean that you can not have an attractive and neat corner at the entrance where you can put shoes and hang an umbrella. Or a hat. A simple built-in or suspended shelf and several hooks are all that you sometimes really need.
If you want to increase the perception status of this zone to the level of a mini room, focus on the wall by painting it or pasting colorful wallpapers there to highlight a special area.
Or maybe you do not want an accent and want a smoothed harmony? Still decorate the wall, but perform a seamless seamless transition from the created zone to the color scheme of the rest of the room.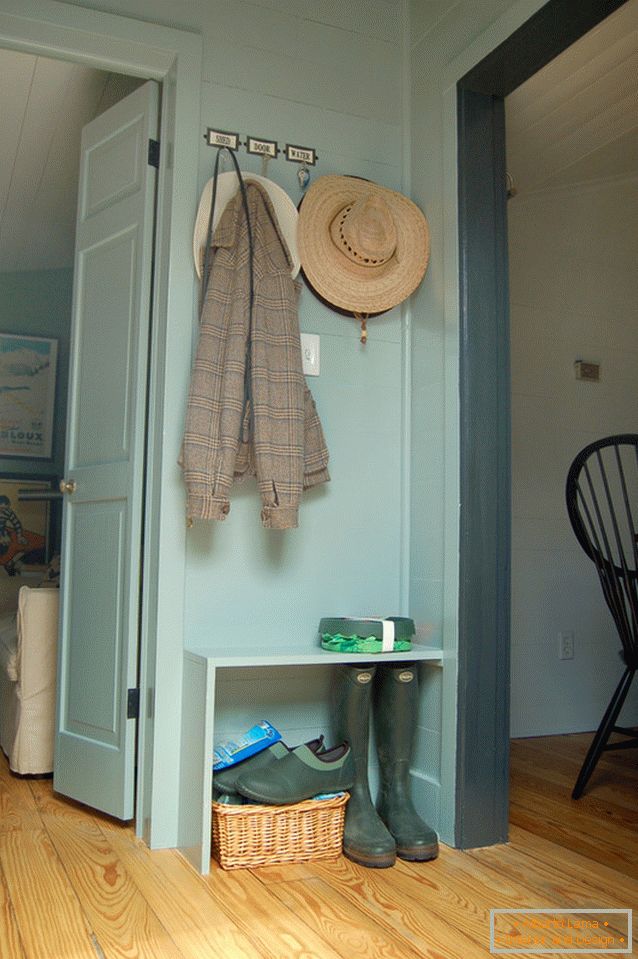 5. Consider the options for flooring
For the hallway is, in a literal sense, a transit transition zone between the external and internal environment. Dirt, snow or rain water come to you from the street along with shoes and other items, so think carefully about what material to make the floor from.
If you start from scratch, consider practical materials, such as stone or tiles. Otherwise, cover the existing flooring with a hard mat of natural fiber or, even, put it on the street.
6. Create a comfortable zone for the whole family
If you can divide space, this should be the reason to allocate a corner for each person. A basket, shelf and set of hooks for individual use by each man, woman and child will allow you to pick up things from the floor to provide them with the proper maintenance.
It remains to be seen that everyone realized the responsibility to empty the basket in time, preventing it from overfilling, and you can return to other matters.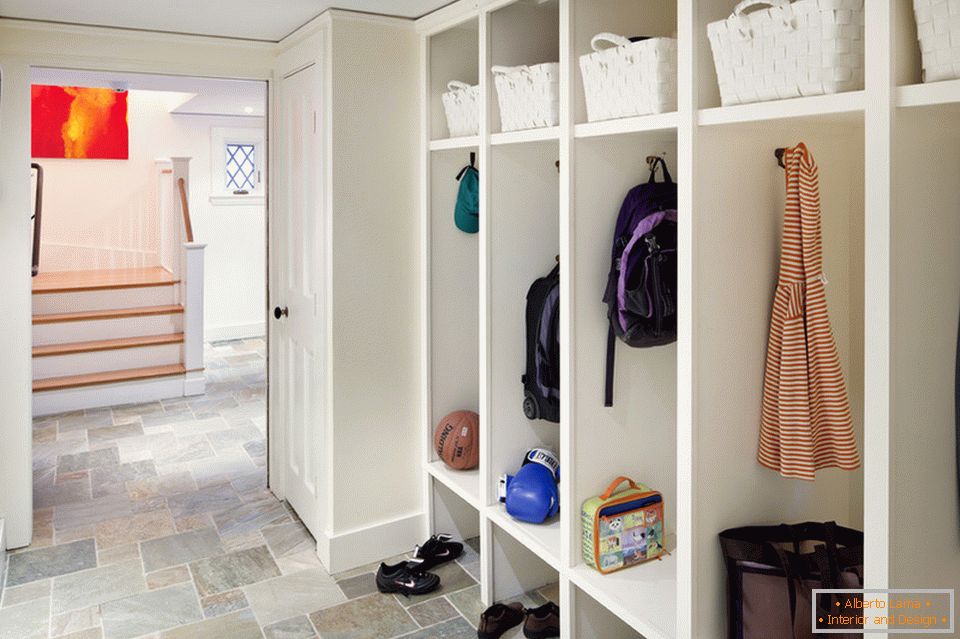 7. Add something like a control center
Since the hallway, often the last place we see when leaving the house, it is most suitable for placing the said center. As a miniature office, it is the organizing start for the whole family. Here are a few things you could do here:
blackboard;
Wall calendar;
chair;
small table;
suspended shelves;
basket for papers.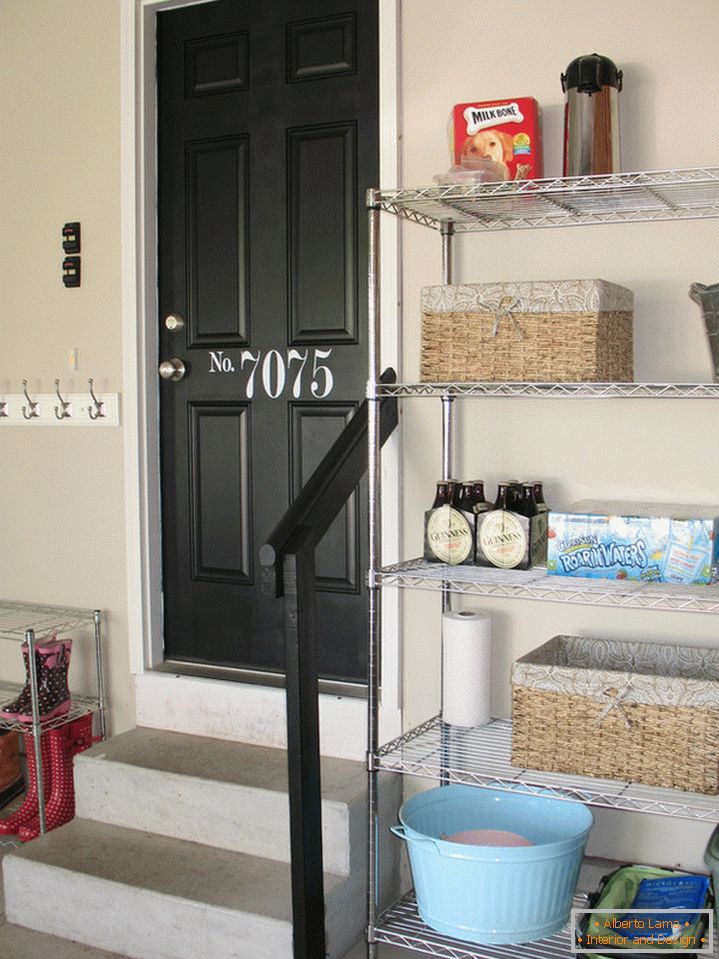 8. Find more space
Not enough room indoors? Make your garage, veranda, porch complement to the space at the front door. If you live in a block of flats, you will probably have the opportunity to equip a small storage room near your door.