Did you know that under King Louis XIV in Versailles there were more than 100 bathrooms, and also a huge octagonal marble bath built especially for the king? Or, what else did the ancient Romans build large thermal baths, which later became an inspiration for the Turkish bath and hamam?
Since time immemorial, people have devoted great importance to bathing. For example, onsens are widespread in Japan - it is a whole tourism infrastructure, which is built near hot springs, intended for public bathing. In Japanese culture, this procedure is a process of spiritual and physical rejuvenation.
Bathrooms, more or less similar to modern, appeared with the development of centralized water supply more than 200 years ago. During the XX century, many great architects experimented, trying to create an ergonomic and functional design of the bathroom. Today, the unlimited choice of products for bathrooms allows you to realize any of your wishes.
In this article, you will learn how to choose the right items for your bathroom design so that in the end it gives you the necessary comfort and mood. Let's start with the main:
How to choose a bath
Traditional oval and rectangular baths usually come in three lengths: 150, 160 or 170 cm. At the same time, the average width of the bath is 70 cm. Such a size is usually enough for an ordinary person for a comfortable rest and bathing.
If only a couple of decades ago, massive cast-iron baths were widely used in the USSR, the modern buyer has much more choice and prefers other materials, for example, acrylic, steel, etc., with pleasure.
Acrylic baths are light and, as is known, they keep the heat well.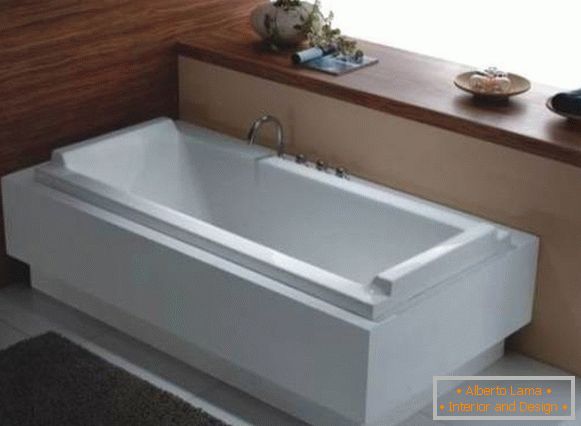 Baths of steel deserve great popularity, because they are extremely strong.
If your bathroom is spacious enough, consider a design option in which the bathtub is detached from the walls and all other objects, giving the situation a somewhat dramatic effect. It does not matter if it's the most ordinary bathroom or model with stylish ornaments (canopy, legs, various accessories from copper, brass, stone, wood, etc.) - observations show that relaxation in a free-standing bathroom brings much more pleasure than when it costs near the wall.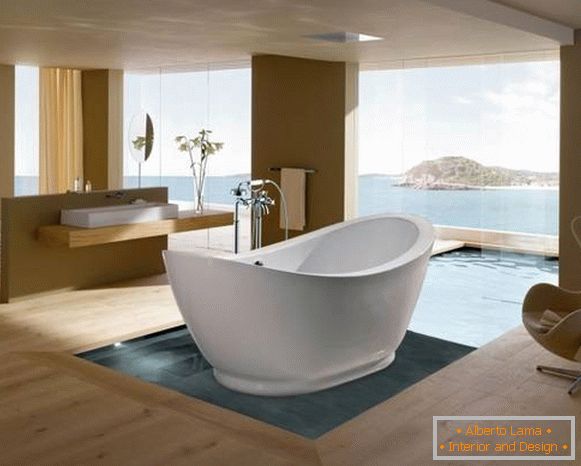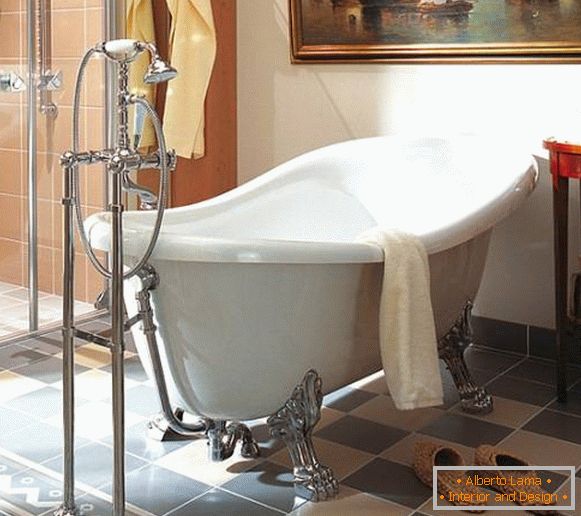 If you are installing a massive heavy bath, then ask the contractor to check if the floor is strong enough. If you live in a private house, then it is possible that you will have to strengthen the beams.
I would also like to remind you why it is not recommended to save much on buying a bath. Economy options usually have a bad enamel, which is quickly destroyed due to water, rust and merciless cleaning agents. Of course, there are firms that perform bath enameling, but this procedure is very expensive and does not give any guarantees for the future.
Create the unit: sink, faucet and storage system
Such a block is the central place in almost every bathroom, as it is above it usually hanging mirror, which makes the bath brighter and larger.
The sink may have a pedestal support, be wall-mounted or be built into the locker. The most common materials that are used for shells and have proven reliable and durable are natural or artificial stone, as well as wood with a waterproof coating.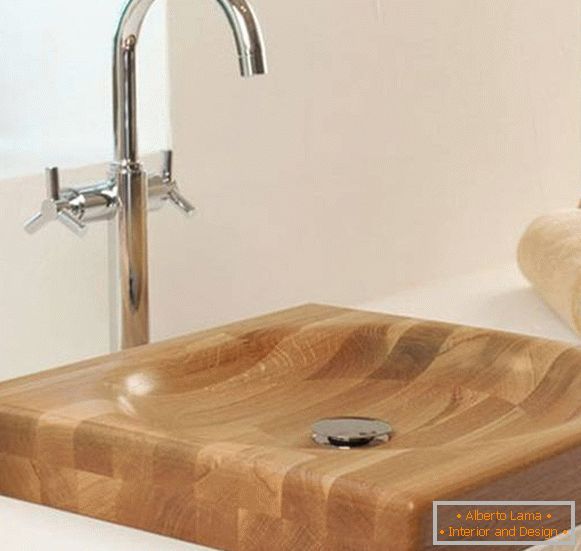 If you want to have a locker under the sink for storing different things, then give preference not to the shelves, but to the drawers. Simply it is much more convenient - and to bend less, and to place subjects more easily.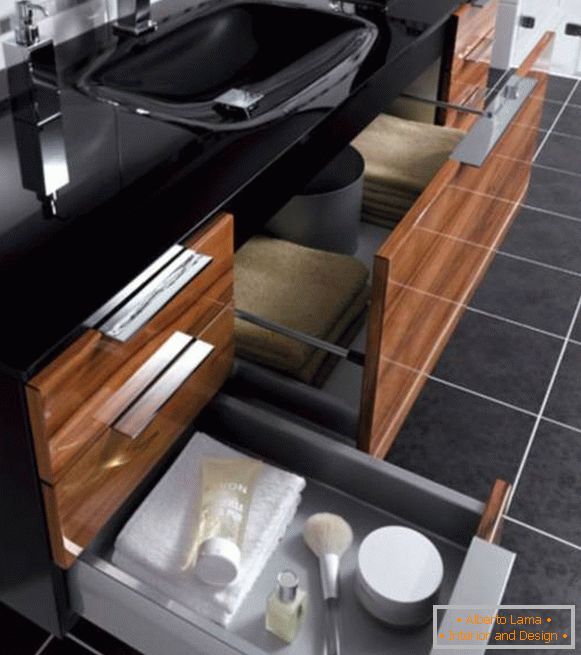 Panel joinery is more suitable for bathrooms in the traditional style, while furniture with flat facades gives the rooms a more modern look.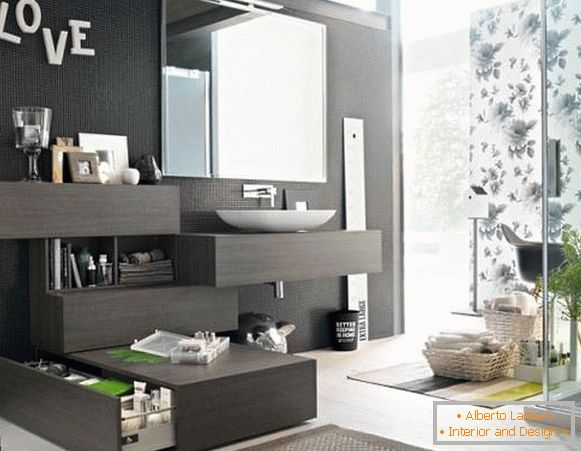 Cabinets with mirrored doors look very glamorous and visually increase space, but at the same time require careful care. If there is no possibility to permanently wipe them from splashes and fingerprints, then better give up this option.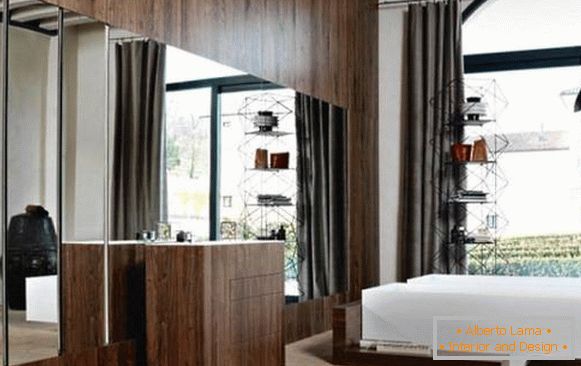 Wooden bathroom furniture can be painted with oil or acrylic paint.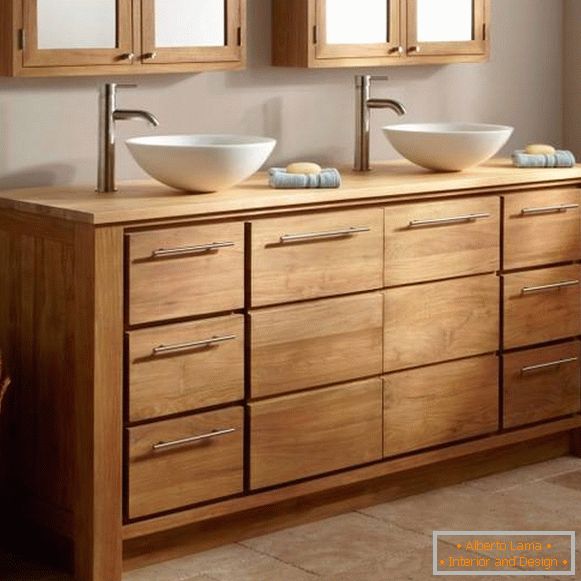 Would you like to add this block of originality? Then choose an unusual kind of shell, for example, belfast, trough (an elongated sink for two or more taps), a transparent glass sink or Moroccan-style handmade silver.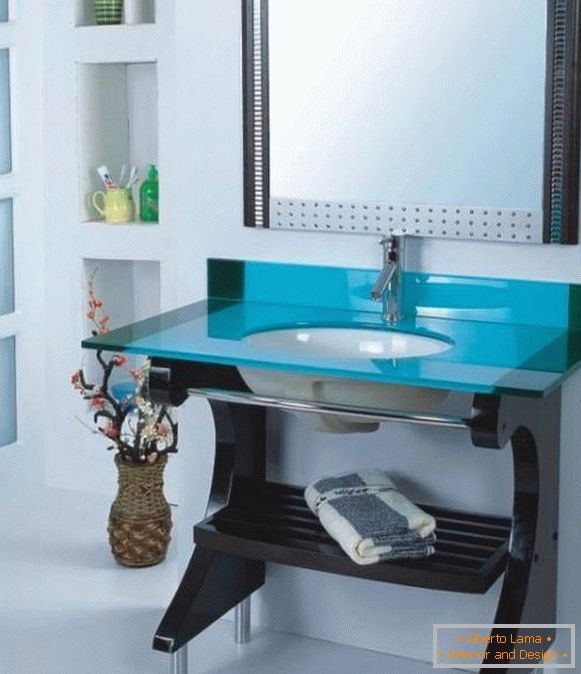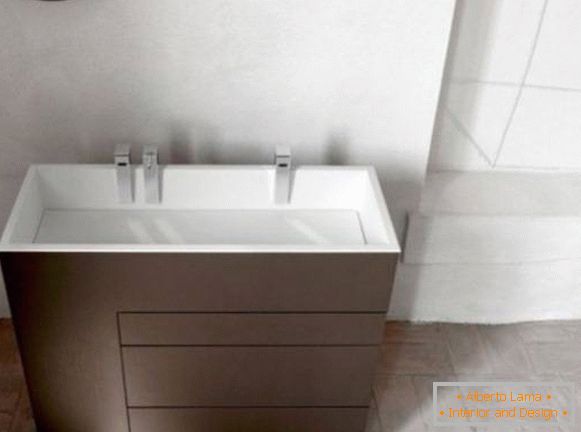 Very interesting in the bathroom look old, well-restored faucets. Compact, built right into the wall, the crane is also not devoid of excellence.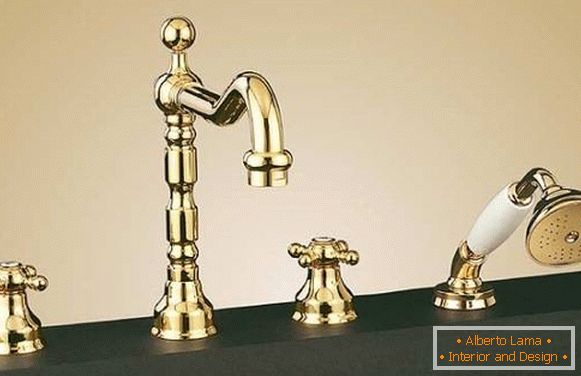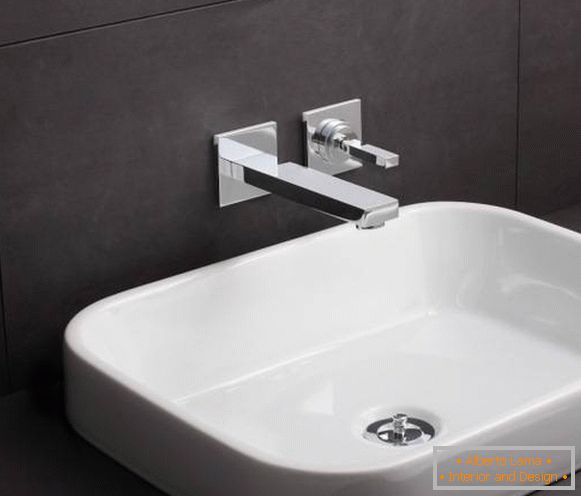 Having decided on the model, choose a good coating for a faucet, shower, heated towel rail, handles and other metal parts. Chrome, nickel and gold are the most popular and reliable types of finishes.
Shower cabin
First of all, check the water pressure. You may need to choose fittings suitable for low pressure or having a booster pump for the entire system. In a good specialized store you will be prompted by a model suitable for such purposes.
The shower control system can have either single thermostatic valves controlling the water temperature or combined thermostatic valves that also regulate the flow.
If you choose a shower with a fixed shower, then take care that there is also one more in it, which you can manage manually. This is useful to you for cleaning the cabin itself and bathing in cases where you do not need to wet your hair.
In addition, it is desirable that the cabin had comfortable shelves for bathing accessories. If you have to reach for something that you forgot to take with you to the booth, you risk slipping and injuring your health.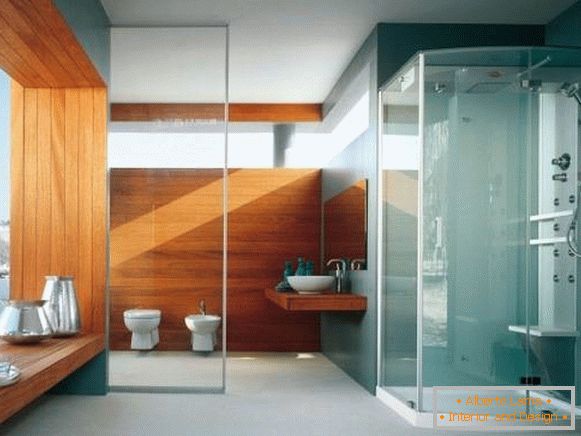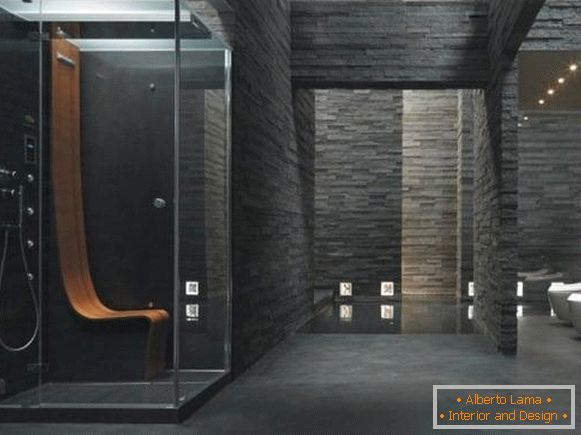 Give preference to a narrow shower tray or hire a contractor who will cover the floor in the shower with mosaic tiles. The cement mortar necessary for laying the mosaic adds semi-roughness and makes it less slippery. It is desirable that the floor in the shower had a slight slope towards the drain.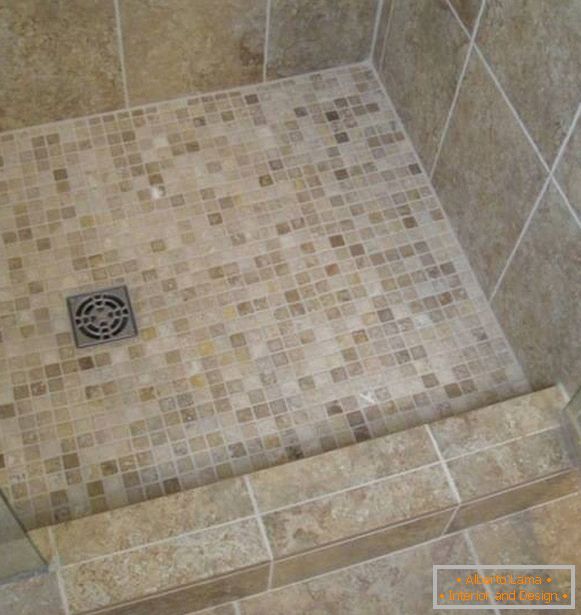 The doors of the shower can be curved or straight, sliding or folding, open inside or out. Pay attention to the picture below: here is the option of opening the shower door, which allows you to make the most efficient use of space.
If the bathroom is small, we advise you to choose a good shower cubicle with sliding doors than an inconvenient dwarf bath.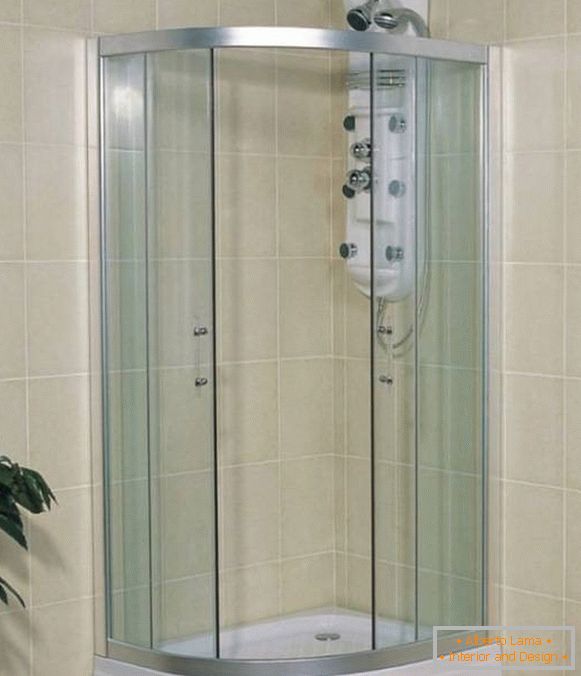 Restroom
When designing a bathroom, you should consult the contractor about where best to place the toilet bowl. Often, when you open the door to the bathroom, the first thing you see is the toilet. This may not only be unpleasant, but also lead to unexpected embarrassments, for example, if one of the guests forgets to shut the door behind him. Try to move away from this trend and set such a delicate subject out of sight from the door.
If your bathroom can not be proud of its large size, consider installing a wall toilet. Wall plumbing (sinks, toilet bowls, urinals, bidets) allows creating the illusion of space. In addition, it is also useful if you want the toilet seat to be higher because it can be hung at different heights. The standard seat height is 40 cm from the floor.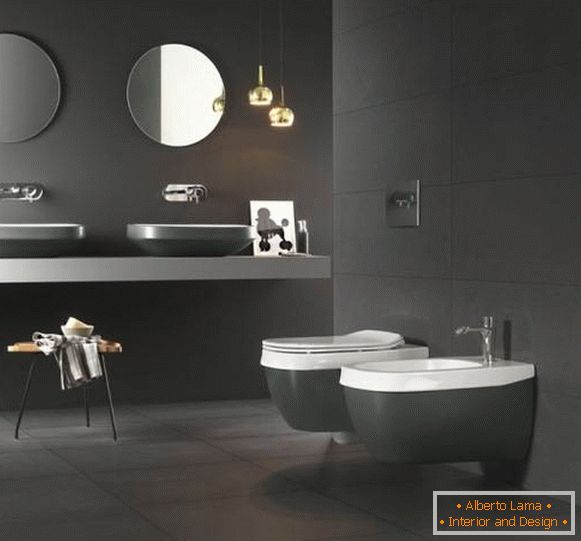 In a small bathroom it is also necessary to provide a minimum of 80 cm of the distance between the toilet and the next object or wall opposite.
After you select a toilet, decide on the type of seat (lid). A very aesthetic look of the seat of wood.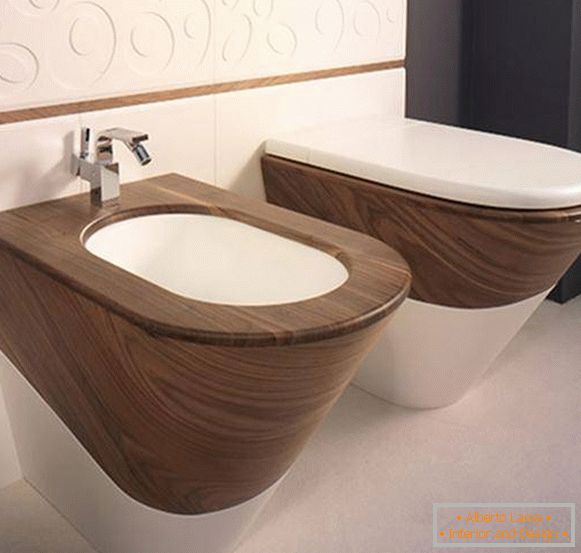 Try also to purchase a cover with a hydraulic mechanism that allows you to gently lower the seat.
Walls and floor in the bathroom
The glossy surface of the ceramic tile adds a shine to the bathroom and is very easy to clean.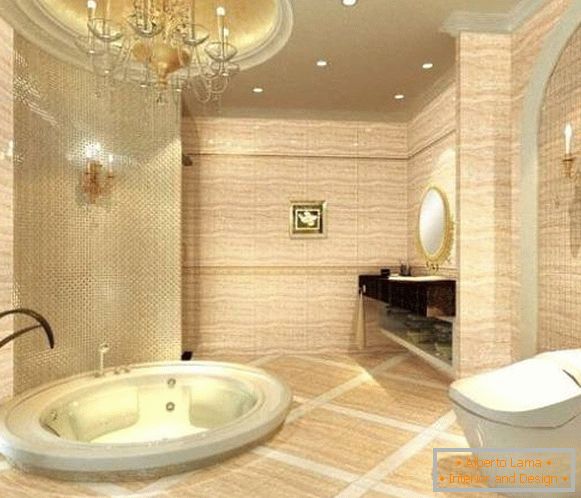 The room's perimeter, studded with wooden panels at the bottom, is an elegant and very effective way of decorating a country bathroom.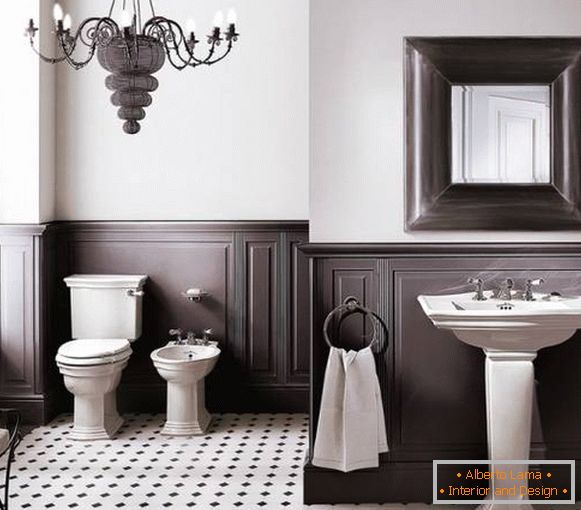 A tile can add a color, pattern or texture to your bathroom. Timeless bathrooms are often decorated in white or natural shades of stone, such as limestone or slate. With the huge selection of porcelain stoneware, which is presented in the modern market, you can easily find a tile that will create a feel of the stone surface, but will not require the same gentle care.
There is also a granite that looks like a real tree. In general, stone and wood are the best way to decorate the bathroom so that it gives aesthetic pleasure and at the same time looks solid.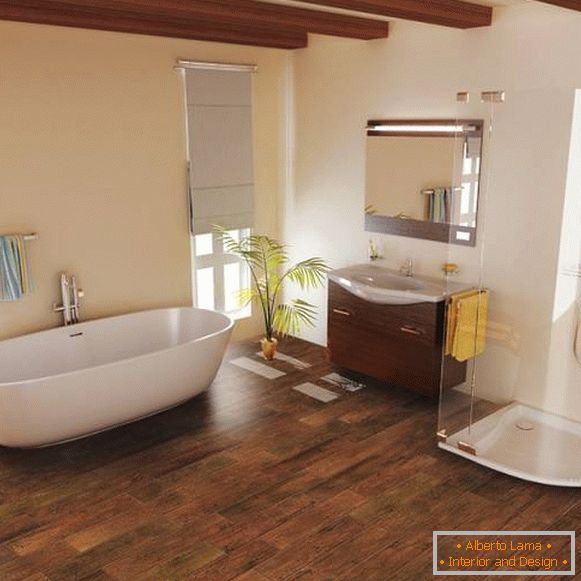 Marble tiles, mosaics or stone slabs can add a glamor bathroom and, accordingly, large expenses.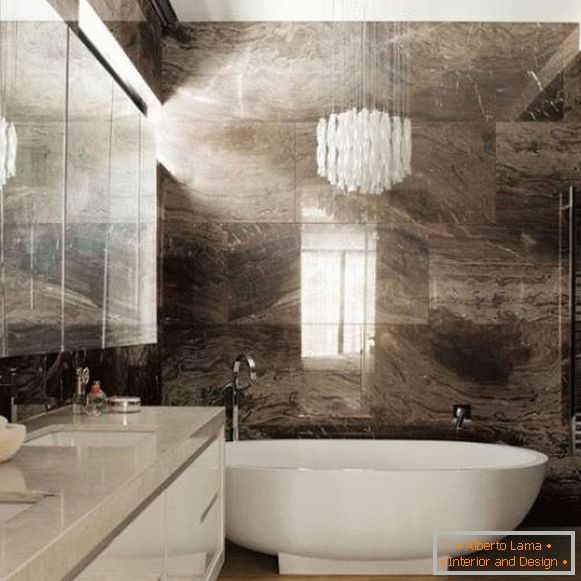 The use of wool carpets should be avoided, as they tend to begin to rot with frequent soaking. Nevertheless, if you want to have a soft floor in the bathroom, then you can get a washable carpet. Rugs that are made specifically for bathrooms, have a rubber backing and the front side of cotton or synthetic fibers.
Wooden floors in the bathroom can deteriorate if not covered with a protective layer of varnish.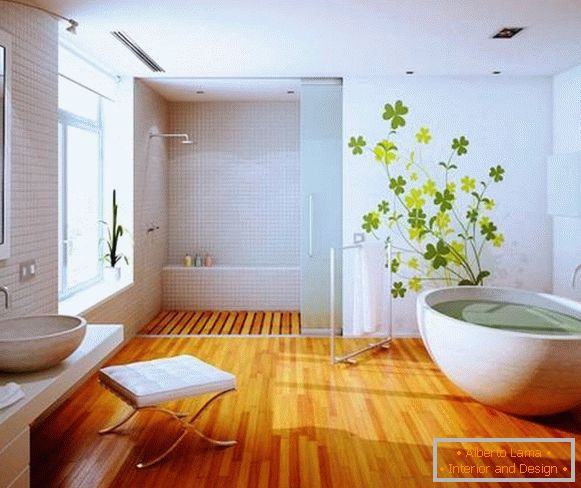 Eco-friendly floor coverings for the bathroom include a cork and linoleum, which is made from linseed oil, wood tar and powdered cork.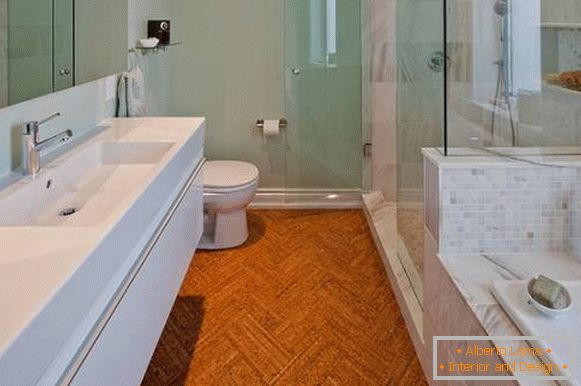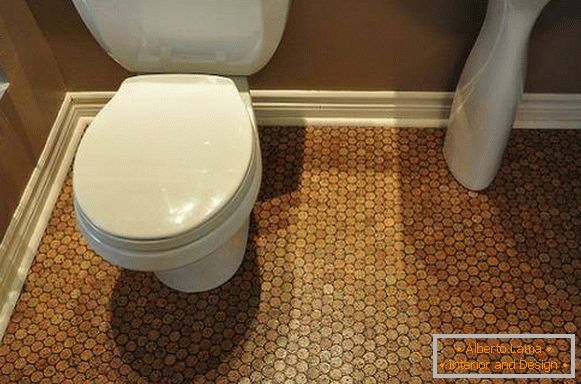 Finally, the last tip: when designing the bathroom, try visually linking it to the adjacent room (especially if this bedroom), using the same basic colors or similar shades.
Sincerely we hope that our articles help you with choosing a decor for your house! We will be glad to hear your comments!