Gardening is not everyone's lot, it at least implies constant cleaning, caring for plants, digging, and if you are in a place where the winter is cold enough, it is also covering plants for the winter and other worries. Not everyone wants to do it.
When there is a lot of land, the question arises: "What to do with it?". The answer can be much, but today we will offer you to organize a beautiful pond or fountain, to create a cozy atmosphere in your garden, as well as to fill the empty space.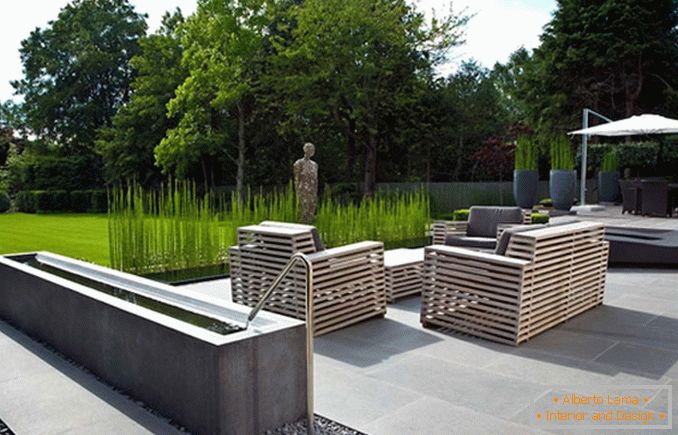 Design studio from Manhattan Pulltab Design has created a lovely terrace on the roof of the house in the East Village. There's even a shower in the fresh air! The terrace is a fusion of two trends in design: a classic industrial style with Japanese touches. In the center is a fountain from a huge uncouth trunk of oak with a stainless steel insert in the form of a spout, from which water flows.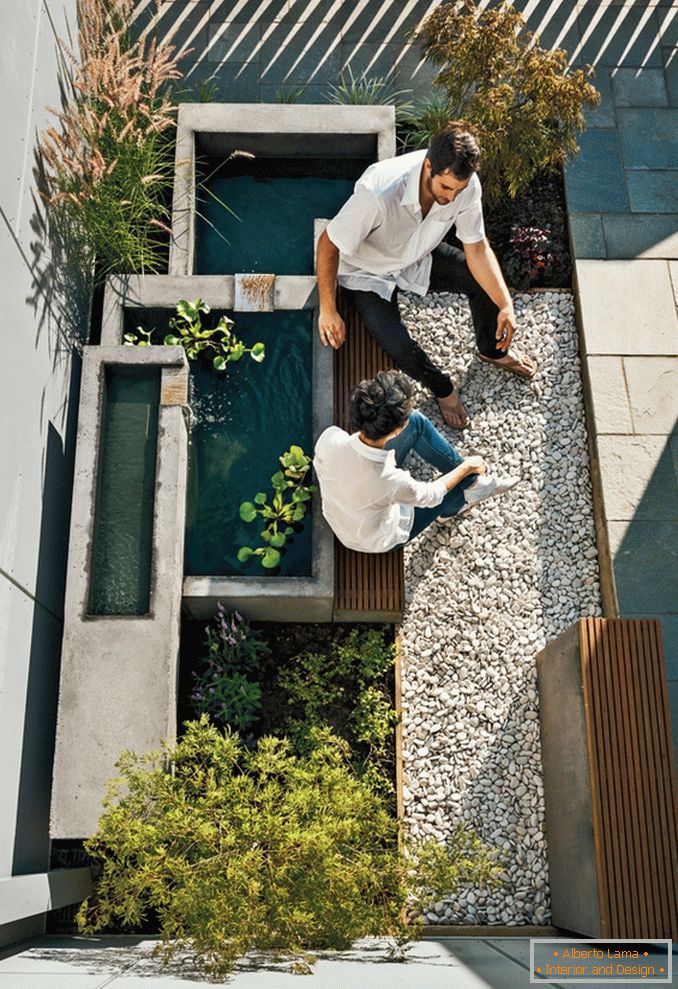 The garden, made in Japanese style, is located in Arlington, Virginia. It was designed by Boston Architectural Studio Höweler + Yoon. This micro-yard (only 200 square feet, which is about 61 square meters) contains a rock garden, Japanese maples, benches and a fountain, consisting of three concrete containers and a metal channel for the jet.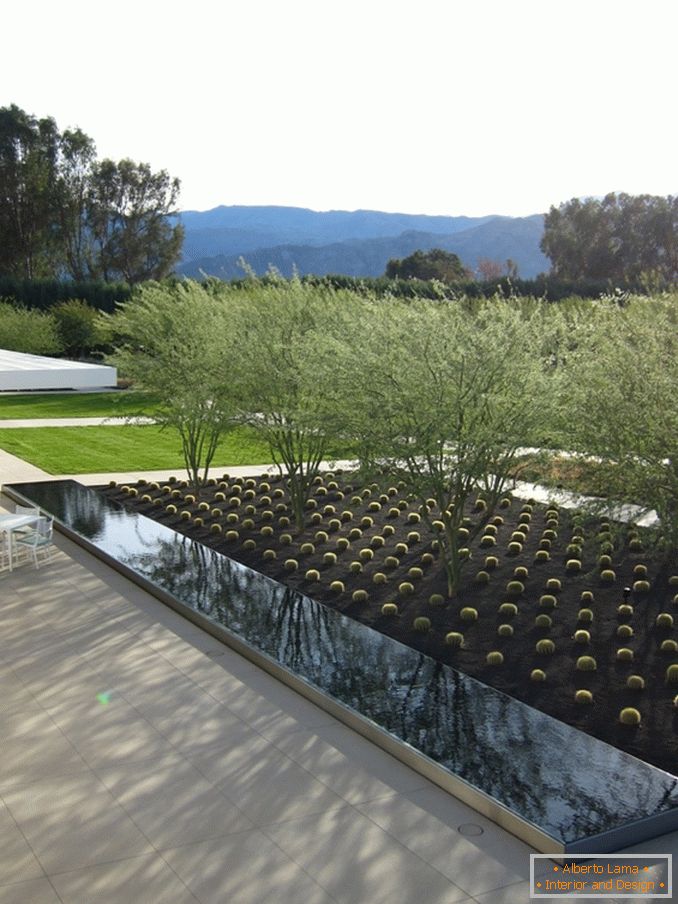 Next we'll look at the Sunnylands Center and Gardens, which is located in Rancho Mirage, California. This 200 acres of desert land, which belong to the diplomat and philanthropist Walter Annenberg. The project was developed by Frederick Fisher + Partners, inspired by Van Gogh's "Wheat Field with Cypresses", which is in their private collection.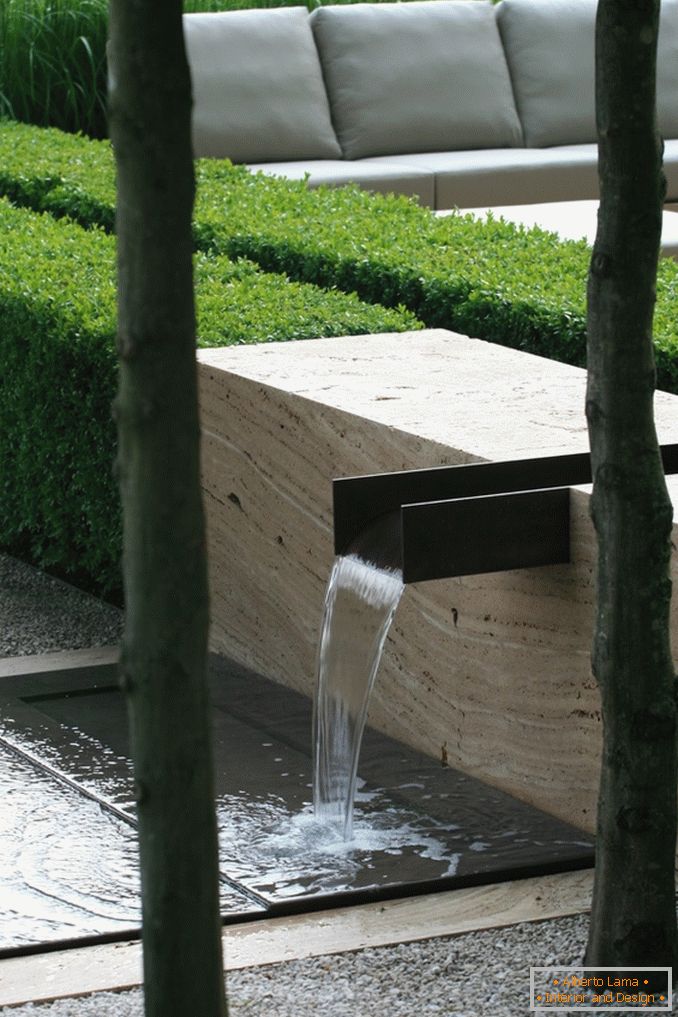 The work of the London firm Luciano Giubbilei Garden Design is characterized by simple and clean symmetrical designs. The hedge fits perfectly with a small gutter fountain, which is "embedded" into it and flows into a small stone pool surrounded by pebbles. Minimalism in its best manifestation.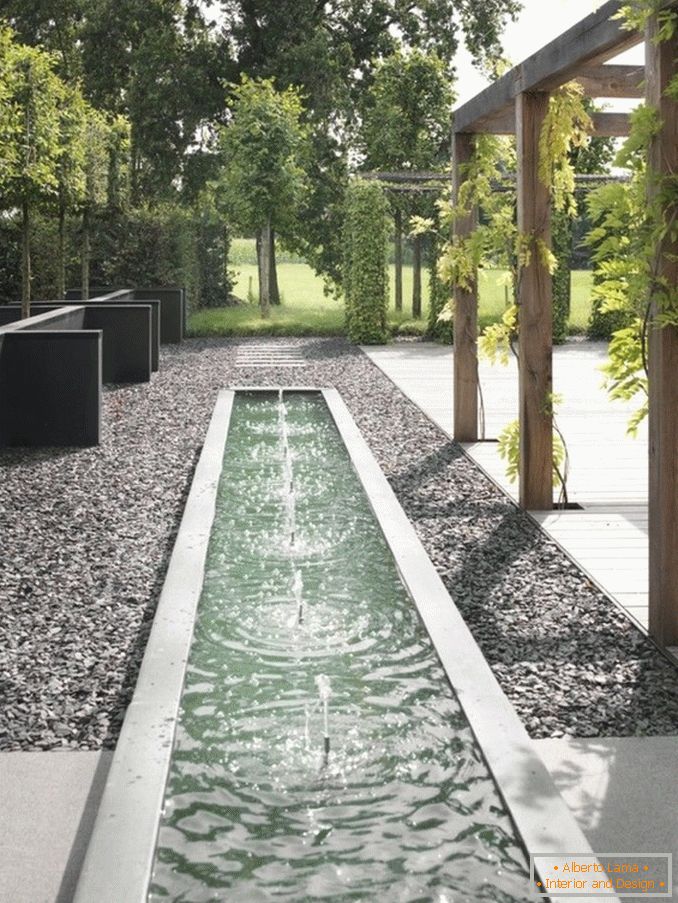 This luxurious garden was originally designed by designer Marcel Wolterinck, but further development continued the company Hendriks Gardeners. The long and direct pool in the stone, dotted with fountains, perfectly combines with the environment of pebbles and wood.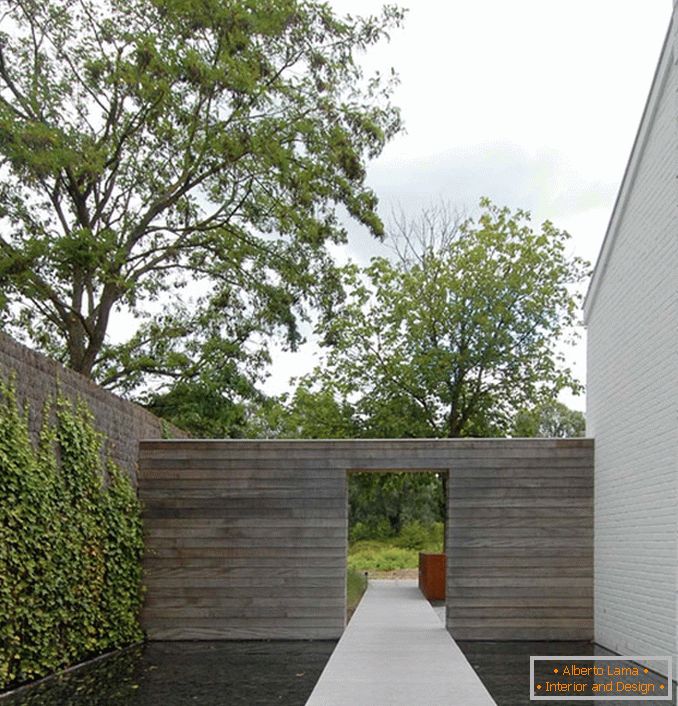 Belgian designer Filip Van Damme is responsible for this work of minimalism and simplicity. The excellent combination of classic wooden siding and white-painted brick creates a pleasant atmosphere of tranquility and comfort.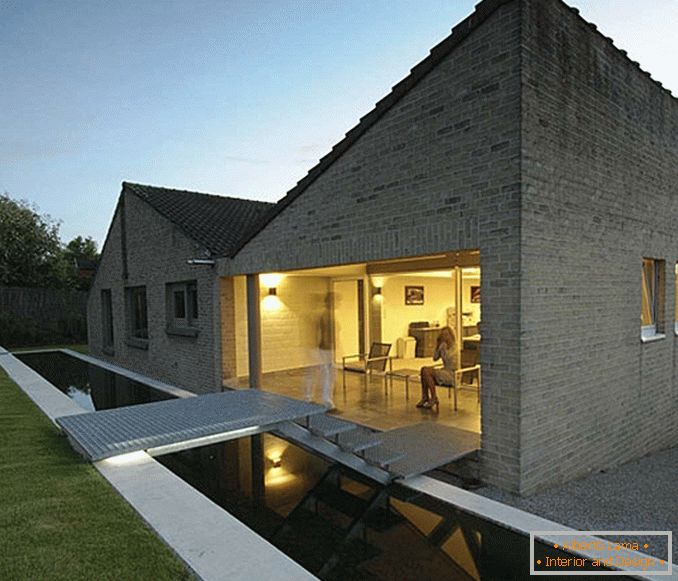 This small hanging bridge across the pool to the house also belongs to Philip Van Dam. The lack of railings at the bridge creates a certain sense of danger during the transition, but since the road is short enough - this feeling is very short. Probably this is the easiest way to wake up in the morning!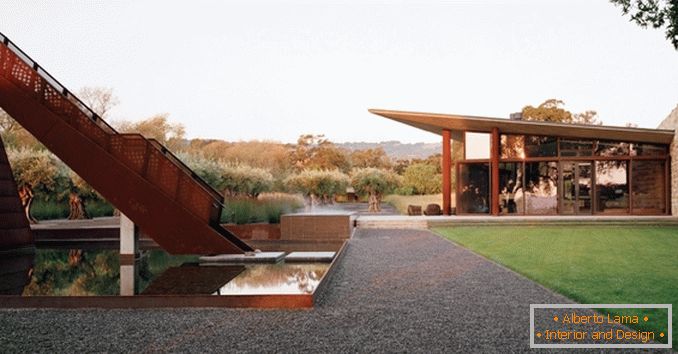 This is Stone Edge Farm in Sonoma, California. The house was designed by Andrea Cochran Landscape Architecture, a design and architecture studio in San Francisco. The project includes an observatory, a spa and a large stone pyramid, which is surrounded by green plantings and leads to it the road above the pool.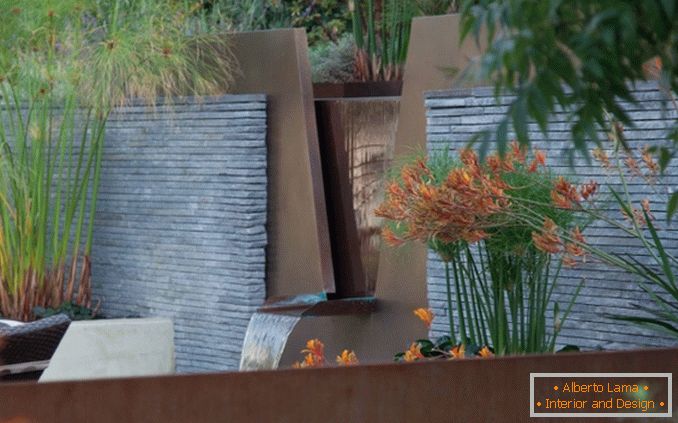 Thuilot Associates of Berkeley created this modern garden in Los Altos, California. We have already seen a similar fountain, apparently this is some trend in the modern architecture of gardens, it is only worth noting the fact that more colors are used here than just greenery.
The landscape firm Nelson Byrd Woltz, whose office is located in Manhattan, San Francisco, and Charlottesville, Virginia, has developed this picturesque farm of 200 acres (which, by the way, is about 80 hectares!). A small pool near the glass house very colorfully reflects the evening lighting and creates a pleasant and warm atmosphere around.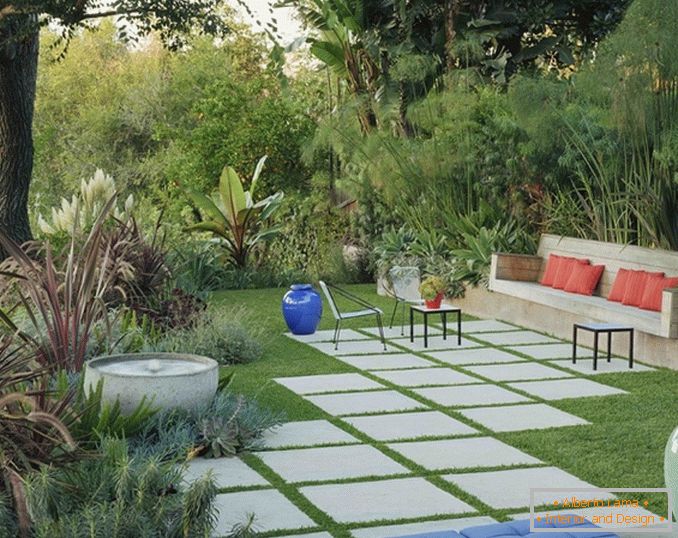 A small fountain in this urban garden, full of life, lush greenery and fragrant plants, perfectly complements it. In such a garden you want to spend all the warmest summer evenings, for a pleasant reading or in a good and cheerful company.
And what other interesting examples of modern gardens do you know?
Photogallery Total | 13 pictures