The color in the interior is practically everything: his style, character, state of health of the owner of the apartment ... Many people are skeptical and cautious about black color, not knowing how to apply it correctly, and what will come of it. But if you competently work with black color, you will get a fairly good modern home.
Value and features of color
Principles of combinatorial colors
Advantages of black color in the interior
Value and features of color
Let's begin with black color in the interior - this is not a sentence, because any color is able to change its shade under the influence of lighting - both natural and artificial. Therefore, when choosing a color for the decoration of walls, do not be categorical. The picture "Black Square" by Kazimir Malevich, too, many do not understand, but they are still interested.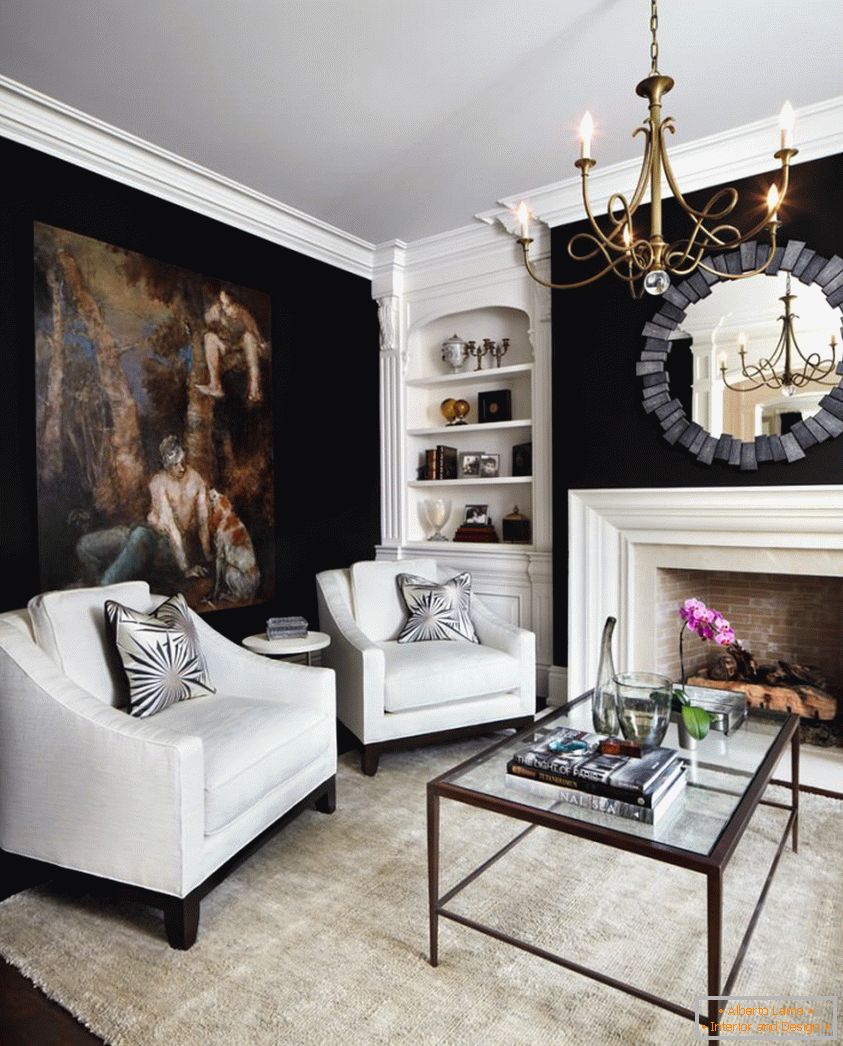 The advantage of black color is that, unlike the rest of the palette, it is neutral, independent and not so "whimsical" as other colors. It is combined with everything and therefore it can be fully called universal. Well, it's difficult to overestimate the practicality of black in the interior.
Black symbolizes severity, in many countries it is the color of mourning. Psychologists say that it suppresses energy and depresses the mood, leading to depression. But designers around the world successfully introduce it into the interiors, creating beautiful, cozy repairs on the basis of black color.
True, you should not abuse black. But to apply it fragmentarily, to create accents and contrasts - the very thing!
The most expressive black looks on smooth, vertical surfaces, for example:
walls;
glossy panel kitchen headset;
tiles in the bathroom;
curtains.
In addition, it perfectly "plays" with mirror, metallic or other shiny surfaces.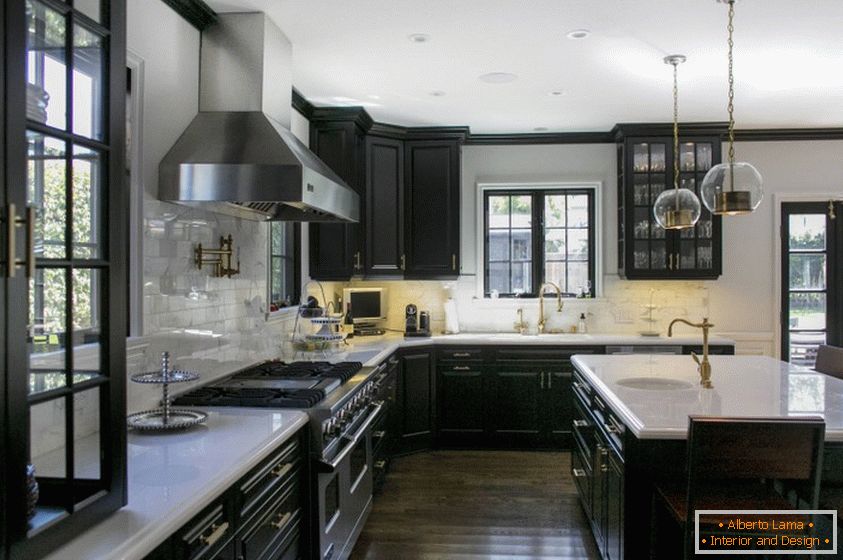 Principles of combinatorial colors
We have already found out: in itself a black color in the interior can not exist. It must necessarily interact in contrast to other colors and shades.
So, outside of time and fashion, In the trend there always remains a combination of black and white, which is considered to be the style of Coco Chanel. "Struggle of Opposites", "Yin and Yang", "chessboard" - this name is also called this duet.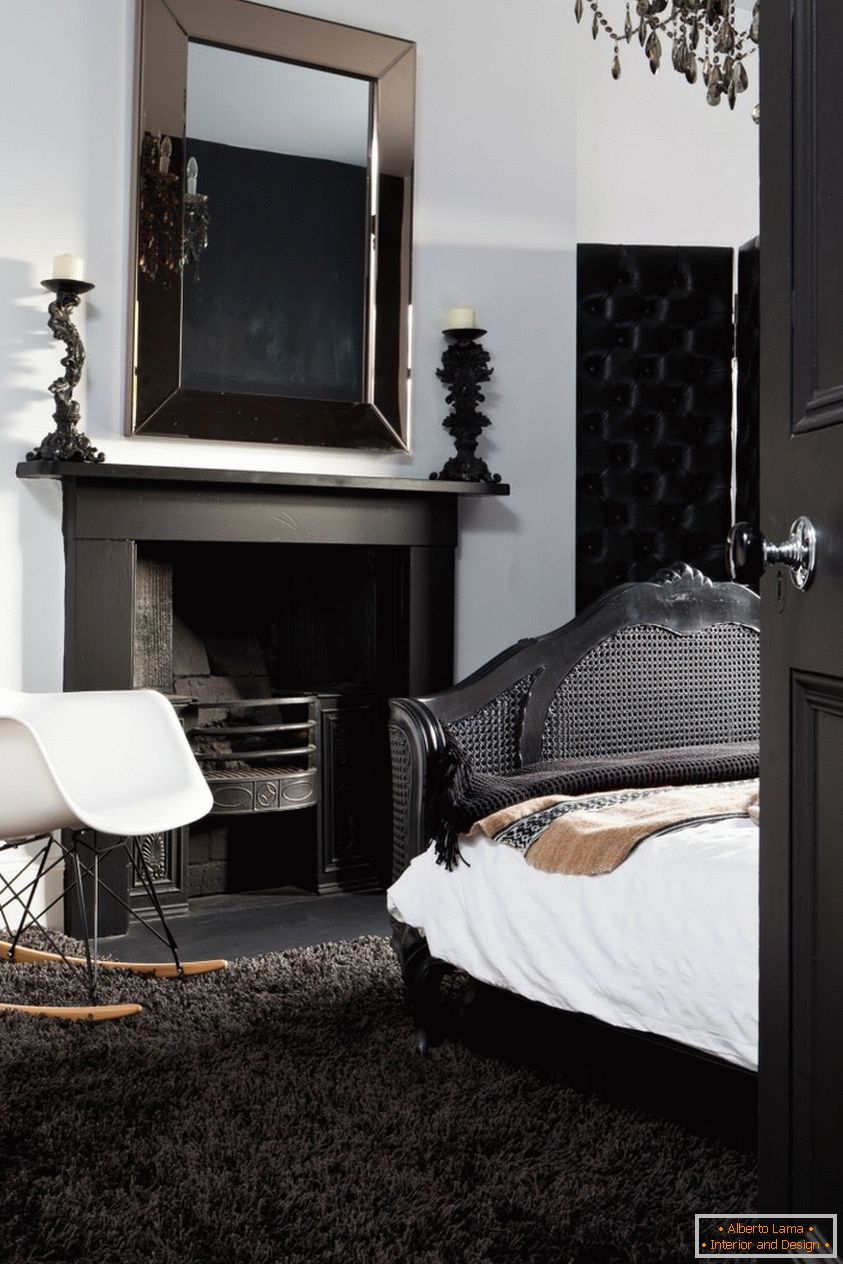 But, if the traditional "commonwealth" does not suit you, you can refresh it with a splotch of a third, bright color. For example, red or lemon. For example, in a room with black walls and white furniture hang red curtains and place on the sofa a few decorative red pillows.
In general, the combination of black, white and red is very bold. This is a classic combination of colors in the interior. And, risking to apply them in at least one zone (although many designers withstand this scale and the whole apartment), you can get a very modern, bright environment. Usually this combination is used in the design of studio apartments.
Very romantic and stylish looks interspersed in the interior shades of these colors - milky, gray and burgundy. They slightly smoothen sharp contrasts and make the environment softer.
Very bright, youthful looks "black" in the company of neon, "acidic shades" of yellow, pink and salad.
It also works well with the color of fuchsia, with turquoise and beige.
But black and gray look pretty faded and "dirty" - inexpressive. Therefore, it is better to refuse such design.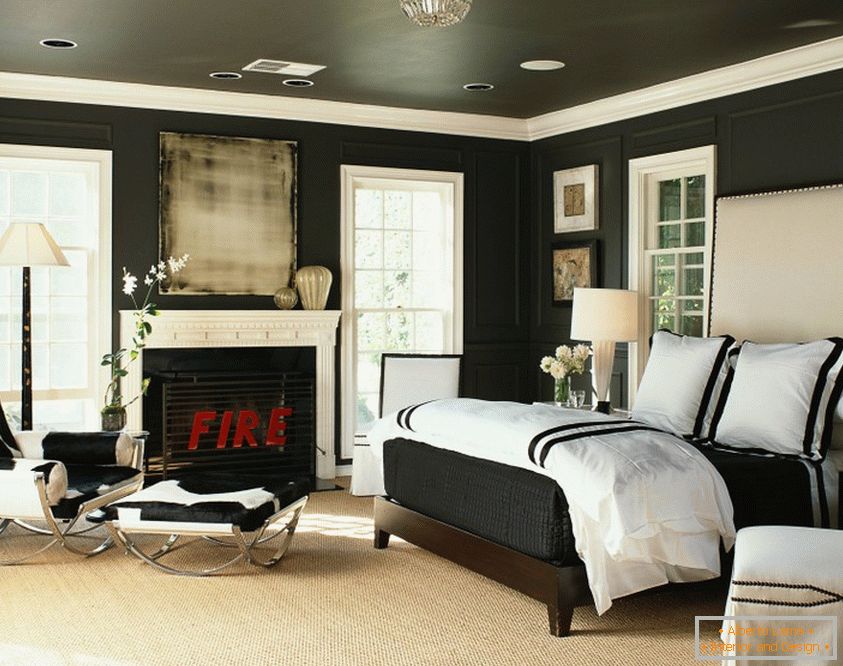 Exquisitely and richly looks black in combination with metal - silver and gold. In this variant, eastern interiors are very often formed: Arabic, African and Egyptian.
African style in the interior in general is one of the simplest, in which you can profitably beat the black color. Because, like all ethnic styles, it is characterized by minimalism and restraint. And to use black color does not mean to "fill it with space". A soft black and white carpet that mimics the zebra skin, a few black painted wooden masks on the wall and a black leather sofa will be enough.
Advantages of black color in the interior
Black color, like white, stands apart in the color palette. He is a monochrome, self-sufficient, and has a number of advantages:
The depth that helps black luxuriously look alone and advantageously emphasize the brightness of other colors;
Black color works great as a base or uniting color in the interior;
glossy stretch ceilings of black color with illumination visually raise the ceiling, make it "floating";
black always plays the dominant role, attracts attention stronger than other colors, so with its help you can select low-express objects of the interior, and also make a fashionable "frame effect".
Contrary to common stereotypes about the grief of black color, it continues to be advantageously used by those who are not afraid of bold experiments in design. After all, despite its monochrome, black has many facets to create a unique, elegant and modern interior.
Photogallery Total | 10 pictures