Are you going to make repairs to the kitchen? Before you start, think about what you need and what you would like to improve in your kitchen now. It is important to take into account the evolving kitchen trends, which can provide a spark of inspiration and make your kitchen truly stylish.
What new ideas for kitchen design are now on the rise? We have collected for you the 13 most recent trends, which seem to be especially popular in 2015.
1. Beautiful finishings of kitchen cabinets
Why should the kitchen be exclusively a work area? Why for all rooms in the house we choose beautiful furniture with carved decoration and exquisite fittings, and when choosing lockers for the kitchen, we only think about practicality? One of the main recent trends is kitchen furniture and decor, which are made in the same elegant style as furniture for the living room or bedroom.
This approach marks another step in the evolution of the kitchen as a cozy space that the whole family can enjoy, not just the functional area used for cooking. How to include this idea in your own kitchen? To do this, there are many ways, for example, to choose kitchen furniture on legs, with a beautiful inlay or carved finish.
2. Floating and plain open shelves
Open shelves in the kitchen can be used not only for beauty, but as a practical solution. They make the kitchen look more welcoming and cozy, while being functional and easy to use.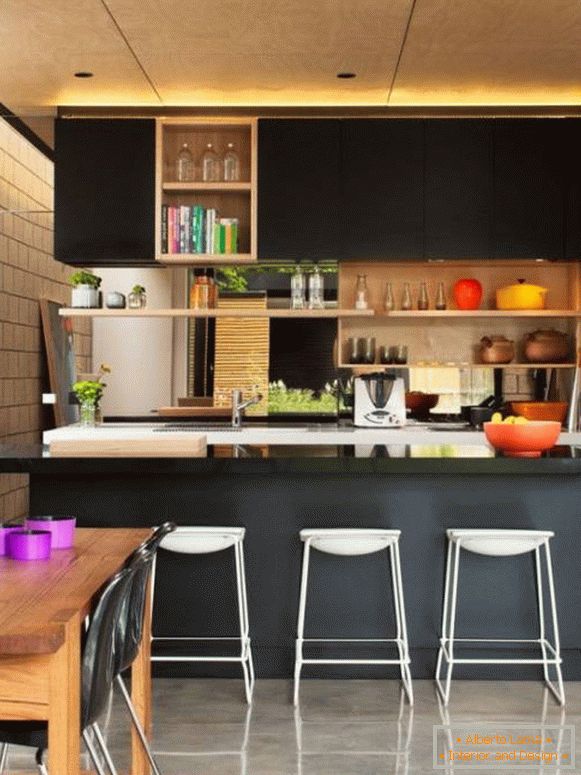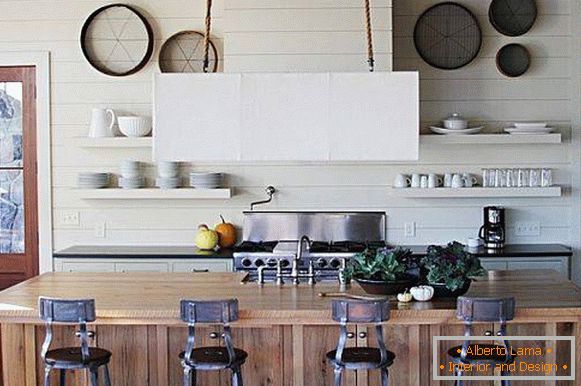 3. Application of bright wallpaper
Want to add interest and character to your cooking area? Then choose for her bright washable wallpaper, which easily bring to the interior visual impact, even in small quantities. Partial use of wallpaper in the kitchen can nicely emphasize architectural elements or make a beautiful contrast in a simple color palette.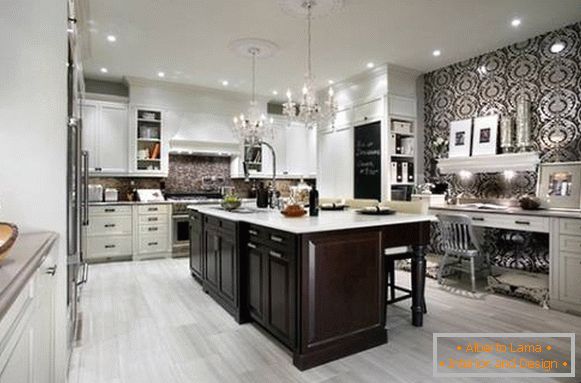 4. Modern traditional style
Increasingly, designers avoid using sleek and brilliant ultramodern kitchens in favor of warm materials and textures that help to give the kitchen a homely look. This trend has affected all components of design: from furniture to fixtures, from materials to colors etc. So, plastic and glass now give way to warm wooden surfaces, combined with stainless steel and marble. Chrome-plated fittings are replaced by elements that exude traditional style and charm, for example, fittings made of tin or polished nickel. And that all this also had a touch of modern style, you need to choose a fashionable color scheme (for example, a combination of black and white) and exclude elements with an elaborate finish.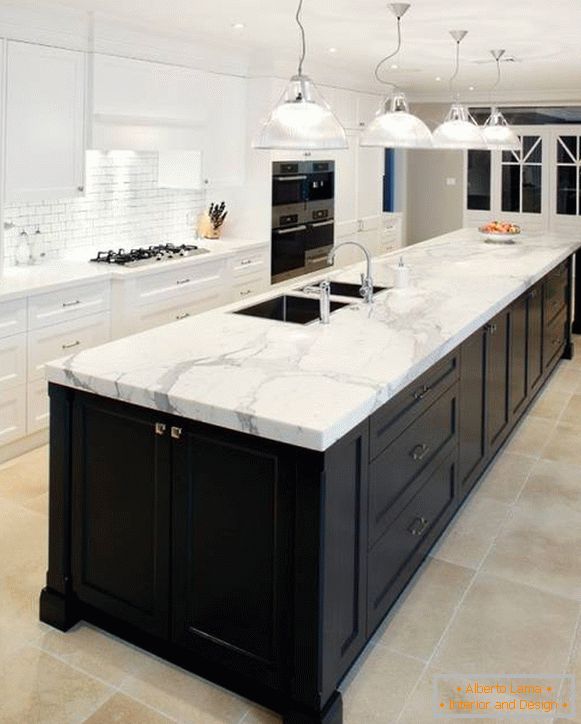 5. Ceilings that make you look up
Next year, the ceiling design will be given even more attention! Whether it's using stylish lighting, bright wallpaper, plasterboard, caisson or wood panels, ceilings will play a key role in the bright and stylish kitchen design.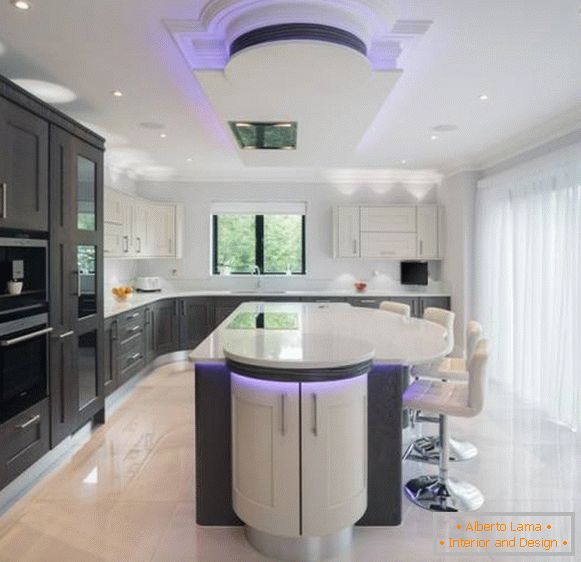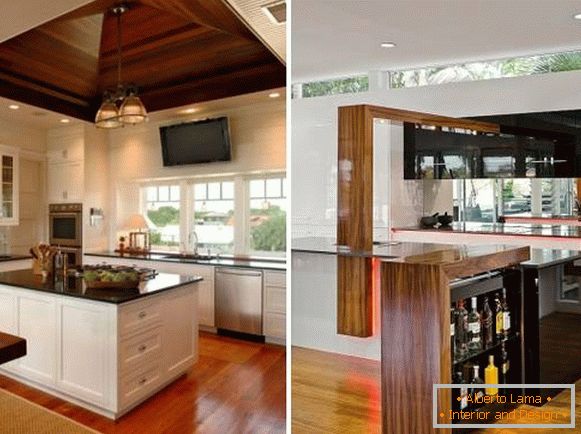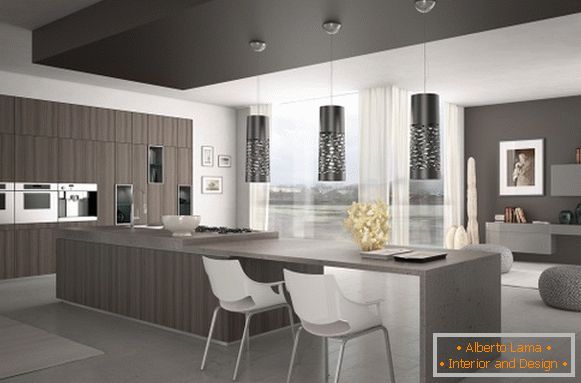 6. Luxury metals
If today in the design of the kitchen most often used chrome, silver and stainless steel, next year in the fashion will be warm shades of metals, such as gold, copper and bronze. The luxurious radiance of such a metallic finish will provide a stunning accent in almost any color palette.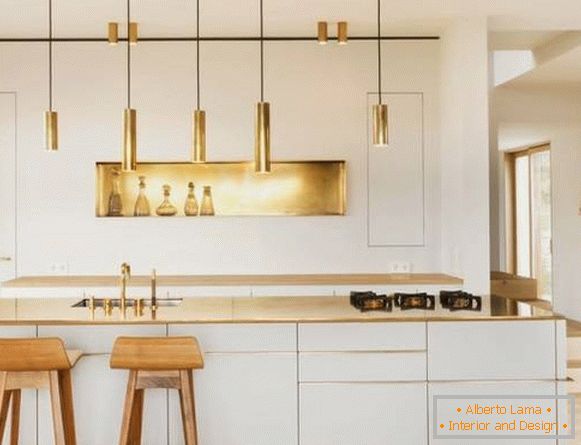 7. Expressive materials
Let your kitchen look so beautiful that you want to touch it! Natural marble, granite, engineering stones and unpainted wood are among the best textured and tactile materials for the kitchen, which will be especially popular next year.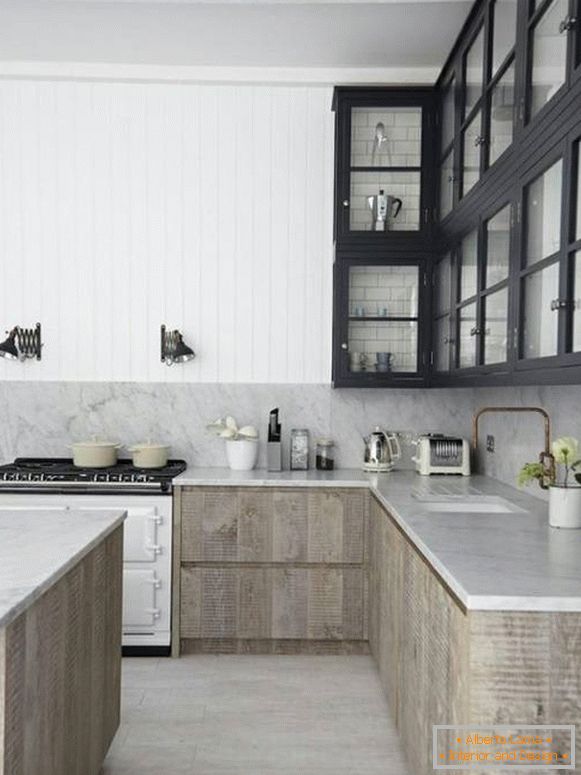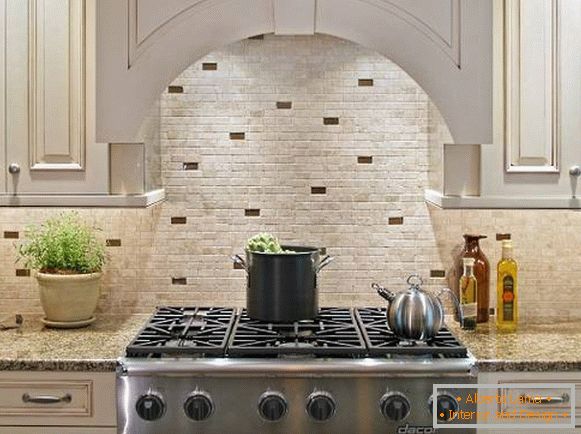 8. Magic of black color
Black color will be one of the most popular in interior design in 2015. Why? Perhaps the reason lies in the fact that today more and more people want their kitchen to be a really special space, and black color, you must agree, always makes a strong impression. This does not mean that you need to decorate the entire kitchen in black, or at least paint the walls of the room in it (it is clear that many people will by no means go for it). But the use of black furniture or a black floor in combination with light surfaces will be appropriate in a kitchen of any size.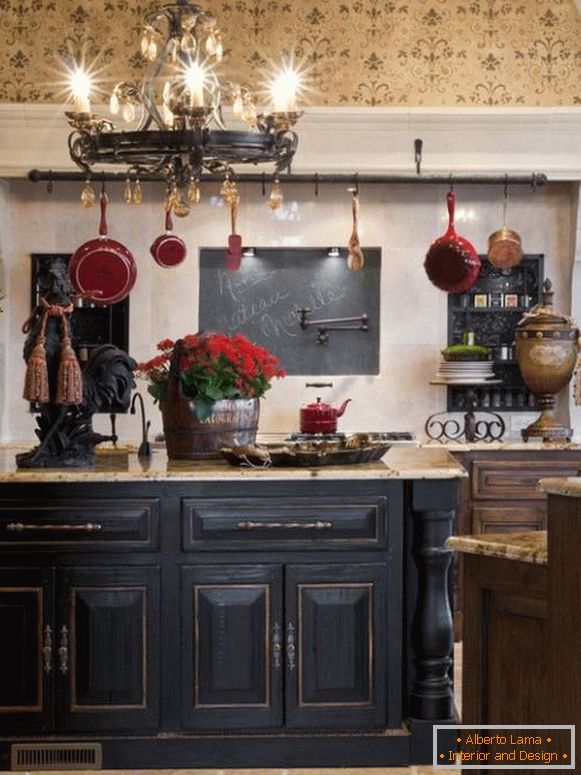 9. Minimum of wall cabinets
Do you want a kitchen that looks open, airy and spacious? Then get rid of bulky upper lockers! Of course, the number of wall cabinets in the kitchen depends on its size and the needs of the hostess in the storage departments, but perhaps you will find a suitable way to reduce their number here.
The open layout of the kitchen not only helps create a sense of space, but also allows other elements of design to come to the fore in order to earn the attention they deserve: a picturesque view from the window, an original design of the hood etc.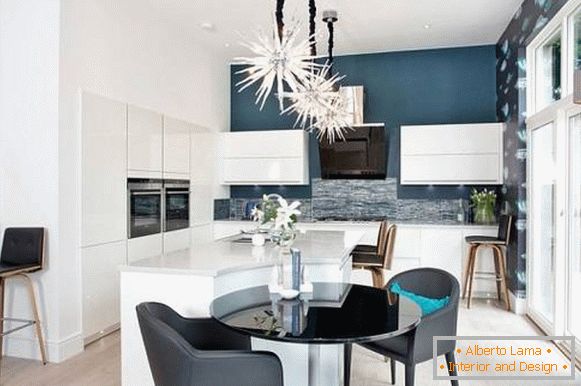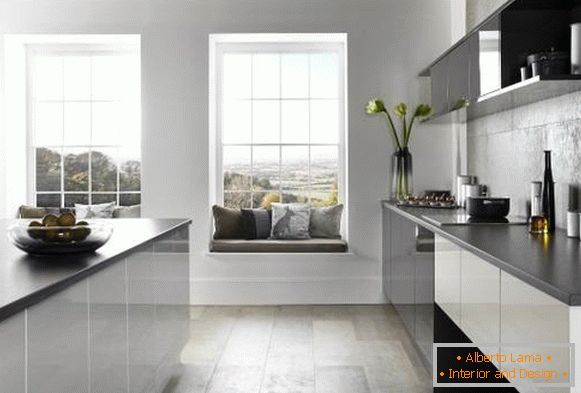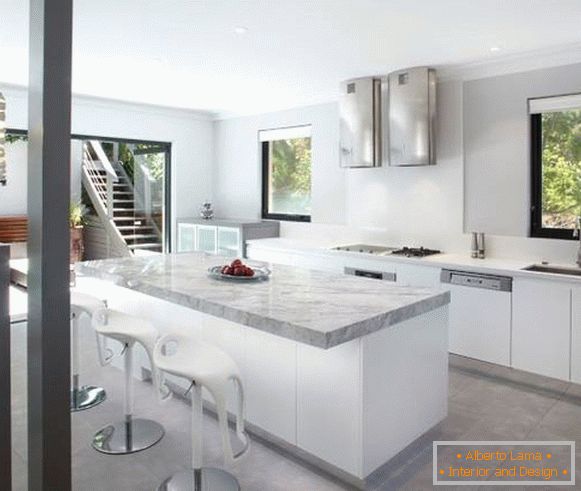 10. Recurring Patterns
While the fashion includes geometric patterns and forms of decor, in the kitchen everything happens exactly the opposite: the tendency of the transition from geometric patterns to elegant repetitive motifs that are used on tiles, wall coverings, door inserts etc.
Patterns from long gone epochs return to create intriguing kitchen designs with a touch of Turkish and other influences of the Middle East.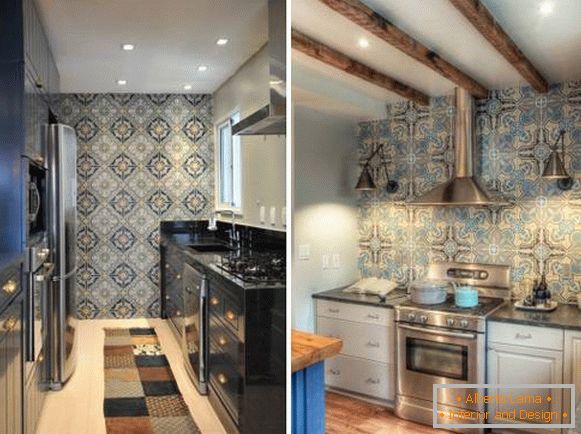 11. Colors in the Tribal Style
Are not you a fan of white or monochrome cuisines? Then you are lucky, because the fashion for bright and eye-catching shades in the interior is back!
The best inspiration for choosing the color of cuisine in 2015 can be rich Moroccan and Indian palettes, which include mustard yellow, rich red and deep blue tones. Perhaps you will also like the idea of ​​using a thematic decor, for example, Indian painting or stunning Moroccan chandeliers.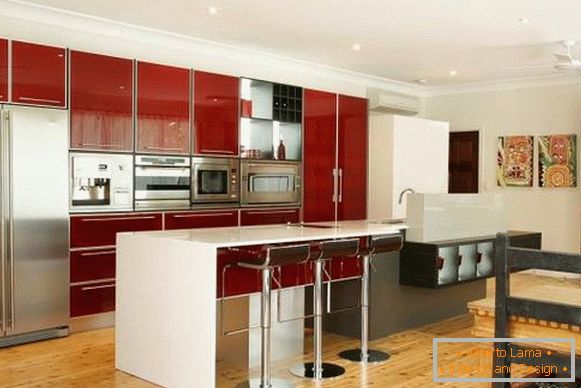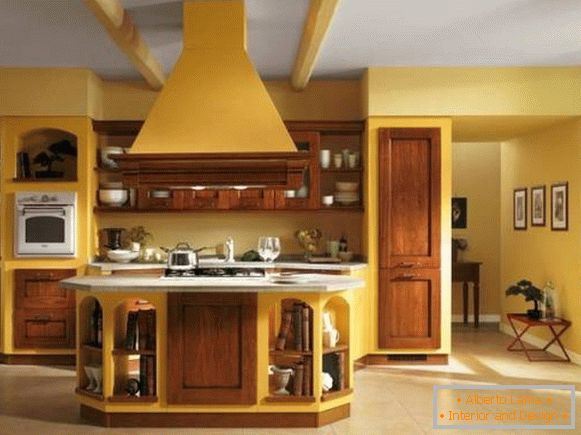 12. Vertical wooden panels
Another trend that we will often see in the design of kitchen projects in 2015. Vertical panels used for walling or furniture, help to "revitalize" space and give it a very special aesthetics.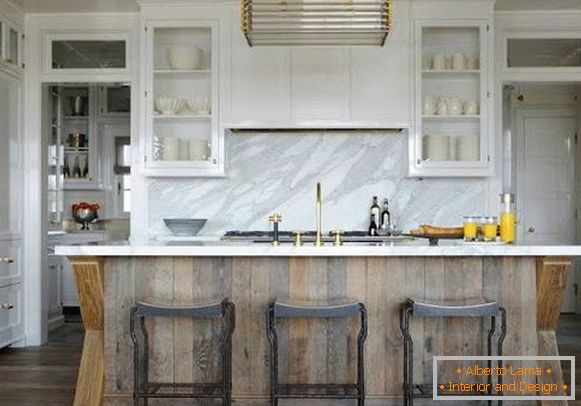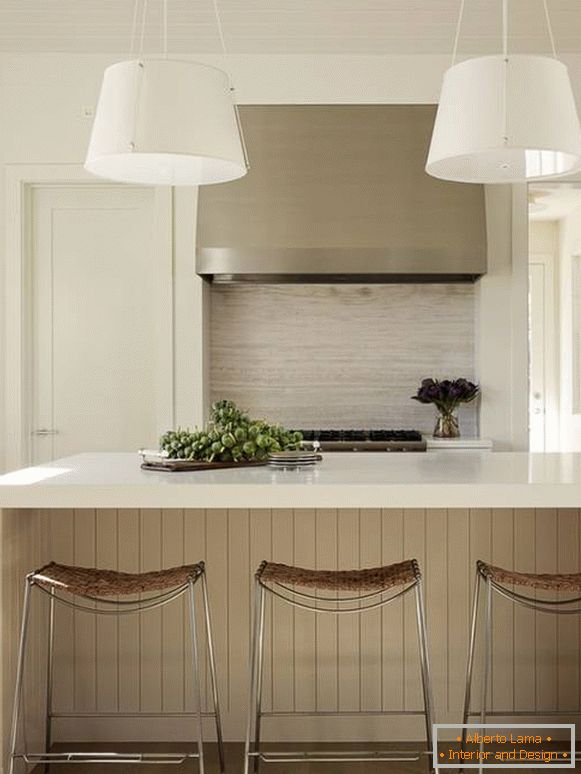 13. Styler shaker
The timeless view of shaker furniture will be especially popular in 2015, which fully corresponds to the trends of the return to popularity of traditional style and natural wood. Style shaker involves the use of simple and practical furniture, devoid of all frills, but with a different functional design. Shakers knew how to see beauty in practicality and restraint, maybe they should learn from them?